Happenings: The Only Roanoke Events Calendar You'll Ever Need. Week of 5/25 to 6/1.
We scoured 17 disparate community calendars (yes, 17) so you didn't have to.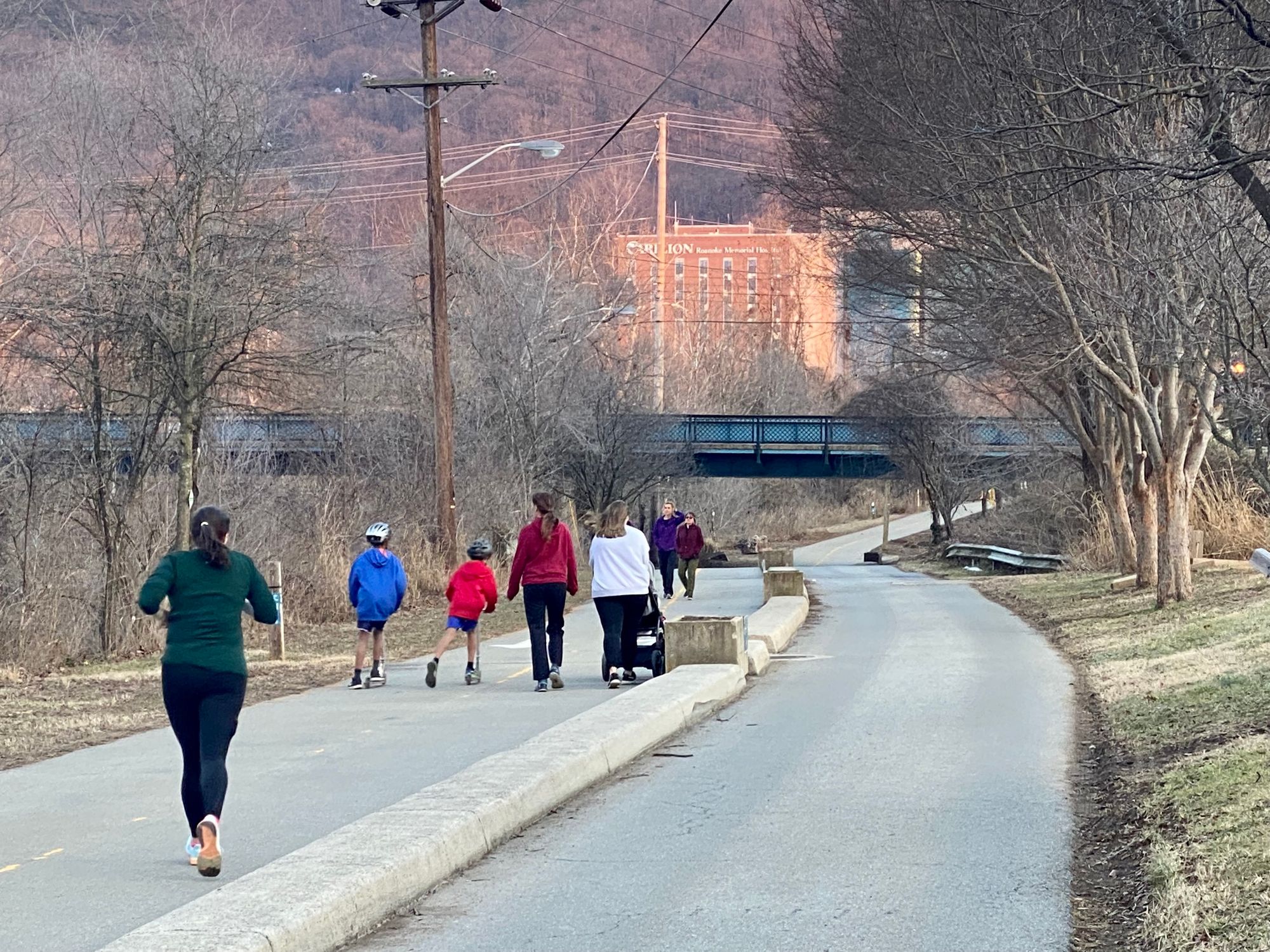 We scoured 17 disparate community calendars (yes, 17) so you didn't have to. Want to know when the next City Council meeting takes place? Curious about what there's to do this weekend? We've got you covered. We list events chronologically. Want to see different formatting/information? Let us know! This weekly listing is accessible to non-subscribers. Especially with pandemic uncertainty, we strongly encourage folks to contact the venue directly to learn of any last minute changes or cancellations.
Have a Happening? Does your business want to sponsor a newsletter? Reach out to us at news@roanokerambler.com with "Happening" in the subject line. Have fun!
Ongoing
Through June 5 —  VA Blue Ridge Yarn Crawl at various locations. Celebrate a shared love of fiber craft with this annual event, which showcases eleven yarn shops on a self-guided tour. Each shop will feature an exclusive colorway from a Virginia-based indie dyer. Find more information at this link.
May 28 through August 14 — T-Rex Trail at Explore Park (56 Roanoke River Parkway Rd Milepost 115, Blue Ridge Parkway), to benefit Center in the Square and Explore Park. Open six days a week (closed on Wednesdays), this half-mile wooded path includes 18 animatronic dinosaurs from four different eras, a dino-dig pit, and photo opportunities. For more information and operating hours, visit this link. ($)
Treasures of American Art from the W. Heywood and Cynthia Fralin Art Collection at the Taubman Museum of Art (110 Salem Ave. SE, Roanoke). This exhibit showcases more than 90 pieces of artwork from the private collection of Heywood and Cynthia Fralin. Landscapes, portraits, and still life paintings by such illustrious American artists as Thomas Hart Benton, Mary Cassatt, Robert Henri, Winslow Homer, Georgia O'Keefe, Norman Rockwell, and John Singer Sargent, among many others, will be on view. For more information, visit this link.
Wednesday, May 25
Thursday, May 26
7:30 a.m. — Coffee Talk with the Central VA Business Coalition: Vinton & Roanoke Area, hosted by Building Beloved Communities at RND Coffee (101 E. Washington Ave., Vinton).
10 a.m. — Towing Advisory Board Meeting at the Noel C. Taylor Municipal Building, 4th Floor City Council Conference Room (215 Church Ave., SW, Roanoke).
10 a.m. — Walk and Talk presented by Carilion Clinic Community Health and Outreach at Countryside Park/ Lick Run Greenway (2365 Ranch Rd., NW, Roanoke). For questions or more information, please contact Carilion Clinic Community Health and Outreach, at (540) 983-4053 or communityoutreach@carilionclinic.org.
11:30 a.m. — Annual Vinton Chamber Golf Tournament at Botetourt Golf and Swim Club (2414 Country Club Rd., Fincastle.) Visit this link for more information. ($)
5:30 to 8:30 p.m. — Live music: Ryan Zimmerman at Big Lick Brewing Company (409 Salem Ave. SW, Roanoke).
5:30 to 8:30 p.m. — Party in the Park presented by Delta Dental in Elmwood Park (706 S. Jefferson St., Roanoke), featuring Legacy Motown Revue. Mountain Grille will be on hand, dishing up some fantastic dinner options. For more information, visit this link. ($)
6 p.m. — Defining Roanoke's New Weather "Normals," presented by Brent Watts, WDBJ7's Chief Meteorologist, hosted by Star City Sustainability Society at the Grandin CoLab (1327 Grandin Rd., SW, Roanoke). Find more information and register to attend at this link.
6 p.m. — Crank Sisters Social Ride with Cardinal Bicycle. (Meet at 1312 Winborne St., Roanoke). Any individual with a female or non-binary gender identity can ride along on a sub-10 mile, no-drop social ride. For more information, see this link.
9:30 p.m. — Live music: Mountain Walrus at Martin's Downtown Bar and Grill (413 First St., Roanoke). For more information, visit this link.
Friday, May 27
10 a.m. to 6 p.m. — Salem Gem, Mineral, and Jewelry Show at the Salem Civic Center (1001 Roanoke Blvd. Salem). Visit this link for more information. ($)
5 p.m. — Live Music: Adam Rutledge presented by the Daleville Summer Concert Series at Daleville Town Center (90 Town Center St., Daleville). Find more information at this link. ($)
5 to 9 p.m. — Grandin Chillage at the old Texaco Station (1514 Grandin Rd., Roanoke). Bring your chairs and your people and chill out to the sounds of The Ambassador & Chosen Few. Food and beverages will be available for purchase. Visit this link for more information. ($)
6 p.m. — Roanoke's Festival in the Park at Elmwood Park (706 S. Jefferson St., Roanoke), featuring Eyes of Silver, Southern Rock's Finest Band, and The Fabulous Thunderbirds. Purchase your tickets and find more information at this link. ($)
6 p.m. — Live music: Kinnfolk at Sweet Donkey Coffee (2108 Broadway Ave. SW, Roanoke). Part of the Friday Food Truck and Tunes summer music series. Visit this link for more information.
6:30 to 9:30 p.m. — Live music: Ward Hayden & The Outliers at Big Lick Brewing Company (409 Salem Ave. SW, Roanoke).
7 p.m. — Stars and Stripes Forever Patriotic Concert at the National D-Day Memorial (3 Overlord Circle, Bedford). The Jefferson Choral Society will kick off Memorial Day weekend with a performance of patriotic tunes. The Let's Dance Band will open with 1940s big band music. For more information and to purchase tickets, visit this link. ($)
7:30 p.m. — "Boy Bands Through The Ages" at Mill Mountain Theatre's Trinkle Main Stage (1 Market Sq., SE, Roanoke). A musical celebration of boy bands, featuring songs by artists like The Beatles, One Direction, the Backstreet Boys, and BTS. Visit this link for more information and to purchase tickets. ($)
7 p.m. (Doors open at 8)  — Live music: Harwell Grice band Live at the Penthouse at Center in the Square, to benefit Center in the Square (1 Market Sq., SE, Roanoke). Find more information and purchase tickets at this link. ($)
10 p.m. — Live music: Solacoustix at Martin's Downtown Bar and Grill (413 First St., Roanoke). For more information and to purchase tickets, visit this link. ($)
Saturday, May 28
9 a.m. to noon —- Blue Ridge Wildflower Society's Annual Native Plant Sale at the Roanoke Council of Garden Clubs Center (3640 Colonial Ave., Roanoke). Visit this link for more information.
10 a.m. to 6 p.m. —Salem Gem, Mineral, and Jewelry Show at the Salem Civic Center (1001 Roanoke Blvd. Salem). Visit this link for more information. ($)
11 a.m. — Literary Reading: UNA, Queen of Trouble by Mary Ellen Campagna at She's International Boutique (108 Market St., SE, Roanoke), to benefit a charity for urban girls. A drawing will be held for free books and refreshments will be served. Find more information at this link.
11 a.m. to 2 p.m. — Downtown Food and Cultural Tour hosted by Tour Roanoke. Meet at the Hotel Roanoke, main lobby (110 Shenandoah Ave. SW, Roanoke). Accompanied by local tour guides, visit six iconic restaurants in downtown Roanoke, while learning about our city's rich cultural history. For more information and to book in advance, visit this link. ($)
11 a.m. and 2 p.m. — Architectural Restoration Behind the Scenes Tours at Thomas Jefferson's Poplar Forest (1542 Bateman Bridge Rd., Forest). One hour long guided tours by Travis McDonald, Poplar Forest's Director of Architectural Restoration, will showcase efforts restoration specialists are taking to restore this historic landmark. Find more information and purchase tickets at this link. ($)
Noon — Roanoke's Festival in the Park at Elmwood Park (706 S. Jefferson St., Roanoke), featuring performances, vendors, and children's activities. Purchase your tickets for the evening performances and find more information at this link. ($)
2 p.m. — Jimmy FEST hosted by the AWS1 James Buriak Foundation at Olde Salem Brewing Co. (21 East Main St., Salem). This event is to bring awareness to Jimmy's legacy, the foundation's mission, and to raise funds for future Navy and Marine Corps families who experience aviation mishaps. Find more information and purchase tickets at this link. ($)
2 and 7:30 p.m. — "Boy Bands Through The Ages" at Mill Mountain Theatre's Trinkle Main Stage (1 Market Sq., SE, Roanoke). A musical celebration of boy bands, featuring songs by artists like The Beatles, One Direction, the Backstreet Boys, and BTS. Visit this link for more information and to purchase tickets. ($)
6:30 to 9:30 p.m. — Live music: Beggars Clan at Big Lick Brewing Company (409 Salem Ave. SW, Roanoke).
6:30 to 9:30 p.m. — Live music: The Meskos & Terry Brown at Wilderness Adventure at Eagle Landing (11176 Peaceful Valley Rd., New Castle). Arrive early for activities such as tubing, canoeing, and ziplining, and then stay for the music and food from the delicious Outpost Kitchen. For more information, visit this link. ($)
7 p.m. — Live music: Eugene Woodz presents: Eugene Woodz and Friends at The Spot on Kirk (22 Kirk Ave. SW, Roanoke), featuring acts from Taye The Truth, Kahlil Supreme, GMD 93 & Splizzoo, Himself (Eugene Woodz) and a Special Guest. Purchase your tickets and find more information at this link. ($)
7:30 p.m.. — Live music: The Boptet Live Jazz at 2 Chill (312 2nd. St., SW, Roanoke).
8 p.m. — Silent Disco at The Starcade (1 Market St., SE, Roanoke). For more information, visit this link. ($)
10 p.m. — Live music: Eric Wayne Band at Martin's Downtown Bar and Grill (413 First St., Roanoke). For more information, visit this link. ($)
10 p.m. to 1 a.m. — Sip and Skate: 70s and 80s– Memorial Day Disco Party at Firehouse Skate & Play (1620 E. Washington Ave., Vinton). This is a 21+ Event. Purchase your tickets and find more information at this link. ($)
Sunday, May 29
Monday, May 30 (Memorial Day)
Tuesday, May 31
Wednesday, June 1