My Account
Here's where you change your credit card number, switch subscription tiers, check receipts, or cancel your subscription.
First, make sure you are logged in. You should see a little icon of a person in the bottom right of the screen, like this: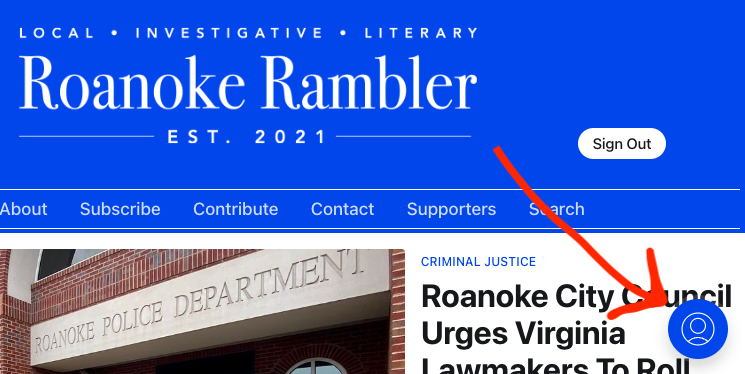 If instead you see an icon of an envelope that says "Sign up," then go to the top right of the screen, where it says "Sign In." Insert the email address tied to your account and click "Continue." You should receive an email soon with a log-in link. (Be sure to check your Spam or Junk folder if you don't see the email after a few minutes. The log-in link is good for 24 hours.)
When you click the person icon, you will come to a screen where you can change your credit card information, your email address and your subscription tier. Please note, if you switch the Email newsletter button from "Subscribed" to "Unsubscribed," it will NOT cancel your subscription; you will simply stop receiving the email newsletter.
To cancel your subscription, please email us at editor@roanokerambler.com or fill out this form. That's the best way to make sure your subscription is entirely canceled, because sometimes our newsletter sender and payment system don't talk well with each other.
To check receipts, you can now log in to a portal through Stripe, our billing system. Click on the link contained in this image below to log in: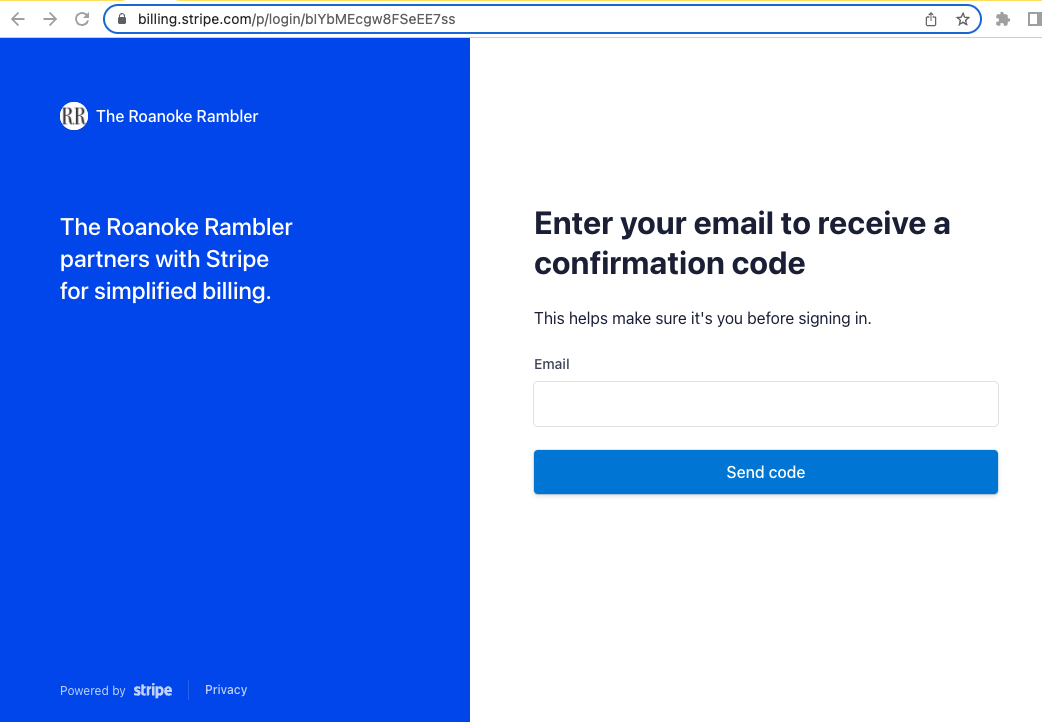 When you enter the email address associated with your account, you will receive an email with a six-digit code. Insert that code to proceed.
Through this portal, you are also able to update your subscription plan, change your payment method, and change your billing address. Additionally, you can cancel your plan and access copies of your receipts.
Do you want to give someone a gift subscription to The Rambler? Please fill out this form, and we'll be in touch.
If you ever have any questions about your subscription or how to access your account, please don't hesitate to reach us at editor@roanokerambler.com.
Thank you so much for supporting independent, local news!