Ramblings: City Seizing Site of Camps Near Roanoke Airport; School Board Candidates Vie; City Gets 2 State Laws Sought
What are Ramblings? Ramblings are a collection of short items that have caught our attention for one reason or another.
What are Ramblings? Ramblings are a collection of short items that have caught our attention for one reason or another. We're on the lookout for tidbits related to money in politics, data, business, civic engagement or interesting events. Think you know of something that could be a Rambling? Drop us a line at editor@roanokerambler.com and we may well write about it. Happy reading!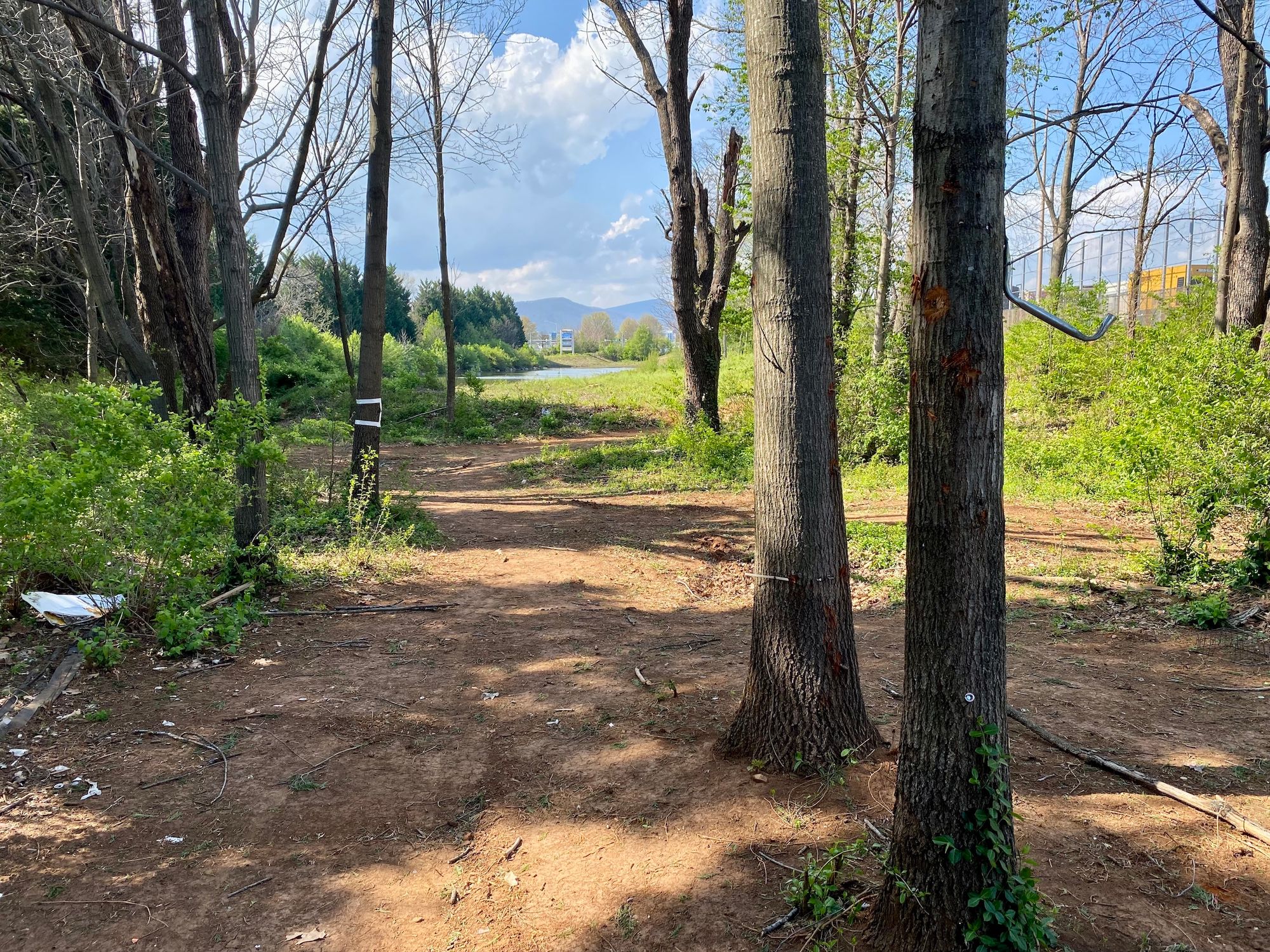 Roanoke seizing land host to homeless shelters
Roanoke City is seizing a strip of land near the airport that has become a frequent site of homeless encampments.
The property behind a Lowe's Home Improvement store, at 0 Aviation Drive, is owned by LMR Land Company, which has gone defunct and owes thousands of dollars in delinquent taxes, according to the city.
The city took the property owner to court and last month got permission to deed the 4.6-acre land directly to the city.
Council members said they have frequently received complaints from residents about littering and about people camping out on the property.
"People are always calling, wanting to know why wouldn't we clean it up. And try[ing] to explain to residents that we don't own it, that was a challenge," Councilwoman Trish White-Boyd said. "So this is going to be very helpful as far as being able to control it and maintain it."
The western part of the property serves as a stormwater retention pond, a requirement for the developer of the Towne Square shopping mall when it was constructed in the late 1980s and early 1990s, according to a city report. LMR took over the property in 1987.
"With no owner to maintain the Property, the Property becomes routinely littered with trash and other debris, posing a threat to the public health, safety, and welfare due to the topography of the Property and its terrain," the city's report said. "The City has incurred thousands of dollars in costs to perform nuisance abatement actions to remove litter and solid waste from the Property from time to time over the years."
The property owner owes more than $6,700 in back taxes, according to online city records. And the city has spent about $10,000 when it has done massive cleanups of the site multiple times per year, according to David Collins, senior assistant city attorney.
A court order March 3 appointed Collins as a special commissioner so he can deed the land to the city in lieu of selling the property at public auction, which is usually what happens.
Councilwoman Stephanie Moon Reynolds thanked city officials for taking the action "so that now we will hopefully no longer have any homeless encampments in that area where the airport is, so when we do have people coming in, flying in for business or for pleasure they will not see the eyesore in that area."
The site on Tuesday appeared recently mowed and cleared of belongings.
Candidates pitch selves for Roanoke school board
Three new candidates pitched Roanoke City Council this week on why they should be appointed to the school board.
Seats held by Eli Jamison and Natasha Saunders, who are both seeking reappointment, will be up for another three-year term beginning in July.
Council interviewed Jacqueline Moon, Auraliz Quintana and Christopher Link on Monday and plan to interview Jamison and Saunders on April 17, when citizens can provide their input during a public hearing.
Asked about a major challenge facing schools, Moon cited student homelessness, Quintana mentioned communication between the district and parents, and Link said overworked and underpaid teachers.
Quintana grew up in Puerto Rico and spent more than 17 years in child protective services in New York City. She works as the after-school program supervisor for the city's parks and recreation department.
"Number one reason is there's nobody that is Hispanic or from the Latin community on the board," Quintana said when asked why she's seeking appointment. "I know you know the Hispanic community is growing at amazing rates in Roanoke, and that voice needs to be heard."
Link, a structural engineer who grew up in Richmond, said he wants his four-year-old daughter to have access to a foundational education in public school.
"I thought it was settled science that a robust school system is in the best interest of advancing society," Link said. "Suddenly there seems to be this strain in American thought that, I don't know, is anti-public school, and I don't like that."
Moon, a real estate appraiser, said she has been involved in local schools as a "classroom mom, PTA mom," since her now-18-year-old son entered elementary school in Roanoke.
"I am very concerned about the cycle of poverty," she said. "If you can break the cycle of poverty through education, then you change the world."
Council is expected to make its decision on May 1. Roanoke is among a handful of Virginia localities where school board members are appointed rather than directly elected.
Few bills important to Roanoke become state law
Roanoke City saw two of its 10 major requests to Virginia's General Assembly for more local power make it into law.
Richmond-based Advantus Strategies, which helps the city lobby state lawmakers, updated City Council Monday at its first legislative committee meeting.
Two bills addressing blight and carried by Del. Sam Rasoul, D-Roanoke, at the city's request were signed by Gov. Glenn Youngkin. One allows police to remove squatters from private property. The other allows city code enforcement officers to remove broken-down vehicles sitting on city streets.
A bill championed by state Sen. John Edwards, D-Roanoke, and Del. Chris Head, R-Botetourt, to establish the Virginia Museum of Transportation as an official state agency failed.
But efforts toward that goal remain alive in a tentative budget update that is being hashed out by a select group of lawmakers, said Kathy Burcher of Avantus.
Draft budgets include $500,000 for the museum, while the House of Delegates budget also includes funding for a study on turning the nonprofit museum into a state agency, she said.
Burcher said lawmakers may not come to a final budget agreement until closer to July.
Most aspects of the city's request to roll back recently enacted criminal justice reforms were defeated by Democrats in the Senate. Council's advocacy of those provisions — expanding police powers over traffic stops and restoring presumptions against granting suspects bail — sparked controversy among some residents locally.
One related measure did make it through to law. That bill would allow doctors to seek a temporary detention order from a magistrate for a hospital patient in crisis with a substance use disorder.
Support local, independent journalism and don't miss a single story!
Become a member