Roanoke's Only Distillery Revives Regional Spirits History After 100-Year Dry Spell
Three brothers are reviving a tradition that Roanoke hasn't seen in more than 100 years.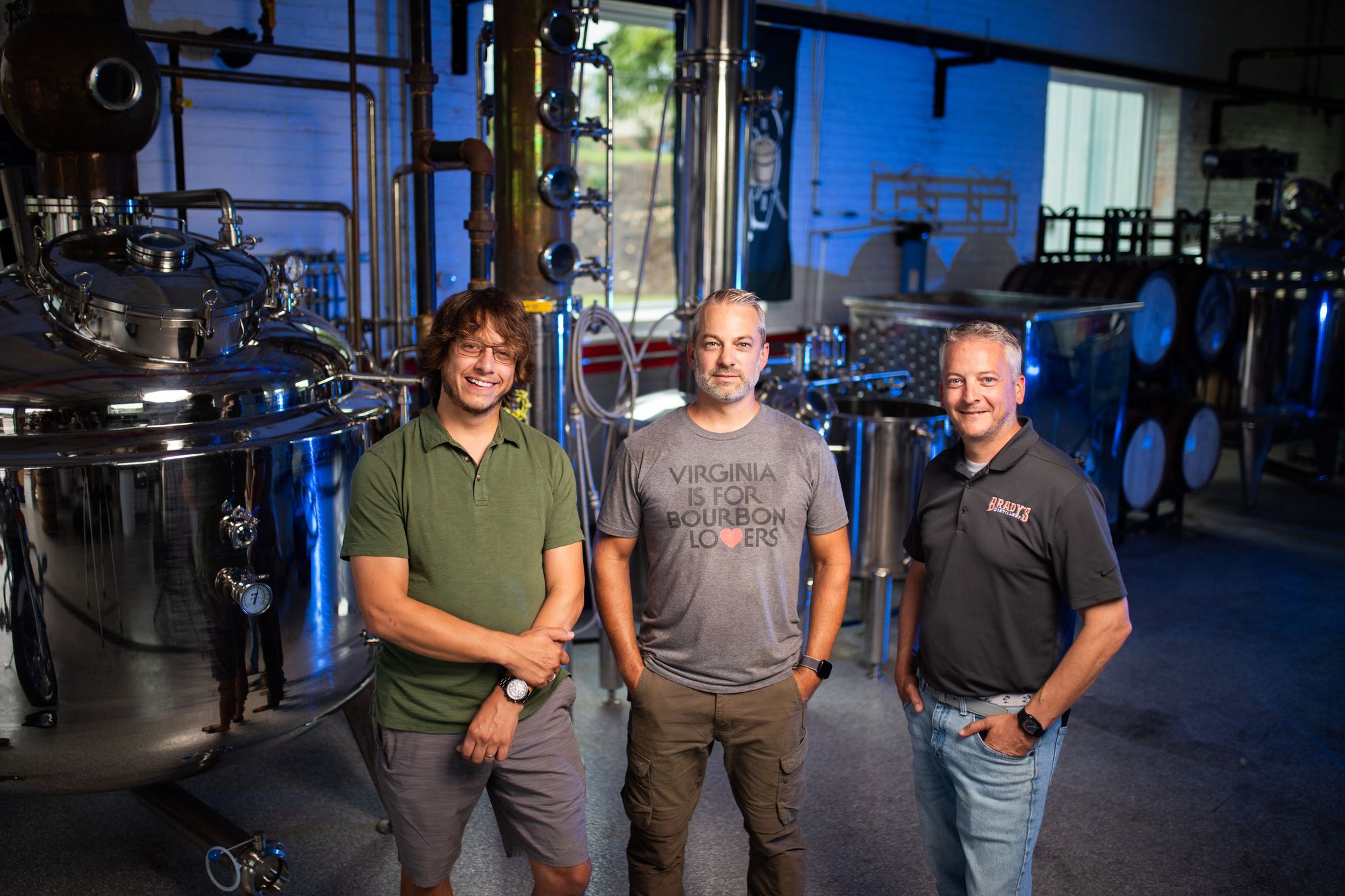 Say the word "distillery" in Southwest Virginia and it's hard not to think of the legendary prohibition-era moonshine running of the three Bondurant Brothers in Franklin County, chronicled in the 2012 film Lawless.
The brothers were responsible for the county being crowned "the wettest county in the world" in 1935 by journalist Sherwood Anderson, who was covering the trial of what would become known as the "The Great Moonshine Conspiracy." Prosecutors alleged that a conspiracy ring had defrauded the government out of $5.5 million dollars in excise taxes.
While Franklin County has a more recent tradition of distilling, Roanoke City proper hasn't seen a distillery since the early 1900s, well before prohibition took hold.
But now there are another set of brothers, the Brady Brothers — Tim, Brian and Andy — who are reviving a tradition that Roanoke hasn't seen in more than 100 years when Roanoke was home to John Casper Distilling and the industry was much more of a mail-order type of service. In 1908, Casper moved to Roanoke and sold stock to erect a distillery (in fact, another set of brothers — Gordon and Morris Aronhime — formed a mail-order company the same year in Roanoke and established the Aronhime Mail Order Liquor House ).
In the first moments of the 1900s the whiskey industry thrived throughout the Southeast before prohibition began to take hold. As neighboring states such as North Carolina went dry in 1908, distillers found refuge in the commonwealth.
The Bradys' decision to establish a distillery in 2020 came down to good old-fashioned market research. When Tim envisioned moving back to the Roanoke Valley after retiring from the Air Force he had always pictured opening a brewery and a hotdog stand, but he was a few years too late, as breweries began proliferating at a rapid pace in the area around 2018.
"I didn't want to recreate the wheel and I certainly didn't want to compete with something that was already well established, so that led us to down the distillery path," Brady said.
But this is not a product the Bondurant Brothers would recognize.
"We wanted to respect that heritage of Southwest Virginia, but we knew we didn't want to go down the path of being legal moonshiners," Tim said. While Brady 's Distillery does indeed tout  a corn whiskey more closely associated with the hasty production of the beverage's criminal past, the Bradys' version is a Solara whiskey aged for several years, not going from still to Mason jar in a matter of days. It's aptly called "Accomplice."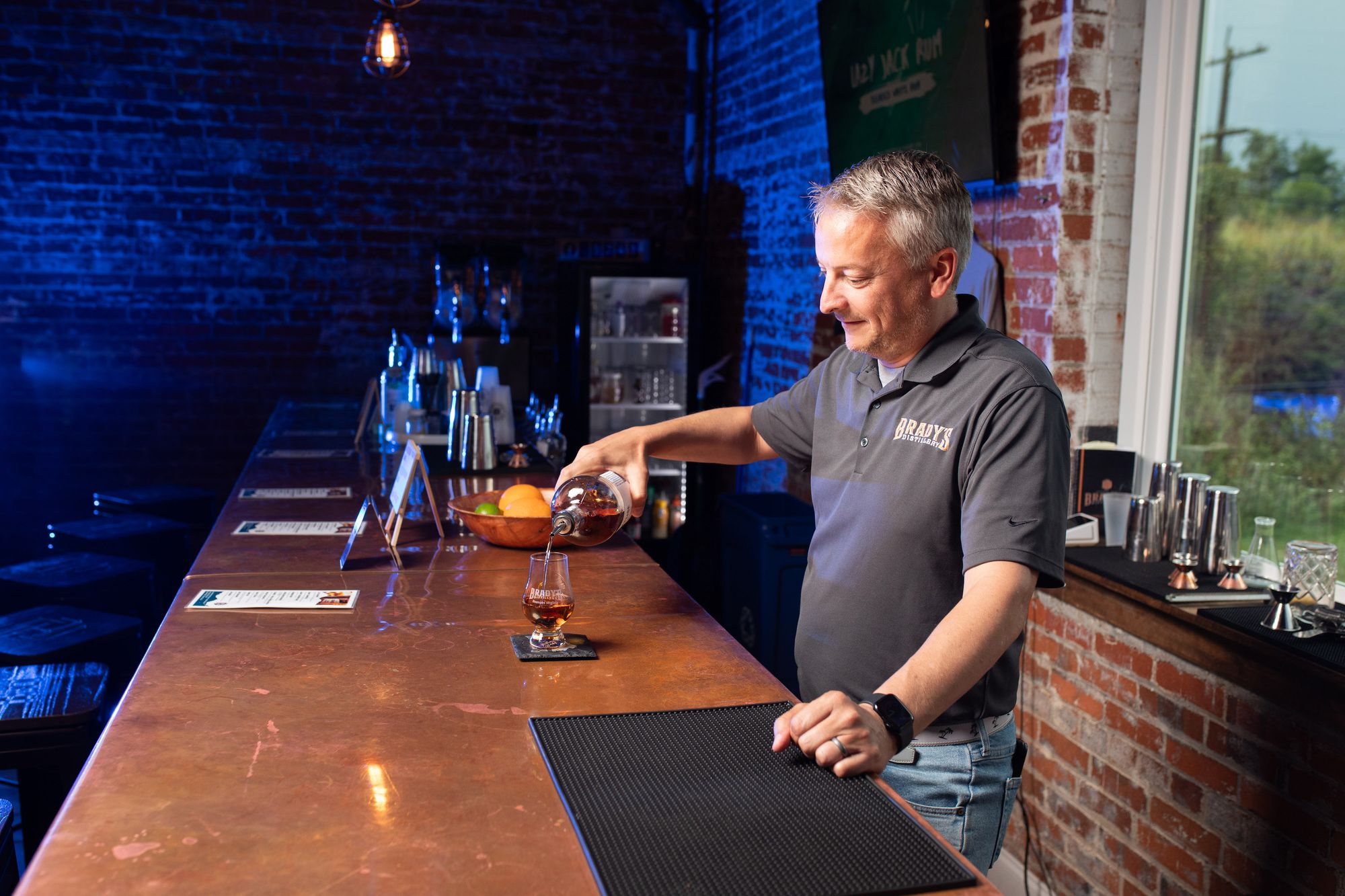 For a local distillery, the more compelling spirits at Brady's have international roots with rum, vodka, and gin playing a large part in their portfolio.
Brian Brady, who has a captain's license and has spent a significant amount of time in the Caribbean, was eager to incorporate the signature spirit of tropical islands and surly pirates so it seemed like a no-brainer to incorporate a blended rum once they found an importer in St. John in the U.S. Virgin Islands.
"Distilling is an industry that is exploding with opportunities for people of all educational backgrounds, all ages, and equally important, a desire to be part of maintaining the rich history and diversity of spirit creation in our state," said Shelli Sackier, director of distillery education at Reservoir Distilling in Richmond, Virginia.
But it hasn't all been rum and roses for the Brady Brothers. During the pandemic there were hurdles.
"We knew we wanted to have a bourbon, a vodka and a gin," Tim said. "All of the material items that went along with vodka became difficult to get during the pandemic, even if we got the spirit yesterday we would have had nothing to put it in. In 2020 we were waiting on so many little things we decided to go another route."
Ultimately, the brothers partnered with Midwest Grain Products in Indiana to source their vodka.
"We get a finer six-times distilled vodka," Tim said. It's a product he would put up against any major brand.
Located in Northeast Roanoke off Plantation Road, the distillery regularly hosts live music and food trucks and recently hosted a comedy night with six comedians that drew 150 people and a 1950s car show.
This fall, visitors can expect events to celebrate the turning of the seasons with a toasty cocktail in the open tasting room that sports exposed brick and loads of natural light. All the drinks at Brady's Distillery are $10.
"Every drink we sell is handmade. Our bartenders are making them right in front of you and I think our customers enjoy that piece of the experience here," Tim said. "I don't see what we're doing here as necessarily in a higher echelon or more elite, just more appealing to a generational set that wants to have a fancier drink made."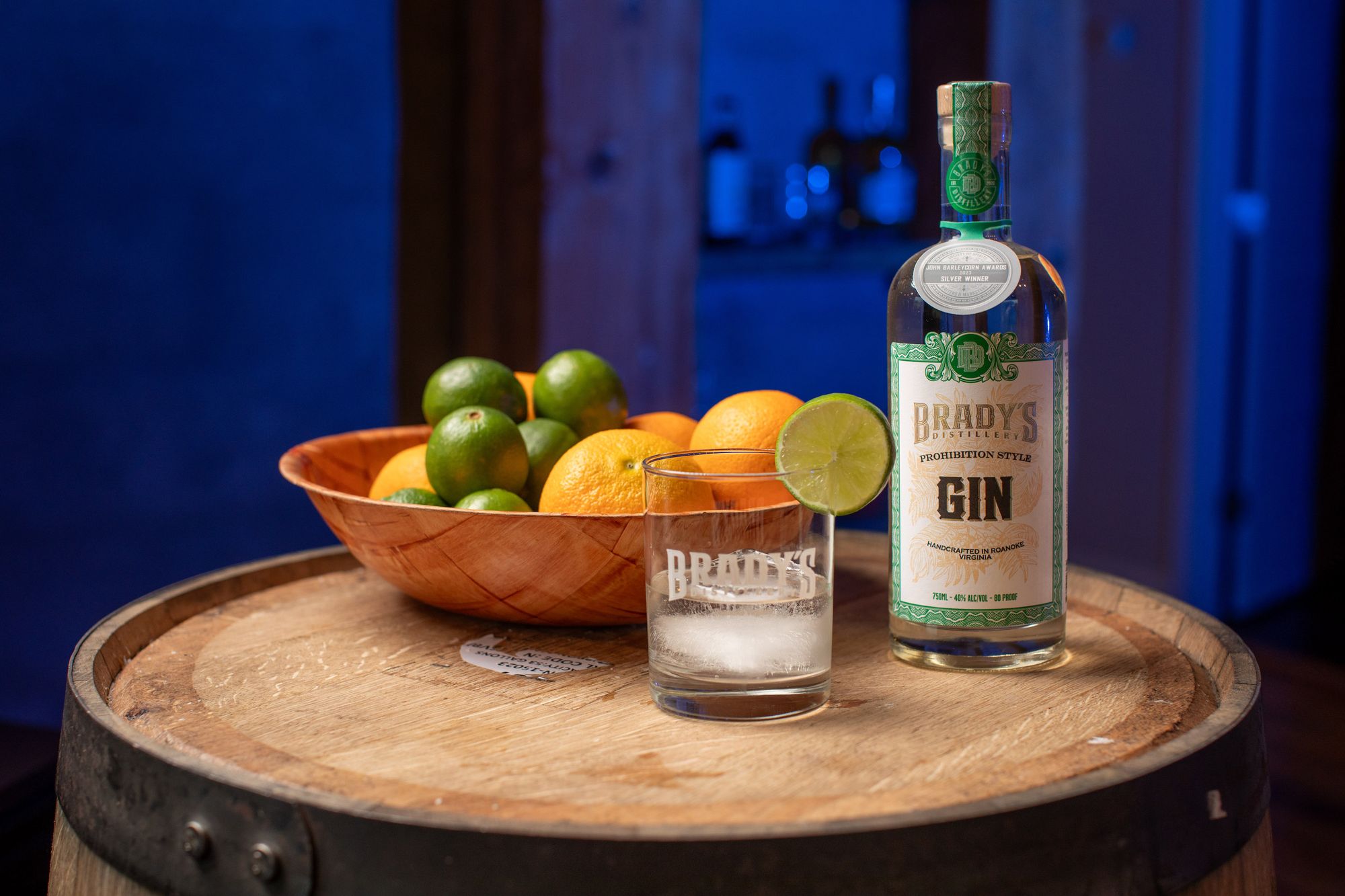 Alexandra Clough, president of Gather PR, a firm that specializes in craft spirits, sees the craft spirits industry following other trends in the food movement that prioritize local and artisanal ingredients.
"Much of the craft distilling trend follows the Slow Food movement. Today's consumer is interested in how things are made - from who is making them, to what ingredients they're using, to what methods," Clough said. "Additionally, consumers are often looking to support local - craft distilling fits squarely in this localization trend."
And Roanoke may in fact see more distilleries. While Virginia has not yet placed in the top five of states that are home to craft distilleries, The Craft Spirits Data Project, an entity that tracks growth in craft distilling, saw the number of active craft distillers grow by 17.4 per cent in 2022 across the nation.
Sackier also sees a lot of opportunity in the craft spirits market in Virginia not only because they are local, but also because they represent a nod to an unconventional business model.
Spirits function as a way to keep Virginia's history alive and uniquely inspire the health of the industry, she said.
And though they're no longer illegal, you might just feel like an outlaw drinking at Roanoke's only distillery.
Support local, independent journalism and don't miss a single story!
Become a member