7 Questions with John Park, Roanoke's 'Food Evangelist'
Park talks his love for food, his knowledge of the Roanoke food scene and how he made a business out of being a food influencer.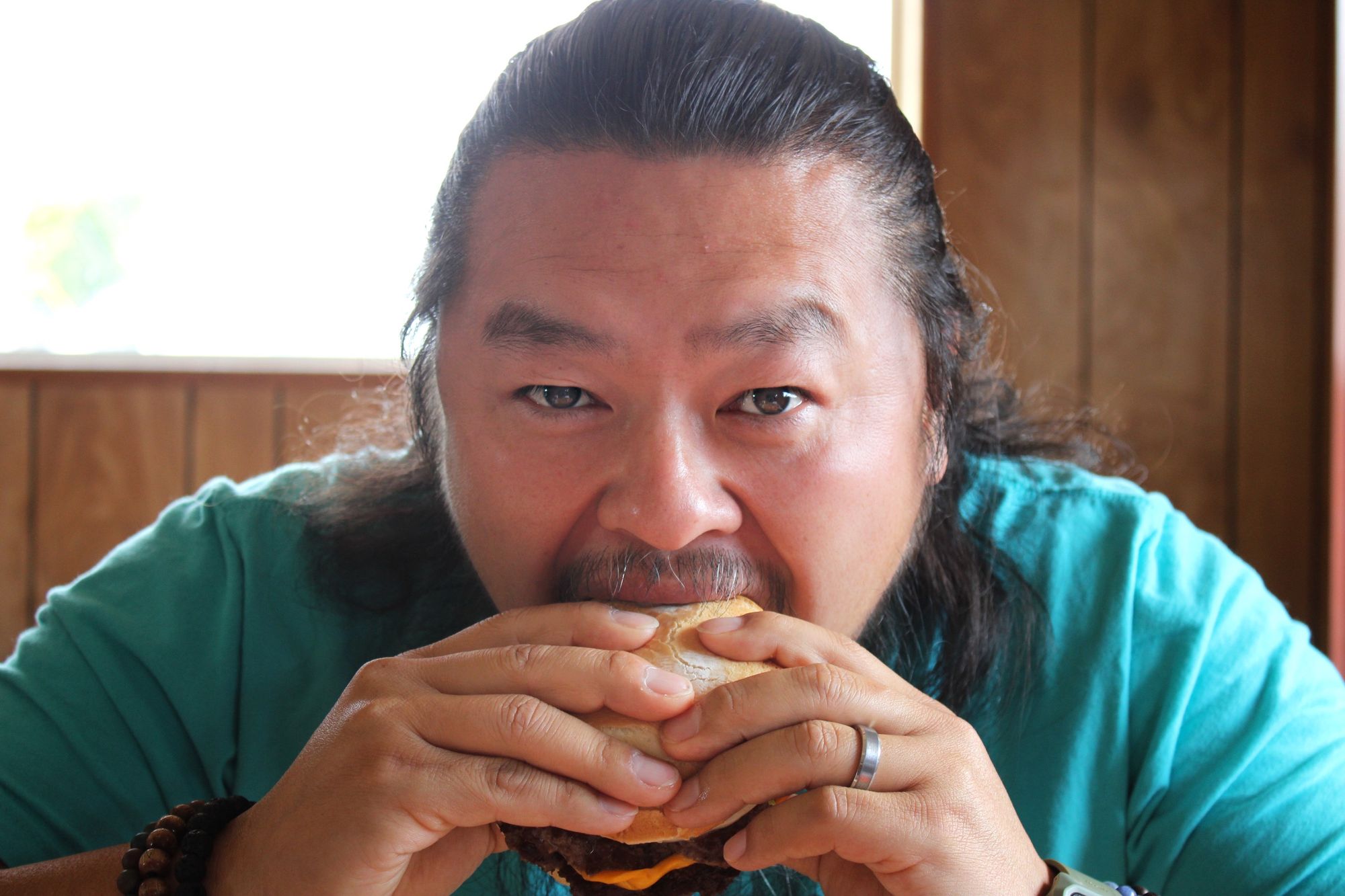 John Park learned how to cook at a very early age.
He helped his mom prepare Thanksgiving dinner each year in their Northern Virginia home. He also had to learn how to cook for himself on a daily basis as a latchkey kid. Now, he's known on social media networks as The Hungry Asian.
With over 10,000 social media followers, Park is a self-described "food evangelist" for the Roanoke region.
He loves food, he says — all food. The dish doesn't have to be served by a boutique restaurant or famous chef. Park is just as happy chowing down on a Williamson Road taco as he is slurping oysters at Lucky's in downtown Roanoke.
Park sat down with The Rambler for lunch and a Q&A session at Williamson Road's Richee Freeze recently. Over low-key burgers and BLTs, he chatted about his love for food, his knowledge of the Roanoke food scene and how he made a business out of being a food influencer before influencing was a known occupation.
Park was a late adopter to social media platforms, he said. He joined Instagram only in order to enter a Roanoke Times food photography contest; he won second place. From there, he started uploading content regularly.
"I was posting on [Instagram] like it was my job," Park said.
That was in 2013, right when social media was budding with bloggers and start-up influencers. Park says that he didn't get into social media to become an influencer, however.
"I'm not sure anybody [aspired to be an influencer] back then," he said.
Over time, Park's social media following grew. He routinely posted close up photos of his favorite snacks and meals. Now, most of Park's social media posts are short form videos — shots of Park taking a bite of a burger or showing off other foodie finds. Often he will ask, "Where am I eating now?"
Park doesn't only cover Roanoke's food scene. He's always on the go, traveling up and down the East Coast. Part of his travels are related to the JPG Agency, the marketing firm that Park runs with business partner Zack Jackson. The rest of the time, he's creating content for his personal social media channels.
When The Rambler met with Park, he had just returned from a weekend at the Salamander Middleburg resort in Loudoun County. He was there to act as a volunteer kitchen hand for The Family Reunion, an annual festival that celebrates the food and traditions of African American kitchens.
Park's friend and self-described "Afro-lachian cuisine enthusiast" Torrece Gregoire — a.k.a. Chef T —  invited him to help out with the event. His most memorable task? Turning four cases of green onions into scallion curls. That's how Park became known as the festival's Scallion King.
As much as he impressed the fellow cooks at The Family Reunion, Park has never formally worked in a kitchen, he said. He also hasn't worked as a server or a bartender.
Going into his first year helping at The Family Reunion in 2022, Park was nervous.
"I wasn't sure if I could keep up. At the end, I told them. I said, 'I don't work in a kitchen. I'm not a chef.' And they were all surprised," Park said.
Locally, Park can often be found slinging smashburgers at FoodHut Rke, a trendy establishment in west downtown Roanoke known for its weekly pop-ups with guest cooks and restaurateurs. Park's smashburger is unique, even aside from the pork green chili, crispy onion, or kimchi toppings. The secret is in the cooking method.
Park forcefully presses little balls of beef onto a hot cast iron griddle. The process creates a Maillard reaction, which adds flavor to the burger's crust. That's what sets smashburgers apart from regular hamburgers, according to Park.
He also spent the pandemic perfecting his biscuit-baking technique, making over 30 batches in six months.
It is that sense of experimentation and adventure that leads Park to discover new restaurants, both in Roanoke and along the east coast. He encourages his followers to do the same.
What do you think Roanoke is 'known for' cuisine-wise?
I don't know that we necessarily have a food identity. We have known places like Texas Tavern. But if you ask me what food is synonymous with Roanoke? I don't know that we have any. A lot of cities don't necessarily have a top thing. You think of Philly… cheesesteak. Chicago… deep dish pizza. New York… a lot of things are available. Roanoke? I don't think so.
What is Roanoke's food scene missing?
We don't have any Korean restaurants — Wonju has closed. We could use some more Asian restaurants in general. We have a lot of Latin American, a lot of Mexican places. We have places that are El Salvadorian and Hondurian. But we don't have that many traditional Asian restaurants.
I'm not talking about Chinese takeout. For me, Chinese takeout is its own genre. I look at it as [being] in the same genre as El Rodeo. They're inherently American, with Asian or Hispanic roots. We need Asian restaurants that are not Chinese takeout.
How do you see restaurants evolving locally?
I'm hoping that there are some younger players that are getting involved, like Jason [Wu] at Sticks and Spoons. He's partnering with Brandon [Stinnett] from Lazy Bulldog to do a collaboration at the City Market Building. That menu is going to be very different from anything else.
What do you see as one of the challenges of the Roanoke food scene over the last 10 years (besides Covid)?
People are so willing to go spend $12 on the three tacos somewhere downtown. The restaurants [on Williamson] don't look as nice on the inside. They don't have the nice little facade. But the contents are way better. So, maybe people should seek out better food. Go out and get outside your comfort zone.
I think this is inherently an obstacle everywhere — not having the talent, not having enough employees. The pandemic has obviously expedited that. I think people who are no longer in business would have eventually gotten out anyway.
Are there obstacles to getting more of a reputation as a dining destination? Does that even matter anymore?
I think it does matter. Roanoke as a whole — and I'm not knocking this at all — Roanoke talks a lot about the outdoors. We talk a lot about trying to bring talent in this area through the outdoors or whatever it may be. But those people who are committed to larger markets are going to want [certain] amenities. I think becoming a dining destination just adds another layer to what makes a place great.
One obstacle to being a dining destination is not having people in the hospitality industry. If you don't have high-quality amenities, why would you stay?
It's not just any one piece right? There are a multitude of multiple variables that keep somebody in town. One is having a great network or tribe or group of friends. But also, if you have amazing dining options, breweries, and other things, people want to stay.
There are discussions on how to bring people in, how to attract people, but we still have to have something for them to do. We don't have the talent pool in terms of how to grow this area in that aspect.
What's going to help foster a more tight-knit community while creating more diversity in concepts and cuisines for diners?
One of the things I think we're benefiting from in Roanoke is that people in remote work are moving here because they are realizing that Roanoke is a great place to live. The cost of living is less. When you have an influx of people coming from larger markets, they're looking for certain amenities like diversity and food.
So you also have people who are moving here from places like Asheville because they can't afford to live there, and maybe they are in the food industry. They are probably going to try to open new restaurants. And you're probably going to get people who are demanding [more diverse restaurants] because they're moving here from other markets. That influx is going to help drive diversity in the food.
I think people don't realize that we actually have a decent amount of diversity in our food here. They just don't choose to seek it out or don't know that it is available.
Right now we're on Williamson Road, right? People from Grandin or southwest county probably aren't coming here. It's not that they don't want to come here. It's probably not even that they're afraid to come here. I think it's more about proximity. People are used to being in their little bubbles. People are creatures of habit. In their normal day to day, they don't think about coming out here.
Most places on Williamson Road. The people that run them, they put their heart into it. It's their livelihood. [Richee Freeze] is [run by] three people. They're all family. And they've been at it since 1985.
Taco Riendo is run by a guy and his brother. One runs the taco shop and the other runs the grocery store. And now the guy has his daughter helping him in the front.
[The restaurant owners] take pride in what they're doing. They realize this is a community.
Support local, independent journalism and don't miss a single story!
Become a member