Scope of Blame Widens in Volosin Campaign's Use of Sample Ballots During Roanoke City Council Primary, Complaints Say
Family of Peter Volosin and Vivian Sanchez-Jones passed out sample ballots, complaint filed by losing candidate alleges.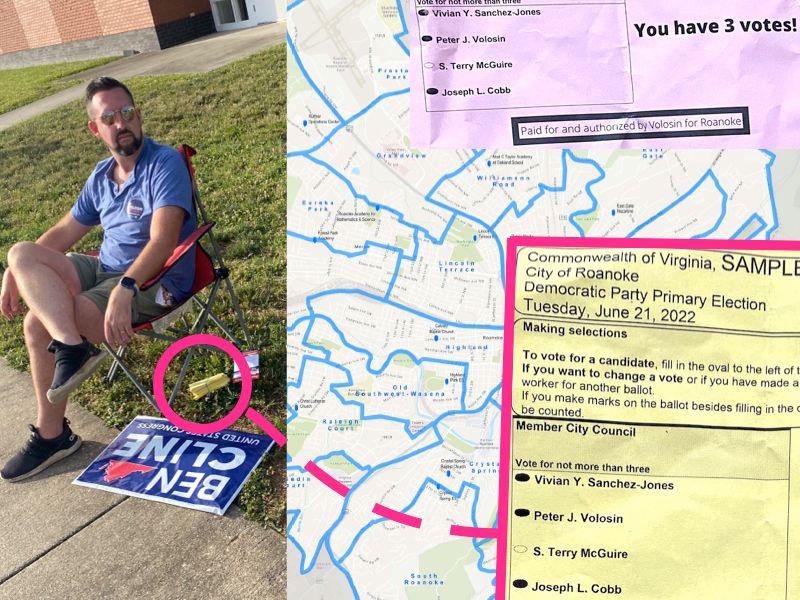 A campaign tactic tied to Peter Volosin, a Democratic nominee for Roanoke City Council, is the focus of 11 complaints to the state elections board — including one from a leader of the city's own Democratic committee.
Volosin and Council members Joe Cobb and Vivian Sanchez-Jones were elected in a June 21 primary as the party's candidates for the Nov. 8 election.
Family members of both Volosin and Sanchez-Jones were involved in the distribution of illegal campaign literature, according to a complaint filed by candidate Terry McGuire, whose fourth-place finish cost him the primary election. The Rambler obtained the complaints in a public records request.
Leaflets that Volosin's team passed out on Election Day both confused voters and violated state election laws, complaints allege. The sample ballots — which mimicked the primary ballot's option of four candidates — had bubbles filled in for Volosin, Cobb and Sanchez-Jones. Left blank was a bubble next to McGuire's name. (Disclosure: The Rambler's founder is a tenant of McGuire's.)
State law requires that sample ballots include a disclaimer about who paid for them. One version of the ballots passed out on the morning of Election Day didn't include that statement. Subsequently printed ballots — which said they were "Paid for and authorized by Volosin for Roanoke" and included a reminder to voters that "You have 3 votes!" — did not include a required disclaimer that no other candidates or committees endorsed the message.
Andrew Cochran, the city's voter registrar, said the second version of the sample ballots was also improper. The state board of elections is expected to take the matter up at an Aug. 16 meeting.
"They have gotten very serious about this in recent years," Cochran said in an interview. "The fines can be pretty significant."
A violation carries a civil penalty of up to $25,000, and in a case of a "willful violation," a Class 1 misdemeanor, according to a Virginia code section cited by Andrea Gaines, a spokeswoman for the Department of Elections, when asked what penalties were possible for sample ballots with improper disclaimers. She said staff still need to evaluate each of the 11 complaints to determine what will appear before the board's meeting next month.
One leader in Roanoke's Democratic committee believes Volosin left the proper disclaimer off on purpose so voters would think the party backed him, records show. The complainant, whose name is redacted, notes that before his primary win Volosin served as a vice chair of the committee.
"Our entire committee knows that RCDC is neutral during Primaries and there absolutely would not be [a s]ample ballot on June 21 but I believe Peter intended the illegal ballot to IMPLY that the ballot came from RCDC," the complainant, who identifies themself as chair of the party's communications committee, wrote. "I hope that the State Board of Election will levy the ma[x]imum penalty appropriate so that future candidates will know that Roanoke Democrats DO NOT TOLERATE OR CONDONE breaking state election laws."
In an emailed statement, Volosin rejected that characterization.
"It was unfortunate this authorization error was made when printing the sample ballots. There was never any intention to represent the sample ballot as being made by the Roanoke City Democratic Committee," Volosin wrote Tuesday. "As of now, I have not received any communication from the Board of Elections and will fully cooperate with any requests made as we follow due process. I am very much focused on our campaign to build a better Roanoke by addressing public safety, creating more jobs, and investing in our future generations."
In a June 22 Roanoke Times article, Volosin described the omission on the first ballot as a mistake and said election officials never told him the later disclaimer was incomplete.
McGuire and others cry foul.
The complaint from the Democratic committee member says, "Peter Volosin knows the law that requires the authorization statement. In fact, this is his THIRD run for office." (Volosin unsuccessfully ran for U.S. Congress in 2018 and for Roanoke City Council in 2020.)
McGuire further claims, "it appears that those behind distribution of the 'Democratic [s]ample ballot' utilized and adapted the publicly available [s]ample Democratic ballot … which included a clearly marked notice that use of this material required compliance with aforementioned election disclosure requirements."
That sample ballot, authorized by Roanoke's electoral board, states its disclaimer must be removed and replaced with an appropriate "authorized by" statement and lists the Virginia state code that provides instructions on how the disclaimer should read. (Volosin did not answer whether he sourced the sample ballot from there.)
Those passing out the sample ballots, per McGuire's complaint, included Volosin; his husband; Maria Childress, a former chair of the 6th congressional district Democratic committee whom candidates in a 2018 congressional race claimed showed favoritism toward Volosin; Volosin's campaign manager, whom McGuire said "expressed remorse about the tactic"; and Sanchez-Jones's daughter.
While some names, including McGuire's, are redacted from the records, the complaint identifies the author as a candidate in the primary other than Volosin, Cobb or Sanchez-Jones. McGuire declined to comment further, other than what was written in the complaint.
McGuire said that at about 5:30 p.m. on Election Day, "my campaign volunteer returned to Precinct 17 and met a woman who identified herself as [redacted], daughter of candidate Vivian Sanchez-Jones. Ms. Sanchez-Jones also expressed uneasiness about distributing the sample ballot but did so nonetheless."
Sanchez-Jones declined to comment.
Cobb said in an email that he would "defer commenting on the sample ballot issue as a resolution process is underway and should be finalized in early August."
McGuire says the sample ballots sowed confusion among voters in an already complicated City Council election. Democrats haven't held a primary for City Council in at least a decade, and the November ballot also includes a seat for a special two-year Council seat because of the resignation of former councilman Robert Jeffrey Jr.
"I believe it was a willful attempt to mislead and confuse voters into believing either the local Democratic committee had made last minute endorsements, or that I, [redacted], was somehow otherwise not a Democrat," McGuire wrote.
The record of complaints raises the question of whether the Roanoke City Democratic Committee did enough to halt the distribution of the sample ballots as printed.
The local party's bylaws say committee members can support specific candidates in primaries. But it "shall be the affirmative responsibility" of party leaders "to assure that it is clear that the support of individual members for candidates does not imply RCDC support."
Committee leaders did not respond to messages, but previously called the lack of disclaimer "unfortunate" that could "inappropriately influence election outcomes."
In the primary, McGuire lost to Volosin by 263 votes out of 4,362 ballots cast.
With hundreds and possibly thousands of sample ballots passed out, McGuire wrote, there's "no way of determining the exact impact these sample ballots had on the outcome of the race." It's not clear how many sample ballots were distributed.
Local Democrats have been on high alert in recent years over any appearance of impropriety. In March, Jeffrey gave up his Council seat after a felony conviction on embezzlement charges.
"Our City Council elections this year are fraught, at best, due to criminal behavior and removal of an elected member," the complaint authored by the party's communications chair says. "Roanoke, and especially Democratic voting citizens, must insist candidates be held to the law."