Henrietta Lacks Statue Concept Unveiled at Roanoke Plaza Named in Her Honor
The Black woman's statue is to be erected where an obelisk dedicated to Confederate general Robert E. Lee used to stand across from city hall.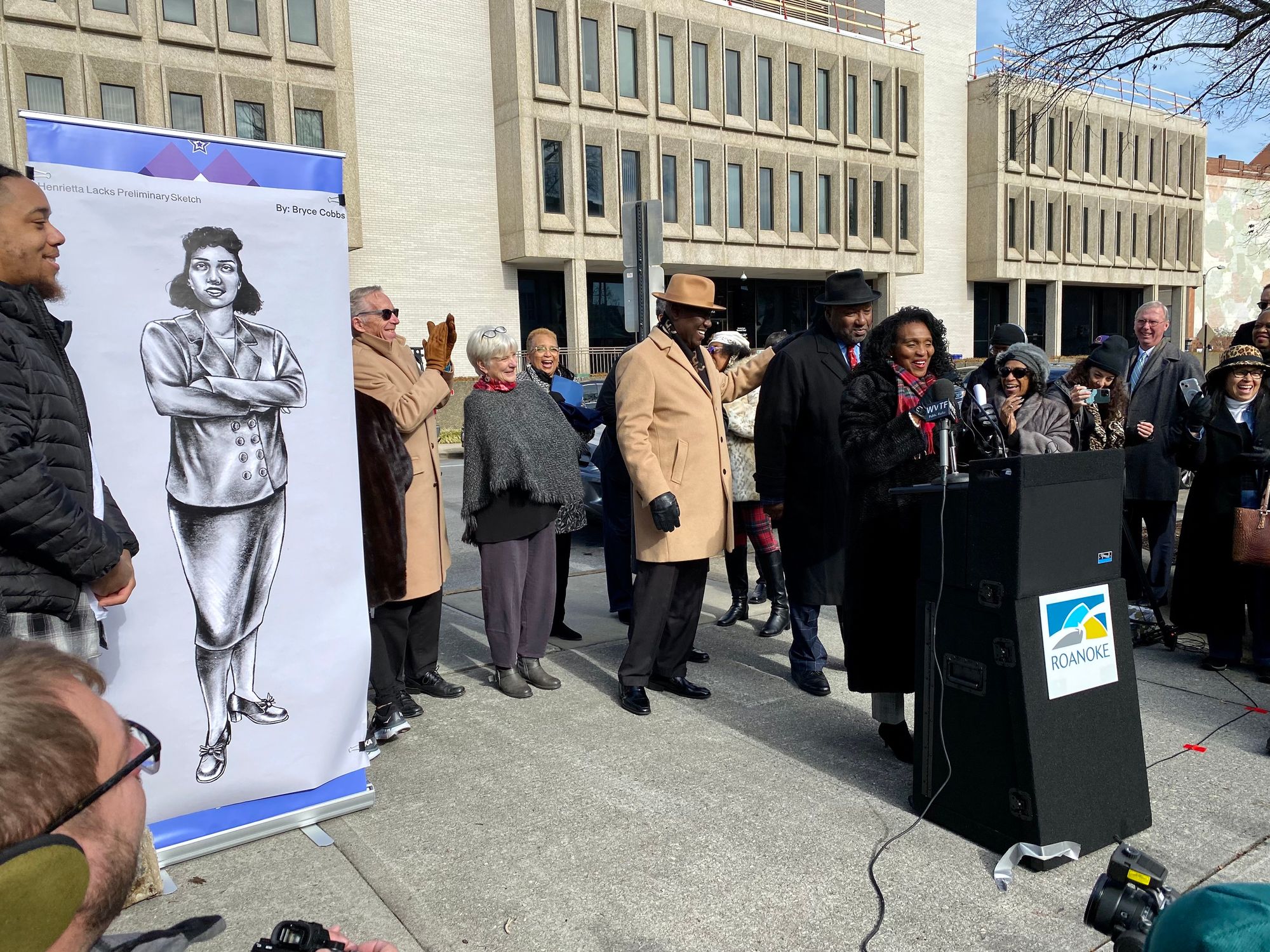 A six-foot bronze statue of Roanoke native Henrietta Lacks, arms crossed and eyes cast skyward, will stand in a downtown city plaza renamed for her.
The Black woman's statue is to be erected where an obelisk dedicated to Confederate general Robert E. Lee used to stand across from city hall. City leaders on Monday unveiled a sketch of Lacks that will serve as inspiration for the statue.
Lacks unwittingly contributed to scientific advancements when researchers used fast-replicating cells from her body after her death in 1951. The 31-year-old had been undergoing treatment for cervical cancer at Johns Hopkins Hospital in Baltimore. Unlike other human cell samples taken at the hospital, Lacks's cells doubled every 20 to 24 hours in the lab.
Since then, HeLa cells have been used to study the human genome, the effects of radiation, and played crucial roles in the polio and COVID-19 vaccines among other medical breakthroughs, according to Johns Hopkins.
"So I think it's very safe to say … that if you're living today, not just in Virginia, not just in America, but in the world, that we all have a little Henrietta in us," Ben Crump, the Lacks family's attorney said Monday at a ceremony at Lacks Plaza. "Henrietta lives."
Crump, a noted civil rights attorney, is representing the Lacks family in a 2021 lawsuit against Thermo Fisher Scientific alleging the pharmaceutical company profited off Lacks's cells, which were taken without her consent.
Roanoke leaders spurred on by Vice Mayor Trish White-Boyd raised more than $160,000 to commission the statue, as well to fund a digital history project telling stories of Roanoke's past.
"To be able to raise that money lets you know how important it is for this community that we were able to get this done," White-Boyd said. "​​The project is so important for our community, because this documentary will uncover some of Roanoke's dismal, dark and painful history."
The virtual history project will highlight the Berglund Center, Old Lick cemetery, Washington Park, Burrell Memorial Hospital, Henry Street and where Lacks's home was. Urban renewal — a policy that destroyed many Black homes, businesses and churches beginning in the 1950s — ravaged most of those sites in Northeast and Northwest Roanoke.
Dontrese Brown, a founder of the history project, called Hidden in Plain Site, praised White-Boyd for recognizing Lacks and Roanoke's past.
"We're talking about Black history here, and the most historically underrepresented group in our country is the Black woman," he said. "This project was led by a Black woman. This whole idea came together from a Black woman. Everyone you see here, everyone that's contributed, is because of a Black woman."
Roanoke artist Bryce Cobbs drew the full-length sketch of Lacks that will be used as a model for the statue. Larry Bechtel, a Blacksburg sculptor, said he will first make a model about 24 inches high in detail based on Cobbs's drawing. He will then develop a full-sized model that will go to a foundry.
The sculpture will be cast in bronze. Bechtel said the hope is to dedicate the statue in October.
Lacks's eldest son, Lawrence Lacks, as well as her grandson, Ron Lacks, expressed their appreciation that White-Boyd and city leaders reached out to get the family's blessing first.
"I will be looking forward to the unveiling and the finishing sculpture that will honor her forever in this beautiful city of Roanoke where my grandmother was born," Ron Lacks said.
While the city provided a donation to the overall project, the nonprofit Harrison Museum of African American Culture served as the fiscal agent. Appalachian Power recently pushed the campaign over the top with a $25,000 donation.
Mayor Sherman Lea said the statue of Lacks continues the city's recognition of important Black Roanokers.
"Roanoke is a progressive city that's moving in a positive way," he said. Lea gestured to the city municipal building behind him, named for Noel. C. Taylor, Roanoke's first Black mayor. He pointed across the street to the courthouse named for civil rights lawyer Oliver W. Hill.
"And right here we're going to have a statue that recognizes a tremendous lady, Henrietta Lacks," Lea said, "so what a progressive, inclusive city we have."
Support local, independent journalism and don't miss a single story!
Become a member