The Kionte Spencer Records
A 2016 shooting of a teenager in Roanoke County carrying a BB gun galvanized community members. No police records have been made public — until now.
Newly released video captures the moment in 2016 when Roanoke County police officers fatally shot 18-year-old Kionte Desean Spencer as he turned toward them holding a broken BB gun.
The shooting has galvanized community members, activists and civil rights groups, which have made periodic calls for an outside investigation and the release of dash-cam video.
No police records have been made public — until now.
In March, Virginia's General Assembly repealed a 2021 state law that made old police investigative files open to the public. But before the repeal takes effect next month, The Roanoke Rambler requested video, 911 calls and police reports related to the Spencer case. All told, Roanoke County charged The Rambler more than $1,000 for the records.
The video and reports offer the most comprehensive and unvarnished look yet at the local police shooting of a Black high school student that has sparked controversy and prompted criticism.
"I do believe race played a part in his demise," Brenda Hale, president of the Roanoke branch of the National Association for the Advancement of Colored People, said in an interview Tuesday. "I do believe that if it had been anybody other than a young, Black, African American teenager, it would have been handled differently, and we see that across the nation all the time."
For several minutes one February night in 2016, police officers pursued Spencer, who they believed to be carrying a gun, as he walked along Electric Road in southwest Roanoke County.
About three seconds elapse from the time Spencer turns toward officers to when three shots ring out, one dash-cam video shows. While the shooting takes place in the distance, partly obscured by a street sign and grassy hill, Spencer appears to hold his arms at chest-level as he faces the officers. Roanoke County police officers did not — and still do not — wear body cameras.
In the records, the county redacted the names and blurred the faces of the officers involved in the shooting, citing a section of state code that prohibits law enforcement from identifying the victims of crime.
What do the records show?
At about 7:15 p.m. on Feb. 26, 2016, the county's 911 center received a call that a man walking near the Cave Spring Corners shopping mall was waving a gun at passing cars.
The call came from a man who identifies himself as a law enforcement officer with the Western Virginia Regional Jail, according to audio from the 911 call.
"What kind of gun is it?" the dispatcher asks.
"It's a Glock," the caller says.
"OK. Is he pointing it at anybody or is he just walking around with it?"
"He's got it out and he's waving it around pointing it at cars," the caller says, later adding, "He looked at me and pointed it at my car."
911 call in the Kionte Spencer case
When police arrive, Spencer is walking south on Brambleton Avenue before he turns to walk north on Electric Road, just north of a Walgreens, one dash-cam video shows. He wears headphones, a ball cap and red bandana around his neck.
As police car lights flash, Spencer walks away from the officers, sometimes pulling up his jeans with the BB gun in one hand, at times moving his hands as if in sync to a rap song. He occasionally turns his head toward the police. Officers yell at Spencer to "Stop now!" "Drop the gun" and "Put the gun down now!" according to one video. They yell such commands about 17 times. An arc of sparks falls to the ground as an officer apparently fires a Taser gun at Spencer. Police have said officers twice tried to use a Taser on Spencer with no apparent effectiveness.
At one point, Spencer turns to face two officers, who step back. He turns back around and continues walking, turning right from the roadway onto a patch of grass. As more officers advance, Spencer turns around and pauses, with his arms seemingly at chest level.
Two officers fire three bullets, and Spencer falls.
"We got shots fired, shots fired," an officer says over the radio. A police dog barks and whimpers.
"Do you have any other weapons on you?" an officer asks, according to audio in one video.
"No sir," comes the reply, seemingly from Spencer.
"Where are you hit?"
"Everywhere," he says.
"Fuck," another officer says.
Police radio that Spencer has been shot at least once in the chest and in the lower abdomen. They ask Spencer if he can breathe and the sound of moaning can be heard.
"Talk to me, man!" one officer shouts. "Hey, you OK? Look at us!" another says. One officer says Spencer is losing consciousness as another implores him to keep talking.
"Handcuffs got to come off," an officer can be heard saying.
Paramedics wheel Spencer into an ambulance. He would be pronounced dead later that evening at Carilion Roanoke Memorial Hospital. The medical examiner's office would rule that Spencer died from a gunshot wound to the chest.
The video does not clearly show Spencer's hands. A police report taken by Sgt. Shannon Dillon describes what officers told police investigators: "After two Taser deployments had no effect, Kionte turned facing the officers and as he brought up his firearm toward the officers, [redacted] and [redacted] shot him."

Police records also describe the moment when one of the officers who shot Spencer discovers Spencer had been carrying a BB gun. A Roanoke County detective, Mary Anne Hicks, wrote in a police report dated March 8, 2016 about arriving on the scene after the shooting.
"I walked up to [redacted] and saw he was shining a flashlight on what appeared to be a handgun. I asked [redacted] if he was OK and he repeated either 'It's a fuckin' air gun' or 'It's a fuckin' BB gun' over and over," Hicks wrote. "He then stated that he and [redacted] had both shot at the subject and he believed him to be suffering from wounds to his neck [and] upper leg. It was at this point I took a second look at the handgun and saw that in the grip was a voided space, consistent with an air [BB] gun."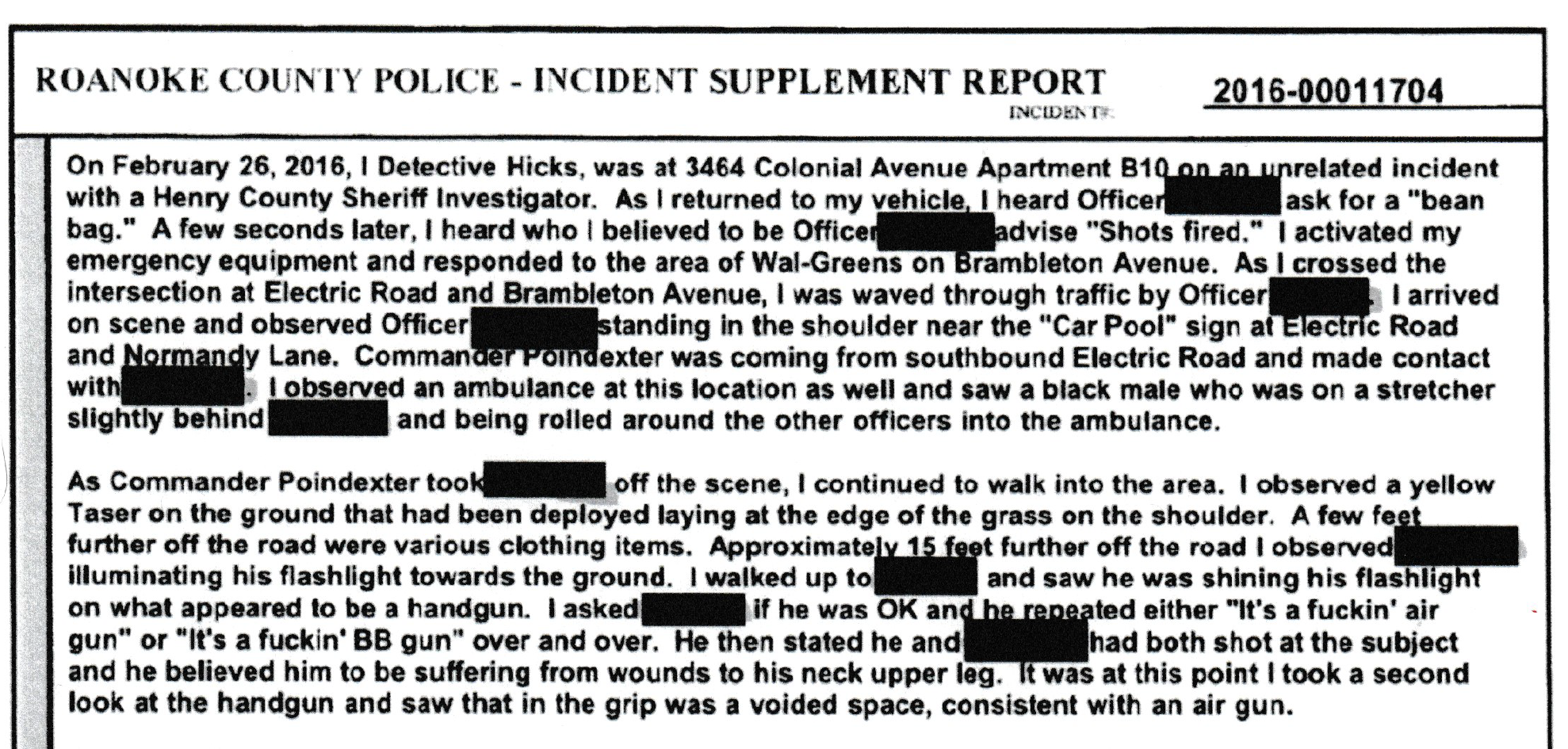 Spencer's actions 'an enigma'
Spencer, a junior at Hidden Valley High School, had been living at a group home a half mile from where he was shot.
He had been walking from the nearby apartment of a friend, Brandon Milliner, who would later tell the media that Spencer had just picked up the broken BB gun from Milliner's bedroom floor before leaving. Spencer wrote music and could often be seen with his headphones, friends would later say.
The group home, run by a company then called Intercept Youth Services, was designed to provide a structured home life for children and adolescents with behavioral, emotional or developmental needs. At a May 2016 press conference, Roanoke County Police Chief Howard Hall described how Spencer told a counselor that he was about to become homeless because he was transitioning out of foster care. Spencer was not taking his medication and did not want additional help with his mental health care, Hall said at the press conference.
A police report, released recently to The Rambler, quotes an evening support counselor at the group home who told police "that Spencer was getting kicked out on Tuesday March 1st," which would be four days after the shooting.
Hale, the president of the Roanoke NAACP branch, has taken issue with Hall's discussion of Spencer's mental health situation, describing it as a "character assassination."
No evidence has emerged that sheds light on why Spencer may have acted the way he did that night.
Tests showed no alcohol or drugs in his system, police have said. Spencer had complied with police during previous run-ins with law enforcement, Hall has said.
"Why he didn't, you know, comply with their commands, why he didn't drop what he had in his hands, is a very unfortunate unknown, an enigma," Brian Holohan, Roanoke County Commonwealth's Attorney, said in an interview Tuesday.
A week before the shooting, Spencer posted photos of himself on Facebook walking outside with his headphones in and a red bandana around his face. The next day, he posted a photo of himself with his fist out toward the camera. A few hours later, one commenter posted on the earlier post, "U gonna get shot 😂"
'Justice begs to be served' in Spencer's death
For six years, family members and activists have wrestled with what really happened that February night. They have consistently called on police to make more information public.
"These videos should have been able to be released years ago," Spencer's brother, Carl, said after reviewing videos at The Rambler's invitation. "It makes me, you know, at least happy that people will know, will get to see what actually happened, to an extent."
Bernadette "B.J." Lark, who taught Spencer music at Jefferson Center, has served as an advocate for the family.
"I think it's very important that these videos be released … because justice begs to be served," Lark said in an interview. "We've really got to use this footage to beg justice be served for Carl and his family."
Still, Carl Spencer, Lark and Hale — who watched dash-cam footage at The Rambler's invitation — believe the video footage is far from conclusive. They note that the shooting itself takes place in the background, and it is difficult to see what happens.
Police edited the footage to blur officers' faces, too, which to community members such as Lark raise the question of whether law enforcement made any other edits.
Distrust that activists have in Roanoke County police extends to how officers first interacted with Spencer. They point to a double standard with how Black people, men particularly, are perceived in society as threats compared to white people in similar situations. Historical segregation plays a role, too, in how Black and white people interact in daily life; Roanoke County is 88 percent white.
"They [police] are able to bring people in [to custody] that actually killed 11 people as an active shooter," Lark said, referring to the May arrest of a white man at a Buffalo, New York supermarket accused of a racist attack that killed 10 Black people and injured three others.
"It's just a repeated trauma of these young, African American males being killed prematurely, that's the thing that stays with you. That's the thing that you live with," Hale said. "To me, what could I have done to prevent that? That's why we work so hard for retraining. We do not believe in this saying, 'Defund the police,' that is the most craziest thing that you could ever imagine. We're asking for funds to be reappropriated for training, to respond to situations like this. As an Army nurse, I know that deadly force is not the first intervention that you should have."
Hale said another outside investigation into the shooting is needed. The department should release the names of the officers, start using body cameras and implement a citizens review panel that will analyze police decisions, as exists in some jurisdictions, Hale said.
"I think there's still unanswered questions about the situation and his premature death," she said. "Nothing has changed in Roanoke County in regards to the police department."
Investigations into the shooting
Three months after the shooting, Randy Leach, at the time Roanoke County's Commonwealth's Attorney, declined to bring criminal charges against the officers who killed Spencer.
Officers believed they were in imminent danger of getting shot, the prosecutor concluded.
That summer, activists called on the U.S. Department of Justice to investigate the shooting for possible civil rights violations. Groups including the American Civil Liberties Union of Virginia and the Roanoke branch of the NAACP asked for an independent probe into the county police department's "unconstitutional police practices targeting minorities and people with disabilities." Activists also called on then-Gov. Terry McAuliffe to order a state police investigation, which never occurred.
In November, 2016, however, federal prosecutors announced they had reviewed video, officer statements and other police records. They said they found no evidence to bring federal criminal civil rights charges, which would require proof that officers intended to break the law.
Tod Burke, a former police officer who taught criminal justice at Radford University, reviewed video of the Spencer shooting on Tuesday at The Rambler's request.
"If he turned around, and with a gun in hand, and pointed it at the officer — which I could not see — then as distasteful as it was, it was a justifiable shooting," Burke said. "Now, could the officers, in retrospect, have done other things?"
Burke wondered about the role of a K9 dog in the pursuit and whether that could have been used to stop Spencer. Tackling could be an option, though because officers believed Spencer was armed, that came with the perceived risk of a gun discharging.
"I think a lot of this was placed at the hands of the subject, not the officers," Burke said. "So, in other words, he was dictating how the officers were going to deal with this. He kind of took some of this away by his positioning, by his ignoring the commands, by having the gun out."
The Spencer case prompted no new policies or internal changes at the Roanoke County Police Department, Hall, the police chief, said through a county spokeswoman by email Tuesday.
The investigation into the shooting was closed in 2016 after reviews by the Commonwealth's Attorney, U.S. Attorney's Office and U.S. Department of Justice, he said.
Asked why he thinks there is lingering distrust from some community members toward the department and its investigation, Hall wrote, "There may always be differing opinions in any community regarding police actions. Largely, our community has always been very supportive of the Police Department."
Why are the records being made public now?
The county has been reluctant to release some information about the police shooting publicly compared to some jurisdictions, such as neighboring Roanoke City.
"When you have a shooting, it's the policy of Roanoke City that we release the name of the officer involved," Roanoke City Commonwealth's Attorney Don Caldwell said, speaking generally. "If there is footage available, unless there are some overriding reasons not to, it should be shared publicly, is my opinion."
Holohan, the county Commonwealth's Attorney, said one of the reasons the police department and prosecutor's office didn't identify officers is because of death threats made on the Internet at the time. Holohan said he recalled that police did interview one person outside of Virginia about making threats, but he did not personally remember anyone being charged with a crime.
Hall has previously said neither officer had been involved in a police shooting before, but declined to discuss any possible use-of-force history involving them.
In response to The Rambler's public records request, the department did have to disclose video footage. All told, five videos — totaling 37 minutes — were released, though only one dash-cam video captures Spencer being shot.
The Rambler is making the video publicly accessible in this Google Drive folder.
After estimating the videos would cost $431 to produce, the county released them to The Rambler and said the charge would be $889.75. The bulk of the cost involved Roanoke Valley Television spending about 14 hours to blur faces while a police commander reviewed their work. (The county charged an additional $138.33 for some written police records.)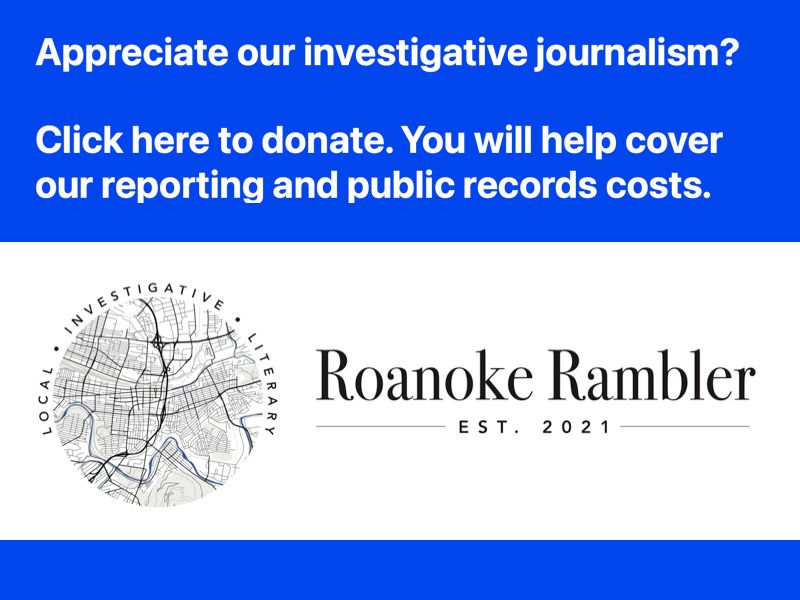 Megan Rhyne, executive director of the Virginia Coalition for Open Government, said law enforcement officers were not intended to be characterized as victims under state laws dealing with access to public records. Roanoke County declined to release raw, unredacted video footage when asked by The Rambler.
"Despite the wave of anti-police sentiment that has recently swept our nation, Roanoke County intends to fully support its police officers. It is shockingly offensive to consider that just because a person is a police officer, that person cannot be a 'victim' of a crime," Rachel Lower, a senior assistant county attorney wrote in a March letter to The Rambler. "If the General Assembly meant to exclude police officers from being considered victims when crimes have been committed against them, the General Assembly certainly could and should have explicitly excluded them as such. However, to do so would have defied common sense and would have dehumanized the police."
Lower wrote that Spencer "was committing crimes. He was recklessly brandishing what appeared to be a working firearm and causing citizens to justifiably panic." Officers feared they could be shot and killed by Spencer, she wrote, and "it would be shockingly callous to dehumanize them by stating or implying that they are not victims simply because they are police officers."
Rhyne called the county's argument about anti-police sentiment "a red herring."
"If police were granted the same confidentiality as victims, they would be both the victim and the keeper of information," she said in an email. "Under their interpretation, they hold all the cards. There is no way for the public to monitor these government employees, neither to validate the actions of the officer nor to question the appropriateness of his/her decisions."
For Hale, the description of the officers as victims "is just as wrong as can be."
"The police officers in this particular case were never a victim. What in the world could they be a victim of?" Hale said. "They're not the ones that were killed."
Support local, independent journalism and don't miss a single story!
Become a member