'You're There To Help': Meet Roanoke Police Department's First LGBTQ Liaison
Roanoke police created the role in part to improve the city's score on a measure indicating how LGBTQ-friendly a locality is.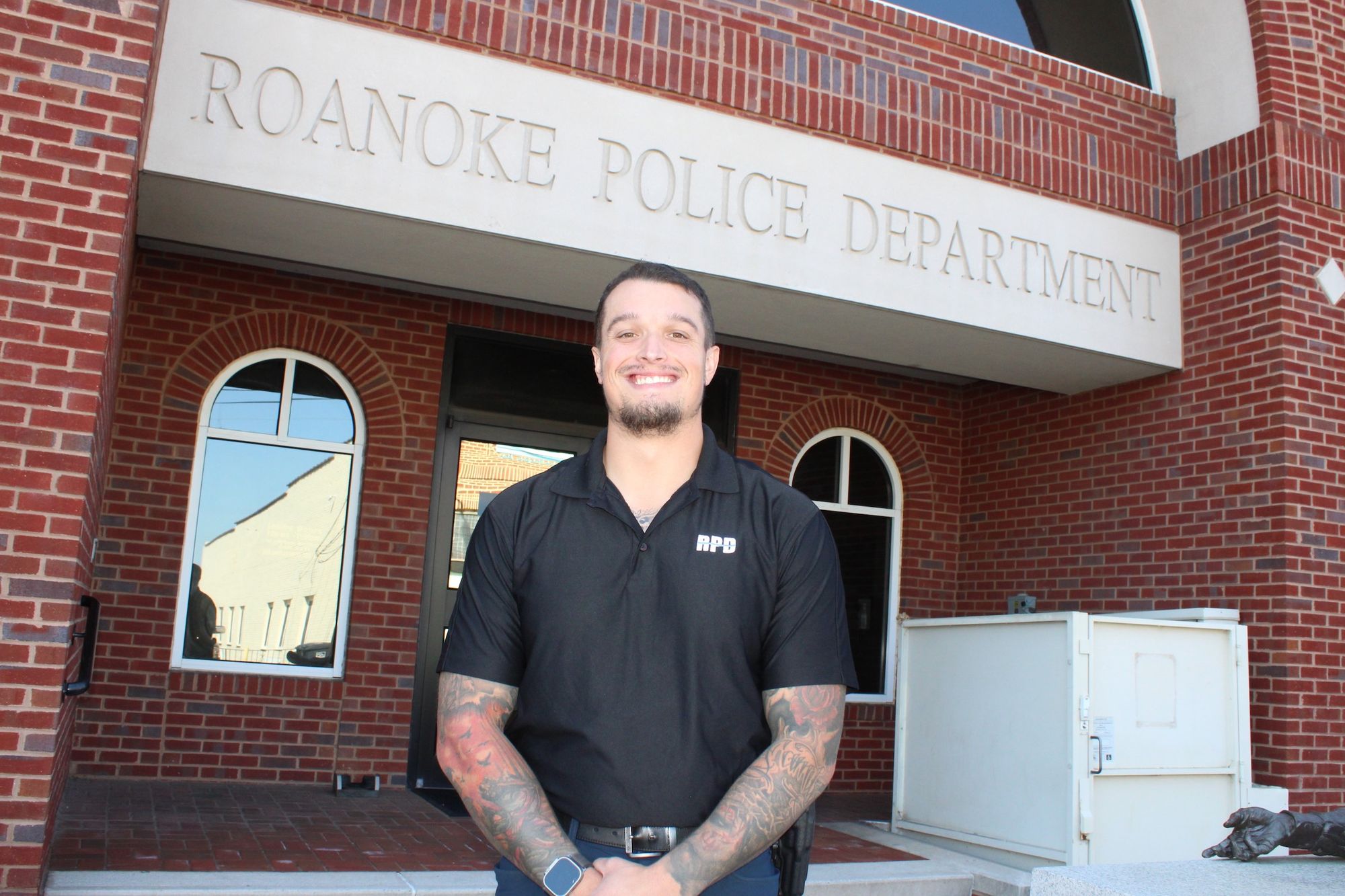 As a child, Jacob Underwood would run around his house wearing one of his dad's uniform shirts while playing cops and robbers. Now, he keeps that shirt with him while he works as a Roanoke City police officer.
Underwood, 30, isn't only saving the city from would-be criminals. He's protecting Roanoke's LGBTQ population as the police department's first liaison to that community.
The department created the liaison role this spring to make LGBTQ residents feel safer and to improve the city's Human Rights Campaign municipal equality index, which indicates how safe and welcoming a city might be for members of the LGBTQ community. On that score, the city has made strides since 2021, when it ranked last among 11 Virginia localities.
For Underwood, his job is about more than checking a box.
Underwood, who is heterosexual, grew up in the Roanoke area surrounded by the LGBTQ community; a lot of his family members were gay, he said. When Underwood was young, one of his family members committed suicide because the person had had a difficult time coming out, according to Underwood.
"That really attacked my heart," he said. "I said there was never going to be a time that either a family member or a friend of mine ever had that happen to them again."
By the time he was 10 years old, Underwood knew he wanted to follow in his father's footsteps as a Roanoke City police officer.
He recalls his dad visiting his classroom for Take Your Parent to School Day when he was in fourth or fifth grade. His father was the star of the show.
"They were like, 'Oh, you're my hero,'" Underwood said. "Growing up you know that Superman doesn't exist, but seeing all these kids just go straight to [my dad]… I knew right then and there that this is what I wanted to do."
Prior to becoming a community resource officer, he would take extra time to make people feel heard when he responded to calls. Underwood, who's been with the department since 2014, would spend an hour on a call when other officers spent 10 or 15 minutes, he said. He wanted to provide education and intervention so that, hopefully, they wouldn't need to see him again.
Now, when an LGBTQ individual crosses paths with a city police officer, the officer can call Underwood in for support. Underwood will act as a mediator between the officer and the individual.
"The city is evolving… with the city willing to create these roles, put LGBTQ people in a position of power, and open a diversity center… things are changing. I want to make sure history never repeats itself," Underwood said.
As the largest metro area in Southwest Virginia, Roanoke has drawn gay and trans people from the region and has a long history of LGBTQ activism.
In 1978, the Roanoke police department's "year-long crackdown on homosexuals" — many of whom were charged with soliciting "for immoral purposes" — spurred the creation of an activist's group, according to an article in The Roanoke Times & World-News. A police sergeant described the outcome as "upsetting," telling the newspaper, "I wouldn't like to think that I'm responsible for any gay rights organization in Roanoke."
In 2000, a shooting targeting gay people killed one person and injured six others at Backstreet Cafe in downtown Roanoke.
By 2018, the city had elected its first openly gay member of City Council, Joe Cobb, who would be joined by two more gay members.
"Having that liaison allows for there to be somebody that is really connected with the community and is a safe person," said Councilman Peter Volosin, a former president of Roanoke Diversity Center, the LGBTQ community center.
The parameters of Underwood's role are still under development. Many of his interactions are guided by the standards developed by the Richmond police department, Underwood said.
They revolve around "not creating biases, not being accusatory in how you talk, listening, and being realistic," Underwood said. "You're there to report, you're there to help."
He remembers one early incident in which he accidentally called a transgender woman, "sir."
"I apologized right then and there [when corrected]," he said. "I showed empathy that what I did was wrong." He believes that most hurtful situations can be diffused and corrected with an apology and a change in behavior, he said.
The manner in which he addresses transgender individuals is important, particularly in potential criminal matters, he said.
Virginia law has made strides surrounding transgender individuals, but there are still some sticking points when it comes to criminal matters, according to police department spokeswoman Caitlyn Cline.
Roanoke City police officers are trained to honor the gender by which a person identifies, rather than the gender marked on their license, Underwood said.
Due to state laws, arresting paperwork will show the person's dead-name and formerly assigned gender but Underwood will always honor the person's current identity in his interactions, he said. He works with the court system and other officers to encourage them to do the same.
"That's what having the liaison is for — that handoff [between arresting officer and court system], " Cline said.
In order to better understand the needs of the LGBTQ community, Underwood recently completed an LGBTQ-awareness course through Out To Protect, an organization that offers training for law enforcement officers. Underwood plans to take additional Out To Protect courses to better address the intersectionality of Roanoke's marginalized communities.
Underwood passes his new knowledge on to his fellow police officers. He incorporates LGBTQ-related information in each class that he teaches and he often updates the department's online resources to reflect new information.
"Every officer we have here is willing to take that training and learn and grow. … Police departments have changed tremendously from year to year, let alone 10 years ago to today. And that's [because of] willingness on the officers' part," Cline said.
As Underwood works to train new officers in these procedures, he also is in the midst of introducing himself to the LGBTQ community.
Underwood plans to offer safety classes and consulting to LGBTQ-serving organizations. He hopes that the LGBTQ community will see him as an ally and a resource.
One of Underwood's first priorities was to meet with Roanoke Diversity Center board members to learn how he could best serve that organization, he said.
RDC president Mohammad Elshawarby is appreciative of Underwood's support. At the same time, he recognizes some members of the LGBTQ community carry a lack of trust for police officers. Many people who frequent the RDC might be people of color. They might have a mental illness. They might have a history of trauma. All of these could lead to harboring less trust in the police department.
"We have to make sure that having a police liaison doesn't turn some people off from coming to the center," Elshawarby said. "I think it's a good thing to work with [the police] for safety things or even walking [people] out at night. We want to make sure that people are safe."
Garland Gravely, founding father of the organization House of Expression, sees a great value in working alongside Underwood to build trust between police officers and the LGBTQ community.
"It's building better relationships with the Black and Brown LGBTQ community and also building better relationships with the trans community," Gravely said.
Cobb said the city is building the sort of environment where there is more broad-based understanding and support for the LGBTQ community.
This fall, the Human Rights Campaign will release new municipal equality index numbers.
The city's current HRC score, released in fall 2022, is an 86. Cobb anticipates the score will continue to increase due to continuous improvements across city offices. Having an LGBTQ liaison in the police department is worth 10 points on the 100-point scale.
"We've worked really hard to address other things within the city to get our score up to the max, which is 100," Cobb said. "And I'm feeling pretty optimistic that we might get there when the new scores are released this fall."
At the end of the day, Underwood wants to build trust with the LGBTQ community so that, if someone has to call 911, they feel safe doing so.
"That trust factor is most important here," he said.
Support local, independent journalism and don't miss a single story!
Become a member