Ramblings: Mountain Valley Pipeline Focus of Deal in Federal Climate Talks; Local Monkeypox Caseload; Supplies Sought for Back-to-School Drives
What are Ramblings? Ramblings are a collection of short items that have caught our attention for one reason or another.
What are Ramblings? Ramblings are a collection of short items that have caught our attention for one reason or another. We're on the lookout for tidbits related to money in politics, data, business, civic engagement or interesting events. Think you know of something that could be a Rambling? Drop us a line at editor@roanokerambler.com and we may well write about it. Happy reading!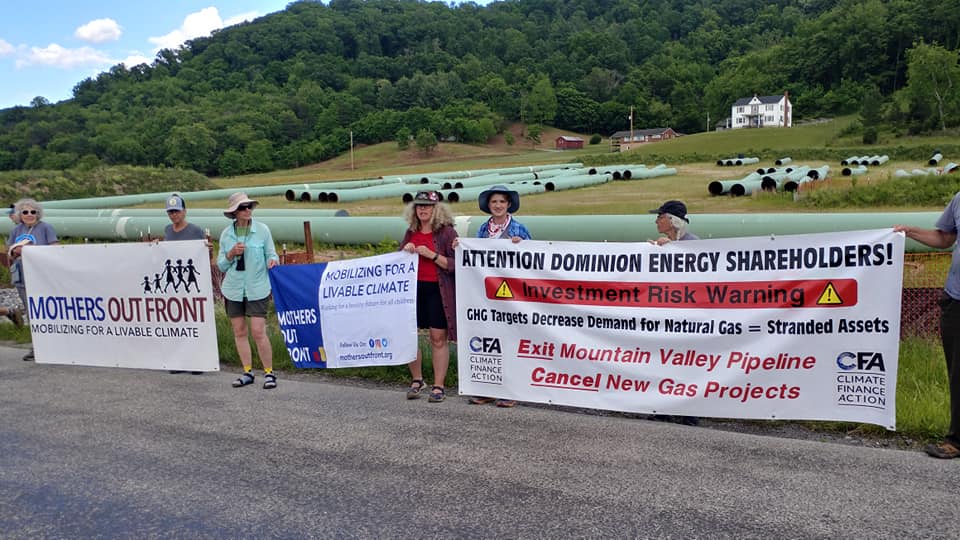 Side deal in climate talk ropes in Mountain Valley Pipeline
Federal agencies could place the controversial Mountain Valley Pipeline on a fast-track toward completion if a handshake agreement holds, numerous media outlets reported Tuesday.
West Virginia Sen. Joe Manchin has struck a deal with Senate Majority Leader Chuck Schumer, House Speaker Nancy Pelosi and President Joe Biden to expedite completion of the natural gas pipeline as part of Manchin's recently expressed support for a $370 billion tax and climate bill, according to media reports.
Construction of the 303-mile pipeline, which runs from West Virginia south through Roanoke County, has been bogged down since it began in 2018.
The U.S. Court of Appeals for the Fourth District, in Richmond, has repeatedly struck down federal permits for the project in response to lawsuits brought by environmental groups.
But under the Manchin side deal, future legal challenges would instead go before the U.S. Court of Appeals for the District of Columbia. The deal would also ensure that federal agencies "take all necessary actions to permit the construction and operation" of the pipeline, media reported.
The permit streamlining would apparently be tacked onto legislative measures separate from the climate bill itself, which Democratic leaders are calling the Inflation Reduction Act of 2022.
"The federal government is supposed to be looking out for the broader public good, not the narrow interests of corporations that would sacrifice our water quality, our precious rare and sensitive species, and our public lands for profit," Wild Virginia, an environmental group that has sued the corporate owner of Mountain Valley Pipeline, said in a statement.
The news comes just as the public comment period closed in the company's request to the Federal Energy Regulatory Commission to extend the project's certification by another four years. That certification expires in October.
Del. Sam Rasoul and Sen. John Edwards, Democrats from Roanoke, led a group of 27 state lawmakers in calling on FERC to cancel the pipeline.
"This pipeline has continued to cause immense harm and to extend this certificate is to say that continuing to cause more damage is acceptable," Rasoul said in a press release Friday. "FERC needs to deny this extension and protect those living along its path."
Monkeypox vaccine availability limited
Another pandemic is on Roanoke health officials' radars.
The Roanoke City and Alleghany Health Districts, in a weekly press briefing, included monkeypox for their first time Tuesday on an update about the spread of COVID-19 and hepatitis A.
So far, only three cases of monkeypox have been reported in the entire Southwestern region, which stretches from Lynchburg to areas west.
"I cannot stress enough: Monkeypox is not readily transmissible, and this vaccine is not available to the general public," Dr. Cynthia Morrow, director of the health districts, said.
Those at high risk of being exposed to monkeypox include people who have multiple sexual partners, though the virus is not considered a sexually transmitted disease, Morrow said. Monkeypox spreads by direct skin-to-skin contact, with symptoms including lesions. In a study of 528 recent infections worldwide, 98 percent of those infected were gay or bisexual men, according to a July article in The New England Journal of Medicine.
"It is a pandemic, but we don't expect this to be anything near Covid or a pandemic flu, for example, because of the difference in transmission," Morrow said.
There is a "very limited amount" of monkeypox vaccine supply available, Morrow said, but the health district has the capacity to screen people to see if they're eligible.
"We know that sexual behaviors can be stigmatized, but at the end of the day, it's also important for people to realize that we do have a monkeypox epidemic," Morrow said, "and this is not the time for individuals who engage in high-risk sexual behaviors to engage in high-risk sexual behaviors."
Back-to-school drives seek supplies, donations
Roanoke Valley school districts are collecting supplies and donations this weekend in preparation for the return to classes later this month.
From Friday, Aug. 5 through Sunday, Aug. 7, Virginia sales tax is waived on certain school supplies, clothing and emergency preparedness products. School districts are encouraging residents to take advantage of the tax holiday by giving supplies to students.
Schools will collect the supplies at bins and at registers at area Walmart stores (Bonsack, Clearbrook, Salem and Valley View). Public schools in Roanoke, Roanoke County, Salem and Craig County are seeking backpacks, glue sticks, notebooks, pens, pencils, rulers, scissors, tissues, printer paper and other items.
The Virginia Tech Carilion School of Medicine Refugee Immigrant Medical Association is also hosting a back-to-school drive for supplies. Supplies will be collected at a bin in front of the library (first floor, 2 Riverside Circle, Roanoke).
Supplies will go toward the Bradley Free Clinic's pediatric units. Kids coming into the clinic are mostly new to the country and in need of supplies to start the school year, according to the association. The drive runs until Aug. 30, and donations are also being accepted via Venmo at @VTCRIMA.