Roanoke City Schools Spent $1.5 Million on Covid-Killing Air Cleaners. But Do They Work?
While school officials defended the use of bipolar ionization, experts said there's no convincing evidence the technology is effective.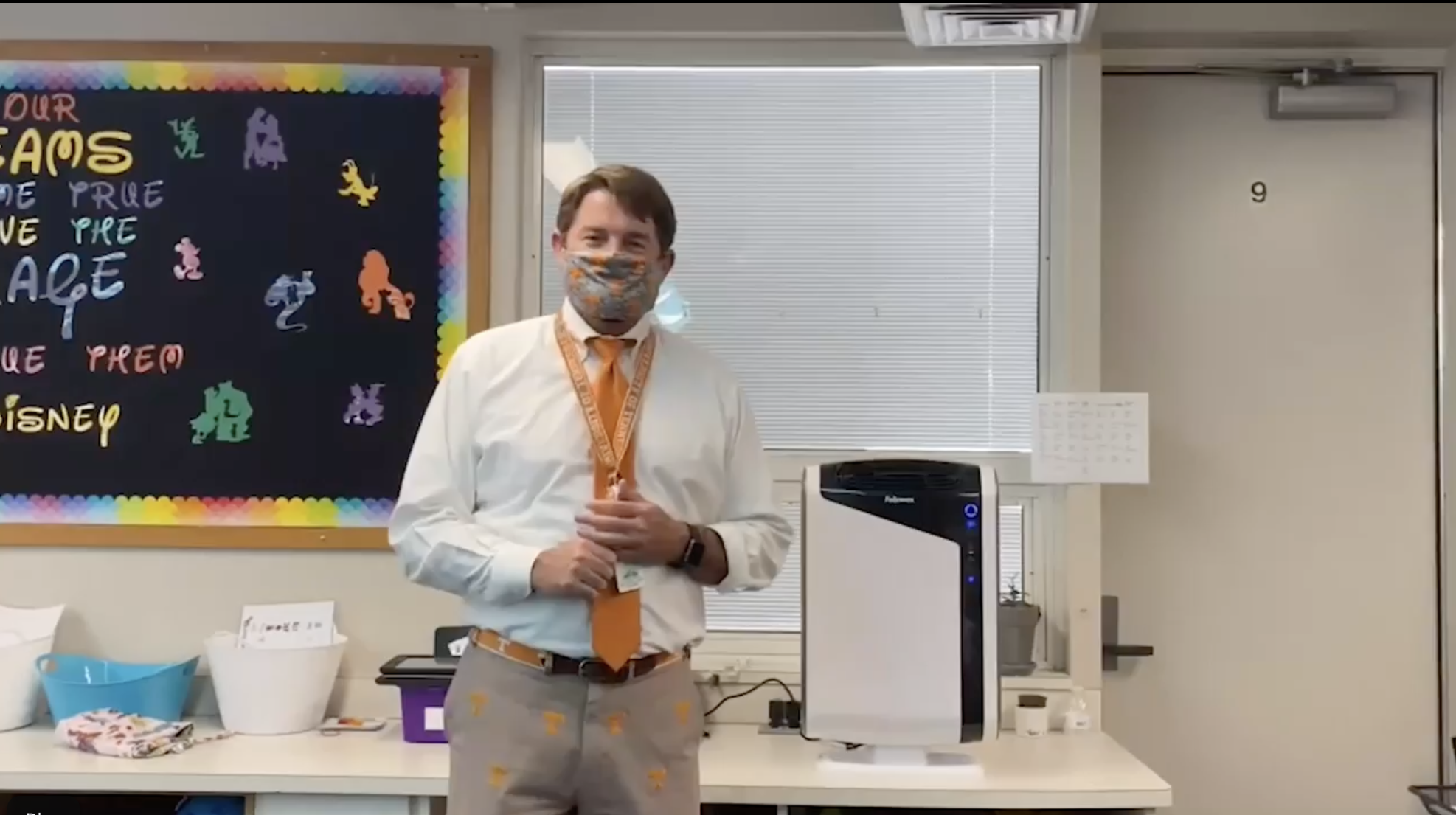 To mitigate spread of the coronavirus, Roanoke City Public Schools last year spent more than $1.5 million on an unproven air-cleaning technology that may produce harmful chemicals.
When schools nationwide grappled with reopening last summer, millions of dollars in federal pandemic relief funds allowed districts to improve the flow of fresh air through buildings. While some methods are well established — such as ventilation and filtration — others, which add chemicals or electrically charged atoms into the air, have not been researched extensively.
Bipolar ionization is among the newer technologies marketed by companies amid a pandemic rush by offices and schools to improve their air quality. In theory, such devices generate ions that inactivate microbes and glom on to particles in the air — such as small droplets containing the coronavirus — creating a cluster that is then more easily caught in traditional air filters.
City schools spent $1,577,007 on the purchase and installation of bipolar ionization devices, which were placed in all 28 schools before reopening in August 2021.
While Roanoke school officials last week defended the continued use of the technology, experts in the field of indoor air quality sounded caution, with one expert saying he wouldn't want his children attending a school with bipolar ionization in place.
"I think the basic question is, 'Why are we investing so much in products that we don't know if they're going to work, when there are alternatives that we do know will work?'" Delphine Farmer, a professor at Colorado State University who studies atmospheric chemistry, said in an interview. "The ionizers are a bit of a different beast, and they're not well established. There haven't been independent, peer-reviewed publications that show that these systems would work really well in real-world building environments."
'This isn't their fault'
Bipolar ionization is not the only tool Roanoke schools are using to try to improve air quality, which has gained renewed attention as schools announced Monday that masking would be optional in response to advice from the U.S. Centers for Disease Control and Prevention.
Since reopening, schools have put 1,500 stand-alone air purifiers in classrooms, cafeterias and other school spaces. Such filters, called HEPA for "high efficiency particulate air," remove dust, pollen, bacteria and other particles from the air.
All told, city schools have earmarked $24.2 million in federal funds for air quality improvements, to include ongoing district-wide upgrades to its HVAC systems, according to the district.
Catherine Koebel, a parent of two elementary school students in Roanoke, first raised concerns to Superintendent Verletta White last September about the district's use of bipolar ionization.
"I tried to share with them pretty good articles that, like, you've invested in snake oil, that they invested $1.5 million in snake oil and they won't acknowledge it," Koebel said in an interview. "They'll throw up all these things about how like, this is, you know, a great technology because Google uses it, the White House uses it. Like, these are all like arguments to authority, and they're not actually arguments of effectiveness."
In response to emailed questions from The Rambler, the school district said the decision to install bipolar ionization units was based on a partnership that began in 2020 with "11 local, well-respected architecture and engineering firms," including Spectrum Design and Ascent Engineering Group. The team made recommendations based on standards set forth by the CDC, the Virginia Department of Labor and Industry and the American Society of Heating, Refrigerating and Air-Conditioning Engineers (ASHRAE).
"We are not relying on bipolar ionization to combat COVID-19," school officials said in an email. "The engineers we have partnered with state the addition of this technology further improves indoor air quality. And while there is currently no standard for testing the efficacy of electronic air cleaners, there is data from multiple sources that show — over the long term — reductions in airborne particulates when using this technology."
But Farmer — in response to a nearly identical version of that email passage that White sent Koebel in October — said no such convincing real-world data exists.
"It's unfortunate that the individual who wrote that email probably doesn't have all the information, and it sounds like they're doing their best, they're listening to their engineers, but their engineers don't have don't have all the information available," she said. "To a huge extent, this isn't their fault. There's no federal regulations. The organizations that oversee building codes haven't put out testing standards or regulations or recommendations even for the use of ionizers."
The CDC and the U.S. Environmental Protection Agency consider bipolar ionization to be an "emerging technology," meaning there's little real-world date available on its efficacy.
Still, that designation didn't stop more than 2,000 schools nationwide from installing ionization devices and other new-fangled air cleaners, according to a 2021 article by Kaiser Health News. Roanoke County and Salem City schools are not using bipolar ionization, spokespeople said.
Roanoke City schools purchased devices made by Phenomenal Aire, a brand of North Carolina-based Top Product Innovations. In an email, the company wrote: "The technology, which is part of a multi-layered approach that actively works in concert with HVAC systems to improve indoor air quality, is both safe and effective. It has been extensively tested and importantly deployed for years in tens of thousands of buildings in real world environments, including health care facilities, schools and universities, that regularly and independently monitor and test their indoor air quality."
Air quality experts spoke generally about the technology and not about specific manufacturers.
Complex chemistry
Elliott Gall, a professor at Portland State University, studies the physics and chemistry of indoor air quality. In the fall of 2020, Gall took part in a study of an ionizer installed in a school district's office building in Eastern Oregon. Scientists found little difference in the size of particles flowing to and from the ionization devices, meaning the promised amassing of particles wasn't taking place. A corresponding lab study in Chicago showed a similar rate of contaminant removal whether the ionizer was turned on or off. Researchers also found the devices were creating new chemistry in the air, including slight increases in levels of acetone and ethanol.
"Anytime someone tells me they want to add something into the air, continuously and intentionally, I'm skeptical," Gall said in an interview. "Adding things to the air is generally not something that will improve human health, right? We want to make sure our air is free of things that are harmful, not look to create a mixture of, you know, things that we think are beneficial to human health."
While ozone is among the most toxic byproducts from some ionizing devices, it can be difficult to know whether other harmful chemicals are also being produced. (Many bipolar ionization devices, including the ones purchased by Roanoke schools, are considered ozone-free.)
"It starts to become a very complex question because this chemistry is so complex," Gall said. "What might be generated in a real setting will depend on what was there in the first place."
Bill Bahnfleth, a professor at Penn State University and a former president of ASHRAE, agrees.
"Should we really be putting things into the air that aren't normally there when we aren't really clear on whether they're good, bad or neutral, in terms of their effects on people?" he said.
Bahnfleth said he would feel uncomfortable sending his children to a school with bipolar ionization technology in operation.
"I wouldn't want them going there. For nothing else, because I think it can give a false sense of security," he said. "If we're not really sure of how reliable the control is, then maybe they're no better off than having no ionizer. So that's one concern. The other, that I'm less concerned about, is that exposure to the ions themselves would be something that would cause health problems. But I can't entirely rule that out yet, based on what we know."
Koebel said she was glad when she learned that Roanoke schools had installed HEPA filters throughout classrooms and cafeterias. But she grew frustrated in her back-and-forth with school leaders over the continued defense of bipolar ionization.
She also expressed concern that the schools pivoted to ionization after it had to downgrade air filters from a minimum efficiency reporting value (better known as MERV) of 13, which experts advise, to 8, when schools began experiencing low airflow issues. The district said the use of bipolar ionization was a separate but parallel effort as part of an overall enhancement of air quality.
"As science continues to evolve, so has and will RCPS' approach to air purification and other mitigation strategies against health concerns such as COVID-19," school officials said in an email. "Our students' and staff's safety are our top priority. We know what worked yesterday or today may not tomorrow, and we will continue to work to provide the safest learning environment possible."
Support local, independent journalism and don't miss a single story!
Become a member