Roanoke Council Has Called For 'Emergency Action' On Global Warming. So Why Is the City's Climate Plan Still Out of Date?
A pandemic, plastic bag fee and recent retirement have contributed to a delay in revising Roanoke's master climate plan.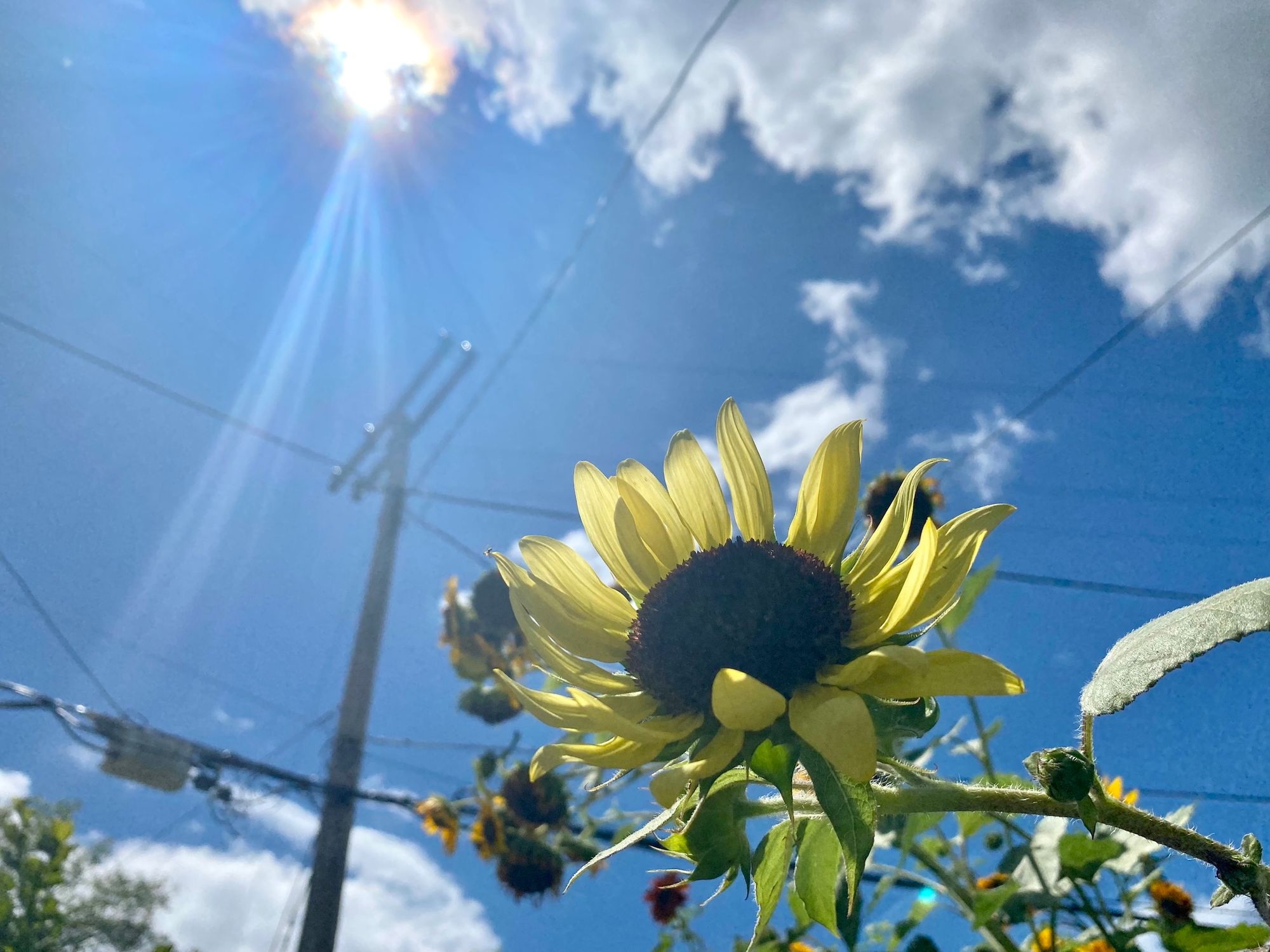 Roanoke's City Council last fall declared the need for "emergency action" locally to stave off the worst of the climate crisis.
But it's expected to take the city at least until next spring to update its master climate action plan, which expired at the end of 2019.
The pandemic, the roll-out of a new plastic bag fee and the recent retirement of the city's sole sustainability leader conspired to delay revision to Roanoke's chief climate document, according to current and former city officials.
That doesn't mean city leaders are ignoring the crisis, they say.
"One of the great truths is that for the last two years, Covid has altered and changed capacity for things to get done," said Leigh Anne Weitzenfeld, who took over as Roanoke's sustainability and outreach coordinator in April. "When you are a small office ... it takes a while to get things done."
Weitzenfeld expects an update to the city's 77-page climate action plan to be ready by next spring. The document will propose more aggressive measures than Roanoke's current goal to reduce overall greenhouse gas emissions by 10 percent between 2017 and 2024.
The new target is to halve emissions by 2030 and achieve net zero emissions by 2050. Those goals are based on scientists' calculations to keep global warming below 2 degrees Celsius compared to pre-industrial levels.
Covid, plastic bags and retirement
As the city's first 5-year climate plan neared its expiration date, city staff realized the document would need a complete overhaul.
The pandemic "sort of blew a lot of the stuff out of the water, in terms of city performance in our internal documentation," said Nell Boyle, who served as the city's sustainability and outreach director from 2012 until she retired in April. But even before then, "the process at that time was at a standstill."
For more than a decade, city staff had relied on 2005 emissions data as a baseline. The goal had been to reduce municipal-caused greenhouse gasses by 12.5 percent and overall community emissions by 10 percent.
But in 2018, Appalachian Power provided the city with more accurate information on residents' energy consumption. That data, for 2016, described more precisely the mix of fuels — coal, natural gas and renewables — used in Roanoke. So future emissions goals would have to be tied to a new 2016 baseline. Oranges would replace the city's apples achievements.
"We knew we were coming up to the end of the first set of the climate action plan, but a lot had changed in the world, with the climate and everything else," Boyle said. "And we realized that we needed to kind of shake the dust off our boots a little bit and sort of reevaluate and not rush through the process."
So in the fall 2019, City Council voted to extend the status quo: further 10 percent greenhouse gas reductions — this time over the new 2016 baseline — by 2024.
Last fall, Boyle recommended Council adopt measures that would slice emissions in half by 2030. At the time she expected to bring more details before Council in the coming months.
But the start of 2022 coincided with the start of a new initiative Boyle's office had to spearhead. A city law went into effect that put a 5-cent fee on plastic bags. Boyle found herself ordering reusable bags for qualifying low-income households and educating residents about the new fee.
"The plastic bag tax was sort of an unplanned interruption – but it was a good thing, don't get me wrong," she said. "But, you know, that took a big chunk out of [my] time."
Asked if the city's sustainability office was adequately staffed over her 10 years, Boyle said, "No, it wasn't. However, I think for a long time, I was able to do enough. But we probably were getting to a point where, you know, I either needed some help to fill those programs, or I wasn't going to be able to do what I needed to do. ... [It] would have been nice if I got [help] a little bit earlier, but I always felt like there was a real effort to support me in the best way that they could, and maybe I could have communicated better, too."
In September, the sustainability office gained a part-time assistant. The city is currently hiring for a full-time energy reduction specialist that will work partly in that office.
"I think there's an urgency that there wasn't, you know, seven or eight years ago," Boyle said. "So I feel like there's an opportunity for this to be a much more robust plan."
Focus on renewables
Weitzenfeld predicts a greater emphasis on renewable energy in the updated plan.
"I think in the next go-around with our new climate action plan, we're going to need to start looking at renewable energy sources, putting solar on our municipal buildings and also encouraging larger corporations and larger employers within the city to do the same," she said.
City-managed facilities and vehicles only generate 2 percent of Roanoke's overall greenhouse gas emissions. Converting the top six or seven high-emitting buildings to renewable energy power would achieve the goal of a 50 percent reduction by 2030, according to Weitzenfeld.
Streetlights are collectively the biggest culprit, second to the Berglund Center. Research shows that the technology already exists to achieve these kinds of emission reduction goals, Weitzenfeld said.
"It's simple and it's doable," she said. "We just have to kind of jump in with two feet."
Councilman Joe Cobb said he would like to see the city move more quickly on climate action.
"In terms of the creation of a brand new plan or an updated plan, I'm not sure what the delay in that has been," said Cobb, who acknowledged that a spring timeframe for the update seems realistic. "I know that it's a priority for Leigh Anne [Weitzenfeld] and for the council, and it's something I'm going to advocate that we get a move on, especially after we passed the climate emergency resolution as part of Council. And my hope is that some of the things we outlined in that resolution will have action items with them in terms of the plan."
Besides targets for greenhouse gas emissions, Cobb says the climate action plan will guide key environmental policies. He believes sustainable land development will be critical, citing recent debate over proposed developments on the woodlands at Evans Spring and at 0 Brandon Avenue. Cobb also noted an item on Council's Monday agenda, an appeal from an Old Southwest couple to add solar panels to their roof. (Council voted 5-0 to reverse a decision by the Architecture Review Board to deny the street-facing panels.)
"If people who reside in historic districts want to be able to utilize solar energy, lower cost, energy, natural energy for their homes, we need to make a pathway for that," Cobb said. "It can't always be 'No,' because then you're basically saying to them,' Well, you can do it if you move to a non-historic neighborhood.'"
City Manager Bob Cowell says Council will get an update in coming months on 2021 emissions. Then staff will start working "more aggressively" on the climate action plan. He doesn't see a delay as evidence that the city doesn't take climate change seriously.
"I know that people for whatever reason don't like to report on this, but, you know, all these plans were talking about, we're the only ones in the region that have these plans," Cowell said. "Often people look at us and say, 'Well, you know, why has a plan not been updated for a year or two years?' You know, an alternative question, would be to ask, 'Why aren't the other jurisdictions around us planning at all?'"
Roanoke has made real progress in energy efficiency, electrifying its city fleet and reducing greenhouse gas emissions, according to Cowell.
"I think our feeling here is we can't just rest on that foundation," he said. "We need to use that now as leverage to do even more and be more aggressive in what we're able to do."