E-Scooter Parking Planned for Downtown Roanoke As Blocked Sidewalks Remain a Constant
Plans for the parking corrals come about a year after officials had hoped to bring the matter before City Council.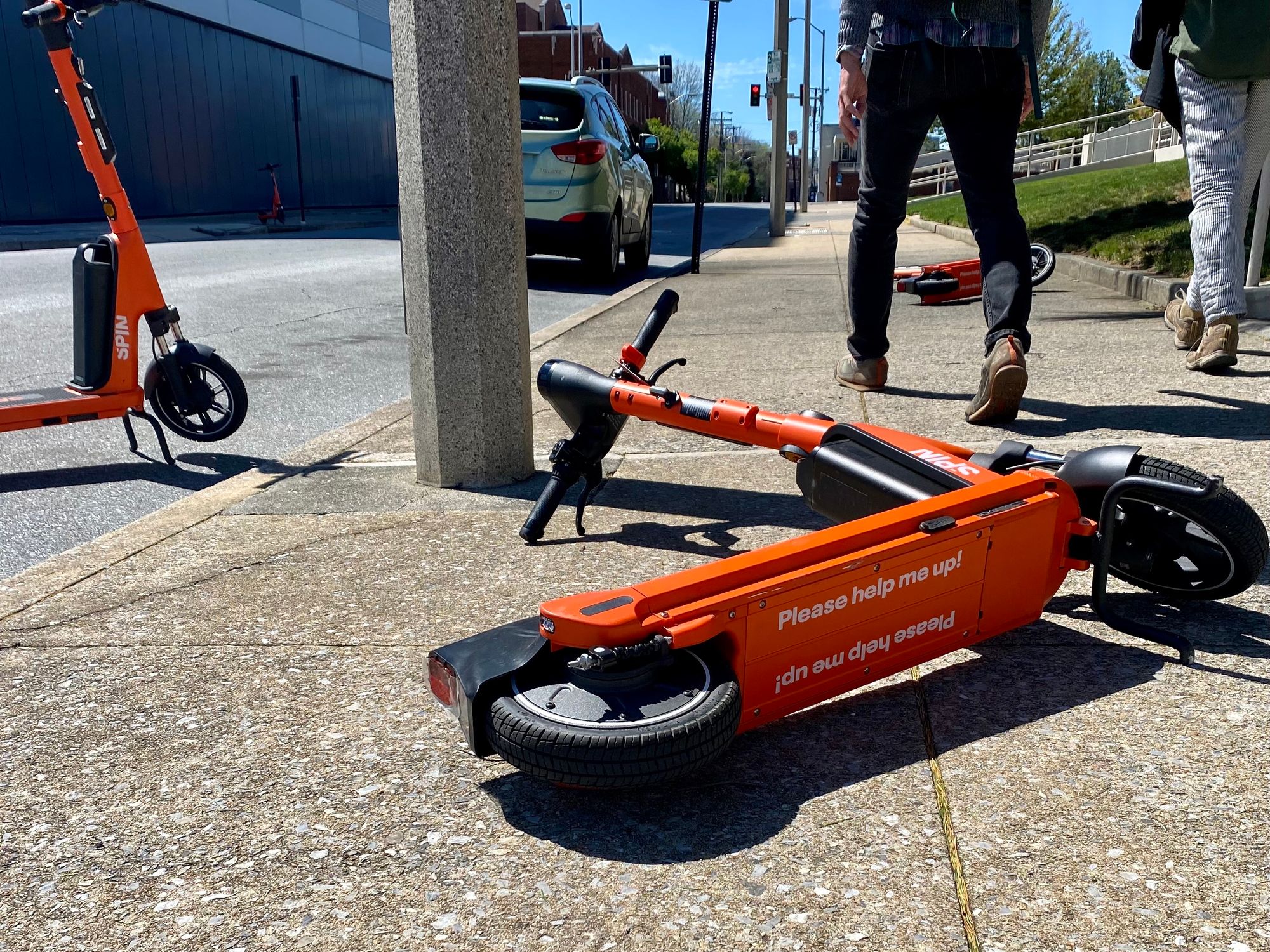 Hundreds of bright-orange electric scooters descended on Roanoke last month, renewing debate about how to rein in the sometimes-renegade mode of transportation.
"We've had to constantly reach out to the scooter companies about, you know, things are kind of looking bad out there, with knocked over scooters and they're just kind of everywhere," Chris Chittum, the city's planning director said last week in an interview. "It appears like chaos."
Roanoke hopes to begin solving that problem by installing four to six corrals downtown in the coming months for people to park both electric scooters and bicycles, according to city officials.
While designs and locations remain preliminary, the parking corrals will likely be installed on the street near curbs, where car parking is already prohibited.
"The whole idea is that we're freeing up our sidewalks," City Attorney Tim Spencer said.
Plans for the corrals come about a year after Spencer had hoped to bring the matter before City Council. Back in the fall of 2021, Council voted to ban people from sleeping on public sidewalks downtown, in part because of sidewalk accessibility issues. City officials said at the time they'd take up measures that spring to address improperly parked scooters.
Spencer said the delay was because of logistical issues and that the city did not want to roll out a pilot parking program in the midst of the summer season.
A preliminary design shows an eight-foot section for scooter parking next to a 12-foot bicycle rack surrounded by pavement markings. Cost and capacity numbers weren't available.
Members of City Council brought up the issue of scooters at their meeting Monday after saying they had heard complaints about scooters being tossed about where they shouldn't be. That's when city officials said they planned to address the matter through dedicated parking docks.
"I have to say this: 'I told you so,'" Councilwoman Trish White-Boyd told Chittum. "We knew this was going to happen and I told them it was going to happen because I had just gotten back from Prague and they were all over the place. It was a mess. But we went ahead and did it. I just don't know how we thought we would avoid that."
City Manager Bob Cowell chimed in to note that the General Assembly said if localities did not come up with regulations for electric scooters by 2020, localities could not regulate them at all. Shortly after that 2019 law passed, Roanoke welcomed an influx of green scooters from a company called Lime.
Since the first scooters arrived, the parking problem has improved, according to Chittum.
"When we were looking at scooters coming to Roanoke and we set up the program to accommodate them, we saw all kinds of potential issues," Chittum said in the interview. "And it really has come down to blocking sidewalks. And I won't say that we've got it under control, but it's much better than it was a year ago."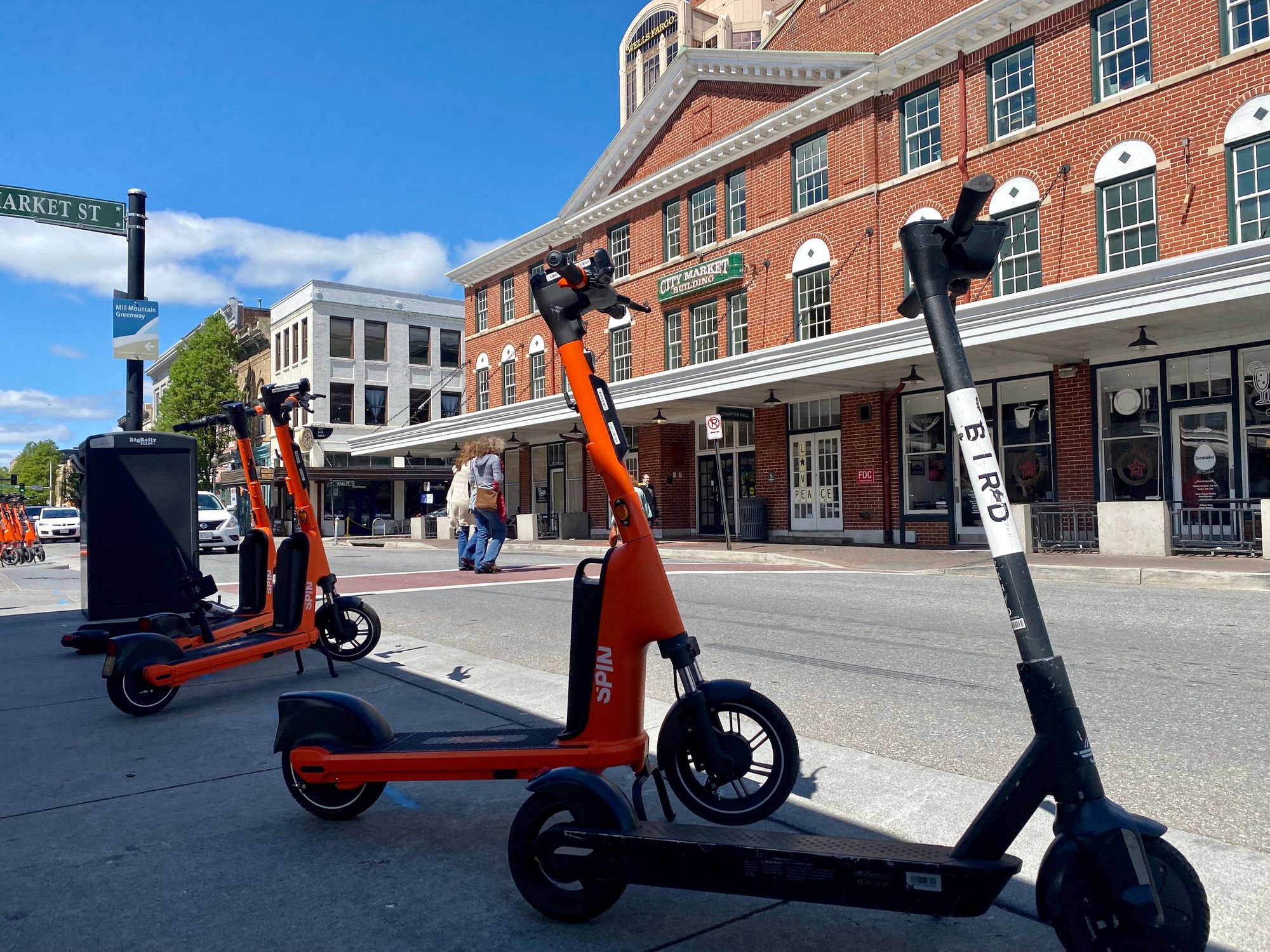 Still, when improperly parked, the eye-catching scooters from Spin, the latest company to Roanoke, have piqued the interest of residents.
Commissioner of the Revenue Ryan LaFountain took to Facebook last week to ask why e-scooters were littering a section of the Greenway, from which they're banned.
LaFountain wrote that he saw three strewn along Old Garst Mill Road, "as if their drivers had been beckoned by rapture."
Chittum said scooters have geofencing technology, which limits where they can operate. In those areas, the scooters reduce speed from 15 miles per hour to about a mile an hour, "which takes all the fun out of it."
But the technology is not precise enough to keep scooters from some prohibited zones. And since scooters are allowed where cars drive, errant scooters sometimes find their way on the greenway via Wiley Drive in the Wasena area.
Joya Garris, a spokeswoman for the business advocacy group Downtown Roanoke, Inc., said scooters are a welcome mode of transportation but sometimes get in the way.
In the last six months, the group's ambassadors, who clean up downtown and provide directions, relocated more than 2,700 scooters to keep sidewalks and crosswalks clear, she said. That corresponds to an average of about 17 scooters moved every day that ambassadors work.
Scooter companies have come and gone in Roanoke since they first arrived in 2019. Lime came that spring, but this January told the city they were ceasing operations here.
"We made the difficult decision to leave Roanoke but we remain proud of the time we spent providing residents here with sustainable transportation options," Lime spokesman Jacob Tugendrajch said in an email. He did not directly answer why Lime decided to leave.
Bolt Mobility became the second company in Roanoke when it arrived in the fall of 2019. But the company, founded by famed sprinter Usain Bolt, vanished in cities nationwide last summer, according to multiple media reports.
Today, only Spin and Bird operate here. Bird launched in 2020 before the pandemic with 500 scooters.
"It's been very successful," said Lauren Scribi, Bird's senior management of government partnerships for the Northeast region. "We see really great ridership, especially in the downtown area, and also southeast of downtown, Raleigh Court, Gainsboro."
Spin planned to deploy scooters mostly downtown, Crystal Spring, parts of Northwest and around Valley View Mall, according to a service map submitted to the city in September.
In 2021 and 2022, scooter rides averaged between 9,000 and 10,000 each month, mostly concentrated in the downtown area, but also extending into surrounding neighborhoods, Chittum said.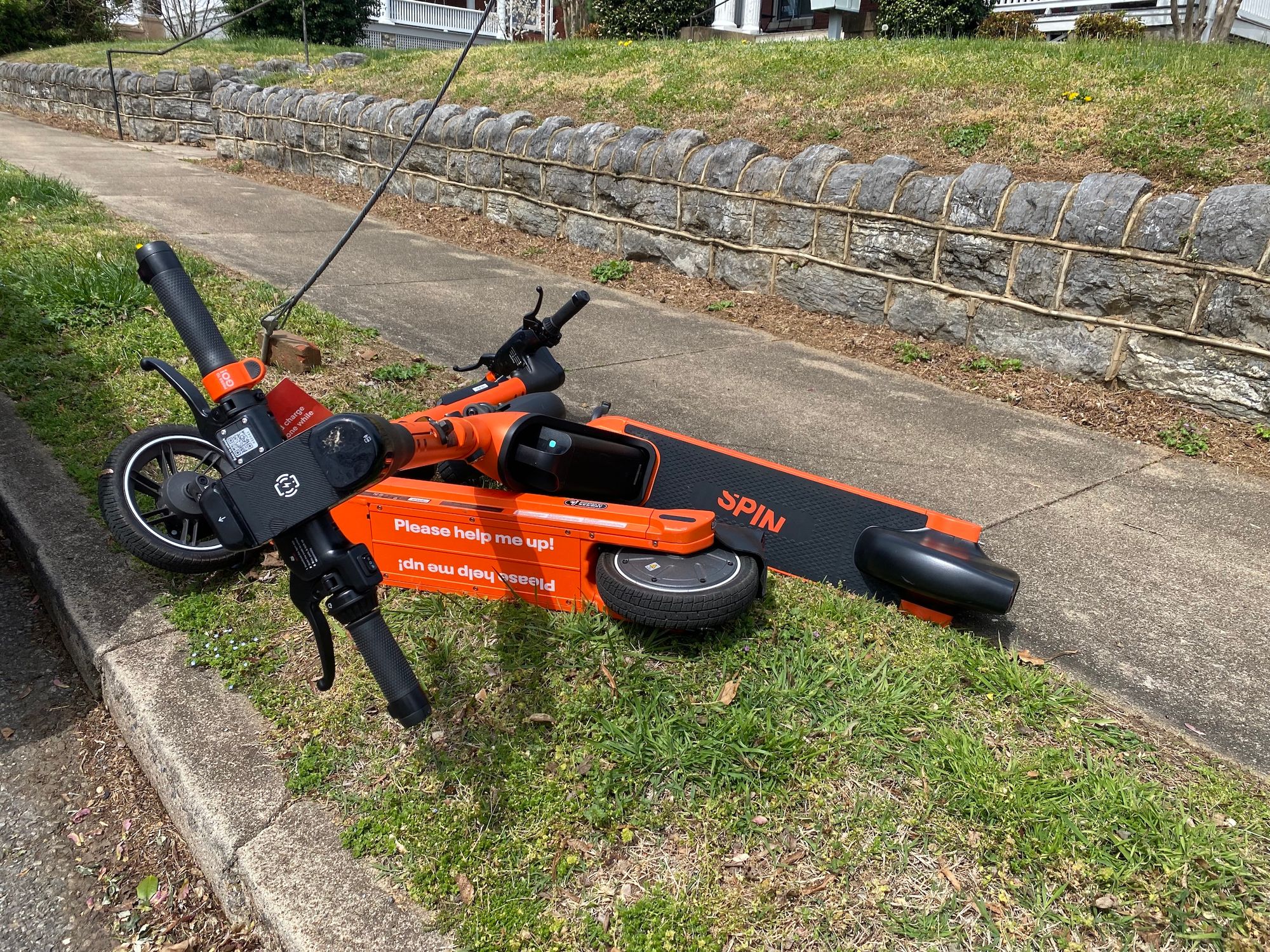 Both companies pay the city a flat $5,000 permit fee to operate here, according to Chittum.
Spin and Bird's iPhone apps puts costs at $1 to unlock the scooter and 39 cents per minute of use. Rates can be lower for low-income riders.
Scribi credited Roanoke with being "a huge proponent of e-scooters" and said the company prioritizes coming to cities that are "excited about micro-mobility."
But sometimes Roanoke has traded its carrot for a stick when scooters get too out of hand.
Chittum said Lime was authorized for 1,000 scooters but the city limited the company to 500 at one point after seeing parking issues.
"And as the behavior improves, and we see sustained improvement, we will get you back to your previous amount gradually," Chittum said. "And that certainly resulted in improvement pretty quickly."
In addition to blocked sidewalks, City Council has also been concerned about rider safety.
As a top priority, Councilwoman Vivian Sanchez-Jones last spring said she would like to work with Council colleagues to pass an ordinance protecting scooter riders and drivers. She floated the idea of requiring scooter riders to wear helmets. (Sanchez-Jones did not immediately respond to a text message Tuesday.)
While the companies require helmets from a liability standpoint, no laws require adults on scooters or bicycles to wear helmets, according to Chittum.
And Roanoke is limited in regulating such a law because it would need state authority to do so, Spencer said.
"I rarely see people have helmets on when I see people on a scooter," Chittum said.
Support local, independent journalism and don't miss a single story!
Become a member