Fewer Hours, More Tours: Roanoke's Taubman Museum Charts a Post-Pandemic Future
The museum has settled into a new routine post-pandemic: fewer public hours, more group tours and more special events.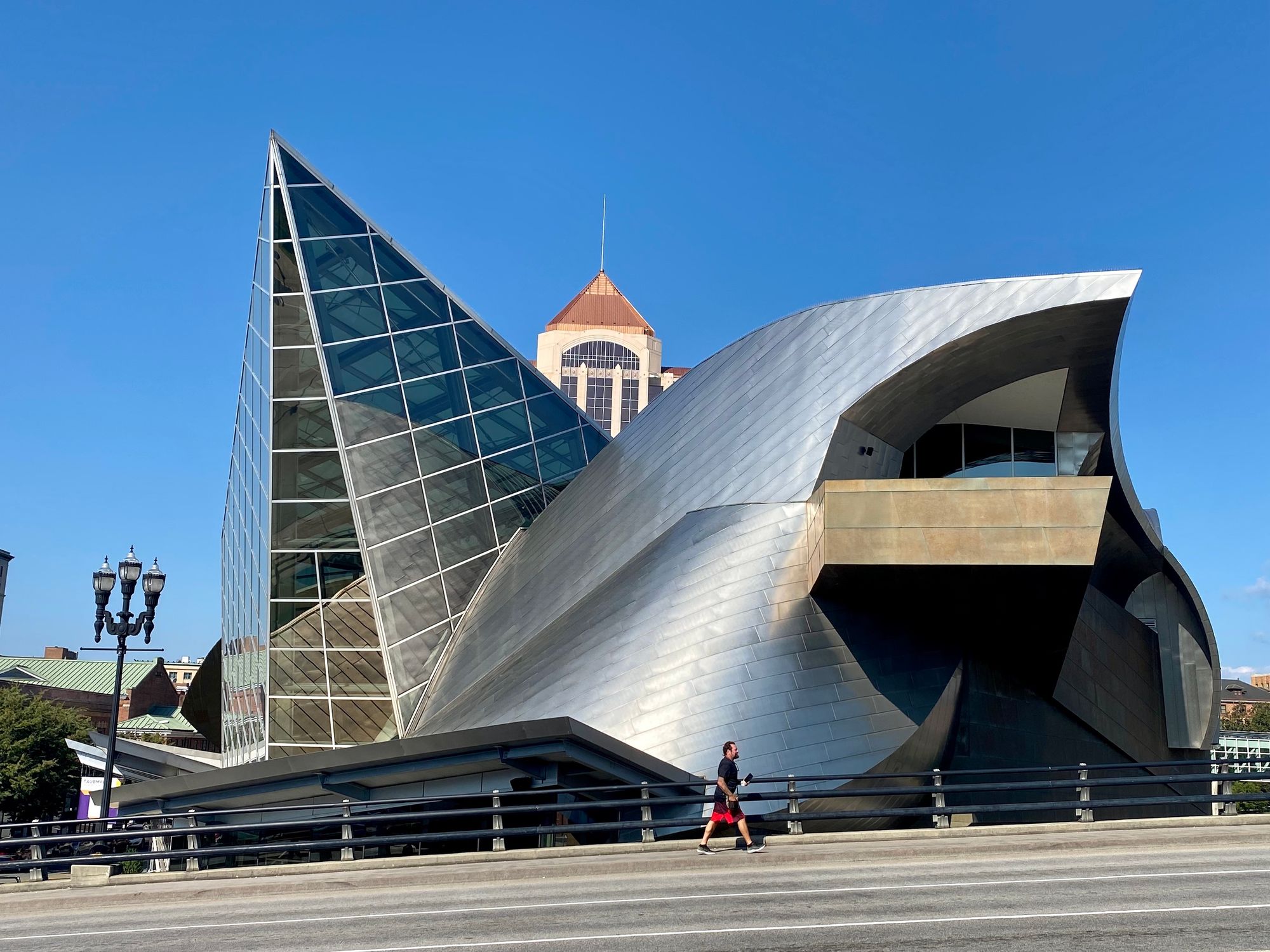 Joel Bowers led a tour group on a little star-gazing at the Taubman Museum of Art.
"Roanoke is often referred to as the 'Star City,'" Bowers, the museum's tours and community engagement coordinator, told about a dozen Arkansas travelers who had stopped in Roanoke to take a break during their bus trip to New York City.
Bowers strode up the sweeping glass staircase that runs like a waterfall from the museum's second floor, and he pointed through the expansive glass-paneled wall that afforded a view, just beyond the neon H&C Coffee sign, of Mill Mountain and the Roanoke Star.
The Arkansans pointed phones toward the star and snapped photos of Roanoke's illuminated masterwork. For the next hour, the tourists took an abbreviated tour of the museum's galleries and special exhibits, with Bowers pointing out highlights in each room.
"This is the speed-dating of our museum," he told the group.
This is the Taubman now. The visitors from Arkansas had the museum to themselves on that recent sun-splashed Thursday afternoon because the Taubman was closed to the general public. These days, the museum is open just three days a week, Friday through Sunday, when all visitors are admitted for free. The rest of the week, the Taubman welcomes school kids, groups, individual tours and busloads of tourists on their way to someplace else, just like the folks from Arkansas on that Diamond Tours bus to New York.
That model was implemented in the unsettled early days of the pandemic three years ago, when the museum reopened in July 2020 after Covid shutdowns by reducing its operating hours from Wednesday-through-Sunday to the weekends-only schedule. That model still works, said Taubman Executive Director Cindy Petersen, and that's what the museum and its staff of 24 full-time and 16 part-time employees will stick with for the time being.
"When we reopened, we surpassed our pre-Covid numbers by being open those three days," Petersen said. The museum is on track to welcome more than 80,000 visitors in 2023, she said.
As the Taubman Museum of Art hits its 15th anniversary later this fall, the museum has settled into a routine that works: fewer public hours, more group tours and more special events, which include weddings, birthday parties and corporate rentals.
A museum housed in a modernistic building of zinc, glass and steel, which cost $66 million to construct before it opened in 2008, cuts a jagged silhouette across Roanoke's modest skyline. A place that, when it opened, some overly effusive local supporters called "the Bilbao of the Blue Ridge," a nickname inspired by the Guggenheim Museum in Bilbao near the northern coast of Spain, has instead become a "community convener," as Petersen put it — more of a multi-use community gathering place than an international tourist draw.
Considering the Taubman's rocky early years, when visits and revenue plummeted, employees were fired and the museum teetered on the brink of closing, the fact that it's become a place where people still gather is no small accomplishment.
"We're always evolving," Petersen said. "We're constantly exploring and asking what our visitors want. We'll make changes as we grow."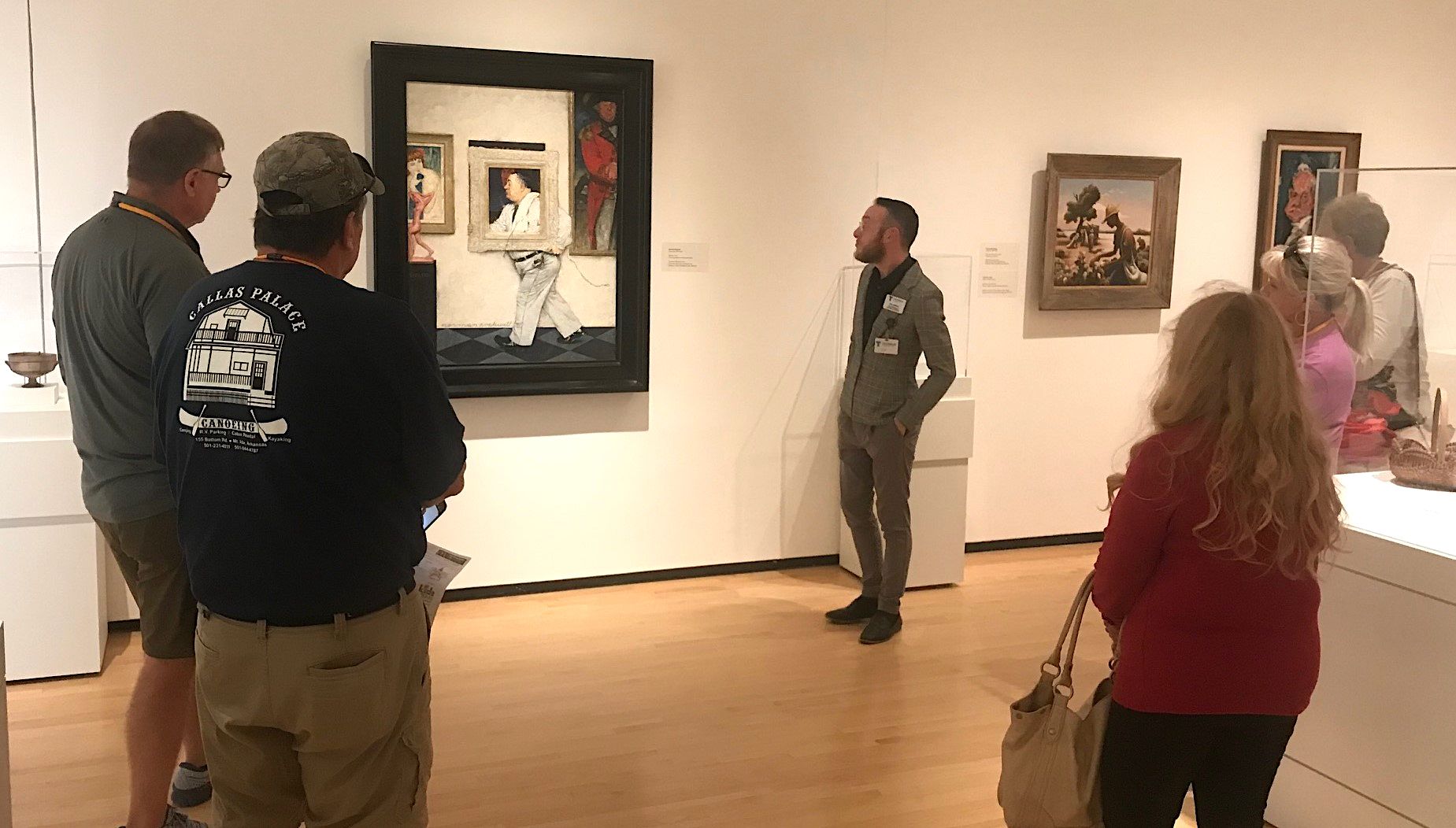 'A multi-use space'
Petersen took a visitor on her own personal guided tour on a recent Friday, when the Taubman was open and more than two dozen visitors took advantage of the museum's free admission and lingered in its second-floor galleries, soaking in works ranging from mid-19th-century American art to 20th-century modern paintings and sculptures to a current special exhibit of contemporary Romanian artists.
Free admission is paramount for the museum's continued sustainability and success, Petersen said. Corporate support has underpinned the free-admission program since it was introduced in 2012, with AEP the current corporate sponsor.
When the museum opened in 2008, the $8 general admission proved too much for Roanokers' arts and entertainment budgets. After a promising opening, revenues quickly fell, just as the country slid into the Great Recession.
The free admission program started in October 2012 with a $150,000 donation from Advance Auto, the company founded in Roanoke in the 1930s by the father of Nicholas Taubman. In 2008, Nicholas and his wife, Jenny, gave $15 million to the museum, which officials renamed the Taubman Museum of Art after it had been called the Art Museum of Western Virginia since 1992.
Free admission opens the museum to all people regardless of their incomes or bank accounts. Petersen said that museum management will always search for donations or corporate support to waive admission fees for the general public.
"Free admission is key to the museum being accessible," Petersen said. "If people want to see just one exhibition, or they want to come downtown for lunch and visit the museum, or they're passing through town and they have an hour timeframe, there's no obstacle to coming into the museum."
The museum charges admissions for special ticketed exhibits that are housed for limited times in a second-floor space. Featured exhibits have included an impressive array of acclaimed artists and works, such as a Norman Rockwell exhibit in 2016, Academy Award-winning costume designer Ruth E. Carter's 2021 "Afrofuturism" showcase of her designs for "Black Panther" and other films, a pop-art exhibit that featured works by Andy Warhol and Roy Lichtenstein, and last year's "Titian to Monet" exhibition of European paintings.
Other potential revenue-generators withered over the years, especially during Covid. A café that has housed multiple iterations of small restaurants and coffee shops currently sits empty, and is used mainly during events and for "pop-up" temporary vendors. Beyond that, Petersen said that there aren't any plans for the café at the moment, but the space could possibly be a restaurant again someday.
The gift shop carries less merchandise than it did pre-pandemic, but it does contain a coffee kiosk for visitors, which might satisfy patrons who miss the café and want a cup of java for their art-gazing visits.
"That's been sufficient in the interim," Petersen said, adding that the museum staff frequently surveys visitors about what amenities they'd like to see at the Taubman.
Going forward, Petersen said that the museum plans to host more public and private events in its effort to become a "community convener."
"The museum is a multi-use space," she said, adding that over the span of three days, the museum had been rented for two weddings, a reception, a corporate event and a nonprofit fundraiser.
"That multi-use space is important," she said.
Petersen has long sought to strengthen ties between the museum and other cultural organizations. Currently, the Taubman has partnered with the Roanoke-based Harrison Museum of African American Culture to exhibit the work of the late David Ramey, a self-trained Roanoke artist whose bright, colorful drawings depict his memories of the mostly-Black Gainsboro community and the once-vibrant Henry Street business district just north of the Norfolk Southern railroad tracks that bisect downtown.
"David Ramey: Gainsboro Road and Beyond" exhibits about 100 drawings and around 75 hand-written stories that describe neighborhood life before urban renewal and so-called "slum clearance" projects in the 1960s scraped away a Northeast Roanoke neighborhood and sent Henry Street into an irreversible decline.
Ramey's drawings were one of the more popular stops during Bowers' tour with the folks from Arkansas, many of whom stopped to read the stories and take pictures. They were also a hyper-local exhibit that the museum's early leadership, obsessed with big dreams of international acclaim, might not have considered.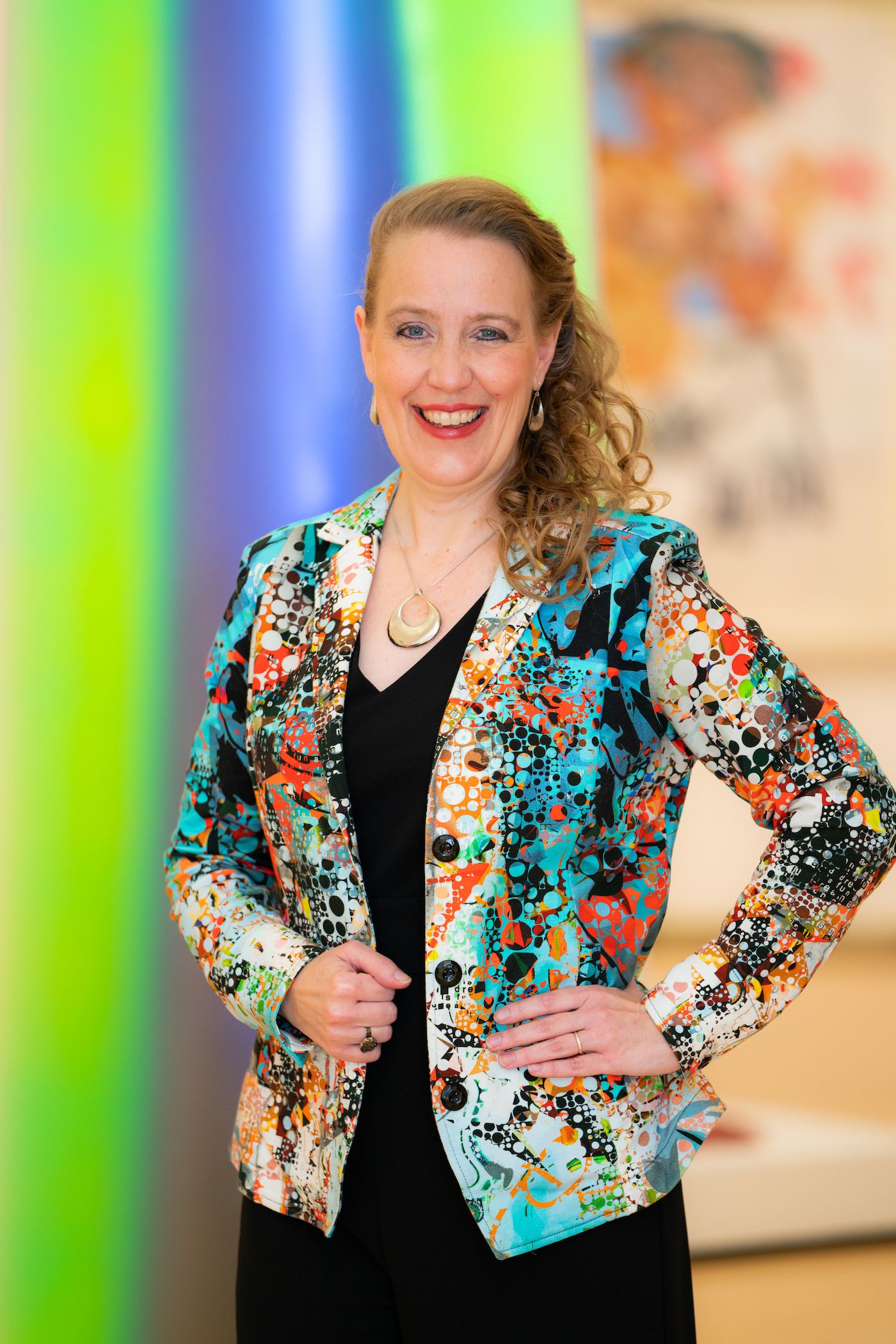 'Solid financial position'
Petersen, an Omaha, Nebraska, native, came to the museum in 2011, at the peak of the rough years, or maybe the depths, when the museum faced an uncertain future. Coming from a corporate background as a business analyst for pharmaceutical behemoth Bristol-Myers Squibb and as a management consultant for Oracle, Petersen lived and worked in Germany before her husband's career brought the family, including three children, to the Roanoke area in 2006. She also worked in arts education, and she is a master tap dancer. In Roanoke, she could meld her business and arts expertise, spiced with her life as a mother.
After working on other arts-related projects in Roanoke, Petersen joined the Taubman in 2011 to revamp the museum's Art Venture, the space for children and families. Art Venture has become a primary draw for the museum, providing space for young people to make projects and learn about art. Art Venture was closed for nearly two years during the pandemic, because of the hands-on and interactive nature of the creative space.
The nonprofit museum took pandemic-related hits to its revenues, going from about $5 million to $6 million annually before Covid to $3.8 million in 2021, according to the museum's tax filings. Revenues were up to nearly $4.5 million in 2022, but the museum still posted a nearly $500,000 loss. However, with assets of nearly $69 million, the museum is well-positioned to weather rough patches in the economy, said John Fishwick, a Roanoke lawyer and a member of the Taubman's Board of Trustees.
Fishwick credits Petersen and the Taubman staff for navigating pandemic closures and keeping the museum on a sustainable path.
"The Taubman is in a very solid financial position," Fishwick said. "It's got a strong base and a great future. Cindy and her team have been very adroit at handling Covid, making adjustments and staying the course."
The museum still relies heavily on "generous sponsorships," as Petersen put it, as well as donations and grants. A $350,000 federal grant supports a program called Happy HeARTs that allows people with special needs, whether blind, deaf, on the autism spectrum or living with intellectual disabilities, to participate in museum activities.
The museum also offers daily guided tours seven days a week at 1 p.m. for $10, or $8 for those who have purchased a museum membership.
The guided tours that are held on days when the museum is otherwise closed have caused some confusion for a few visitors, according to a downtown Roanoke business owner. That person said that they have met customers who came to Roanoke for a tour, thinking that the museum was open all day, only to find it closed.
The Taubman's website appears fairly clear about the museum's public hours. Regardless, Petersen said there are no plans to change the schedule for now.
"All the numbers pointed to visitors coming Friday, Saturday and Sunday," she said. "The rest of the week, we had tours and just a handful of other people," before hours were reduced.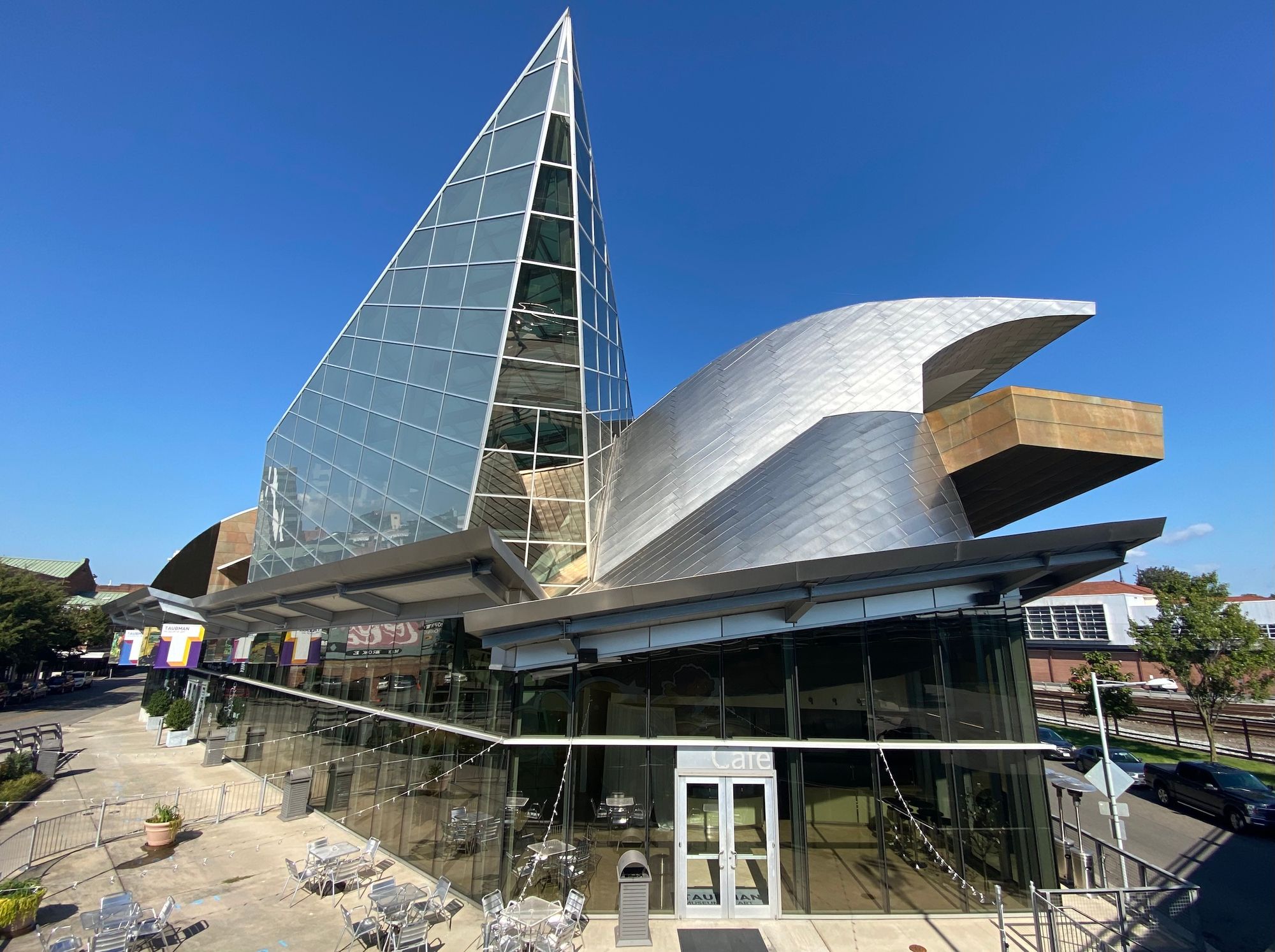 'Bilbao in the Blue Ridge is dead'
The Taubman opened with such hype and promise on Nov. 8, 2008.
More than 10,000 people snaked up Salem Avenue to see the inside of this crazy, modern piece of architecture that had risen near the City Market. For many, it was probably the last time they ever set foot inside the Taubman Museum of Art.
The Taubman traces its roots back to 1951, when the Roanoke Fine Arts Center was incorporated to exhibit major artwork in the Star City. The center found a home at the Cherry Hill mansion in South Roanoke until 1983, when it moved into the year-old Center in the Square in downtown Roanoke, where nine years later it would be renamed the Art Museum of Western Virginia.
By 1999, museum backers were looking for a larger space to exhibit the growing number of works that the museum owned, many of them nationally recognized pieces by American artists that included Thomas Eakin, John Singer Sargent and Winslow Homer. After North Carolinian Georgeanne Bingham was hired as director in 2003, Los Angeles architect Randall Stout was brought on board to design a modern stand-alone museum.
Stout, who died in 2014 at age 56, was a protégé of Frank Gehry, one of the most influential modernist architects of the 20th century, whose sweeping, curving whimsical designs included the Walt Disney Concert Hall in Los Angeles and the Guggenheim in Bilbao — the latter eventually leading to overzealous expectations for what the Taubman could become.
Stout's design, distinguished by a rising star point, glass panels, metal walls and curves that resembled — what, exactly? Mountains? A roaring diesel engine from a Norfolk Southern locomotive? — became one of the most innovative, provocative and controversial architectural designs in Roanoke's history.
Many locals felt that such a building did not complement a Roanoke downtown skyline dominated by the hilltop Hotel Roanoke and St. Andrew's Catholic Church, both of which dated to the founding of the city, the 21-story postmodern now-Wells Fargo Tower and other 20th-century buildings. A letter writer to The Roanoke Times called Stout's design "the wreck of the Flying Nun," a reference as outdated as was the old television show from which it came.
Others, though, were awestruck. A headline in The Roanoke Times on Nov. 2, 2008, asked, "Could Art Museum Prompt a Downtown Transformation?" In the story, written by longtime arts reporter Kevin Kittredge, heavy hitters such as then-Carilion Clinic CEO Ed Murphy said that the museum had "the potential to have a huge impact" and be "transformational." Financial backer Heywood Fralin called it "the most exciting building in Virginia."
Even then, however, some people had doubts. Even Fralin, whose family trust continues to support the Taubman, told the newspaper, "It remains to be seen if the inflow will cover the expenses."
That wouldn't remain a question for very long. Within five months of its much-ballyhooed opening, nearly 20 percent of the 52-person staff was laid off. Four months later, another six people were let go.
Roanoke's $66 million international tourist attraction was in trouble.
In 2012, then-Taubman president David Mickenberg told a town hall meeting that "the model of Bilbao in the Blue Ridge is dead." A damning report from the Cultural Policy Center at the University of Chicago described the museum as "a modest proposal to renovate a building in order to have a larger and leak-free exhibition space, [that] turned into a quixotic quest to draw the eyes of the world to a small town in western Virginia."
Later in 2012, most of the museum's board of directors was replaced, free admission was launched and Art Venture — which Petersen had been hired to redesign — became a larger draw for visitors.
Over the next seven years, pre-Covid, the museum found its footing. Free admission attracted visitors from all walks of life — art lovers, moms with kids, curious tourists with time on their hands. The ticketed exhibits brought even more visitors and more revenue.
In January, 2018, nine months before the museum's 10th anniversary, Petersen became executive director shortly after her predecessor, Della Watkins, left for the Columbia Museum of Art in South Carolina.
Before the Taubman opened, many arts patrons figured that the museum would spur an interest in downtown art galleries, many of which feature the works of local artists. Despite the Taubman's beleaguered early years and now the current reduction in hours, some gallery owners think their shops endure whether the Taubman is open or not.
"I can't say for sure whether the reduced hours of operation at the Taubman has influenced our business; I suspect that it has not," said Cathryn Hankla, an artist and poet who is co-president of Market Gallery on Campbell Avenue. "Market Gallery is celebrating 20 years of continuous operation this year, so our business hasn't depended on the Taubman or spun off from it. In fact, people often find us and we tell visitors to Roanoke about the museum."
Hankla did say that the monthly Art By Night events, when galleries and museums are open into the evening on the first Fridays of each month, are nice draws for galleries.
"The museum is also open for Art By Night, so there's a nice synergy with the galleries, not all of which are clustered in the market area," she said.
Petersen said that museum visitation should increase, as she senses that downtown is getting increased foot traffic. And the building, long derided by locals as too ostentatious, too modern, too ridiculous for Roanoke, has now blended seamlessly into the Star City skyline.
"Absolutely, it's a draw," she said. "It's a sculpture. It's a gem."

Support local, independent journalism and don't miss a single story!
Become a member