From Pizza To Pretzels, Food Pop-Ups Are Making Roanoke's Dining Scene Shine
Roanoke foodie entrepreneurs have found freedom and flexibility following a pop-up business model in lieu of a traditional restaurant or even a food truck.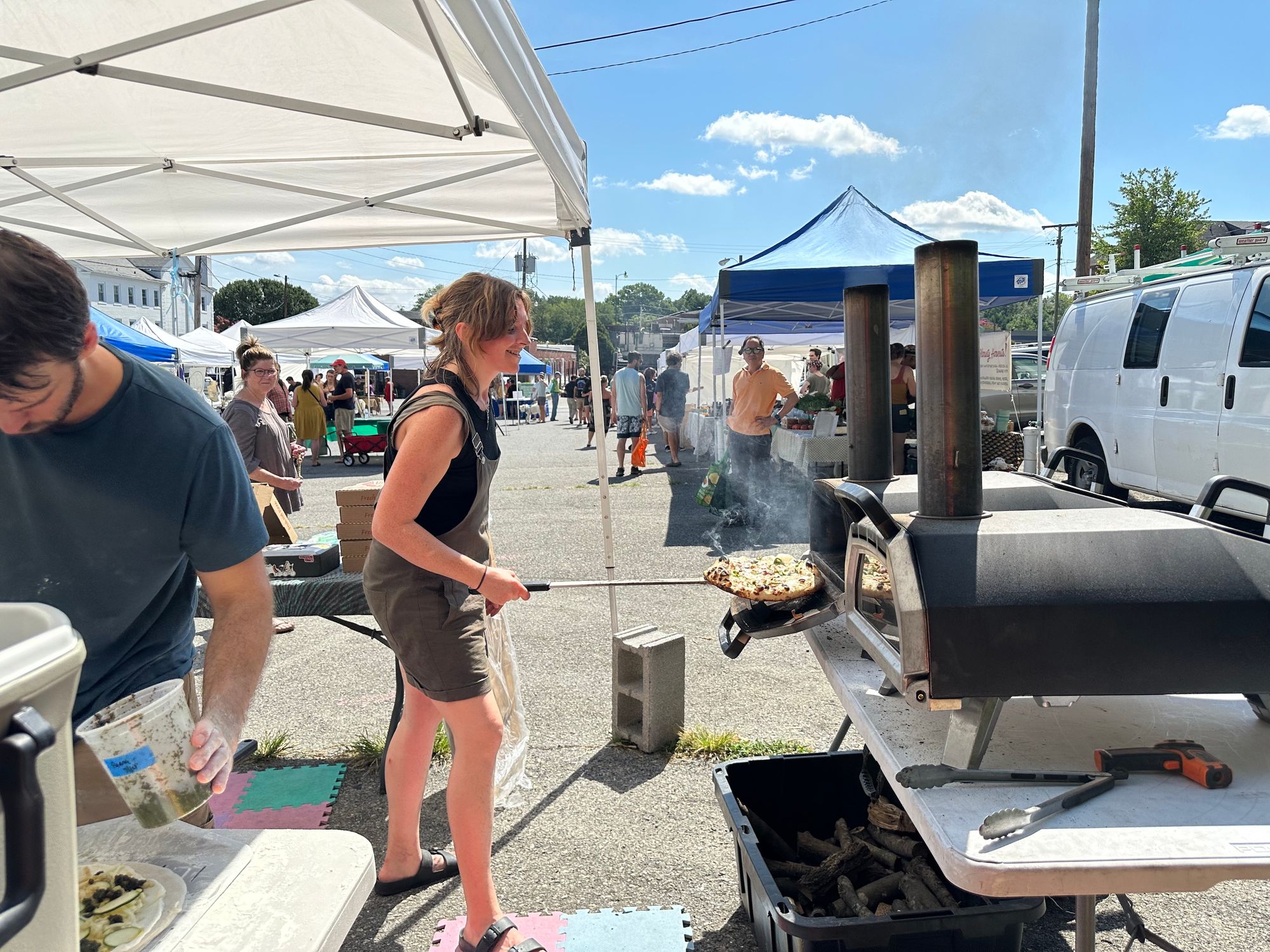 It's 90 degrees on a Saturday morning at the Grandin Village farmers market and customers are crowding around in the shade, not just for the reprieve from the heat, but also to watch Stacia Dougherty pull a fresh pizza from a 900-degree wood-fired oven.
She then pivots around Nick Bradburn, who is stretching their signature sourdough dough for the next-made-to-order pie, and finishes it with a drizzle of hot honey and a flurry of fresh Parmesan.
Bradburn and Dougherty, the duo behind Eatza Pizza, a Neapolitan-style pizza pop-up, are part of a burgeoning group of Roanoke foodie entrepreneurs who have found freedom and flexibility following a pop-up business model in lieu of a traditional restaurant or even a food truck. Pop-ups are a vibrant addition to a city's dining scene, offering diners more diverse, exciting menu options and dining experiences. Roanoke's latest crop of food entrepreneurs are fostering creativity, community and collaboration one taco, pretzel, pizza and elote at a time.
The pop-ups business model offers owners a lower barrier to entry, reduced capital outlay and financial risk, and flexible schedules.
"We don't have leases, or loans, or employees to pay right now and so it's just such a cost-effective business model that we were able to do something we love — we both love cooking," Bradburn said. "And we were able to start a business on that — on such a low cost that's actually fun to do, without all the overhead worries of restaurant margins."
By their nature, pop-ups can happen anytime, anywhere, whether it's a folding table and a portable grill outside a brewery or setting up shop in a restaurant on nights they're closed.
Amia Makins, a culinary student at Virginia Western Community College, runs Mia's Big Mouth on Mondays and/or Tuesdays out of Food Hut, a walk-up-window restaurant beside Golden Cactus Brewing that hosts rotating businesses.
"There's a whole fine dining restaurant in progress in my brain, but right now, a pop-up is the perfect way to say it," Makins said.
Her menu primarily features tacos and rice bowls with a bold flavor spin. To wit, the tacos start with tortillas dipped in a spicy oil mixture before they hit the flat top, then are filled with slow-cooked marinated chicken or steak and a proprietary cheese sauce.
"Even the guacamole hits different," Makins said. "I take a recipe, critique it and add to it. I don't want it to be guacamole you could've made at home."
Pop-ups are an effective way to test-drive a new concept since a direct feedback loop is built-in. Owners are often simultaneously cooking, serving and interfacing with diners and getting to hear what they loved or what they're looking for.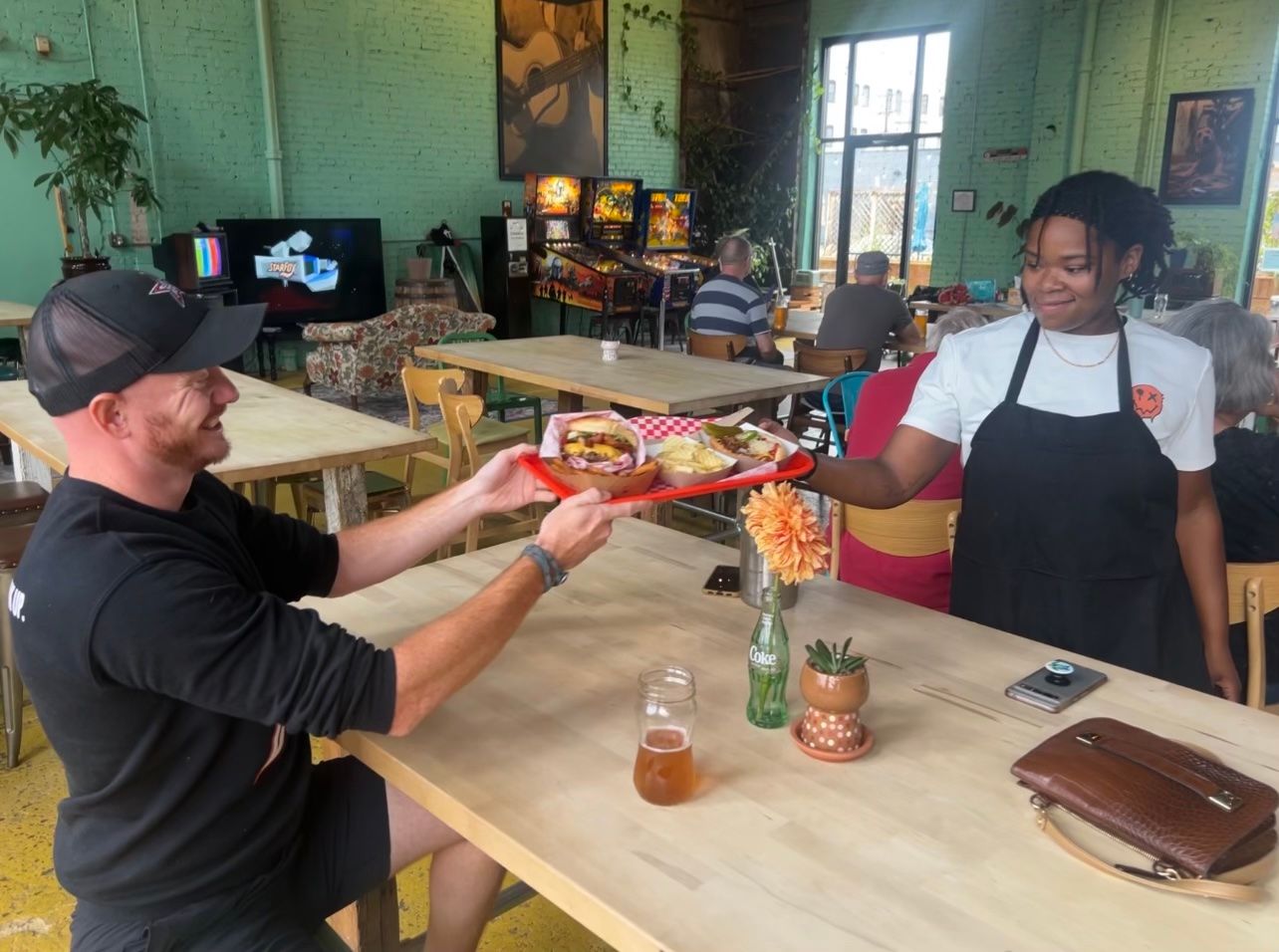 Filling a niche
For Julia Rigney, owner of Elote Alebrije, hearing directly from diners provides proof-of-concept as well as a much-needed vote of confidence.
"When you're in it and shucking 200 ears of corn and wondering 'Is anyone going to show up?' And then to go out and see people and they say, 'This is the best elote or ear of corn I've ever had.' Getting that feedback is so encouraging."
Elote Alebrije, which recently celebrated one year in business, specializes in Mexican-style street corn, which nods to Rigney's paternal Mexican heritage and her maternal family's home-grown corn-on-the-cob.
So it's especially validating when someone who may never have tasted elote before deems La Jefa — grilled corn rolled in Duke's mayo and Cotija cheese, then sluiced with Tajín mild sauce and Tajín lime chili seasoning — the best corn-on-the-cob they've had.
"It's cool to open up people to something new that they wouldn't have tried otherwise," Rigney said.
Hot Knots, which sells Bavarian-style pretzels and pretzel sandwiches, fills a niche in the Roanoke dining landscape, too.
The pretzels are freshly baked (but not served warm) and come with traditional accompaniments such as obatzda (a German beer cheese spread/dip), mustard butter and chive butter. The sandwich line-up includes ham with gruyere, mustard butter and pickles, which was the sandwich that started it all.
Alex Eliades, owner of Breadcraft, made it for his partner, artist Maggie Perrin-Key, who was so taken by the sandwich's flavors that she suggested they start Hot Knots. Other combinations include roasted turkey with obatzda and winter radishes, and gravlax with chive butter and capers, which one loyal customer has ordered at every pop-up.
Given their mobile nature and limited staff, pop-ups encourage tightly focused menus. But there's still plenty of room for creativity, especially since they're not bound by printed menus. (Often, menus are scrawled on paper, chalkboards or pizza boxes, or displayed on letter boards). Eatza Pizza's regular appearances at the Grandin Village farmers market inspire seasonal pies like a summer-ready one topped with pistachio pesto, zucchini, squash, corn and arugula.
"We always like to have something fun," Dougherty said. "At the last pizza place we worked at, we were limited, with an Italian-focused menu. Now we can do stuff like crab rangoon pizza or Mexican street corn, things that are seasonal and fun, flavor-forward."
A nimble menu also helps generate buzz, which can bolster the bottom line.
"Because we can change our menu week to week it creates the idea of scarcity and people are like, 'I can only get this pizza this certain day,'" Bradburn said.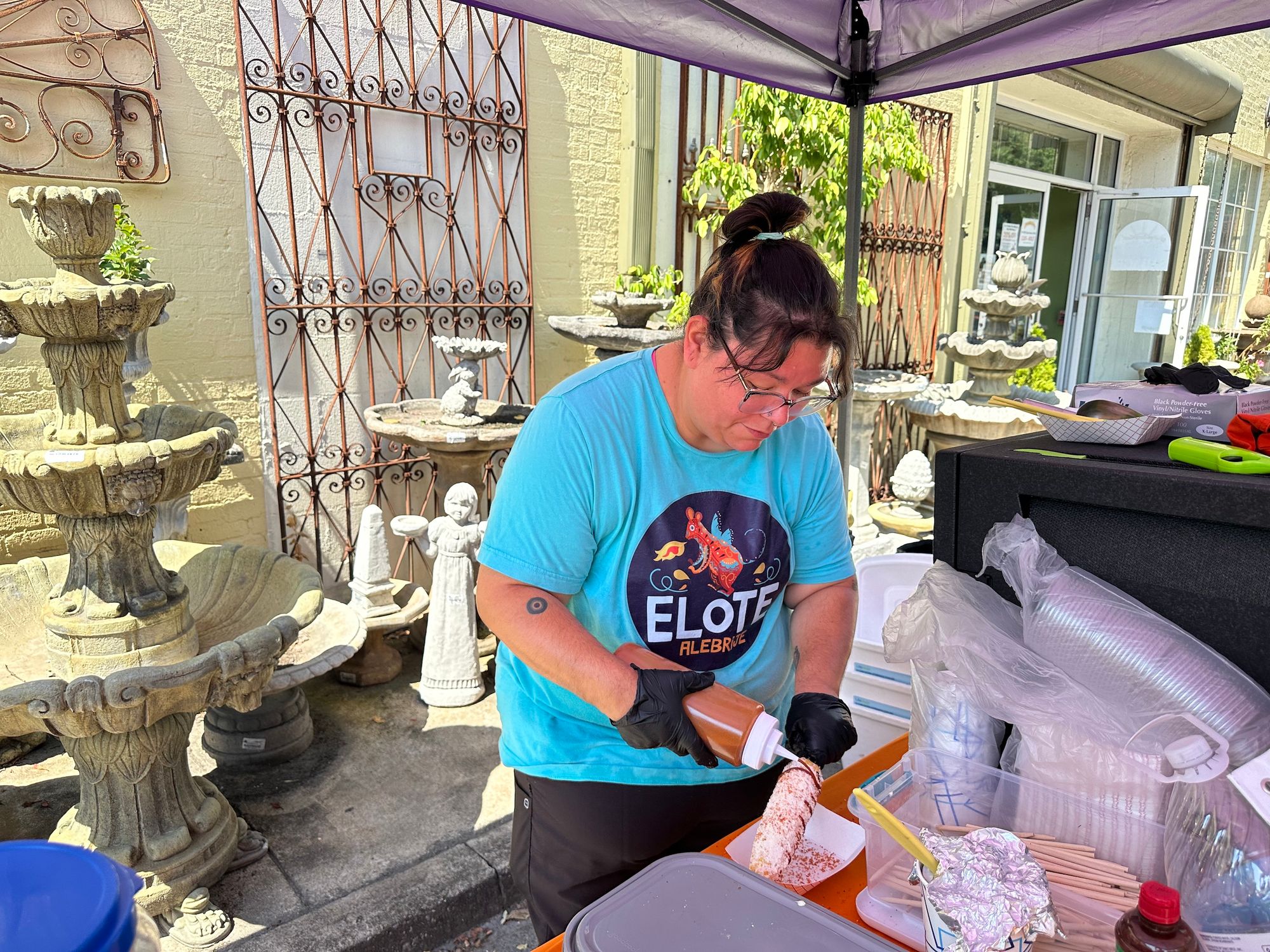 Community and collaboration
In addition to food pop-ups enriching a local dining scene and fostering relationships with diners, they also strengthen the local network of food and hospitality entrepreneurs through industry support, mentorships and collaborations.
Eliades and Perrin-Key say they received support from the outset of their venture.
"So many guys I know showed up to the event that I know from restaurants or kitchens, whether head chefs or owners or one of the cooks," Eliades said.
Since founding Hot Knots, the pair have become part of a subculture of the Roanoke restaurant landscape.
"Being a market pop-up person is its own community," Eliades said. "People seem to appreciate it and feel like they know you individually." It reminds him of Breadcraft's early days when he'd get to interact with the bakery's 20 or so daily customers.
Pop-ups are fertile ground for food entrepreneurs to develop mentorships, which can help foster longevity in the industry. Makins credits Food Hut's Patrick Riley with sparking her business by first offering her a job at Food Hut, and then offering up his kitchen space to her on days when his restaurant is closed. Riley has championed Makins by posting menus on Food Hut's Instagram account, which has helped create buzz and traffic.
Through Roanoke's Small Business Development Center, Rigney met fellow Latina business owner Kat Pascal, co-founder of Farmburguesa, who helped Rigney develop her business plan and navigate the ins and outs of starting and running a food business.
Collaboration with other food businesses also helps boost support for fellow entrepreneurs. For example, Elote Alebrije's spicy Chica Loca(l) is topped with custom blends from homegrown Roanoke businesses Fermented Fire Hot Sauce and Spice Titan.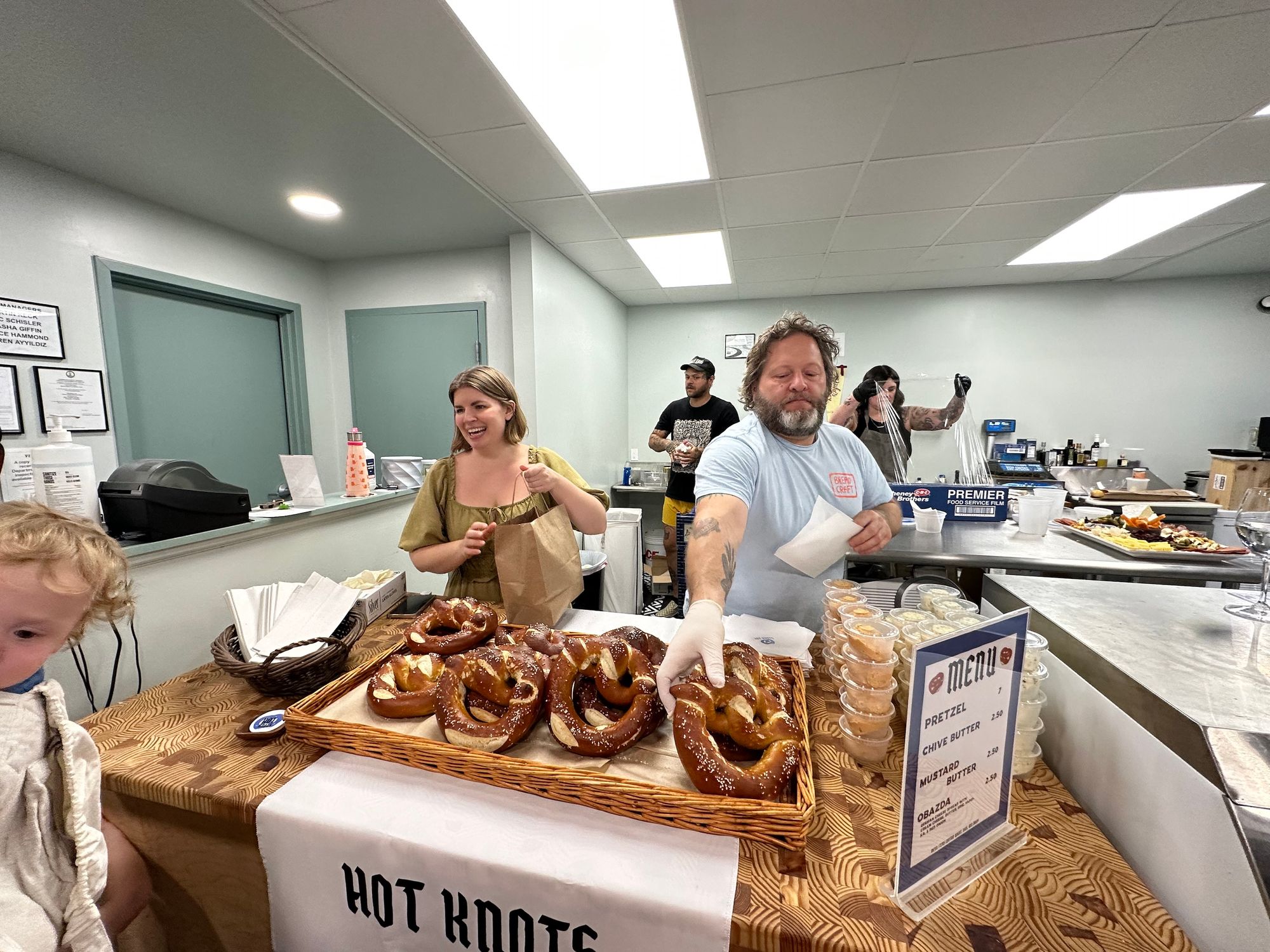 Hot Knots has some ideas in the works, including a sandwich collaboration with Yard Bull Meats. And they've been approached by area restaurants to wholesale their pretzels to serve at their establishments, like the Shenandoah Club, which recently ordered mini pretzels to serve at a few events.
For Eliades and Perrin-Key, wholesaling represents a sustainable way to grow their business.
"Given that we both have full-time passion jobs, we like the size it is now," Perrin-Key said. "Two of us can't physically make enough pretzels that are still fresh. There's a barrier that we hit where we can't make more than so many fresh for one event, unless we start involving other people. It's kind of our side thing."
But for other owners, pop-ups represent a stepping-stone to more traditional restaurant ownership. While the overhead for a pop-up is lower than a restaurant or even a food truck, having to set-up and tote ingredients and materials from event to event is physically taxing and time-consuming.
Makins envisions someday participating in regional food truck festivals. But first, she'll invest in a trailer, so that she can continue saving up while attending culinary school and growing her business, which also includes catering and private chef clients. Eventually, she wants to make good on her restaurant dreams by opening a brick-and-mortar eatery.
"I want to get up and it be a building with my name on it. People are eating there every day and I have employees that like going to work that are actually being paid what they deserve," Makins said. "It's so much bigger than just getting right to what I thought I wanted to do."
---
Correction (9/13/23) — A previous version of this story misspelled the names of a farmers market, the owner of Elote Alebrije and the co-founder of Farmburguesa. The story has been updated, and we very much regret the errors.
Support local, independent journalism and don't miss a single story!
Become a member