Here Are 4 New Roanoke Food Trucks You Need To Try
From Greek souvlaki to flaky empanadas, ordering from a window has never held so much delicious promise.
Roanoke is experiencing something of a food truck renaissance, as restaurateurs and food business owners are taking the wheel and hitting the road rather than setting up shop.
Food trucks offer flexibility, not just in terms of location, but also for scheduling and menus, an increasingly important consideration in the post-Covid landscape of rising food costs and labor strains.
From Greek souvlaki to flaky empanadas, birria quesadillas to BBQ jackfruit tacos, ordering from a window has never held so much delicious promise.
Here are four new food trucks that need to be on your radar.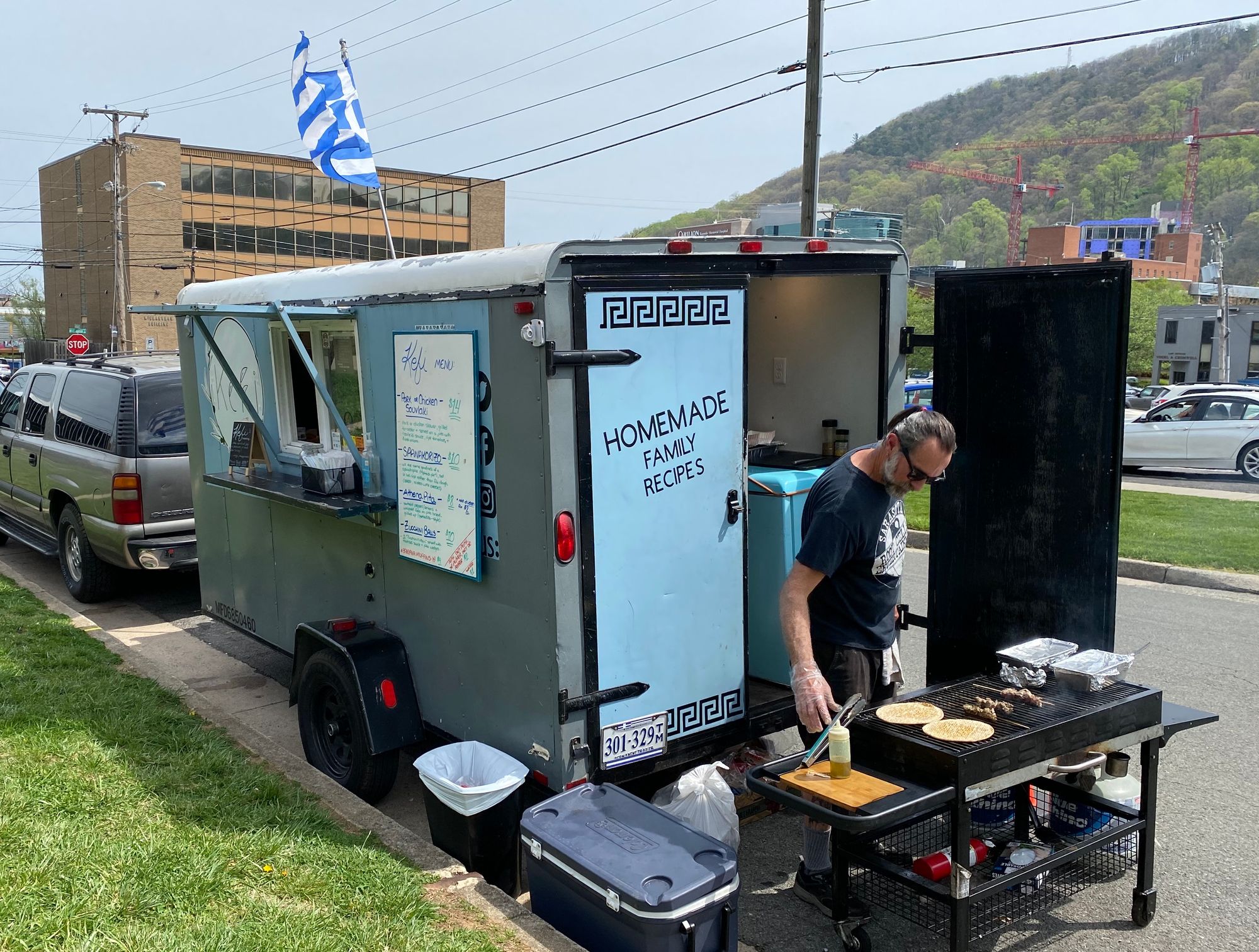 KEFI: Greek Food with Passion
Chefs and restaurateurs often say they learned to cook at their mother's side. For Corinna McClain, who owns Kefi: Greek Food with Passion with her husband, Jason McClain, that's only partially true.
"Greek Moms aren't the kind that ask you to cook with them, but they ask you to grab them stuff," she says. "But I was so interested from a tiny age and paid attention and wanting to be in there, even if I wasn't doing any helping."
McClain has always enjoyed cooking for family and friends, and with some encouragement from both sides, she started Kefi in Sarasota, Florida. Last year, she moved to Roanoke with her family and re-launched the truck here last April.
"Kefi is a word not really with a definition, but the idea is that kefi means 'your passion and joy in life.' You can find your kefi or lose your kefi," McClain said. "My food truck is called that because cooking for others is my kefi."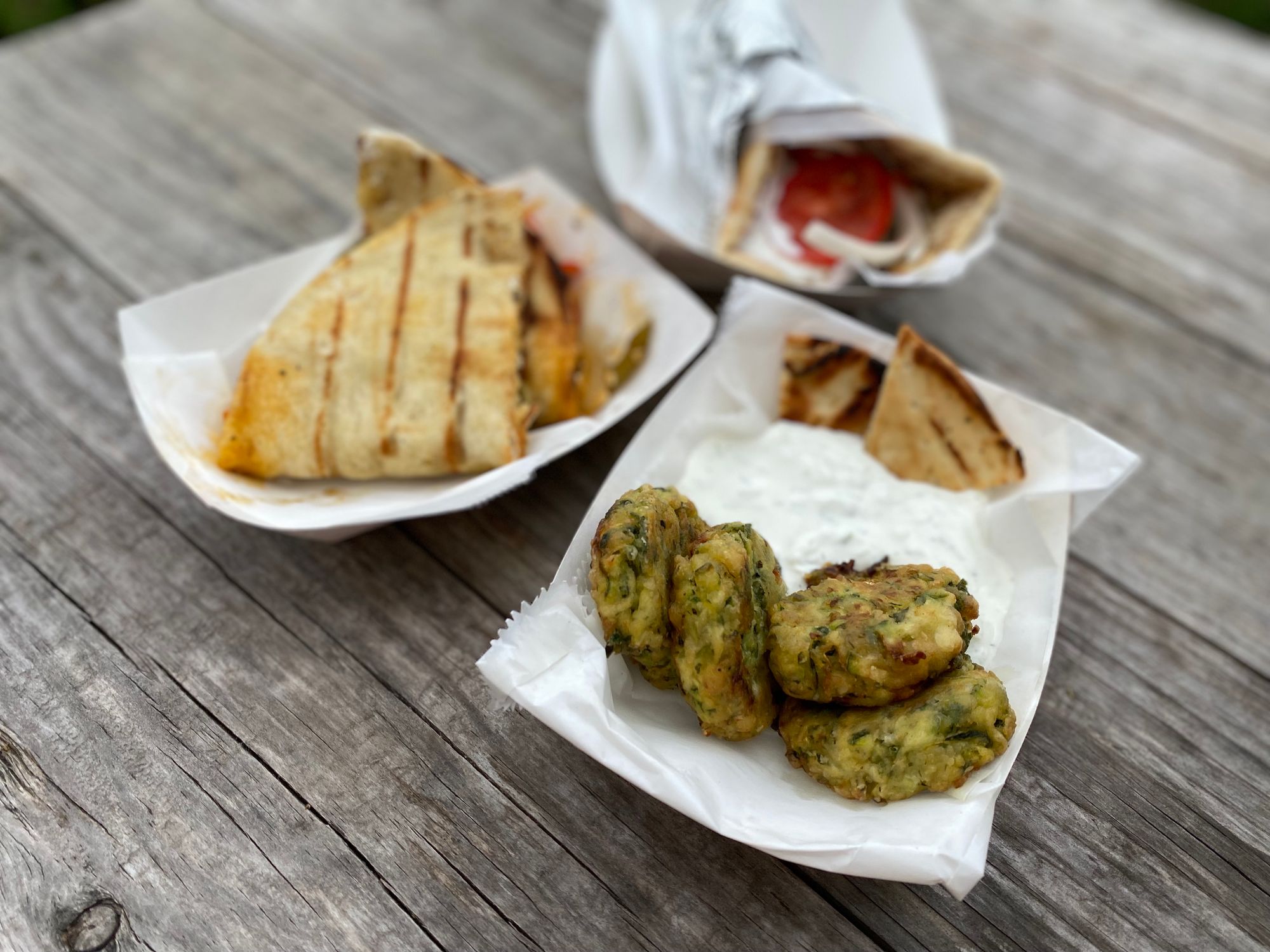 Kefi has earned a following for signature items such as souvlaki, juicy, smoky pieces of grilled-to-order skewered pork or chicken, that are then stuffed into grilled pita with tomato and onion and liberally sauced with tzatziki. Even if you lean toward asking for extra sauce, McClain tells customers to wait and see how much is already on the pita first (though she's happy to oblige requests).
The menu is rounded out with other Greek classics, including spanakopita, a spinach-and-feta savory pie that's made with phyllo dough (a gluten-free version made with rice is also available), zucchini fritters, and cucumber-tomato salad. One item that McClain and her family love but say you don't often find in restaurants is a medley of sauteed bell peppers and onions on toast topped with feta crumbles. To make it food-truck friendly, McClain turned it into the Athena pita (named for Athens, where her mother grew up) by spreading a pita with homemade whipped feta, stuffing it with sauteed peppers and onions, then folding it over and grilling it, like a quesadilla.
Be sure to save room for their secret-recipe Greek baklava, which features layers of phyllo dough, ground walnuts, and honey syrup laced with lemon and cinnamon.
"My recipe is from five generations in my family," McClain said. "I can never, ever share the details. I don't even write it down in my recipe book. My kids are like, 'You need to give me the actual recipe one day.'"
Kefi can typically be found at Sweet Donkey Coffee (2108 Broadway Ave. SW, Roanoke; 540-491-0004) on Wednesdays and once a month at their Friday Food Trucks and Tunes event, as well as Sundays at Black Dog Salvage (902 13th St. SW, Roanoke; 540-343-6200). For current schedules and menu updates, follow Kefi on Facebook and Instagram.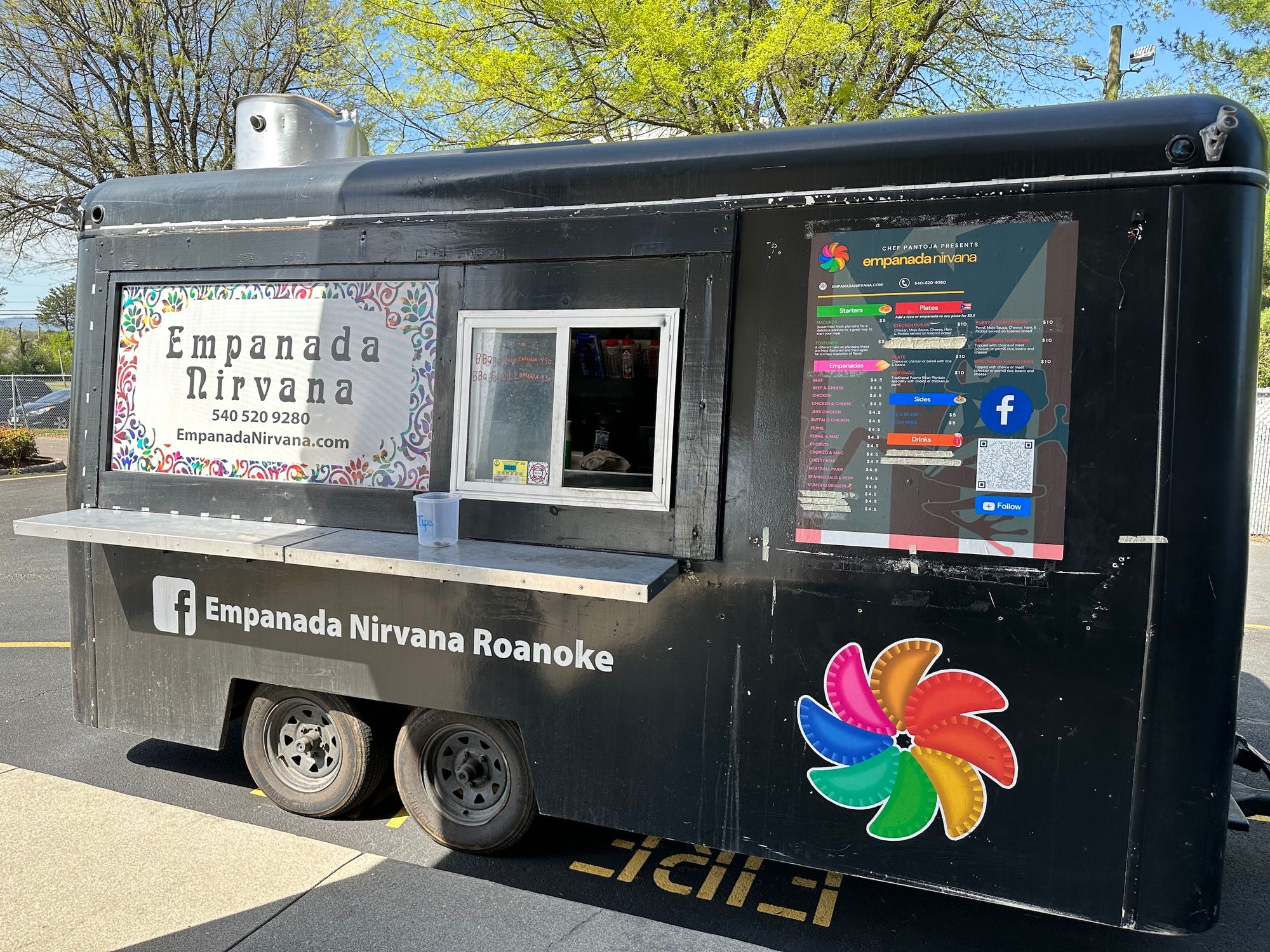 Empanada Nirvana
When your truck is named for one menu item and a superlative implying bliss, it had better be good. Empanada Nirvana offers 20 or so different fillings for its signature hand-held savory pastries, but they're united by what owner Nelson Pantoja says makes for a superior empanada: the dough.
"It's flaky. It's got to be crispy, the right amount of crispy—not over cooked or undercooked," he said.
Though Pantoja spent most of his professional career working construction, cooking his family's Puerto Rican food and making empanadas has been a passion and a hobby for decades.
"I grew up on this food. I've been making empanadas since I was four years old," he said.
When a few surgeries prevented him from returning to construction last year, he emptied his savings account to buy a truck-trailer and launched Empanada Nirvana in September. Seven months in, and he's had to buy a second truck to keep up with demand.
In addition to achieving a top-notch dough recipe, Pantoja prides himself on his empanada's flavor. His personal favorite is the Spanish sausage and peppers — a nod to his dual Puerto Rican and Italian heritages — which features sweet Italian sausage and sauteed peppers seasoned "Puerto Rican style," which Pantoja describes as "island flavor." He adds, "What people don't realize is that Puerto Rico is a very poor place so a lot of seasonings we cook with come from the ground: cilantro, sazón (a ground spice blend of coriander, cumin, achiote, garlic powder, and oregano), sofrito (a blend of tomatoes, onions, peppers, cilantro, and garlic), onion, garlic." Another stand-out is the beef and cheese, fashioned after a recipe passed down by Pantoja's great-great-grandmother that combines amply seasoned ground beef and a proprietary six-cheese blend to deeply savory effect.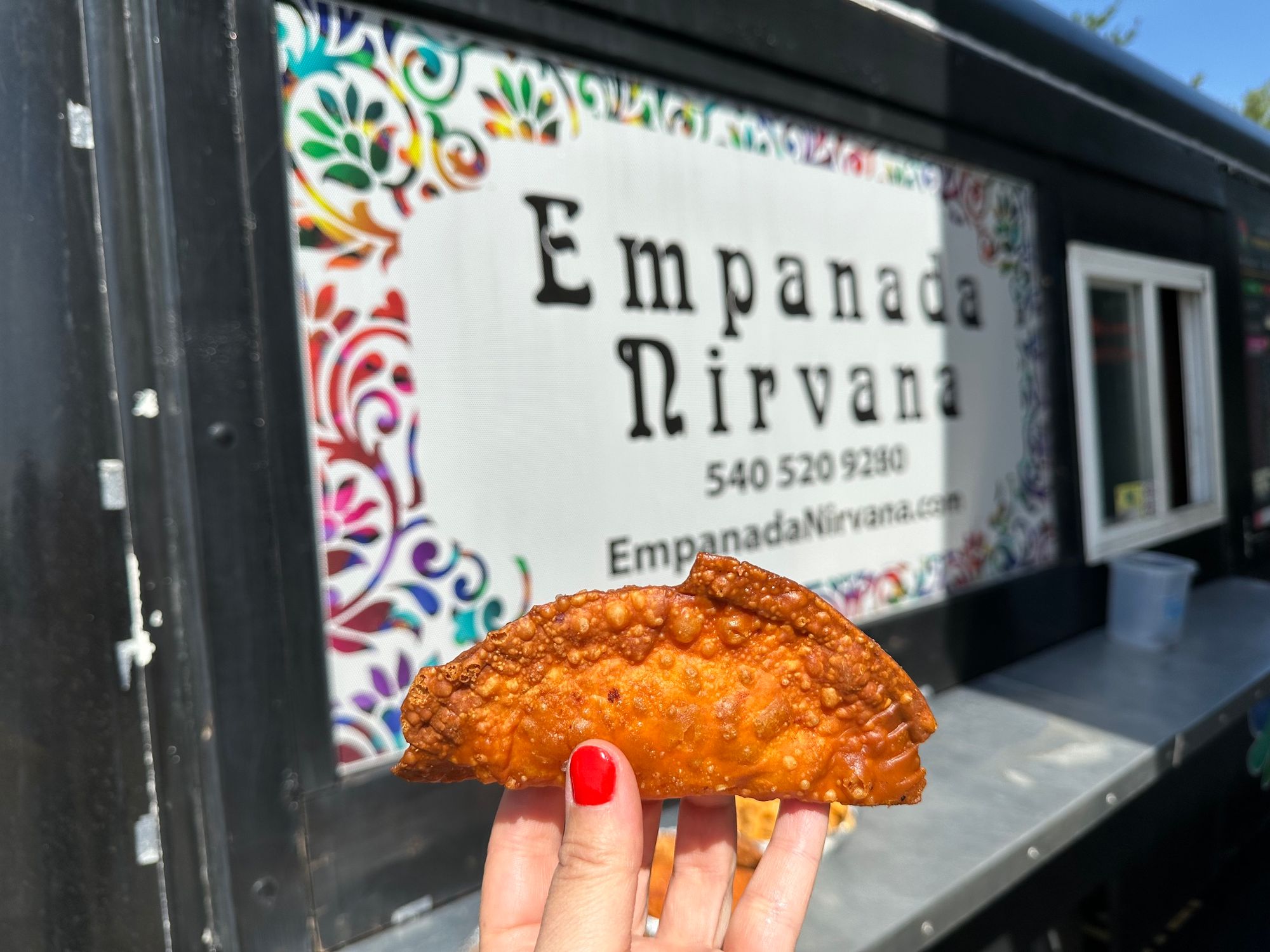 "There's something for everyone," Pantoja says of his menu. "In this market you have to stay creative. You got to try new things, mix new things up."
To that end, he is constantly dreaming up new empanada flavors, including vegetarian-friendly options such as one stuffed with homemade mac 'n' cheese and a spice-forward chickpea masala number. One menu item that's gaining in popularity is the Puerto Rican-style Cuban sandwich, piled with pernil — marinated and roasted pork — and topped with pickles, queso cheese blend, and mojo sauce, a creamy, savory condiment that gets its kicky freshness from cilantro. (The sauce is so good, Pantoja has received multiple requests from customers to bottle it.) The mojo sauce makes an excellent topping for the best-selling yucca fries, which you can also order smothered, where the crispy cubes are covered with homemade Spanish rice and beans and queso, and a choice of chicken or pernil.
Empanada Nirvana is in frequent rotation at Olde Salem Brewing Company (21 E Main St., Salem; 540-404-4399) and Virginia Western Community College (3094 Colonial Ave. SW, Roanoke; 540-857-8922); for the most up-to-date appearances and menu specials, follow the truck on Facebook.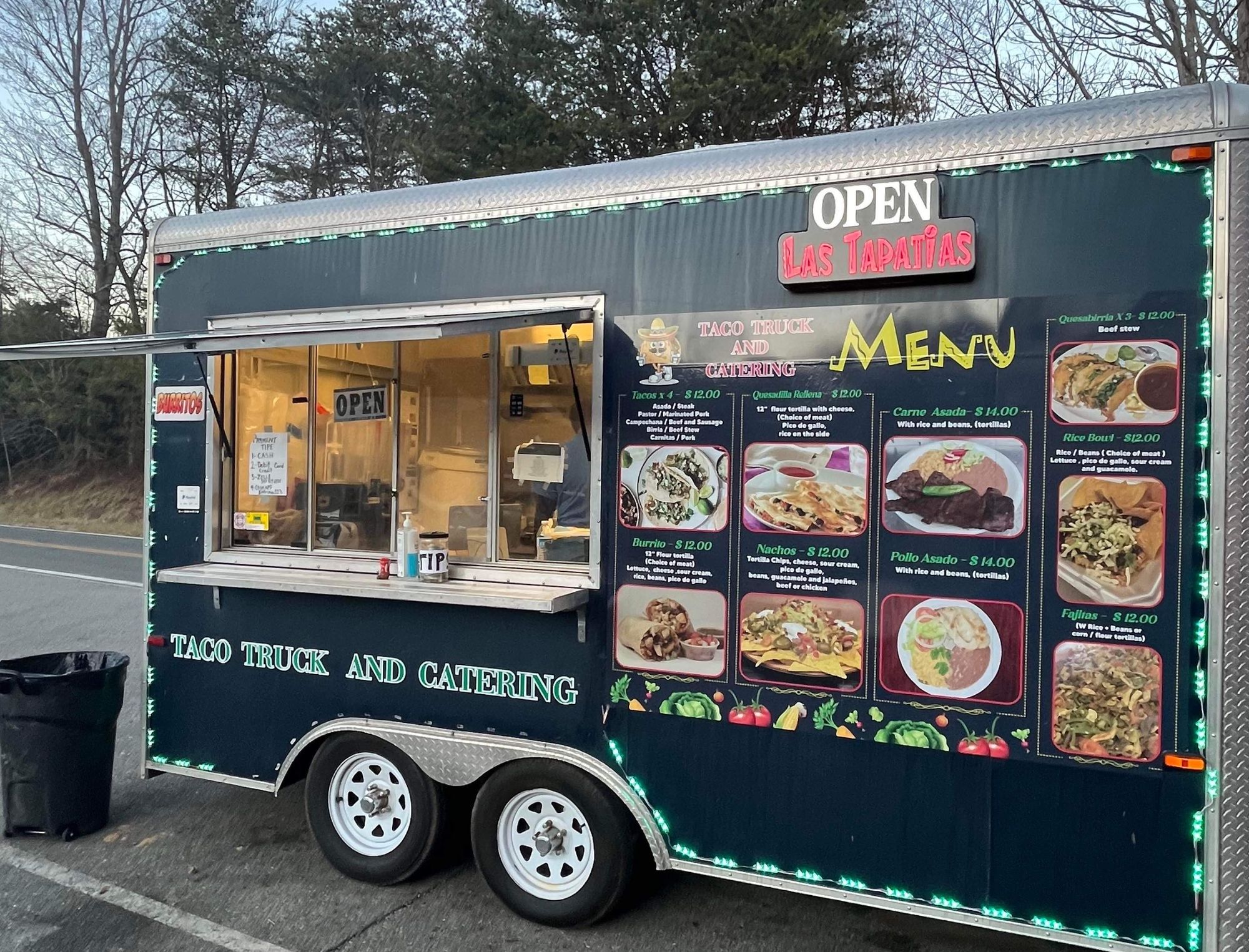 Las Tapatías Taco Truck and Catering
When friends and family tell someone their product is good enough to sell, it's usually the boost of confidence entrepreneurs need to get started. That was the case for Rolando Guzmán Lemus, who worked at local Mexican restaurants El Rodeo and El Torreo over the last 20 years and was known among the Hispanic community as an excellent cook.
After receiving multiple requests to cater parties, he and his wife, Marisela Aguirre, launched Las Tapatías in 2016 as a catering company. Over the years, the family-owned business built a steady clientele and following for their flavorful tacos, including al pastor, steak, and chicken. Last year, the manager of Gold's Gym called to hire them, thinking they owned a food truck. It wasn't a dealbreaker — the pair catered two events — but a seed had been planted. After buying a truck and receiving their permit, they launched Las Tapatías Taco Truck in November to bring tacos, burritos, quesadillas, and more to the broader Roanoke area.
Of the taco line-up, Aguirre says that the steak taco is the most popular. It features marinated and grilled steak, topped with lettuce, sour cream, cheese, pico de gallo, and homemade salsa. She notes that their Hispanic customers typically gravitate toward corn tortillas, but flour tortillas are also available. If tortillas aren't your thing at all, Aguirre recommends opting for the burrito bowl, which features rice, beans, and all the fixings, plus your choice of protein and tortilla chips. If you're looking for a meat lovers combo, opt for campechano, a mix of steak and chorizo.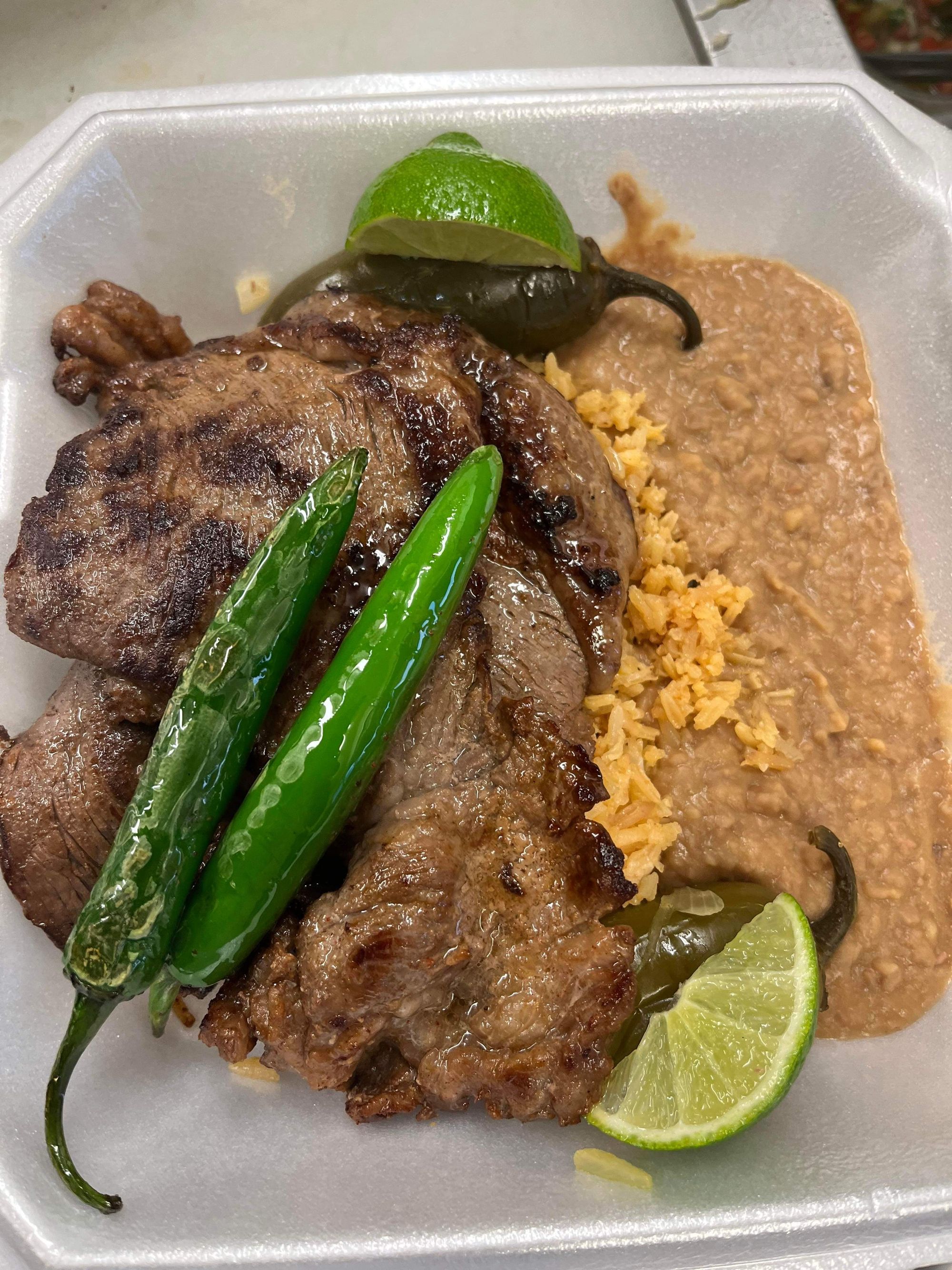 Whether you prefer a taco or burrito bowl, don't sleep on the birria, a beef stew like filling. The birria taco is served with a beef consommé that's ideal for dipping. For the birria, beef is cooked low and slow in a tomato-based broth amped up with aromatics, guajillo pepper, a little vinegar, and plenty of spices roasted on the comal (a Mexican flat griddle).
"It takes like four hours to get ready. When we prepare it, we prepare like 50 pounds, 60 pounds, enough for two weeks," Aguirre said. "And we have to have extra consommé so we make sure to put enough tomato and enough guajillo, that way we have enough consommé for each order."
The birria is also available as a quesabirria taco, in which the tortilla is dipped in consommé and topped with cheese then toasted on the comal. Once the cheese has melted, the birria is added and the tortilla is folded over, then crisped up on the comal until the meat and melty cheese meld. For the ultimate menu hack, order Aguirre's favorite: a quesadilla grande prepared quesabirria-style, served with a side of rice and fixings.
Soon, Aguirre and Guzmán Lemus will acquire a family member's Mexican restaurant, Las Tapatías Mexican Kitchen (4029 Melrose Ave. NW, Roanoke; 540-904-2487), adding a brick-and-mortar to their taco empire. For the most up to date food truck schedule or to inquire about catering, follow them on Facebook.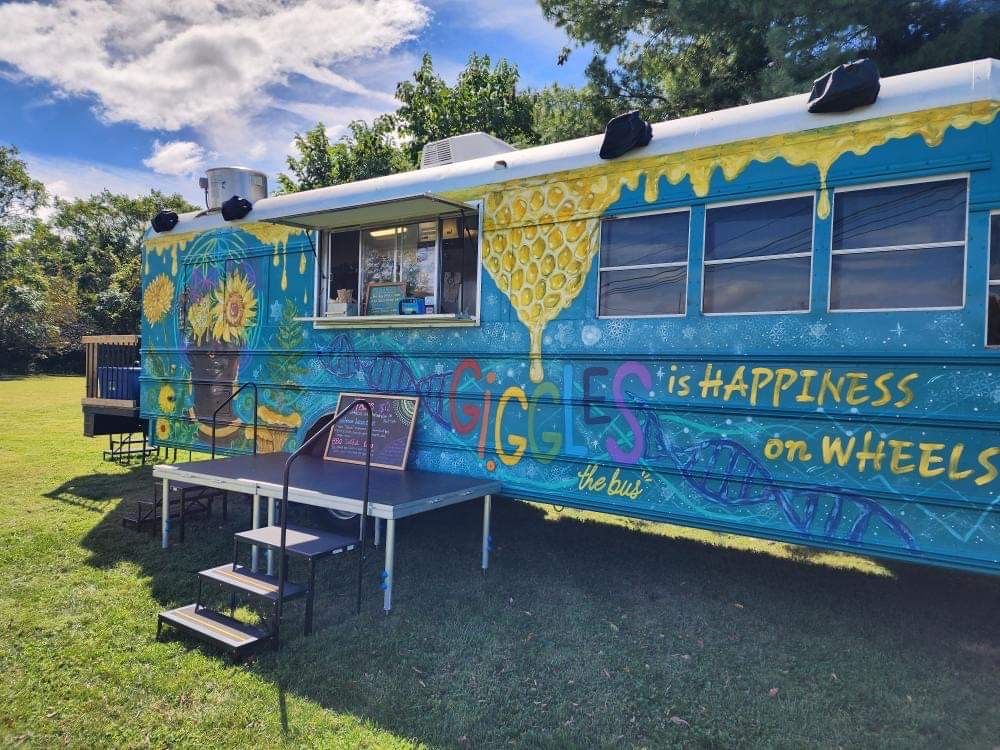 Giggles the Bus
When Maya Ittah closed her plant-based eatery, Garden Song Eco Café last year, Roanokers lamented the loss of a neighborhood standby for superfood smoothies and authentic French crêpes.
"We got through Covid and all of that. And it was coming to the end of our lease and I was like 'I want to do something different and be able to go to a variety of places and reach different crowds that way and just have more flexibility over all," Ittah said. "And that's when the bus came along."
Ittah acquired a gutted school bus which she then converted into a mobile café and kitchen. With the help of a friend and some hired hands, she installed a flat top grill to execute her plant-based menu of tacos, burritos and quinoa bowls, as well as a smoothie station. She launched Giggles the Bus with head chef Alexis Dupras in July 2022, driving the mobile café to events, pop-ups and festivals.
"The menu is very much inspired by the continuation of what I've done for the last 10 years or so. It's exclusively plant-based, similar to Garden Song, and 100 percent gluten free," Ittah said.
The taco, burrito and quinoa bowl toppings and fillings change seasonally. For example, last fall featured dishes such as a Korean BBQ brown rice bowl topped with mushroom bacon, garlic green beans and kimchi kraut, as well as soups like a hearty African peanut stew with sweet potato and kale. Each season she aims to feature a different local, wild foraged ingredient, like a spring-ready pesto with foraged herbs. Vegan desserts include rotating specials such as brownies and blondies, both made with gluten-free flours, and a raw cheesecake made with a cashew-based filling in flavors such as matcha lemon or pumpkin chai.
To sip on, there are smoothies made with 100-percent organic fruits and vegetables, or cups of hot, homemade chai, another fan-favorite carryover from Garden Song Eco Café, which make an excellent match for brunch-ready breakfast tacos prepared with eggs, potatoes, onions, peppers, avocado and chipotle aioli.
Happily, the crêpes are back, too, via a pop-up crêpe stand that often accompanies the bus. On the crêpe menu you'll find sweet options, such as chocolate banana or chocolate strawberry, as well as savory numbers, like one filled with barbecue jackfruit and slaw and avocado and another Greek-inspired number with tomato, greens, herbs and cucumbers and vegan feta.
This year, Ittah hopes to continue bringing the bus to multi-day festivals, one-day events, and breweries. To satisfy demand for crêpes, she'll also set up the crêpe stand on a regular basis at the LEAP Grandin Village (2080 Westover Ave. SW, Roanoke) and West End farmers market (1027 Patterson Ave. SW, Roanoke; 540-632-1360), at the Fralin Biomedical Research Institute at VTC (4 Riverside Circle, Roanoke; 540-526-2509) and at area breweries. For the most up to date schedule and menus specials, follow Giggles the Bus on Instagram and Facebook.
Support local, independent journalism and don't miss a single story!
Become a member