Ramblings: Farmers Market Opens at New LEAP Hub; City Tweaks Gun Panel's Powers; School Board Members Picked
What are Ramblings? Ramblings are a collection of short items that have caught our attention for one reason or another.
What are Ramblings? Ramblings are a collection of short items that have caught our attention for one reason or another. We're on the lookout for tidbits related to money in politics, data, business, civic engagement or interesting events. Think you know of something that could be a Rambling? Drop us a line at editor@roanokerambler.com and we may well write about it. Happy reading!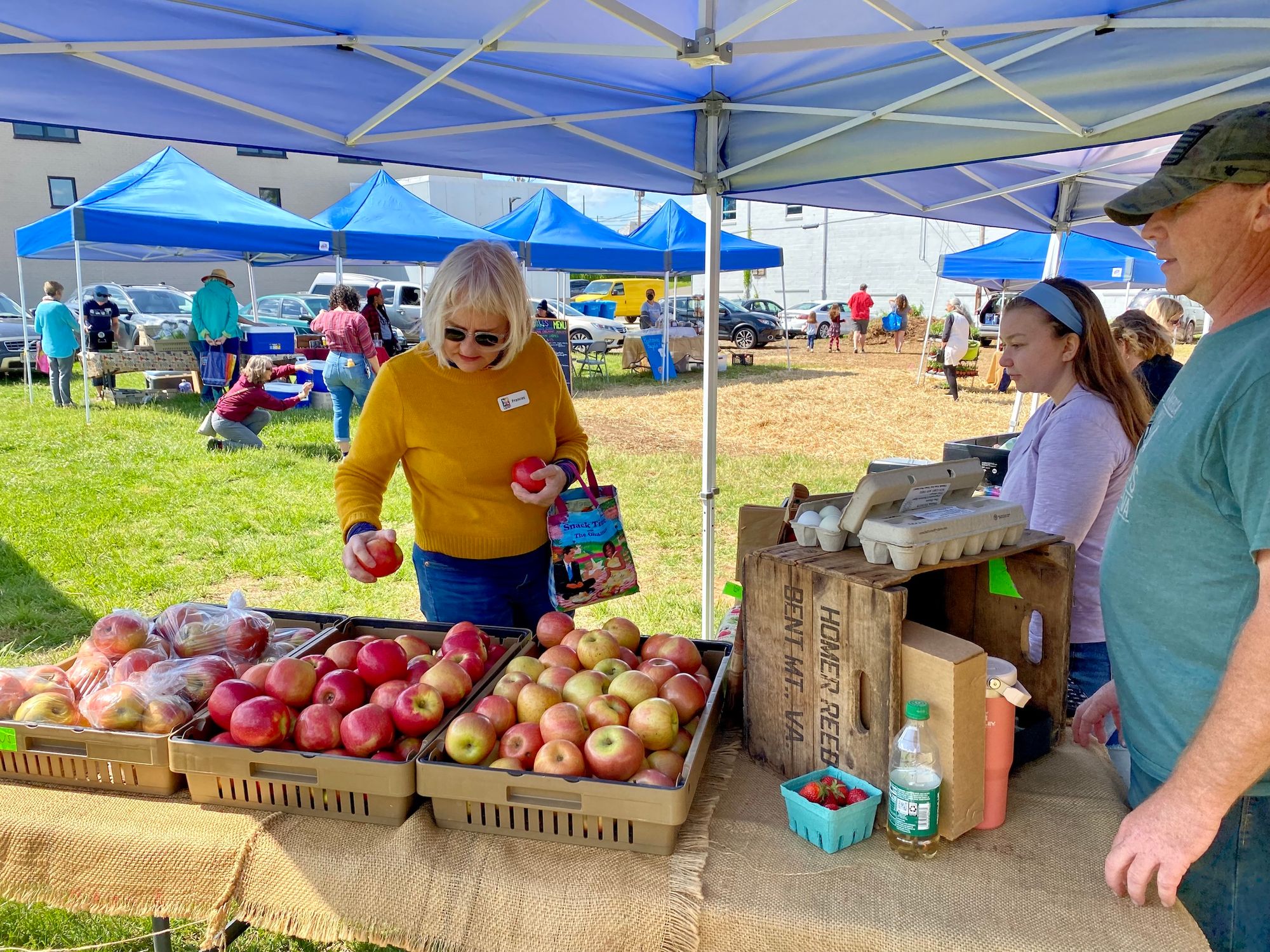 Farmers market leaps to Roanoke food hub
Visitors got a sneak peek inside local food nonprofit LEAP's new headquarters in Roanoke's West End on Tuesday.
The Local Environmental Agriculture Project held its neighborhood farmers market beside the facility at 1027 Patterson Ave. SW, down the street from where the market began in 2010.
Customers of LEAP's farm share program — numbering 200 this season — picked up produce inside the building. Outside, vendors sold apples, bread and juices.
The nonprofit has created a centralized food hub to house its offices, mobile market, food distribution center and community center. A retail store on site will open next year.
Roanoke City gave $2.5 million in federal pandemic relief money to LEAP to help broaden access to fresh, affordable food. Most of that money went to renovating a 1925 general store that was most recently a church and had been vacant for years. LEAP bought the building in November 2021 and staff began operating fully out of the center in January.
"This allows us to really come together and be more effective and efficient, and then it also helps make food more visible to the community," said Maureen McNamara Best, LEAP's executive director.
On June 3, LEAP will hold an open house featuring a local food business popup, music, games and tours of the building. Tuesday marked the start of the farmers market season. Eventually, LEAP will construct a formal pavilion for the market with a concrete floor and roof.
"It's always awesome to see the reaction people have to the taste of fresh fruit compared to what they're used to in the supermarket," said Mike Kenny of Monkey Business, which picks produce at various orchards.
And business was brisk at the West End market.
"I'm almost out of strawberries, if that tells you anything," Kenny said.
Roanoke tweaks gun violence panel's powers
Roanoke's Gun Violence Prevention Commission has ceded to City Council some of its power to dole out grant money to local nonprofits.
The commission will no longer be able to allocate grants to community organizations without Council first agreeing with the commission's recommendation, the bodies decided jointly.
In recent months, Roanoke's gun violence panel has become embroiled in political controversy, as some members of Council have critiqued its spending and efficacy. Money distributed by the commission is the focus of an internal city audit that's expected to be completed next month.
Commissioners and members of Council met Monday to hash out several changes designed to give Council greater control over the city's efforts to tamp down on gun violence.
As Vice Mayor Joe Cobb, who chairs the commission, asked Council members on Monday how frequently they wanted updates on the group's work, Mayor Sherman Lea replied, "Well, one of the things I want to address this morning is what goes into the commission deciding who's granted what. …I want Council … to be more involved in that decision-making process."
Cobb agreed and indicated Council will formally adopt the new policy at its May 15 meeting.
"It would allow another layer of accountability, and it would allow Council to ask questions, to say, 'Can you go into more detail about this?' before confirming it," Cobb said.
City Manager Bob Cowell said the change will put the gun violence panel more in line with similar grant programs run by the city's arts commission and human services advisory board.
One policy presented that would apply to all boards outlines a "competitive and merit-based" process for grant applications. It would require a board to receive at least four proposals for any grant above $5,000 and involve a consistent scoring rubric for each application.
Disagreement appeared to remain, however, over whether Council should retain a liaison to the commission. Commissioners are adamant that Cobb remain the official representative, while some members of Council say it's unnecessary.
Lea said he wants Council to wait on making a decision until after the city's audit is complete.
Council picks incumbents for Roanoke school board
Roanoke City Council has reappointed two school board incumbents to serve additional three-year terms.
Eli Jamison, the current board chair, and member Natasha Saunders will continue to serve on the board overseeing the school district's operations, Council announced Monday in a unanimous decision.
Council had also considered three newcomers for the positions: Jacqueline Moon, Auraliz Quintana and Christopher Link.
"It was not an easy decision," said Councilwoman Trish White-Boyd, who chairs the Council's personnel committee. "It was a very healthy and lengthy discussion because we had all good candidates."
Roanoke is among a handful of Virginia localities where school board members are appointed rather than directly elected.
It would be unusual for Council not to reappoint an incumbent.
The school board clerk said Tuesday that staff recalled this happening in the late 1990s. For additional details, she referred to the city; the clerk's office there said they could not find an exact year when this occurred.
Jamison, an associate professor of practice at Virginia Tech's business college, was first appointed in 2017. Saunders was appointed in 2020 and currently works as a senior education consultant at Carilion Clinic.
Support local, independent journalism and don't miss a single story!
Become a member