Restaurant Roundup: New Eateries Include O.T.H. Chophouse & Oyster Bar, Brood, Six and Sky, Laughing Bull and Fruits & Roots
From a rooftop restaurant featuring upscale seafood to a burger ramen fusion, check out these new and recent eateries in the Roanoke area.
In our special Food and Drink Issue, this week's Ramblings take the form of a restaurant roundup. From a rooftop restaurant featuring upscale seafood to a burger ramen fusion, check out these new and recent eateries in the Roanoke area.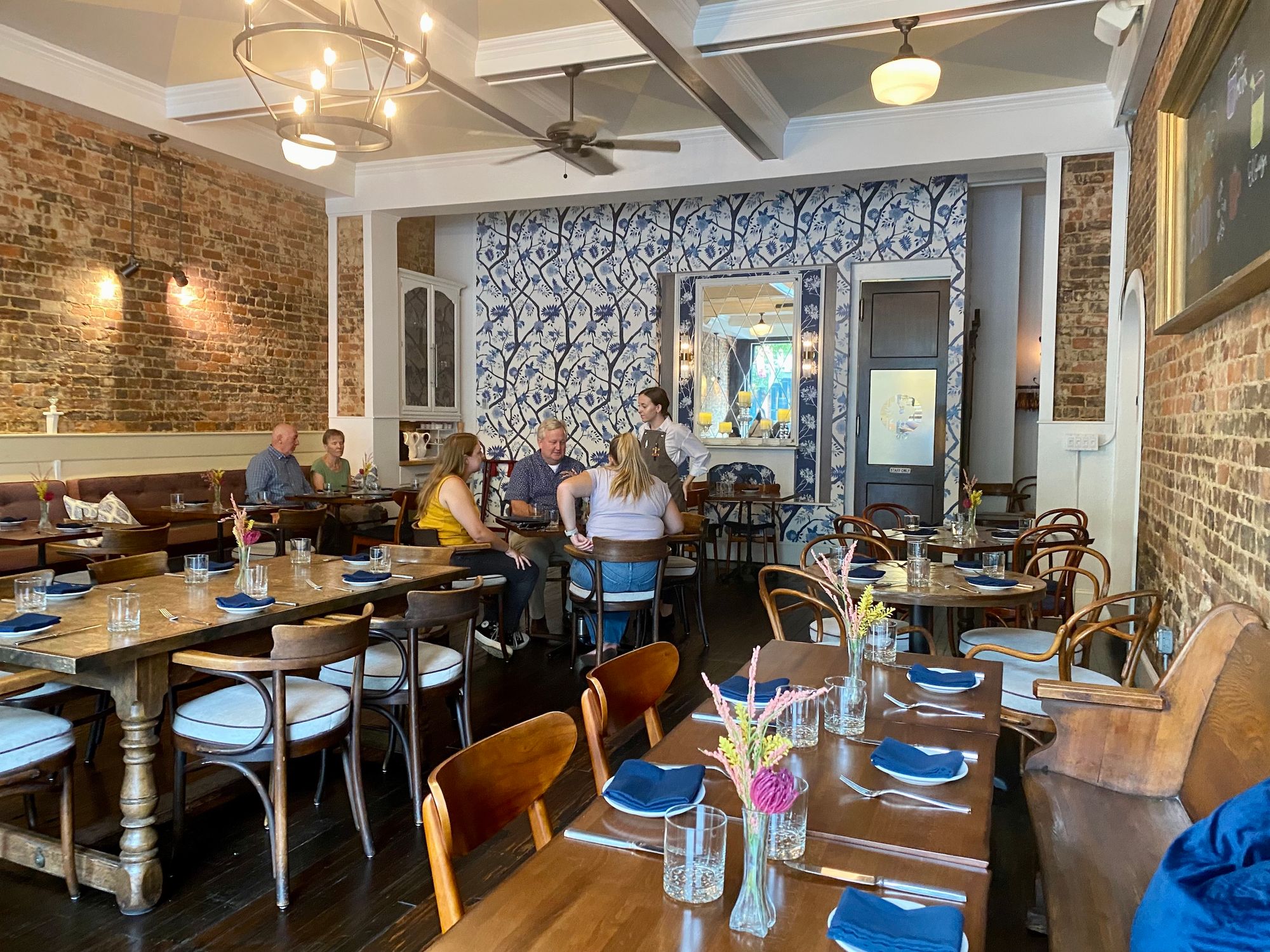 Upscale dining at Salem's Brood
On Salem's East Main Street, Brood Restaurant & Bar (210 E Main St, Salem; 540-404-4166) took over the space previously occupied by Blue Apron and Red Rooster Bar. Owner Ted Polfet, who is also a culinary instructor at Virginia Western Community College and the executive chef at Roanoke Country Club, describes Brood as the kind of relaxed neighborhood spot one could visit several times a week.
The approachable menu, overseen by chef Josh Wasky, centers on traditional American fare and bistro classics with a twist, such as Belgian-style mussels and frites with herb aioli ($22), braised beef short rib with mustard jus ($31), and lobster pasta with pistachio-lemon crumb ($28). For dessert, there's a whimsical Belgian waffle bread pudding served with maple vanilla sauce. The menu also offers several gluten-free options (Polfet's daughter has Celiac disease), including chicken schnitzel with gluten-free breadcrumbs ($22) prepared in a 100-percent gluten-free fryer.
OTH Chophouse & Oyster Bar vistas
Mountain views, steaks and seafood are the draw at O.T.H. Chophouse & Oyster Bar (4167 Electric Rd, Roanoke; 540-339-3940). Jefferson Street Management Group, which owns several Roanoke eateries including Billy's, Frankie Rowland's Steakhouse, and 419 West, opened O.T.H., which stands for On the Hill, in Cave Spring on August 15 in the space that formerly housed Brazilian restaurant Carlos.
True to its name, O.T.H. Chophouse & Oyster Bar's menu is evenly split between seafood and steaks. There's a dedicated raw bar featuring tuna tartar ($17), shrimp cocktail ($15), fresh East Coast oysters, crab legs and lobster tail (all market price). There's also a rotating catch of the day (market price) and signature entrees such as a shrimp-and-crab bake ($39).
On the chops side, there are steaks with optional upgrades, like truffle butter or lobster cream sauce, plus elevated steakhouse sides such as personal-sized herb and parmesan risotto ($6) and shareable-sized maple bacon Brussel sprouts ($14). Save room for a tableside hot fudge sundae ($12) featuring a custom-made peppermint ice cream from Blue Cow Ice Cream.
Laughing Bull ramen burger fusion
In downtown Roanoke, the City Market Building's newest restaurant tenant is The Laughing Bull (32 Market Square SE, Roanoke; 540-986-5992), a joint venture between Roanoke restaurateurs Jason Wu, who owns ramen shop Sticks & Spoons, and Brandon Stinnett, who helms burger joint Lazy Bulldog.
The pair, who first met by frequenting one another's eateries in the Lamplighter Mall, anticipate opening The Laughing Bull later this month. The signature menu item is a ramen burger, which features two pan-fried ramen rounds sandwiching a burger patty and toppings; there will be a staple version inspired by the original ramen burger invented in California, as well as a rotating roster of specials.
The menu also features Japanese street food entrees including Asian-style street hotdogs, like one topped with teriyaki-seasoned ground beef, a fried egg, kimchi relish and kimchi aioli, and katsu sandos, which typically feature either panko-crusted pork or chicken cutlets on fluffy white bread. The Laughing Bull will initially be open for lunch and dinner, but Wu sees the possibility of extending hours and developing a separate late-night menu for downtown revelers.
Fruits & Roots juice bar
Fruits & Roots (122 Campbell Ave SE, Roanoke), which got its start selling cold-pressed juices at the Roanoke City Market, celebrated the grand opening of its downtown brick-and-mortar on July 27. The cheery cafe offers raw, cold-pressed juices ($8.50 to $9), superfood smoothies ($8.50) and wellness bowls ($11.50), all made with organic produce and premium superfood ingredients. Owner Christy Dilcher says that of the menu's ten smoothies, fan-favorites include the Pink Flamingo, a tropical leaning sipper that gets its vibrant pink hue from pitaya (freeze-dried dragon fruit), and the Blue Wave, featuring mango, pineapple and blue spirulina, a blue-green algae that's rich in antioxidants. The cold-pressed juices are made without any added water or sugar and come in a variety of flavor profiles, including fruity options like Tropical Twist or veggie-forward numbers like Lean Green. Other vegan offerings include gluten-free muffins, energy bites, granola bars and overnight oats. Soon, Dilcher will partner with a local vegan caterer to offer grab-and-go lunch options such as salads and wraps.
Six and Sky rooftop restaurant
Six and Sky Rooftop Grille (1 Market Square SE, Roanoke; 540-342-5700), an upscale rooftop restaurant and bar, is slated to open November 1 on the sixth and seventh floors of Center in the Square. The concept, which will feature a seafood-centric menu and three distinct bar areas, blends the vision and expertise of three Roanoke entrepreneurs, including Brian Brady and JD Sutphin, who co-own events management company Big Lick Entertainment, and JoJo Soprano, vice president of operations for Parry Restaurant Group, which includes Roanoke eateries such as Beamer's 25, Tuco's Taqueria and Big Valley Barbecue.
Six and Sky's menu will feature Southern spins on seafood such as Creole-style red snapper and crab cakes, as well as entrees such as steaks and duck confit (entrees range from $15 to $55). Between the main restaurant and bar and two outdoor bars, including a covered patio on the sixth floor and "The Rum Deck" on the seventh floor, Six and Sky's capacity will reach around 90 people. Brady anticipates that one of the most sought-after spots will be the corner of the Rum Deck, where diners can take in sweeping views of downtown and the Blue Ridge Mountains while they sup on catch of the day and sip specialty cocktails made with local spirits. The restaurant will replace Center in the Square rooftop events, according to Brady. The space beside the elevators around the koi pond will remain accessible to the public.
Support local, independent journalism and don't miss a single story!
Become a member