Roanoke City Council Candidate David Bowers on Segregation, His Middle-Class Constituents, and Tackling Climate Change
David Bowers, an independent, is one of nine candidates in the regular Roanoke City Council election Nov. 8, 2022.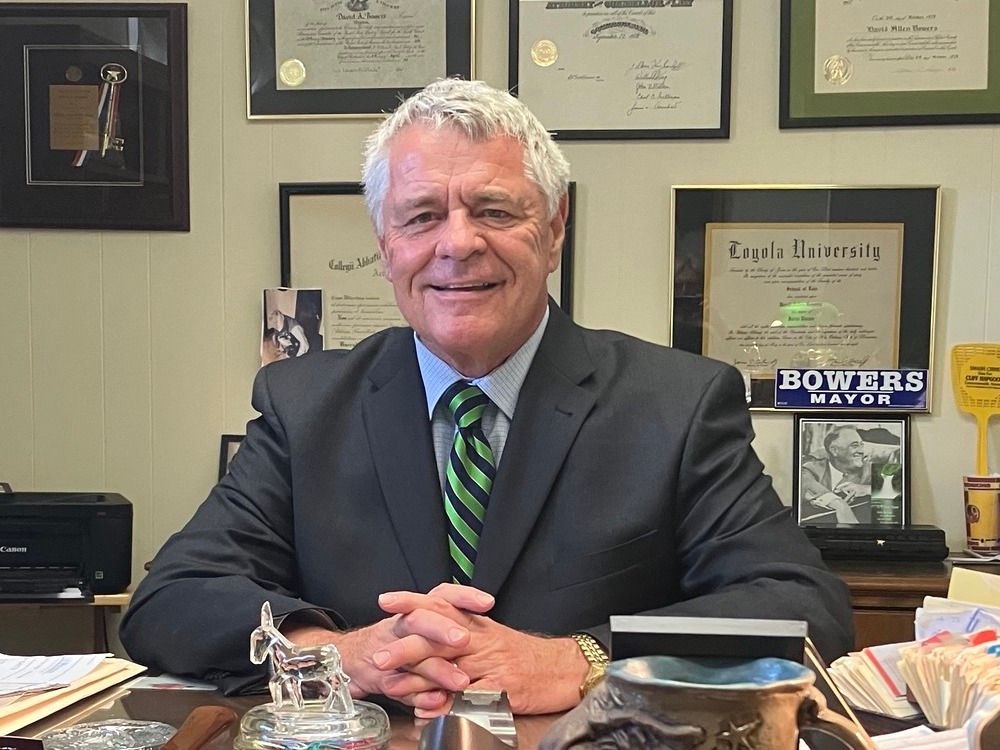 In advance of the Nov. 8 election for Roanoke City Council, The Roanoke Rambler is publishing interviews with each of the 11 candidates.
This week, we feature three candidates — one Democrat, one Republican and one independent — running for a regular four-year term of office.
Voters will be able to choose no more than three candidates out of nine running. The candidates are Dalton Baugess, David Bowers, Joe Cobb, Nick Hagen, Jamaal Jackson, Maynard Keller, Vivian Sanchez-Jones, Preston Tyler and Peter Volosin. (Democrat Luke Priddy and Republican Peg McGuire are running in a special election to fill a two-year Council seat.)
This week, we sit down with Bowers, an independent, Sanchez-Jones, a Democrat, and Keller, a Republican.
Bowers, 70, is an attorney and an instructor at Roanoke Catholic School. He lives in the Mill Mountain area. Bowers was a member of Roanoke City Council from 1984 to 1992 and served as mayor from 1992 until 2000 and again from 2008 to 2016. He ran unsuccessfully for mayor in 2020.
Candidates did not receive copies of the questions beforehand, and every interview was conducted either over the phone or in-person.
These interviews are accessible to non-subscribers to promote civic engagement among the widest possible audience. Interviews have been edited for length and clarity.
---
Why should people elect you to serve on Roanoke City Council?
Well, experience certainly is the best teacher. I've practiced law for 44 years. And I've been on City Council in the '80s '90s, the 2000s and the 2010s. So basically for four decades. I served 16 years as mayor. I'm always representing the people of Roanoke, ever since I was elected student government president at Patrick Henry [High School] back in 1969. I represent the people of Roanoke. And I listen. I think they think I'm a good listener. I think they think I have integrity. And I'll be straight with them, I'll tell them what I think.
My constituency is different than what I perceive is some others' constituency. My constituency is, and has been, and I think always will be, based on my family background. My dad drove a bread truck and my mother raised six kids in Raleigh Court, worked part-time at a restaurant. My constituency tends to be the middle-class, homeowners, home renters, small businesses, small, local businesses, people who get up in the morning, get their kids off to school and go to work.
The second thing I would say is — [which] came up yesterday, people were asking me over in South Roanoke, 'Why are you running as an independent?' My view is that the parties are much different than what they were a few years ago, particularly in the national politics and in the state politics. The Democrats want to clobber the Republicans. The Republicans want to clobber the Democrats. There's just very little room for negotiation or mediation or whatever. When I was the mayor I always had Republicans and independents to work with. And over the 16 years, I wouldn't say we wouldn't have didn't have a tiff every now and then, but for the most part, our intention was to work together, not to win and beat up on the other side. It was just a different thought.
And I got a laugh out of my students at Roanoke Catholic yesterday, I don't know how this came up. We were talking about philosophy, political philosophy. Mine was very simple. I called it the Christmas tree philosophy. I learned very early on as mayor that it was important for me to form a coalition to bring people together on the council. And to make sure that, just like at Christmas, there's something under the tree for every child, for every person. And so that's how I used to govern.
And the last thing that comes to mind, and I've said this publicly, I cannot remember a time in Roanoke when the level of discontent and frustration is expressed by our citizens. And so I have to say to our citizens, it's your choice. Election Day is your choice. If you like things, the way things are going, if you think things are going well in Roanoke, then you need to vote for the incumbents and their ticket. And if you don't think things are going well, then with four seats up, there's a chance to take over the Council with new people. People that want to change things and take things in a different direction. And there's some good candidates who want to do that.
One problem many residents mind is violent crime particularly shootings and homicides which have increased in the city and across the country in recent years. Have you personally been affected by violent crime while living in Roanoke?
No. My wife is now scared to walk on the Greenway by herself, but I can't recall anything that has been violent towards [me]. Well, I guess we had a violent uproar in the courthouse a couple weeks ago. But that wasn't directed towards me.
Roanoke's police department has significant vacancy issues, and every candidate has said the city needs to hire more officers. Last year, City Council approved compensation packages that the police department described as "one of the most significant pay increases for officers in several years," and Police Chief Sam Roman said in an April Rambler interview that he is satisfied with the resources that Council has provided. So this is a two-part question. First, is there anything you would do on Council to try to hire more officers, particularly since higher pay alone has not led to a significant increase in officers?
This issue goes back two years, when I was running for mayor. And at that time, I was the only candidate for mayor who stood up and said, We can't defund police. We should refund police. We should honor them for the service. And in my tenure, going back now 20, 30 years — I was mayor 30 years ago. Can you believe it? — we worked to fully staff the police department and bring it to national accreditation. That was quite an achievement.
We need leadership in Roanoke City Council that will stand up for our police and our sheriff's office. Because he's down 31 deputies, he told me a couple weeks ago. First of all, there's some disparity in what I'm hearing about the numbers of vacancies in the police department. I've heard it be reported at 59. I've been told by officers that are sworn to tell the truth in court that it's 80. I've also been told it was 109 that was back in August. So if I'm elected, I'm going to be asking the questions. What is the real number? Let's get to the bottom of this. I want to know: Are we down 25 percent, 40 percent or 50 percent? Pay is going to be an important part of it.
Secondly, I think we need to do a better job of recruitment. There was this guy named Nick. He's Greek. He's a police officer. I can't remember his last name but he's always out and he's in the department still. Nick's a real charmer. He's a good guy. And Nick did a heck of a job bringing people in. He'd go to the military bases and the colleges. I'm not sure what all, but they did a pretty good job. As far as I know, they were a fully staffed police department. So we need to have better recruitment.
Thirdly, I like Maynard Keller's idea. I'll give him credit for bringing up the idea about switching the department — maybe the fire department also, and EMS — from the city retirement plan to the state retirement plan. That provides you more portability, so that if somebody is going to, if we're working on bringing somebody from the Lynchburg department, which by the way, I'm told they pay even better than Roanoke. Is that right?
I've heard that as well.
If I'm elected, I can ask these questions and get answers. Now I'm asking them and I'm not getting the answers. So it's important that people know that if you put the right guy in or woman in the Council seat, they're going to be asking the tough questions, as they should, and insisting on getting the correct answer.
What other options — besides increasing the police force — do you see as available to City Council for addressing the root causes of crime?
Well, crime was always going to be with us. It always has been. It was when I was the mayor. I think some of the policies that have been instituted in other cities and states, and now seem to be instituted in Virginia, are too liberal. They're too geared towards the rehabilitation of the offender. And my focus and the focus, I think, of the nation and the state in Roanoke for the last 20 years, is a focus on the victim. And I find that stores from which there is theft are not being reimbursed.
People have told me over in South Roanoke about concerns with traffic and auto accidents and the police are not able to respond quickly. I understand a liberal view towards rehabilitation and I support it. But remember, my core is the middle-class. My core are the citizens that go to work, strive, put the children through school, hard-working people. They need to have some sense of safety and protection in their homes and businesses. And I think by and large the view in Roanoke is there's just not enough police officers to do give them that assurance.
Well, I also made the comment when I was informed by The Roanoke Times, your competitor, that the city is going to spend $5 million more on the homeless situation. And again, I'm not able to get the answers. If I'm elected, I can ask the questions and get the answers. That to me begs the question, How much are we spending now? Because I've been informed that the homeless population has remained kind of stable and maybe even gone down a little and that there's already a bed for every homeless person who's here in Roanoke. There's a bed for them. Unfortunately, there's some that choose not to go into the facilities and seek the help and the rehabilitation that they need in their lives. So how much are we spending? And why are we spending $5 million more? I oppose this idea about pod cities for the homeless. I oppose having a safe zone for people to sleep in their car. We have adequate — Rescue Mission, Salvation Army — facilities for those folks. And I would have put the $5 million towards law enforcement.
What specific steps do you believe city government should take to address Roanoke's history and legacy of racism, which includes city-sanctioned segregation, redlining, discrimination and urban renewal?
Well, I'm from New York, upstate New York. It was strange for me to move into the South back in the '60s when I was still in elementary school and to see the segregation.
It's abhorrent that Virginia allowed slavery for 250 years. And once it was ended, by the American Civil War, we had a brief period of Reconstruction. But shortly after that, for 100 years, we endured the Jim Crow era. I think it's awful. It's racist. It's part of our history. I hope I've been a part over the last three or four decades of opening Roanoke to all citizens. I think it's better than what it was by large measure, but it's not where it needs to be. I understand that.
I had a case this morning with a young lady, and she's African American, she and her mother live around the corner from where I grew up in Raleigh Court. They would not have been able to live there in the '60s when we moved to Roanoke. And here they are now. And of course in our neighborhood, where we live on Mill Mountain, it's a mixed neighborhood. So anyway, I think there's been a lot of integration in housing in Roanoke.
I don't hear very much in the way of racial discrimination in employment and housing. I'm guessing that there is redlining in Roanoke. I don't know that. The banks have their favorite neighborhoods and to me, that is an issue that a member of the Council may bring forward. But I think that has to do with the banking laws, not with any Roanoke City laws that I know of.
Urban renewal did occur. And you know, there's a downside to that. Neighborhoods were destroyed. People were moved out. The upside is that we have an interstate, a Civic Center, downtown East. It didn't affect it, but the medical school involved eminent domain, urban renewal. So my view is that there's a plus and a minus to that. And it's not going to happen again.
I have to also say, I think we're making a real effort in Roanoke, and have for the last many years, to honor the legacy of African American Roanokers. Our city hall was named for Mayor [Noel] Taylor, courthouse is named for Oliver Hill. As far as I know, up until a certain few years ago, so I don't know whether it's changed, we were the only city in Virginia to have a statute to honor Martin Luther King. And if there's been some neglect, I think it's been a neglect in honoring some of the women who have been involved in our city. There was a woman judge named Odessa Bailey. I remember Odessa Bailey. She became a juvenile court judge [in 1944]. That's when they had social workers being the juvenile court judges, not lawyers. And I think she became a lawyer. And she was the first woman judge in Virginia. There's been no recognition of her.
On Council, how would you advocate for mitigating the impacts of climate change at the local level?
I'm going to propose that we have a citizens climate change council to work with the City Council and the city administration to strive to make Roanoke an energy-independent city and to meet higher standards of reducing our carbon emissions. And what's prompted me to do that, I'm an old Al Gore fan. I met Al Gore years ago, I believe in the gospel of Al Gore regarding climate change. I think it's an imminent threat over the next several decades to life on the planet. That's the way I believe it. Some don't. Some say it's a hoax. I don't. I think it's real. I can't stand the heat anymore. It's too hot. It's just too hot.
So what I would suggest is that we do things like, it's being done in North Carolina — and I heard that it's begun in Virginia, but I don't know this — introducing solar panels or some kind of other alternative energy on every school in North Carolina and maybe the other public buildings as well. My wife and I investigated geothermal because there are caves under every mountain. And I thought the price was prohibitive. But if there is $300 billion coming to America, from this federal climate change bill that was just passed and signed by the President, my point is, what do we need to do and when are we going to get our share?
So my proposal would be to, like I said, make us more energy-independent and to meet lower carbon emissions so we are doing our part. I like that old saying: Think globally, act locally. I think we must do that. I suggest solar panels, batteries in non-emergency city vehicles, geothermal, and have you heard about this tulip wind energy? Well, imagine cutting a beer can in half and then putting it like this, like a tulip, instead of those big wind turbines that they want to put in Botetourt? It's miles and miles. And there's the risk of birds being killed by them and all that stuff. And you have to have a real big wind. With a tulip energy, it doesn't require the massive winds that you need up on the top of the mountain. In fact, every light post in Roanoke could have a tulip energy wind generator, enough to light the light.
Roanoke operates on a weak mayor form of government, meaning that much power and authority rests with the city manager, whom City Council hires and to whom City Council provides a vision and direction for the city. You said at a Council candidate forum in August that you maybe support the current city manager, Bob Cowell. Why is that?
Well, first of all, I would not be in favor of a strong mayor form of government. The council-manager form of government is good for a city the size of Roanoke. The answer is I don't know Bob Cowell that well. I hear good things about him from the current Council. There's a lot of things I disagree with on the current Council.
My concern is he doesn't get out in the neighborhood much. And I don't think his staff gets out in the neighborhood much. And I don't think the Council gets out in the neighborhoods very often. People see me and they say, Well, I've never seen a member of the city council. I wouldn't know them if they walked down the street.
So my thought about Bob Cowell is I've not had a chance to work with him, and I'd like to have that chance.
Roanoke is holding a special election this year because of the felony convictions of former councilman Robert Jeffrey Jr., who was found guilty in March of embezzlement and obtaining money by false pretenses. Even before the charges were announced, Jeffrey had a history — which was publicly available in court records — of not paying people. Do you have any history of financial mismanagement or impropriety?
Not that I know of. Do you know something?
Not that I know of.
No, no. In my 44 years in Roanoke as a lawyer, I was sued once back in the 1980s, and that case was settled. Another lawyer and I were sued. So I only had one lawsuit. And I've only had one bar complaint and that was dismissed. I paid my secretary times when I couldn't afford to pay myself. So I don't know of any.
Second part. Have you ever been charged with a crime including traffic violations? If so, what did you learn from that experience?
I can't remember whether I had a speeding ticket, and I kind of do remember that my brake light was out. By the way, I was stopped by the troopers coming out of Georgia. I went down to see Plains, Georgia and when Jimmy Carter— I was going back to law school in New Orleans.
A potbellied Sheriff came out. The trooper stopped me and they said, 'Pull up into this vacant place.' And the sheriff came out and he said, 'Son, you can go to jail,' and I said, 'Well, I'm sorry sir. I went to see Jimmy Carter.' 'You went see Jimmy Carter, my friend Jimmy Carter?'
That's the way it went. It was hilarious. 'Well, I'll tell you what, I'll let you go if you pay $100.' And I said, 'Well, I don't have $100. All I have was my credit card and $50.' He said, 'Oh, you give me the 50.' I said, 'Well, I got to have gas money to get down to New Orleans.' He looked at me but didn't charge me. I never got charged, so I don't I don't remember a traffic ticket. So I think the only one I remember is my brake light was out.
Have you ever ridden on Valley Metro? How often?
Yep. I don't do it at all now. I have not written on Valley Metro in a while. But when I came back to Virginia and started practicing law, I could catch the bus. I lived in the laundry room of my mom and dad's house. And I'd take the bus downtown, because that's what I was used to in New Orleans. I was used to taking the streetcar and the express bus into downtown New Orleans. And may I say, one of the comments that was made to me yesterday was why doesn't the bus service go out to Hollins? And the explanation is of course we need to negotiate that with Roanoke County. But I think that's a growing area and connecting that college with downtown Roanoke is a very good idea.
Along those lines, what specific improvements do you think the city should make to its public transportation system, and by when should those changes be completed?
Well, I got to give you a little history because the buses used to run to 5:45 [p.m.] and when I became mayor back in the '90s, we arranged for them to go to 8:45 [p.m.], which was a major expansion, frankly.
I do hear concerns that they need to run longer or later. I'd want to see the numbers about that and study it. I'm not trying to put you off on it. I think it's an important issue. Another issue is whether or not they should run on Sundays. I'm not thinking that would be as good an expansion. I was opposed to the building of this bus station. I think it's in the wrong place. It's in an historic area right in front of an historic museum.
I know now there's a riders committee that's being formed. I'd be interested in hearing what they say but it's already a little bit too— I think we need an intermodal, particularly now that we have four [Amtrak] trains, two in and two out, and we don't have an intermodal. So I was opposed to the building of that new bus station in that location.
One in every five Roanoke residents lives in poverty, and nearly half of all households make less than $45,000 annually, according to Census data. What can City Council do to reduce the city's poverty rate and increase families' wealth?
Those statistics are skewered a little bit, I think. First of all, I said this at one of the [candidate] forums, in one neighborhood, I was advised, we have 90 dilapidated homes. And one of the people came up to me at the Belmont Park event back in July or August and said, 'I got a building right next to me that's not empty. The homeless are living there. They're sleeping on the front porch and the police say they can't do anything about it.'
Again, my focus isn't just on building houses for the poor. What that man told me is, 'I got children, and I'm afraid they're going to be throwing needles into my backyard where my kids are playing.' So again, my focus is on the middle class, on the homeowner. They're the bedrock of our community. They're the bedrock of America. But they're the bedrock of our community and I want to focus on them. So I think we should be helping to rehab, helping land holders, homeowners, landlords, helping them rehabilitate their property up to code.
Why I think that wealth number is skewered a little bit, I've asked why we don't have high-rise luxury apartments down here. And the reason is because we don't have a higher level of income compared to Durham. They've got new buildings going up all around, all these new apartments. Well, it's because they have Duke University right there and they're on the edge of the Research Triangle.
Now Durham has a lot of poverty. But do you understand what I'm saying? What I'm trying to say is I'd like to know, for instance, in Durham, do they have the same amount of poverty that Roanoke does? You said one-fifth. I would actually think it's probably higher in Durham. It's two fifths or whatever, something like that. I don't know. [Editor's note: It's 14.2 percent.] But what makes a difference is that their numbers go up because they have a high level of professional employees.
What's your philosophy on residential or commercial developments whose construction would involve reducing green space, such as clear cutting trees or eliminating parkland?
I stand up for the neighborhoods. I want to protect my neighborhood, my house, my investment and a residential area should remain a residential area and the development should not go into a residential area like over there on Brandon Avenue that might cause a decrease in the value of homes next door. I would be opposed to that.
In particular, Evans Spring, and I'm going to be willing to meet with those folks. I'm going to be straight with them. They know some of them I guess already know my views about it. I would say that if the neighborhood wants to have no access to that commercial area, then I'm all for that. I think it'd be better for them to have some access.
I was involved as a young council member in the development of Valley View Mall and the neighborhood Round Hill and what's the neighborhood closer to Hershberger. That neighborhood said we don't want any access to Valley View All. They don't have access to Valley Mall. They have a mound around it so that it keeps the lights down into the neighborhood. They have some pedestrian access. That's it. I think that was a good decision.
And if the neighborhoods do not want to have access, I would not allow any access. We would do just like we did for Valley View. But my view is this is not urban renewal. It is not. We're not destroying anything, but a fallow — my thought is this is a Biblically fallow neglect of our assets in Roanoke. This 100 acres, 120 acres, whatever, is right off of a major interstate. There's  access to the interstate I-581. And it should not be a park. I think we have probably with Carvins Cove and Mill Mountain some of the largest park systems of any city our size in America.
But I speak very frankly, I think this is a commercial development, it should be and I liked what was planned before and I'll tell you why. It was a developer from Charlotte. He was going to spend $250 million of Charlotte money in Roanoke. It was going to create 1,600 new jobs. It was a $250 million investment, 1,600 new jobs and create $2.2 million in tax revenue. And we let it walk away, back to Charlotte.
This question is uniquely tailored to you. And you've touched on it a bit, but your campaign literature notes that Bowers "stands up for us" on Council, with "us" underlined. So assuming "us" isn't just everyone—
It is not everyone.
To put it in the negative form, who is not "us"?
I stand up for the middle-class. I stand up for the homeowners, I stand up for families who go to work and strive and get the kids off to school and go to the soccer games. That's the family I came from. I think that's the solid all-American family.
I have to deal, in my career as a lawyer, with substance abuse and physical abuse, and domestic violence and all that kind of stuff. And so I deal with that. I'm not neglectful of it. But they're not my constituency. Likewise, particularly as mayor, I had to deal with some of the wealthiest and most powerful people in our city — not politicians, but bankers and lawyers and, you know, wealthy and powerful people. My focus always comes back to that, to the middle ground.
I mean, it's appropriate to say and it's truthful to say that if elected I have to represent all the people. But I will not neglect the poor. My faith tells me to care for the poor, who will always be with us. My professional career tells me I have to deal with criminals, or defendants. With regards to the wealthy and the powerful, they always have access, and they almost always can get their point of view presented.
What are you reading currently?
Oh, I'm glad you asked. I'm reading a book called Travels with George by Nat [Nathaniel] Philbrick. So one of the things I've done in my Roanoke Catholic class, we spent a week talking about George Washington, and I told my class about Monday of last week, how George Washington was actually in the Roanoke Valley. This book is about his tours. When he became president, he wanted to unite the nation. His longest tour was 1700 miles. He went down through Richmond, all the way to Savannah. And then he came back up through Augusta, Charlotte, Guilford County Courthouse, to Brookneal. That's where we crossed the Staunton river. You know what we call the Staunton River? The Roanoke River.
And so it tells about that. This guy Philbrick is a very well known Revolutionary scholar and author but this is kind of based on the John Steinbeck book, [Travels with Charley] about going on travels with his dog. So this guy gives a modern version of he and his wife and his dog, Dora, traveling along those travels. So he mixes in experiences about, you know, they eat at IHOP and stay at the night at a B&B and George Washington stayed across the street or something like that. So it's an historically accurate book.
---
Correction (10/12/22) — An earlier version of this story misstated the years of Bower's terms as mayor. The piece has been updated, and we regret the error.
Support local, independent journalism and don't miss a single story!
Become a member