Roanoke Gives Green Light To Seek Funding for Williamson Road Traffic Reconfiguration
Plans to change the four-lane stretch to two car lanes, a center turn lane and bike lanes have garnered mixed reactions.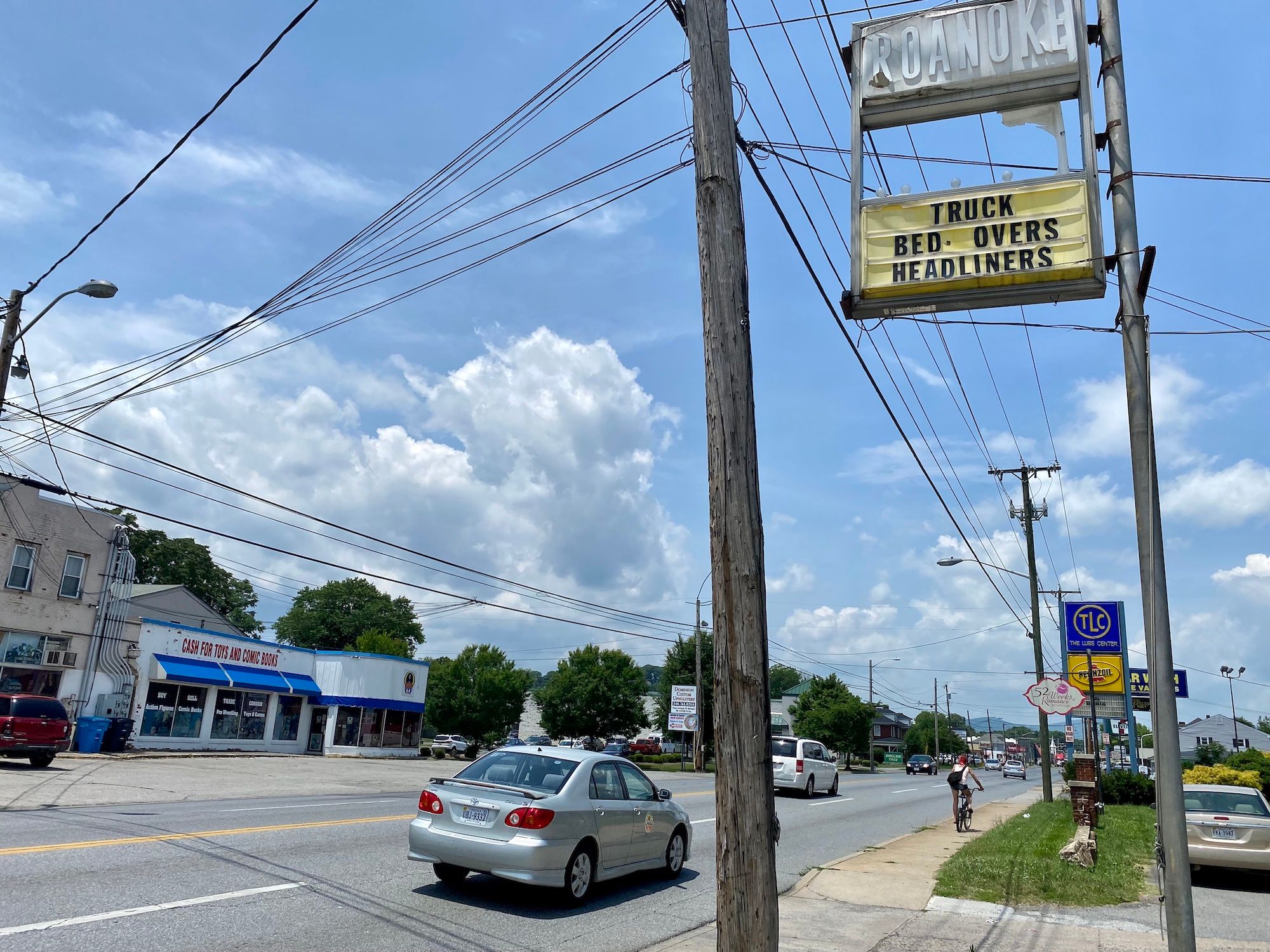 Roanoke hopes to clinch at least $21 million in state funds to reconfigure traffic on Williamson Road — the city's deadliest street for pedestrians.
The plan would reduce the four-lane stretch to two car lanes and add a center turn lane and bike lanes on either side. New sidewalks would accompany the project.
Roanoke City Council on Monday voted 4-1 to apply for funding for four road improvement projects, including Williamson Road, from the Virginia Department of Transportation.
"I'm disturbed by the number of crashes. I think we've got to do something," Mayor Sherman Lea said before casting his vote in favor.
The vote came less than two hours before the application deadline and followed a quietly testy back-and-forth over the concept for Williamson Road, which has garnered mixed reactions.
Some residents and businesses say the changes are needed to improve safety along the road, which has averaged 100 vehicle crashes annually in the last five years. Others claim the reconfiguration would exacerbate congestion and say the city hasn't properly explored alternatives.
City officials say the purpose of the project is to reduce the number of crashes, particularly those involving pedestrians. Five people were killed and two others severely injured between 2017 and 2021 along the roughly three-mile stretch between Orange Avenue and Hershberger Road. That has given the Northeast Roanoke corridor the dubious distinction as the city's deadliest.
Officials also stressed, however, that there's no guarantee the project will get done — and certainly not anytime soon.
The proposal is one of 412 applications that VDOT received statewide on Monday, according to an agency spokesman. State officials will then score the projects on how well they would improve safety, reduce congestion, increase economic development or meet other factors. Funding would be finalized next July. Even if approved, it could take at least another five years before construction on Williamson Road is underway.
Still, some residents have pushed back on the city's idea and have circulated a petition opposing the project.
Bill Tanger, who told Council he represented about 30 businesses around Williamson, described the city's community outreach as inadequate. He said the city hasn't explored other options to improve the roadway, such as preserving the four traffic lanes but adding a pathway for both walkers and cyclists.
"There are lots of alternatives that have not been looked at," Tanger said. "The business community thinks it's an awful idea, other than the WRABA group," referring to The Greater Williamson Road Area Business Association.
Valerie Brown, executive director of that group, spoke in favor of the project.
"We want to support our businesses and we want to attract and grow more," she told Council members. "To do this, we must take steps to make the greater Williamson Road as safe as we can. What we do know for sure is that what we currently have is not working."
The split views among business leaders led to some confusion on the dais.
"I'm hearing two things here," Lea said. "The businesses … what do they want us to do?"
Tanger said he doesn't think Williamson Road has experienced "an inordinate amount of crashes," and questioned the city's comparison of the street to a section of Brandon Avenue.
Roughly 15,000 cars and trucks daily travel along Williamson Road as well as a stretch of Brandon Avenue that the city recently converted from four to two lanes of traffic. Since that project, travel times and average speeds have decreased, in part because of syncing traffic lights.
While city officials don't predict quicker travel times along Williamson, they do believe a change from four to two lanes will still maintain the current amount of time it takes to drive the corridor.
Dwayne D'Ardenne, manager of the city's transportation division, said Williamson Road could accommodate double the current amount of traffic with a single travel lane in each direction.
"We still could handle it with one lane in each direction," D'Ardenne said. "And again, that's the traffic engineers. That's the experts" — he emphasized the word — "on how to make this work."
Councilwoman Stephanie Moon Reynolds expressed discomfort with moving forward, in part because of what she described as a lack of community outreach.
"I know what is there now is not working," she said. "I think we still need some more dialogue, instead of rushing into this based on just hearing from the city side."
Councilman Joe Cobb said even if the city put off on applying for funds until the next cycle, in 2024, they still might not be able to come up with a plan that satisfied all residents.
"My frustration is we can keep processing this every two years and not come up with a perfect solution," he said.
In the end, Moon Reynolds was the lone vote against the proposal. Council members Bill Bestpitch and Anita Price were absent.