Roanoke Schools Switch Up Bus Routes As Issues with Contractor Durham Persist
A driver for Durham said the school district's routes "look perfect" on paper, but they don't account for traffic, stop lights or other realities of the road.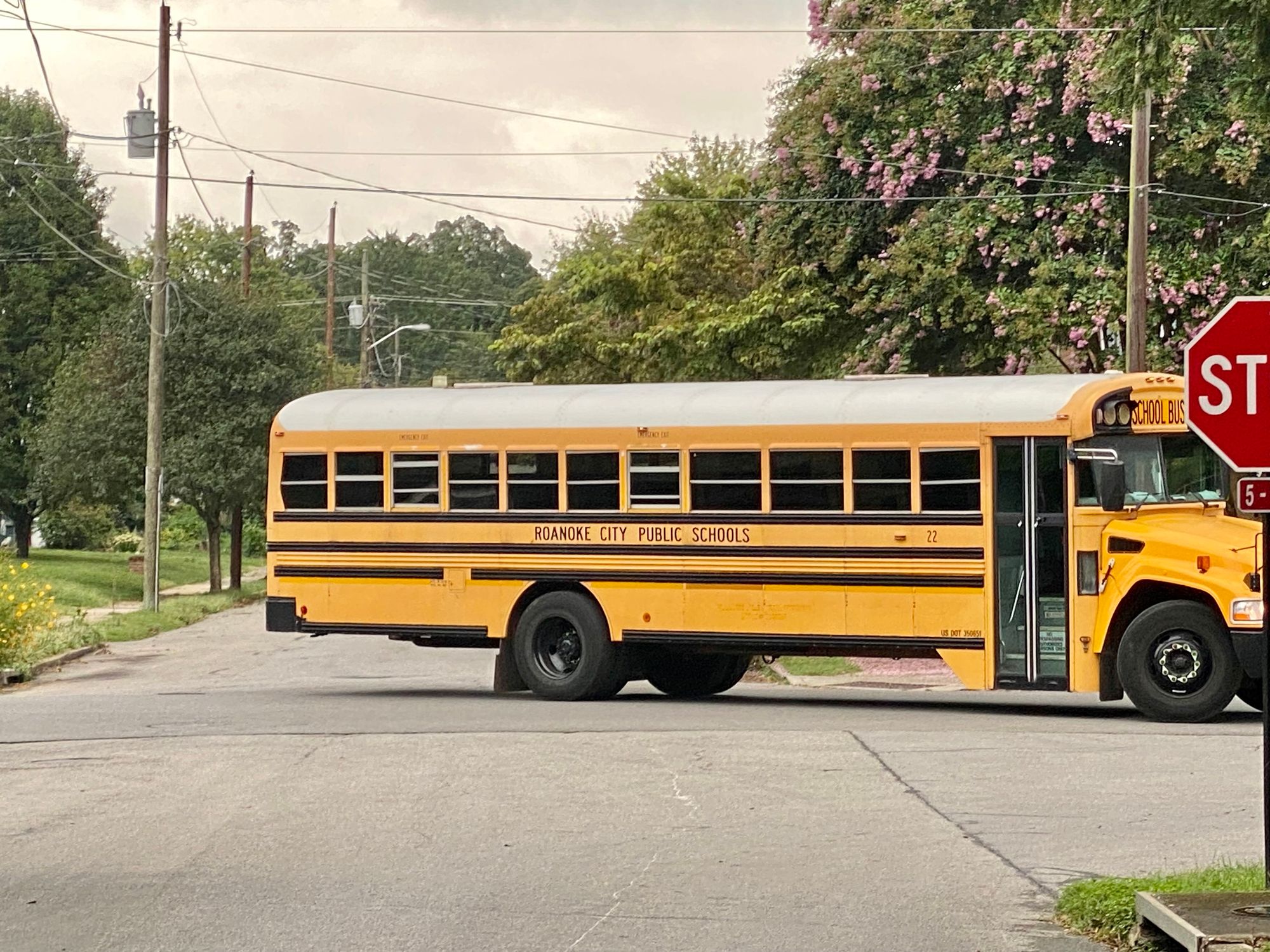 A Roanoke middle school student waiting an hour at the bus stop in the morning. One father picking up his child from school after the bus didn't show for two hours. Late afternoon buses prompting a high school student to take an Uber home.
Those were among the anecdotes that family members shared in interviews with The Rambler and on social media after the first week of classes at Roanoke City Public Schools saw ongoing issues with late buses.
"Transportation has been quite challenging this week," Superintendent Verlettta White said in a video message released Thursday. "Making sure that our students get to and from school safely and on-time is a responsibility that we take seriously, that I take seriously."
Roanoke's school board voted in June to change start times this year because its contracted transportation provider, Durham School Services, has not been able to hire and retain enough drivers.
But the latest setbacks largely arose from that fix. While the new four-bell schedule reduced the number of drivers needed to go on routes, some fast-paced routes — going from elementary to high to middle schools — snowballed into significant delays.
White said the district ran software in July to check for route conflicts, and drivers practiced them.
Since then, the school district of about 14,000 students experienced "numerous changes and additions to student enrollment, which overwhelmed our process and resulted in overlaps that were not caught," the superintendent said. "Should they have been caught? Yes. But they were not caught. And I want to take responsibility for that."
The school district could not immediately share specifics about the changes to student enrollment.
On Monday, the school district unveiled some adjustments to the routes, which a couple parents said had improved the situation somewhat. Yet buses are still arriving late.
"The routes are unrealistic," parent Alex Barge said. "It's crazy to think that they actually believed these routes were achievable in a timely manner."
One bus route, #14, is listed as arriving at Crystal Spring Elementary School at 7:45 a.m. Then it's supposed to appear at 7:49 a.m. for a high school pickup spot on Franklin Road four minutes away, leaving no wiggle room.
Another route, #22, arrives at Highland Park Elementary School at 7:50 a.m. and is supposed to arrive at the intersection of Rutgers and Durham Streets Northwest — a 12-minute drive away — 11 minutes later for a route to William Fleming High School.
A driver for Durham said the school district's routes "look perfect" on paper, but they don't account for traffic, stop lights or other realities of the road.
"I have heard multiple [drivers] call in that they are over an hour and a half late getting to their next school because the way that things are routed now … is not good," said the driver, who spoke on the condition that their name not be used for fear of retaliation. "It has taken routes that were supposed to be simple and combined them with routes that [are more complicated]."
The company has also changed pay incentives, according to the driver, who predicted that Durham will continue to lose drivers in the coming months.
Previously, bus drivers started at $18 per hour, with a minimum five hours per day, and could get $20 for each extra route they chose. Drivers opting to take those "doubles" — which the driver estimated half or more did — could in some cases double their weekly paychecks, from about $500 to $800 or $1,000.
Now, drivers get $21 per hour, with a minimum six hours per day, but Durham has done away with the "doubles" system, according to the driver. Now, many drivers are likely to be making less, while in some ways working more — driving routes to and from four schools, versus two.
"Durham's corporate greed is playing into a lot of this," the driver said when asked where the accountability for the issues lie, "but the routes are ultimately being designed by the city, so I think it's a combination of both of them."
White said that bus delay times have improved over the first three days of school.
"In the meantime, we want you to continue to provide feedback and, yes, hold us accountable until we get it right," she said.
Overlapping routes were not the only reason buses were late, according to the superintendent. On the first day of school, buses couldn't drop off 71 students who were young or disabled because a parent or guardian must be there to meet them, White noted. Those students had to be returned to school, causing buses to reroute.
Traffic and cars blocking bus lanes also contributed to delays, school officials said.
Last school year, Roanoke City Public Schools had 148 bus routes, according to a Durham spokesman. But Durham repeatedly failed to have at least 140 drivers it needed on staff, risking its contract with the school district. In February, it had 128 drivers.
This year, there are 96 bus routes, and as of last week, Durham had 106 drivers on staff with commercial drivers licenses, according to the spokesman, Ed Flavin.
Flavin said it "would be speculating" to answer why there has been a decrease in drivers since the spring, "as attrition is a normal part of our business and operations. Some drivers retired, and we believe some may have left to pursue other opportunities."
Cedric Wilson, a Grandin Court parent of two, said a school board conversation about the "snowballing effect" of late buses left him confused.
His elementary school student was 45 minutes late, despite being on a route considered in the first "tier," meaning it should be the first to be picked up. And he waited with his middle school student for an hour at the bus stop in the morning. It still hadn't come, so he drove her to school.
"Now, this week's a new week, and so I think we are seeing some changes that we are excited about," Wilson said. "However, I still do not have a lot of trust left for the current transportation system, just because of all the concerns that have been experienced and brought up from year to year to year."
Support local, independent journalism and don't miss a single story!
Become a member