Downtown Roanoke Inc. Ambassadors Clean, Help and Connect One Year Into Program
Downtown Ambassadors clean up streets, supply hospitality services and provide outreach to at-risk residents.
The following post is a paid sponsorship from Downtown Roanoke, Inc. If your business or organization is interested in sponsorships or advertisements in The Rambler, please learn more here.
---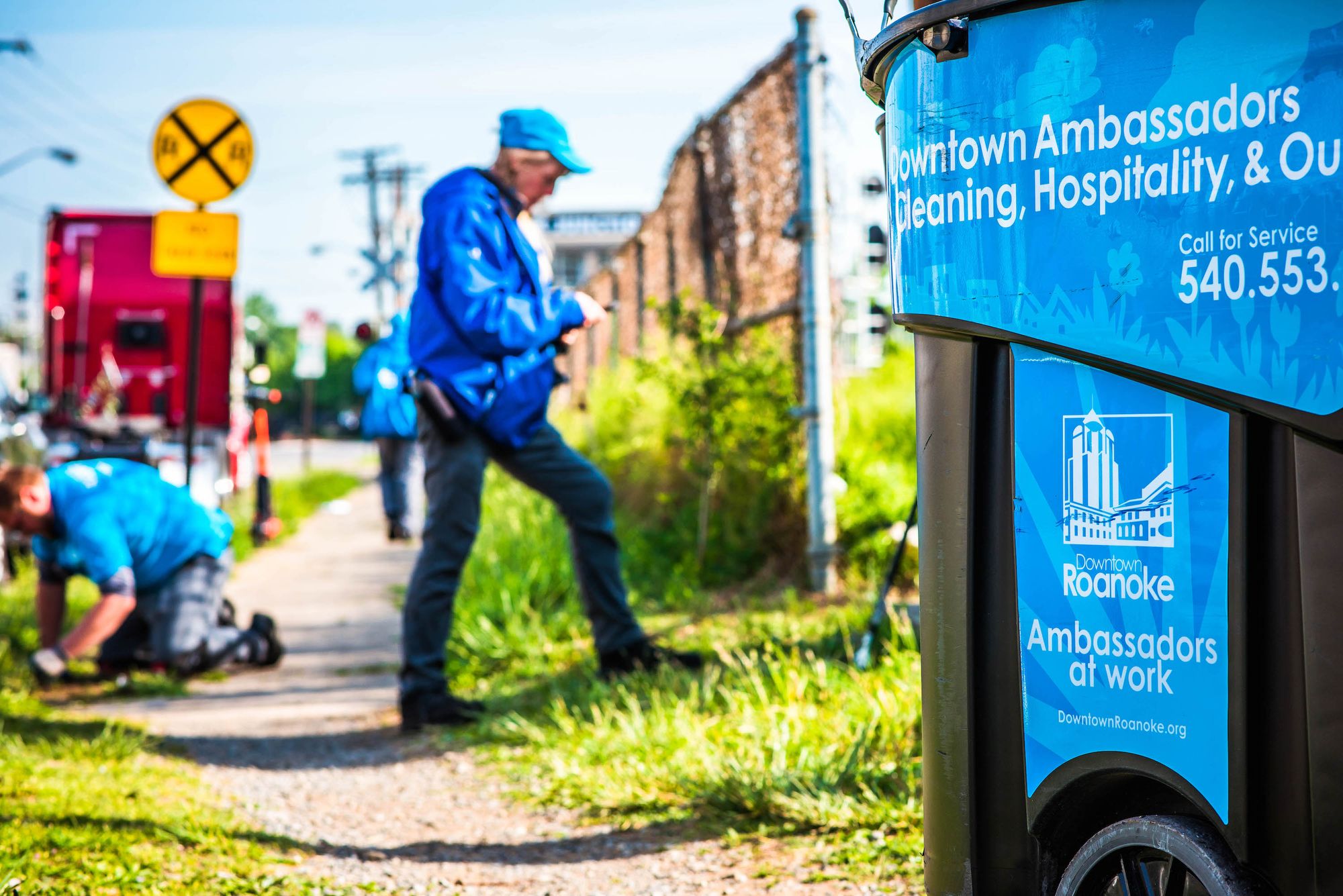 Downtown Roanoke, Inc. (DRI) Ambassadors hit the streets for the first time nearly a year ago. Their mission? To clean, assist and connect.
Since September 15, 2022, Downtown Ambassadors — a program of the nonprofit business group — have been cleaning up the streets; supplying hospitality services to residents, visitors, and businesses; and providing outreach to at-risk residents.
After nearly a year in the wild, the Ambassadors provide a needed and welcome service to the downtown Roanoke area, according to Jaime Clark, DRI Vice President of Marketing and Communications.
Ambassadors are divided into three teams: the clean team, the hospitality team, and the outreach team. Each of these groups is responsible for specific tasks within the downtown area, though the tasks do sometimes overlap between teams, according to Clark.
On a recent Friday afternoon, three Ambassadors could be found roaming the downtown streets. Mack Malloy, Shaheem Word and Bryant Bullock paused at each street corner in their bright blue uniforms, slowing their pace so pedestrians could reach them if necessary.
The trio is friendly, welcoming and easy to speak to. They have each been working for DRI for about six weeks, they said. During that time, their team has developed a cohesiveness centered around improving the city's urban atmosphere.
The team spends a lot of their time weeding sidewalks and picking up trash. They particularly watch out for safety concerns so they can take care of them right away, Malloy said. It is important to him that everyone feels safe when they go downtown.
"This job is about giving back to the community in some way," Bullock said.
Word enjoys the impact he can have on the people he encounters as part of his job, he said. "Just a smile can save someone's day," he said.
Then there's Thomas Hard, the Ambassador program's Outreach Specialist. Hard personally understands the difficulties faced by the unsheltered population; he has been homeless himself. As a result, he is driven to hit the streets and provide assistance to those who need it, he said.
"I'm making connections, face-to-face, on a human level and providing assistance," Hard said.
Hard checks in on people who might need housing or assistance receiving healthcare or finding a job. He builds and maintains connections, though the goal is for his clients to improve their lives so that they don't need him anymore.
"Not everybody is out here because they make bad decisions," Hard said. "Bad things happen to people that lead them to homelessness. It becomes a dark cloud over them and it is hard to come out of."
The proof of the Ambassadors' impact is in the numbers, Clark said.
As of August 1, Ambassadors have completed over 19,000 tasks in downtown Roanoke. Out of that, they have removed 1,130 stickers and graffiti, picked up nearly 2,000 bags of litter, cleaned up almost 600 biohazards, and relocated scooters more than 5,000 times. They've given directions and referred citizens to outreach services more than 400 times each.
And they do it all in a relatively small neighborhood — the Ambassadors' service area covers much of the space from 5th Street Southwest to Interstate 581 and from Elm to Wells Avenue. They patrol the area six days a week, Monday through Saturday.
"Having a clean, safe, and welcoming downtown is the foundation of a great city," Clark said.
---
If your business or organization is interested in sponsorships or advertisements in The Rambler, please learn more here.
Support local, independent journalism and don't miss a single story!
Become a member