Suetterlein Beats White-Boyd, Becoming Roanoke City's First Republican State Senator in Decades
Roanoke City had long been represented in the Senate by a Democrat, Sen. John Edwards, who was elected in 1995 and opted to retire.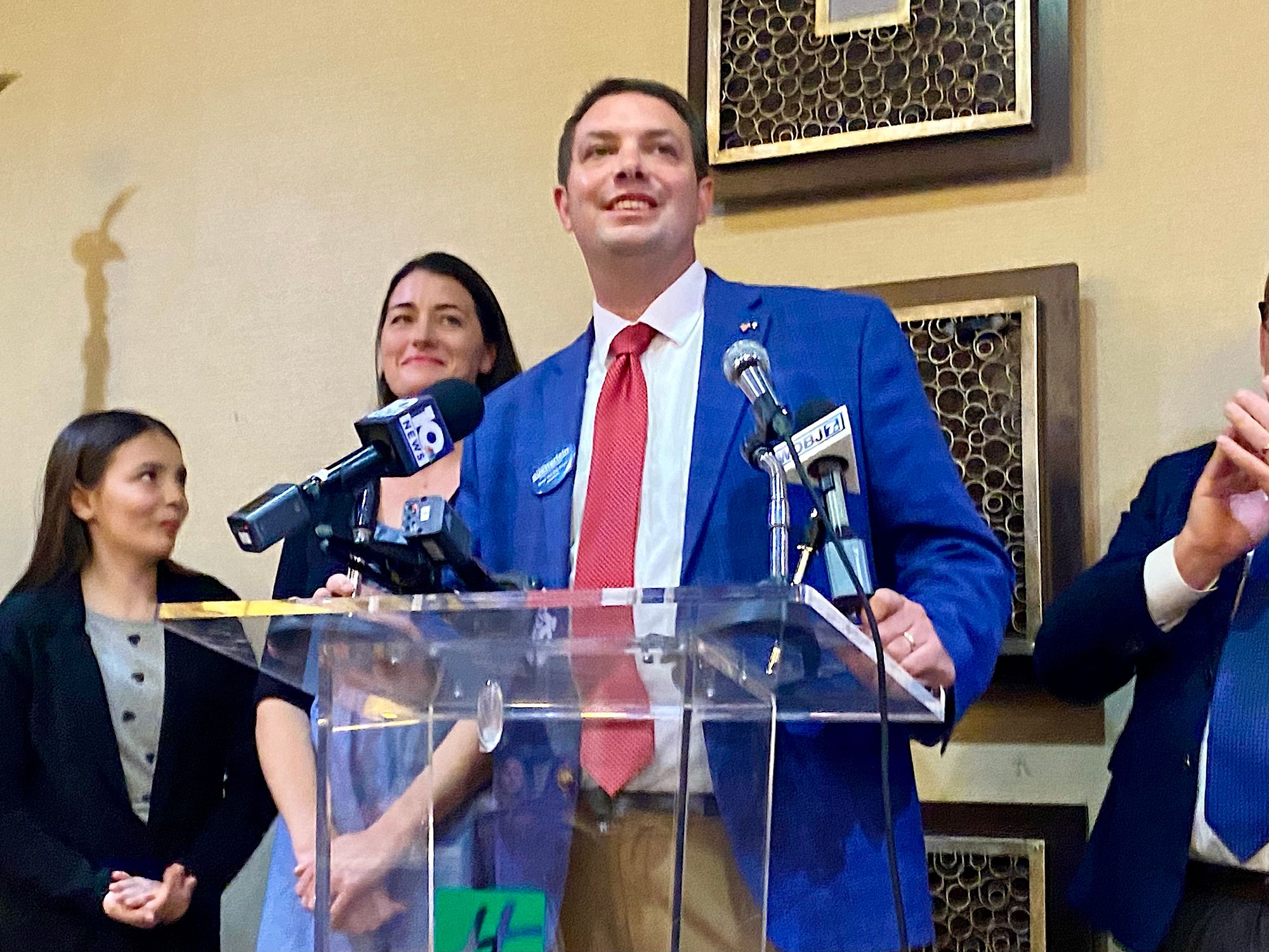 Sen. David Suetterlein beat Democratic opponent Trish White-Boyd in Tuesday's election, becoming the first Republican to represent Roanoke City in the state legislature in nearly three decades.
Suetterlein took 53.27 percent of the vote to White-Boyd's 46.52 percent in a newly redistricted state Senate seat that includes the city, Salem and parts of Roanoke and Montgomery counties, according to preliminary results from the Virginia Department of Elections.
Roanoke City had long been represented in the Senate by a Democrat, Sen. John Edwards, who was elected in 1995. Edwards opted to retire this year rather than face the incumbent Suetterlein in a redrawn seat that leans Republican.
"This is a great night," Suetterlein, 38, said to a crowd of Republican candidates and supporters at the Holiday Inn-Tanglewood late Tuesday. "I see several Roanoke City friends in the room, and I'm excited that for the first time since the Soviet Union still existed, a Republican was elected to represent a district that includes you in the state Senate."
White-Boyd, a member of Roanoke City Council, congratulated Suetterlein on his victory Tuesday night.
"We ran a strong campaign," White-Boyd, 60, said in a statement issued by her campaign. "Ultimately we were not able to overcome the changes that were made to our district by the Redistricting Commission. I look forward to continuing to serve my community on City Council, and I know Roanoke Democrats will continue to stand up for our values in future elections."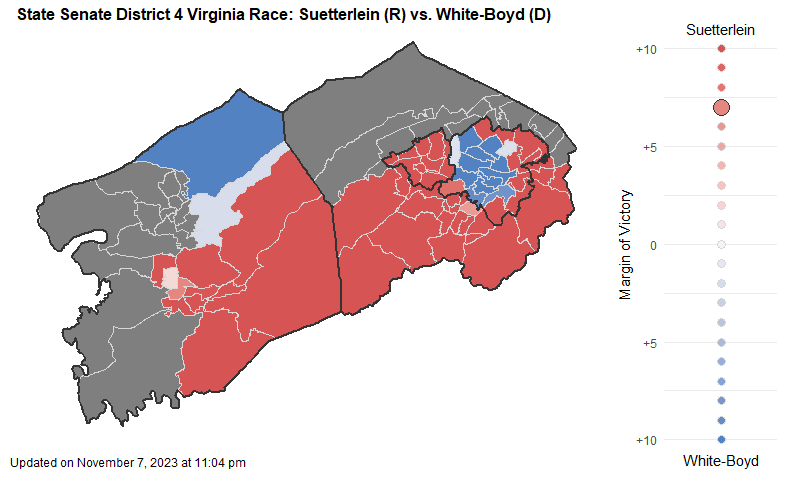 The new Senate District 4 was more challenging terrain for Democrats compared to Edwards' seat, which avoided much of Republican-leaning Roanoke County and included liberal Blacksburg.
The nonpartisan Virginia Public Access Project estimated in the 2021 race for governor, Republican Gov. Youngkin would have taken 55 percent of the vote to Democrat Terry McAuliffe's 45 percent in the district.
While the seat was a must-win for Republicans to take control of the Senate, Democrats appeared late Tuesday to have retained control of that body, as well as taken over the House of Delegates, according to election analysts.
In 2021, the Virginia Supreme Court approved new state legislature maps after a bipartisan commission approved by voters failed to agree.
Suetterlein's old seat leaned more Republican and included Salem, Floyd County and parts of Franklin, Bedford, Carroll, Montgomery and Wythe counties.
Suetterlein was first elected to the Senate in 2015 after serving as legislative director for that seat's predecessor, Sen. Ralph Smith.
The Roanoke County resident works as a real estate agent with MKB, REALTORS.
White-Boyd operates Blue Ridge Senior Services, an in-home caregiving business. She was elected Roanoke's vice mayor in 2020 after being appointed in 2019 to a vacant seat.
She became the Democratic nominee after defeating fellow Council member Luke Priddy in a June primary.
Political analysts predicted an uphill climb for White-Boyd, who they said would have had to turn out significant numbers of voters in the predominantly Democratic Roanoke City.
White-Boyd took 60.6 percent of vote in the city, according to preliminary results with all precincts reporting — ahead of the 57.7 percent that McAuliffe took in 2021 — but it wasn't enough.
Suetterlein outpaced White-Boyd in all other localities, taking 67.8 percent in Salem, 63.8 percent in Roanoke County and 56.6 percent in Montgomery County, according to preliminary results.
Across the district, 30,153 voters cast ballots for Suetterlein and 26,332 for White-Boyd, the elections data show.
Smith, who attended the Republican victory party Tuesday, said he was proud of his former legislative aide. While Smith said he had hoped Suetterlein would crack 50 percent of the vote in the city — he took 39 percent — Smith predicted Suetterlein's victory will strengthen the local Republican party.
"It's been weak, and that is historic," Smith said. "I think maybe it'll be a part of building Roanoke City to be more competitive."
Suetterlein and White-Boyd took part in just a handful of forums ahead of the election and exchanged barbs over abortion and taxes in particular.
White-Boyd positioned herself as a champion of abortion access, saying she would not weaken Virginia's law that permits abortion through about 26 weeks of pregnancy in most cases.
Suetterlein campaigned on supporting Youngkin's proposal to restrict abortion to 15 weeks of pregnancy, with some exceptions.
White-Boyd touted her experience in local government, as a business owner and a community activist.
Suetterlein boasted of dozens of bipartisan bills signed into law that he sponsored. He highlighted work helping to establish a neonatal intensive care unit in Salem and to bring state funds to the Fralin Biomedical Research Institute.
In a possible nod to Roanoke's Democratic-leaning electorate, Suetterlein's campaign signs made no mention of his Republican affiliation, instead promoting himself as "Virginia Senator."
In the campaign, White-Boyd herself bucked Democratic orthodoxy by calling for the elimination of the car tax, which funds local governments. Suetterlein called the position "disingenuous," adding that he supports tax relief, such as for car and grocery taxes.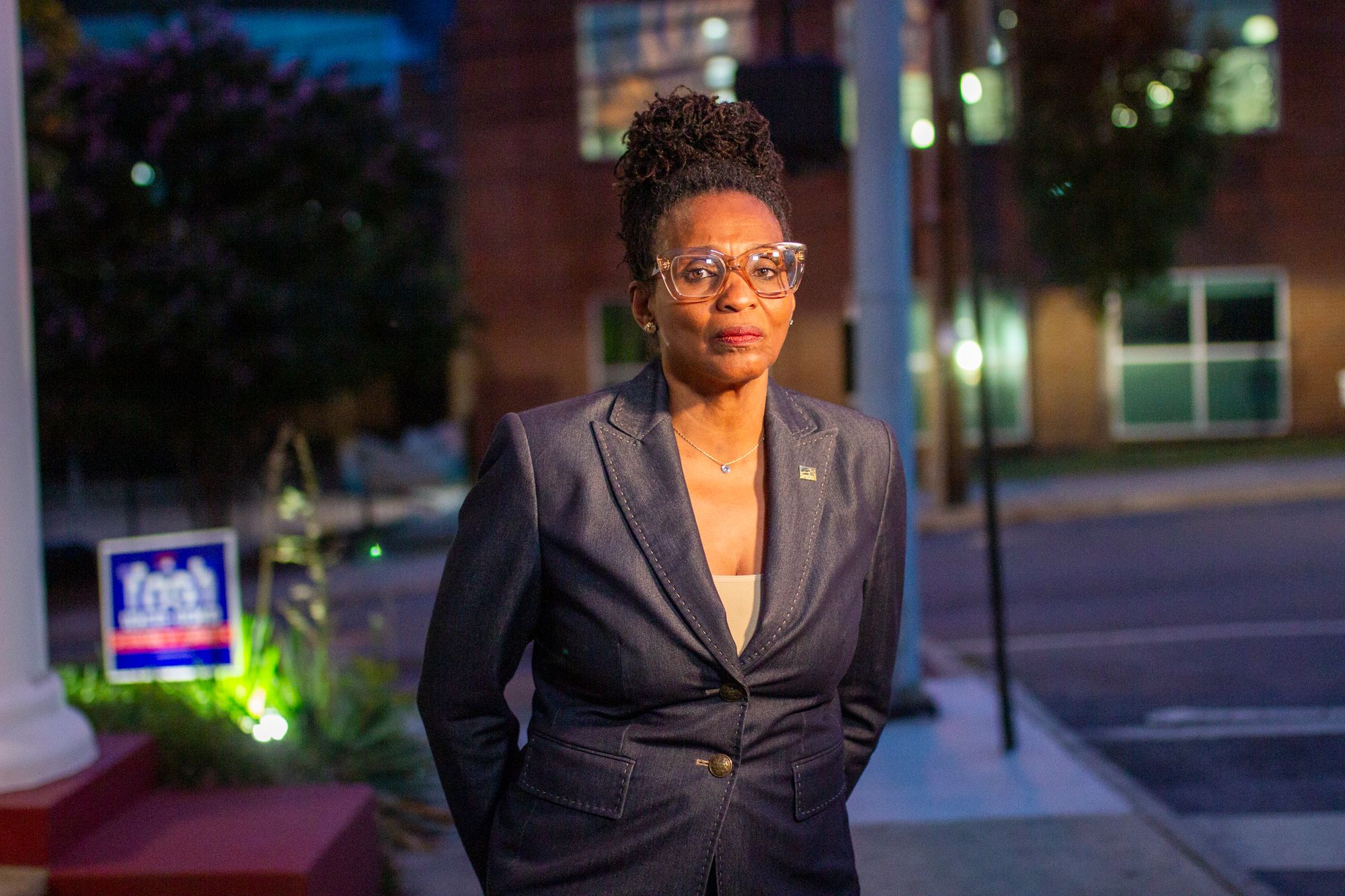 Rhetoric in the race heated up as Election Day approached, with Roanoke Mayor Sherman Lea blasting Suetterlein for saying White-Boyd and Roanoke City Council raised local taxes.
While City Council has not raised tax rates in recent years, higher property and car values have resulted in increased tax bills for residents in Roanoke and many other communities.
Suetterlein responded to Lea's press conference in a statement, saying "Roanoke City Council … allowed real estate tax and car tax bills to skyrocket year after year saying they wanted to take advantage of the windfalls, and this year they've even increased emergency service fees while the City budget grows by tens of millions of dollars."
Several voters in Roanoke indicated that party preferences — over the specific candidates or issues — informed their choices.
"I've never been a one-party voter but right now I'm a one-party guy," said Michael Reed, 68, who lives in downtown Roanoke. "The hard right takeover is— I'm just not OK with it."
Reed added that he also did not like how Suetterlein got into office in 2015.
Back then, Smith announced two days before the Republican Party filing deadline that he would not seek reelection and would instead endorse Suetterlein. Facing no primary challenge, Suetterlein would go on to beat Democrat Michael Hamlar with 65 percent of the vote in a strongly Republican district.
In 2019, Suetterlein won reelection with 71 percent of the vote against Democratic challenger Flo Ketner.
Outside the precinct for Roanoke's Old Southwest and Wasena neighborhoods, Michelle Harrison said she supported the Republican candidate in the state Senate race.
"I'm very conservative, so I vote that way," Harrison, 72, said. "I want to see our government turn back to conservative viewpoints."
Support local, independent journalism and don't miss a single story!
Become a member