Ramblings: Roanoke Gun Panel Eyes Legislative Fixes, Police Chief Survey Opens, Fishburn Park Coffee Shop Plan Advances
What are Ramblings? Ramblings are a collection of short items that have caught our attention for one reason or another.
What are Ramblings? Ramblings are a collection of short items that have caught our attention for one reason or another. We're on the lookout for tidbits related to money in politics, data, business, civic engagement or interesting events. Think you know of something that could be a Rambling? Drop us a line at editor@roanokerambler.com and we may well write about it. Happy reading!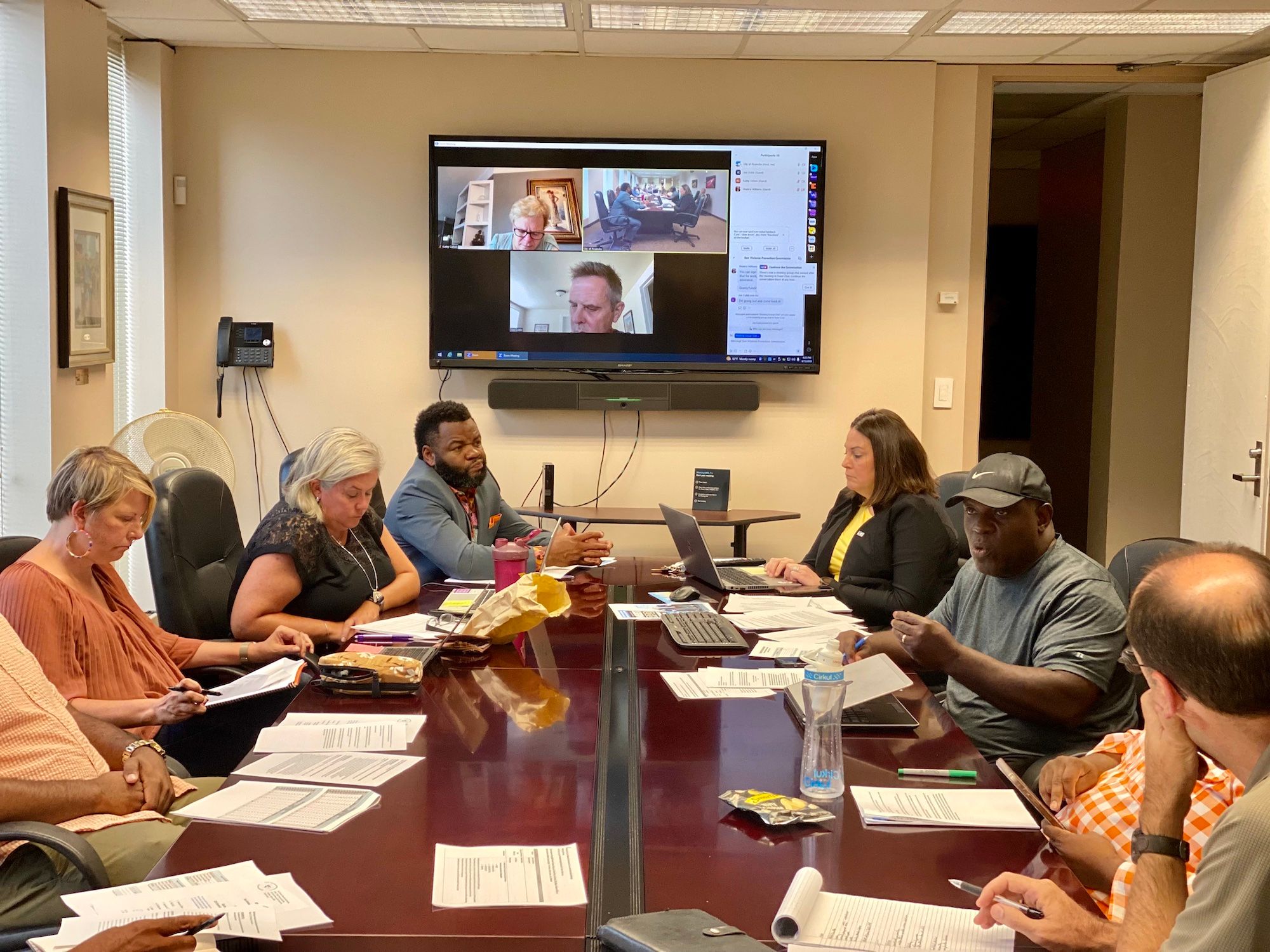 Gun violence panel eyes legislative fixes
Roanoke's gun violence panel is turning its sights on how new state laws could help prevent shootings.
"Historically, the commission has not been engaged in legislative recommendations," Vice Mayor Joe Cobb, who chairs the Gun Violence Prevention Commission, said during the group's meeting Tuesday. "That has changed a little bit."
Commissioners are in the early stages of drafting suggestions for state laws that could be folded into the city's end-of-year wishlist to the General Assembly.
Out of recent strategy sessions, commissioners felt the need to be more aware of legislative issues and how they could advocate for state laws that could help Roanoke's issues with gun violence, Cobb said.
So far this year, police data have recorded 51 cases where a person was struck by gunfire, including 17 homicides. Last year, there were 46 cases with 11 homicides over the same period.
Catherine Koebel, who has organized commission-funded gun buyback events, and David Harrison, a retired attorney, presented several ideas to the panel.
Commissioners settled on the broad theme of limiting access to firearms, with the following specifics:
Require a person to apply for and obtain a license, which involves a more in-depth background check, before buying a handgun, known as a permit-to-purchase law.
Require safe storage of firearms by gun owners at a place where people under 18 live. Such a bill in the 2023 General Assembly session passed the Senate but died in a House committee.
Prohibit firearms from being left in an unlocked or unattended vehicle. Such a bill in the 2023 General Assembly session passed the Senate but died in a House committee.
Hold gun owners criminally and civilly liable if the weapon is brought to a school or used by a child to injure somebody.
Increase state funding to cities and counties for community-based public health approaches to prevent gun violence.
Cobb said the commission's recommendations will next go to the city's legislative committee, which is made up of City Council members. The goal is for City Council to present its entire legislative wishlist to state lawmakers in October, ahead of the 2024 session.
City seeks resident input on next police chief
Roanoke residents can tell the city what they want to see in their next police chief.
A short survey, which closes Monday, gauges citizens on what experiences and characteristics the next chief should have and what issues this person should tackle first.
City Manager Bob Cowell has narrowed down a pool of 22 applicants to six, according to a city announcement Wednesday.
Two panels — one made up of city officials and another of community members — are expected to interview finalists next week. Leaders of the Roanoke City Police Association, a nonprofit membership group, will also meet with each of the finalists, the city said.
The following week, the city intends to hold a community open house with the top candidate or candidates. Cowell will then hire the chief by September 1.
Deputy Chief Jerry Stokes has been serving as an interim police chief since former chief Sam Roman left July 1 to become an assistant city manager.
The police department is also hosting a community forum Wednesday (today) at 6 p.m. at Straight Street (333 Luck Ave. SW) to hear from downtown businesses and residents about their crime concerns.
Fishburn Park cottage rezoning advances — again
For the second time, Roanoke's planning commission paved the way for the Fishburn Park caretaker's cottage to become a coffee shop.
Commissioners voted unanimously, with one member absent, to approve rezoning an acre of parkland to allow for the commercial venture from residents Justin and Keri Kidd vanBlaricom.
Back in May, the commission made a similar recommendation, but a week later City Council shot down that plan after opponents raised concerns about the business's viability and environmental impact.
Opponents contend taxpayers got a raw deal when Council agreed to sell the property for $10 on the condition the vanBlaricoms invest at least $150,000 in restoring the dilapidated cottage, which dates to the 1830s.
Council's vote prompted strong backlash from proponents, who maintain a locally owned coffee shop will be a welcome addition to the Grandin Court neighborhood and marks an opportunity to restore the historic building that the city has let fall into disrepair.
Council later revised the deal with the vanBlaricoms, allowing the city first rights of refusal if the couple sells the land and divvying the parcel up for different uses. The cottage area is limited for an eating and drinking establishment, office, community center or artist studio, among others.
A half-acre of land along Brambleton Avenue will be limited for use as a park or community garden.
The matter will again go before City Council on Monday; a favorable vote will allow the vanBlaricoms to close on the sale by the end of September.
Support local, independent journalism and don't miss a single story!
Become a member