'It's Not Over': Fishburn Park Coffee Shop Proposal May Be Revived, Roanoke Leaders Say
Some members of Roanoke City Council say a deal over the Fishburn Park caretaker's cottage could still be worked out.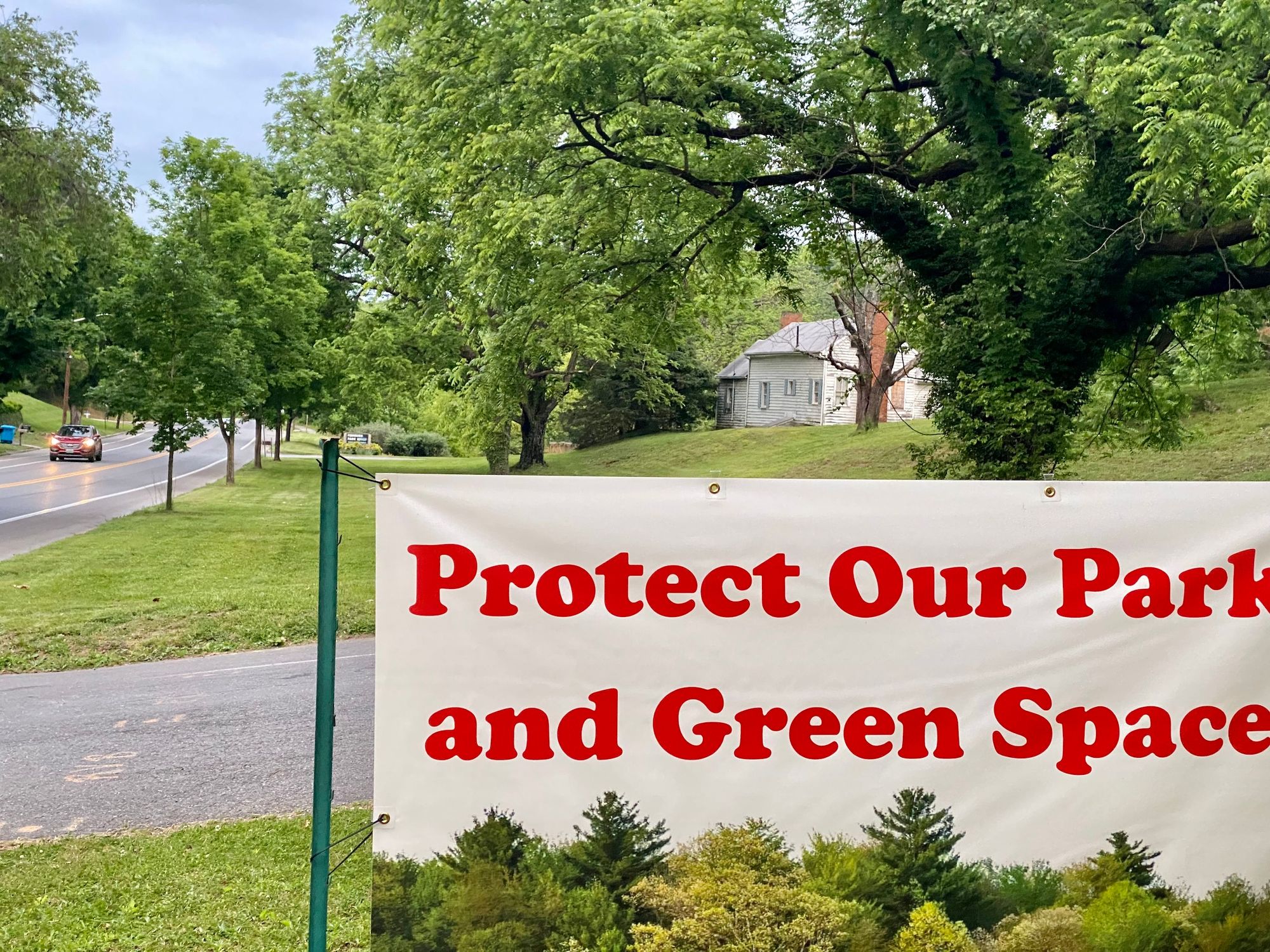 Efforts to turn the Fishburn Park caretaker's cottage into a coffee shop aren't dead yet.
Roanoke City Council shocked residents last week by shooting down a rezoning request for the project, despite agreeing in December to sell the building and surrounding parkland for that very purpose.
But now some Council members and the developers, Justin and Keri Kidd vanBlaricom, say the deal could still go through somehow.
"It's not over. People think it's over, it's not over," Councilwoman Trish White-Boyd, who voted against the rezoning, said in an interview on Monday. "It's just pausing so that we can have further conversation. And I was really disappointed at some of the media, because I don't think they understand the process."
Council's vote last week elicited strong backlash on social media from residents. Even a member of the planning commission — which approved the rezoning this month on a 6-0 vote — decried the decision as "Indefensible" and an "absolutely craven wilting" to opponents.
And there's now an effort to remove the leaders of the Grandin Court Neighborhood Association next month over their lobbying against the project. At a Thursday meeting, a neighbor hand-delivered a letter to association president Owen McGuire and secretary Freeda Cathcart — among the most vocal opponents to the vanBlaricoms' plans — stating they "have completely lost the confidence of this neighborhood and should be removed from their posts as soon as possible." Cathcart and McGuire declined to comment.
Despite assurances from White-Boyd, Mayor Sherman Lea and Vice Mayor Joe Cobb — the lone vote in favor of rezoning — that there are still options under consideration, bureaucratic hurdles remain.
The current contract says the deal must close by June 30. Because July is the earliest that another rezoning request could be heard, City Council would have to amend the contract first — but only if the vanBlaricoms want to rezone the land beforehand, a condition they may waive.
"That's what's frustrating about it is, yeah, if we get an amendment to extend it, then I spend a bunch more money and then it could come back to the same and they pull the rug out from under me again," Justin vanBlaricom said in an interview last week. "We're working on trying to figure out why City Council voted no and see if there's anything that we can actually do to salvage the deal."
He estimated the couple has already spent $15,000 on land surveying, a traffic study and application fees.
Applicants cannot bring forward a "substantially similar" rezoning request shot down by Council for at least a year — a policy that had previously plagued a Brandon Avenue housing development.
Chris Chittum, who leads the city's planning department, said changing the request to rezone 1.1 acres to 0.55 acres "would constitute a substantially different application that would not have to wait a year." As of Monday, Chittum said in an email, "Council has not directed staff to take any additional action."
Yet City Attorney Tim Spencer said this week the vanBlaricoms may waive the rezoning condition and still close on the sale of the property by the closing date. There was some earlier confusion, even among Council members, about whether the condition of rezoning was required before the sale could be closed.
Members of Council and the vanBlaricoms hinted that more information will come to light in the coming weeks.
"It's definitely not over," Justin vanBlaricom said in a text message Tuesday.
Check out more coverage of the Fishburn Park cottage
In December, Council voted 6-1 to hand over the dilapidated caretaker's cottage and 1.1 acre of parkland to the vanBlaricoms for $10. In exchange, the couple would have to invest at least $150,000 in restoring the cottage, which dates to the 1830s.
The following month, Council members Luke Priddy and Peter Volosin replaced Anita Price and Bill Bestpitch, who both voted for the contract. Priddy and Volosin have expressed wariness over the vanBlaricoms' proposal.
In March, Council reluctantly, yet unanimously, agreed to amend the vanBlaricoms' contract, which had previously required the sale close later that month, to accommodate a June 30 closing.
But last week all Council members except for Cobb joined in kiboshing the rezoning.
White-Boyd cited concerns over parking, the watershed and the vanBlaricoms' use of the full acreage to leverage a bank loan. She noted that the city's Parks and Recreation Advisory Board had voted against the deal, saying it was not acceptable to sell that much parkland to a private developer.
White-Boyd acknowledged that those points were made prior to Council's December vote to approve the contract.
Asked if she regretted that December vote, White-Boyd said, "I probably would have done it differently," later adding, "People have a right to change their mind."
Mayor Sherman Lea said Tuesday that Council is having the city attorney look at what can be done with the vanBlaricoms' contract. He said he did not want to go into specifics because nothing is before Council officially.
"We're looking at it again, and seeing what other things that are in place we can work with, or they are willing to work with," Lea said.
Lea said he was influenced by opponents who raised concern about parking, the vanBlaricoms' lack of a business plan and a previous, informal request from Cathcart to fix up the cottage.
"I just didn't feel that strongly about it. All of a sudden then the group that opposed kept coming up with issues," Lea said when asked why he voted against rezoning when he voted earlier on the contract. "You can change your mind."
Councilwoman Vivian Sanchez-Jones, the other member who approved the initial contract but voted against rezoning, did not respond to multiple text messages, which indicated they had been read.
White-Boyd expressed optimism that city leaders will be able to work out a deal.
"I think by the end of the year that, you know, everybody will have their coffee shop, the other people will be content, maybe we can agree that they need less parking and more green space," White-Boyd said. "I hope that we can all come to an agreement where it is going to work for everybody involved."
---
Correction (5/25/23) — An earlier version of this story incorrectly described the condition of rezoning in the vanBlaricoms' contract with the city. As the updated story notes, the vanBlaricoms may waive the rezoning condition and still close on the sale of the property by the closing date if they so choose. There was some earlier confusion, even among Council members, about whether the condition of rezoning was a requirement before the sale could be closed. We regret the error.
Support local, independent journalism and don't miss a single story!
Become a member