After 5 Years and 3 Proposals, Roanoke City Council Approves Fralin Development on Brandon
Council members said the need for more housing trumped neighbors' concerns about traffic and the environment.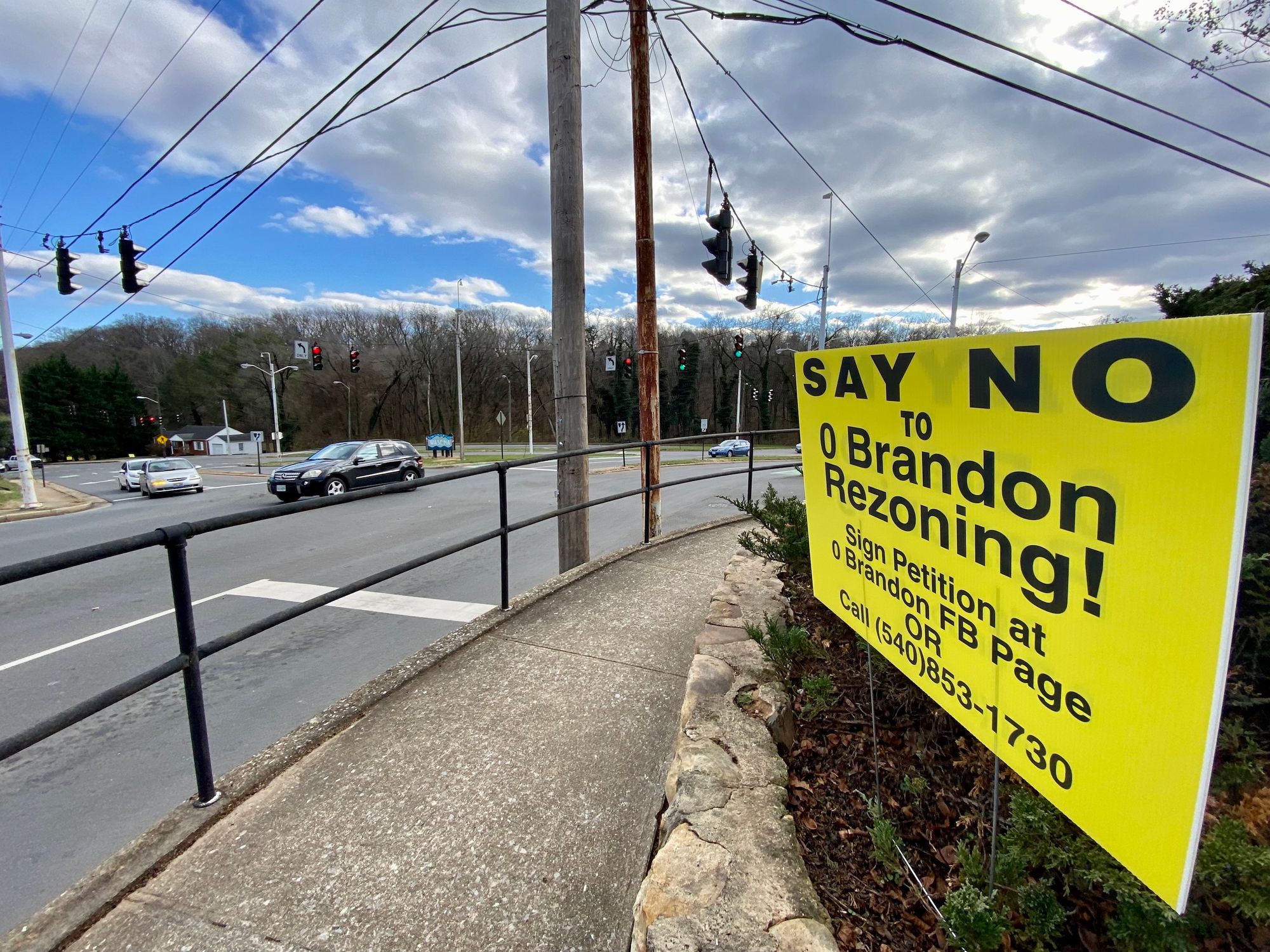 It took five years and three different proposals, but Roanoke developer Robert Fralin won approval from City Council on Monday to develop woodlands along Brandon Avenue.
Council voted 5-2 to allow R.P. Fralin Inc. to construct 29 townhomes at the intersection of Main Street.
Neighbors have long resisted development at the convoluted interchange that one resident decried as "malfunction junction." But over the objections from neighbors who said the scaled-back project would still worsen traffic and damage the environment, Council members said the need for more housing trumped those concerns.
"We can't grow as a city if we can't house our people," Councilwoman Anita Price said. "Carilion is bringing in more and more jobs. Where are these folks going to live?"
The city says it is short about 3,700 housing units. Mayor Sherman Lea echoed comments from Price and the developer's representative that the project addresses the city's housing needs.
"We're facing pretty much a housing crisis in this city, and we've got to start working somewhere to build this up," Lea said.
Council members Joe Cobb and Stephanie Moon Reynolds voted against the rezoning request.
Plans for 29 townhouses on about three acres of the 7.7-acre property are downsized from earlier versions. Last year, Fralin's company proposed building 54 apartments and 15 townhomes on the land. City Council narrowly shot down that project, 5-4, with former councilman Robert Jeffrey Jr. in the majority. Council appointed Price to fill Jeffrey's seat this year after he was found guilty of financial crimes.
In 2017, Council unanimously rejected Fralin's plans to build 54 apartments, mostly citing concerns that drivers could only turn right onto Brandon Avenue from the development. A month after that rejection, Fralin's company purchased the land.
City staff said a single entry-exit lane into the development would be safer than a dozen individual driveways that would be allowed under the current zoning, which is for single-family homes. The latest project's reduced density also addressed staff's concerns about townhome residents not being able to turn left out of the development onto Brandon Avenue.
"At worst, the no left-turn option is an inconvenience to residents of the new development," said Wynne Phillips, operations manager for R.P. Fralin Inc. "However, it does not approach a level of concern to justify denial."
While Fralin's initial application this year included a bridge over Murray Run to the back portion of the property, that was removed in the final version. The company says there are no current plans to develop the remaining land.
Eighteen residents spoke before City Council Monday, most in opposition to the project.
Joshua Dietz noted that the city recently spent $4 million to turn the flood-prone Ramada Inn down the hill from the proposed development into wetlands.
"I would submit to you all, ladies and gentlemen," said Dietz, an assistant Commonwealth's Attorney, "that it makes little sense to spend that kind of money mitigating a flood problem only to turn around and approve a project like this, which has similar issues."
Peter Corrigan, who retired recently from the National Weather Service as a meteorologist with an expertise in flooding, said the proposed development would exacerbate such problems.
"The science is pretty clear here. We're going to get more flooding," because of climate change, he said. "This project seems like a real step in the wrong direction in terms of that entire process. So I believe we really ought to reconsider putting something in harm's way."
John Garland, a former councilman who lives behind the property, reiterated his opposition to Fralin's proposal and cited his experience as a developer and civil engineer.
"It's a plan in my opinion that's only a win for the developer," Garland said. "We can do better and we owe it to our citizens to do better."
A couple people who work for Fralin's company spoke in favor of the plan. So, too, did advocates in the affordable housing field.
"I stand here in support of the Brandon Avenue project, primarily because there is a need for more affordable housing in the City of Roanoke," Annette Lewis, president of the nonprofit Total Action for Progress, said. "We are annually housing at least 100 homeless veterans every year, and we are finding it more and more difficult to find affordable housing for them."
Evangeline Richie, vice president of housing for the Roanoke Redevelopment and Housing Authority, said the agency has seen interest in housing vouchers skyrocket from 2,500 requests in 2019 to more than 4,500 requests this year.
"We are in great need of additional housing," she said. "If we don't add more housing, we will need to add more shelters."
In earlier versions of the plan that included apartments, R.P. Fralin Inc. had stressed how the development would provide affordable housing. Last year's proposal anticipated apartments would rent around $950 per month and townhomes would sell around $250,000.
The latest version says townhomes would be for rent, but the company would not estimate the cost.
"We don't know what the price of gas is going to be in two or three years," Phillips told The Rambler after the vote.
Cathy Greenberg, who lives behind the property and has led efforts to resist development, said residents should get answers to questions before city leaders voted. She asked what the price would be, how the planned closing of Wasena Bridge would impact traffic and why portions of the development are closer than a recommended 50-foot boundary from an impaired stream.
The state considers Murray Run, which flows through the property, as "impaired" for having unsafe levels of E. coli.
Ben Crew, a consultant on the project, told Council that the development will have a minimal impact on stormwater runoff into Murray Run.
Cobb commended Fralin's company for taking interest in the land, which he noted was plotted for 46 individual lots in 1927 but has sat vacant since the 1970s. But Cobb said to support the proposed development he would "want to make sure that there were conditions in place to make sure that Murray Run is not only protected, but that any aquatic life in Murray Run can be preserved and actually made better."
Cobb said he doubted that people on the housing authority's waitlist could afford to rent the townhomes. But he noted that adding more housing stock to a community helps the market.
"We have heard a lot about affordable housing," Vice Mayor Trish White-Boyd said. "Yes, we need affordable housing, but we need housing, period. We need luxury housing. We need housing. We just need housing."
Support local, independent journalism and don't miss a single story!
Become a member