Roanoke City Council Created An Equity Advisory Board Two Years Ago. Here's What It's Been Up To.
Roanoke City's panel on equity emerged in 2020 amid a nationwide reckoning over racism.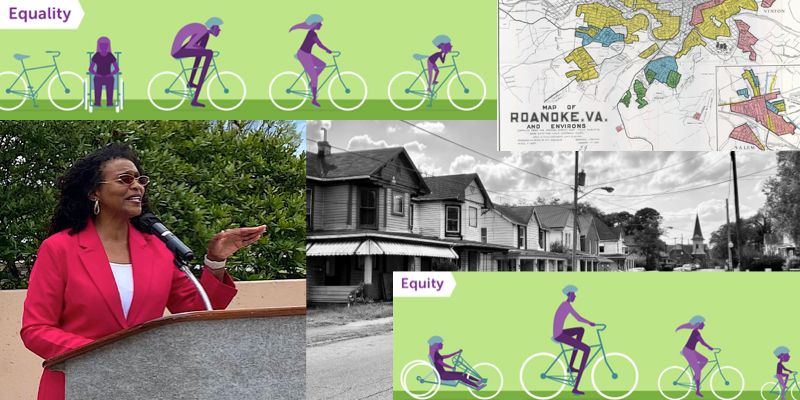 Two years ago this month, Roanoke City Council formed an advisory board dedicated to equity.
"If the City gives everyone equal treatment regardless of their individual needs, then it may be unintentionally creating disparate outcomes," the city's master plan says. "Equity is the idea that different groups have different needs and should be provided services determined by their needs."
But when the rubber hits the road — literally in the case of a car tax rebate — a recent disagreement between two leaders of Roanoke's Equity and Empowerment Advisory Board illustrates just how sticky the concept of equity can be.
City Council decided unanimously last month to return nearly $6 million to car owners because global supply chain issues artificially inflated the value of vehicles, leading to higher tax bills.
One option would refund residents up to $82.77. Another option would refund a flat 17.5 percentage of taxpayers' bills.
"If everybody gets back 17.5 percent, that's equal," said Councilman Bill Bestpitch, who also serves as secretary of the Equity and Empowerment Advisory Board (EEAB). "We've had a lot of discussion in recent years about the difference between equality and equity. It's not equitable."
"I would tend to disagree with you on that," replied Vice Mayor Trish White-Boyd, chair of the EEAB. Because everyone pays a flat 3.45 percent vehicle tax regardless of how expensive their car is, she said, a same refund rate would be fair.
"We don't have a lot of chances in our business to do something as equitable as this," Bestpitch said, "and I just hate to see us pass that opportunity up."
Ultimately, City Council voted 5-2 to adopt the 17.5 percent rebate. White-Boyd voted for it. Bestpitch voted against it.
Origins and accomplishments
Roanoke City's panel on equity emerged amid a nationwide reckoning over racism.
While the idea for the board originated earlier — during development of Roanoke's master policy vision for the next 20 years called City Plan 2040 — the murder of George Floyd in May 2020 prompted City Council to usher the Equity and Empowerment Advisory Board into existence.
At the time, a city press release said, "in light of recent national events focused on systemic and institutional racism, along with the call for further action locally, the Council deemed it appropriate to proceed with forming the Board as called for in the draft [2040] plan."
So in July 2020, City Council created the EEAB, at the time only the fourth permanent Council panel. Council tasked the nine-person board with carrying out the 2040 plan's equity goals and reviewing city policies and laws to ensure they don't promote inequality. Two members of Council and seven citizens volunteer their time to serve on the board, which meets monthly.
Roanoke's own history — of entrenched segregation and discrimination, of urban renewal and broken government promises — informs the city's relatively new focus on addressing the sins of the past.
"All this controversy that we hear about critical race theory and trying to make white people feel guilty about what's happened in the past, I really think we need to be willing to address some of these things," Bestpitch said in an interview. "I can take responsibility for looking at what some of the lingering aftereffects of enslavement and Jim Crow and discrimination have been and what we can do about it now to make things better."
But the sheer scope of the equity board's responsibilities — along with pandemic-caused virtual meetings — made for a bumpy start.
"It was a struggle at first, because we had to figure out what it is that we were supposed to be doing," White-Boyd said in an interview. "It was really hard to figure out how we could get this thing moving, because it was brand new and it's really complex and it's not easy."
The EEAB is supposed to hew to Roanoke's master plan, and its tasks are legion. The "Interwoven Equity" section of the 2040 plan lists five overarching priorities, 17 policy areas beneath those and 82 different "action items" tied to the policies.
Those actions range from "Review and eliminate City codes and policies based on explicit or implicit biases," to "Provide salary incentives to retain talent in schools with greater need" to "Maintain vigilance by monitoring data to identify emerging gentrification patterns."
Only now has the EEAB been able to zero in on proposals and ideas, according to board members and city staff. Different subcommittees have taken over priorities — such as "trust" and "neighborhood choice," which are outlined in the master plan — with an estimated 35 to 40 citizens involved altogether.
Probably the board's most high-profile recommendation to date, members said, dealt with the renaming of Lee Plaza, a small park across from City Hall that commemorated Confederate Gen. Robert E. Lee.
Last summer, after hearing residents' feedback, the advisory board suggested the area be called either Star City Plaza or Henrietta Lacks Plaza, after the Roanoke native whose cells, used after her 1951 death, contributed to advancements in scientific research. City Council opted to name the west side after Lacks and the east half Freedom Plaza because of the War Memorial there.
Efforts are also underway to raise funds for a statue of Lacks at the plaza.
Yet the board's most visible accomplishments to date may have more to do with how residents access city resources.
A refresh last month of the city's website and a recent roll-out of access to non-English languages — available at city hall and by phone — can trace their way back to the board's advocacy.
"We've spent a lot of time looking at the city's website, saying how user-friendly is that if someone needs to get on to find some information? How many clicks does it take them to get to the information that they need?" said board member Angela Penn, an executive at the nonprofit Total Action for Progress.
While the city had plans to provide greater language access, board member William Lee said his group helped light a fire under the administration.
"My committee just kept this on the forefront, saying, 'Hey, we really need this done," Lee, a retired pastor, said. "The language piece was already there, but we was pressing to make sure that it got done in a timely fashion."
One of Penn's groups has focused on assembling a package of resources for residents in historically redlined neighborhoods. The New Deal-era policy dissuaded investment in Black and immigrant communities.
The EEAB has a formal process to submit recommendations to city staff and in September, Penn's group filed a recommendation calling on Roanoke to provide residents impacted by historical redlining with information on how to improve their lives. Such resources include contacts for housing counseling, down payment assistance and personal finance classes.
Recommendations to city staff and Council aren't expected to come in one grand proposal to improve equity, but in bits and pieces over time, board members say.
"When you work in this area of talking about diversity, equity, inclusion and justice, and restoration of trust, that's something that you're not going to … be able to say, 'Okay, well, we did that. And check the box," board member Patice Holland, an attorney, said. "It's something that's going to take time."
Challenges and opportunities
Some board members had hoped to accomplish more by the EEAB's two-year anniversary.
But many acknowledged they hadn't realized how daunting the work would be and have spent much of their time educating themselves — on everything from law enforcement to housing policy — and organizing their priorities.
"I think we all had an expectation that, you know, 'Oh, we can do this. In 12 months, we'll have so much done,'" Penn said. "I will tell you from my experience over the past two years, this is really heavy lifting. These are big tasks."
White-Boyd described one of the subcommittees — "breaking the cycle of poverty" as "struggling right now."
The group had planned to issue a survey to residents living in poor neighborhoods. Hollins University had initially agreed to help craft and carry out the survey but that plan fell through because of staff shortages, White-Boyd said. But she's hopeful Virginia Tech may be able to help in the future.
"We're not giving up on it because I think this survey is going to be key in breaking the cycle of poverty," she said. "It's easier for us to address the issue of poverty when we know what it is that people need. We cannot assume, and we cannot guess that."
Community involvement — both on some of the advisory board's subcommittees and at public meetings — has also proven a challenge.
City Council's law establishing the EEAB requires that the group hold public hearings four times per year. It hasn't been uncommon that nobody shows up to speak.
"I don't think they know who we are. I don't think they know what we're doing," White-Boyd said of the larger public.
In recent meetings, board members have decided to attach specific topics to the hearings and possibly hold them outside of City Hall, such as at neighborhood libraries. The EEAB is also working with the city's communications department on an awareness campaign that is expected to launch as early as next month.
"It's going to be a major blitz hitting every source of communication we can to let people know who we are and what we are about," Lee said.
Board members have also struggled at times with finding committed volunteers — particularly those who aren't the "usual suspects" involved in civic life. A lack of diversity is also a problem. Neither are unique to the EEAB, members say, but to city boards and commissions generally.
"I'm not being facetious or trying to even be funny: We need people of color," White-Boyd said. "We're comprised right now of older white people who are retired."
She estimated about 30 percent of those involved are people of color and about 70 percent are white.
"Fifty-fifty is not bad, but it needs to be the reverse," she said, "because a lot of the issues that we're talking about impact the Black and brown community."
Despite some of these hurdles, members received a boost of confidence last week when the interim city manager of Staunton met with Roanoke city staff to learn more about Roanoke's efforts. Staunton wants to create a similar board.
"They saw the benefit of what we were doing, and so I think that that in itself says a lot," White-Boyd said. "They see that what we're doing is making somewhat of a difference in our early stages."