Roanoke Heralds Completion of Long-Awaited Downtown Bus Station
Roanoke's $14-million downtown transit center has been four years in the making.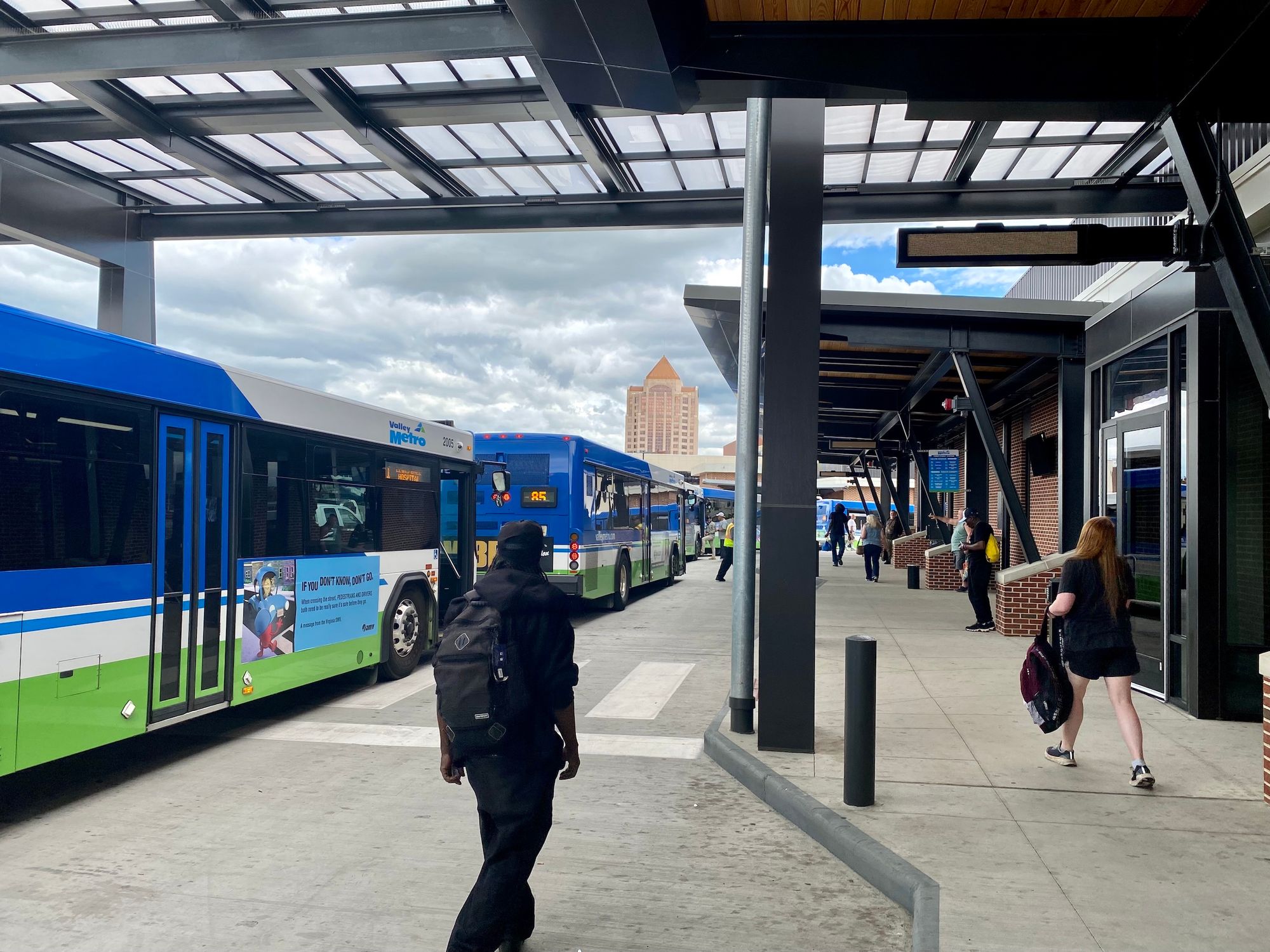 Roanoke will celebrate the grand opening of its $14-million transit center on Wednesday, part of a multi-pronged downtown development project that's been four years in the making.
Third Street Station is the new hub for all Valley Metro, Greyhound and Smart Way commuter buses.
Elected leaders and Valley Metro officials will hold a ribbon cutting at 11 a.m. today to acknowledge the final construction of the station's northern bus canopies, closest to the Virginia Museum of Transportation.
"It's an improvement for Roanoke," said Jimmy Cook, who takes the bus every weekday from his home in Hurt Park to work at the Roanoke Rescue Mission. "It's come a long way, and I think the word's going to get around once people start using it."
As with other city bus systems, Valley Metro ridership has not returned to pre-pandemic levels.
"This is an exciting time for public transportation in the Roanoke Valley," Kevin Price, general manager of Valley Metro, said in an email. He encouraged those curious about an alternative mode of transportation to give Valley Metro a try.
"The completion of Third Street Station presents a whole new experience to our current and future passengers," he wrote. "The new open-air bus slip design provides a modern, safer transit experience for all users of public transportation."
Back in January 2019, city leaders announced plans to build a new outdoor bus station on a parking lot at the corner of Third Street and Salem Avenue; give the former Campbell Court station to a developer to demolish and turn into apartments and shops; and renovate a downtown office building into an Amtrak station.
Campbell Court, which opened in 1987, was believed to have been the oldest operating bus station in Virginia. City leaders said the facility had outlived its useful life, and that the new downtown residences and commercial space would boost tax rolls.
"Today we celebrate the completion of a major milestone investment in the life of our city and the future of public transit: our new Third Street Station," Vice Mayor Joe Cobb, who chairs the Greater Roanoke Transit Company board of directors, said in prepared remarks. "This brand new facility incorporates state-of-the-art technology providing real time service, full accessibility, and a connecting hub for transit access throughout our city and community."
Bus riders have used the still-under-construction station since the fall, and a temporary, gravel-strewn station since the spring of 2022 before that. At the finished station, each city bus has its own dedicated slip, meaning they will no longer idle along Campbell Avenue.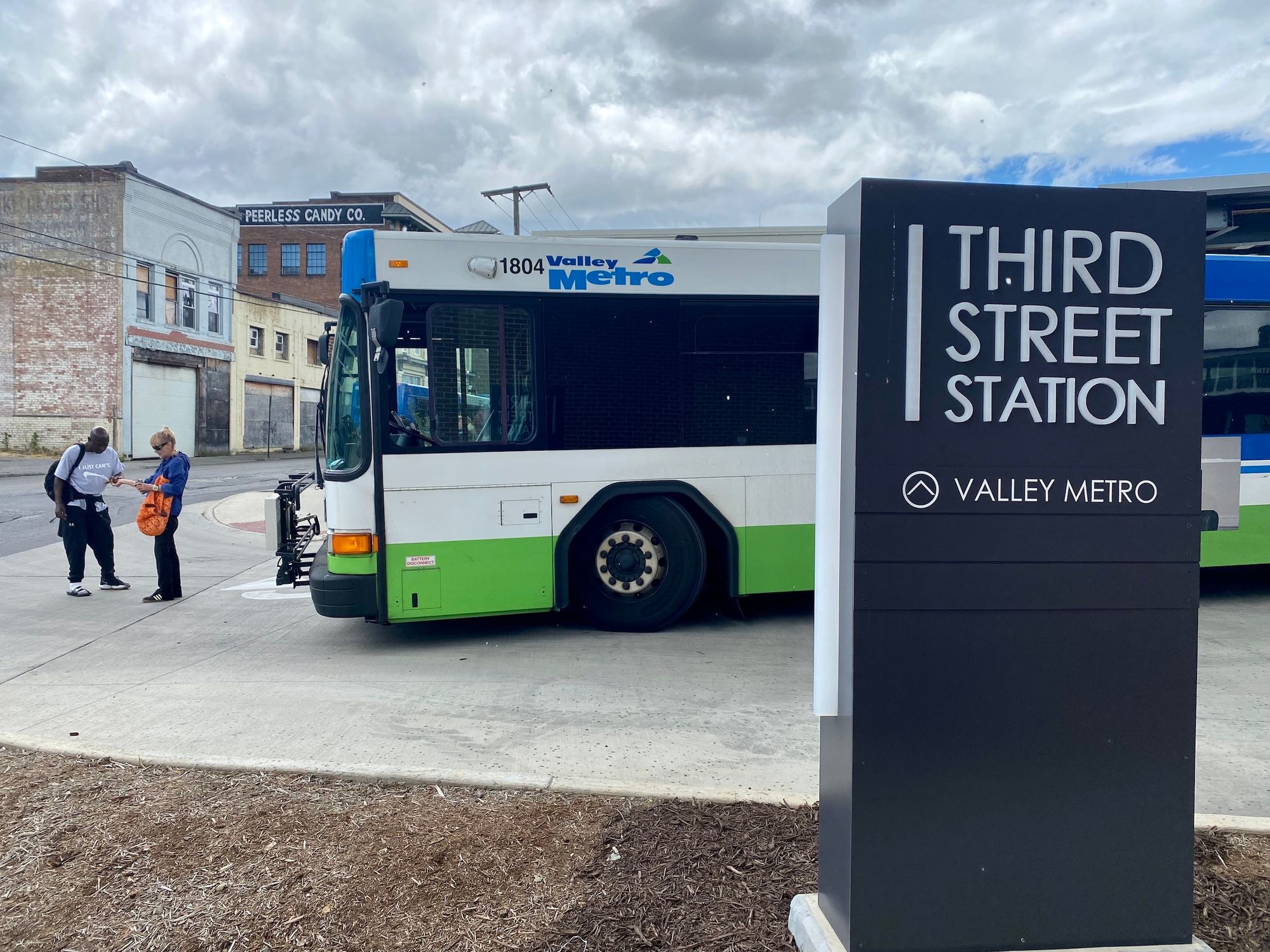 The transit center also includes a standalone building initially envisioned for Greyhound Bus Lines. The Rambler reported in March that the company had pulled out from leasing and staffing the facility. Greyhound buses will still pick up and drop off passengers from a slip there.
"Greyhound's plans to occupy the permanent facility at Third Street Station [have] remained uncertain for the duration of the construction phase of Third Street Station," Price wrote members of the Greater Roanoke Transit Company board of directors in an April 17 email he provided to The Rambler. "The COVID-19 pandemic forced Greyhound to revisit its service model and convert many full service locations to 'Bus Stop Only'. Bus Stop Only means intercity bus service as provided by Greyhound remains available as scheduled, but no additional amenities such as ticket purchases, baggage handling, indoor passenger waiting area, and restrooms are available."
Price said the Greyhound station, now referred to as "Building #2," will be a waiting area, staffed by Valley Metro, for Greyhound and Smart Way passengers. It will also serve as a "Valley Metro Enhanced Customer Service Center," where riders can buy tickets, obtain identification cards for reduced fares and do in-take for a transit service designed for people with disabilities.
More than 90 percent of the transit center costs came from federal and state money, Price has said. Roanoke-based architecture firm Spectrum Design and construction company MB Contractors were paid $13.68 million as of February, according to city records.
Part of the construction costs included more than $600,000 in removing truckloads of soil from the site contaminated with chemicals from crude oil called "Total petroleum hydrocarbons."
The property's contamination came from "gasoline/diesel product exposure over the several decades prior to GRTC ownership," Price said in an email. "The material could not be re-used on-site and was taken to a regulated landfill that could accept it."
The transit center had a long road to completion.
Initially, the bus station faced resistance from some developers in Roanoke's trendy west downtown area. Property owners said a bus station was out of character for the neighborhood and would increase loitering and crime.
In August 2020, the city's own Board of Zoning Appeals denied in a 5-2 vote the city's request for a special permit to operate the bus station on the parking lot site. That decision led the Planning Commission and City Council a few months later to change Roanoke's zoning code to allow for the station to be built outright.
Support local, independent journalism and don't miss a single story!
Become a member