Roanoke Mayor Voted To Parole Inmate Whose 2020 Release Spurred Investigations, Outrage
The news about Martin's release prompted "a lot of adverse sentiment" including from "my chief police officer," Lea said, according to records.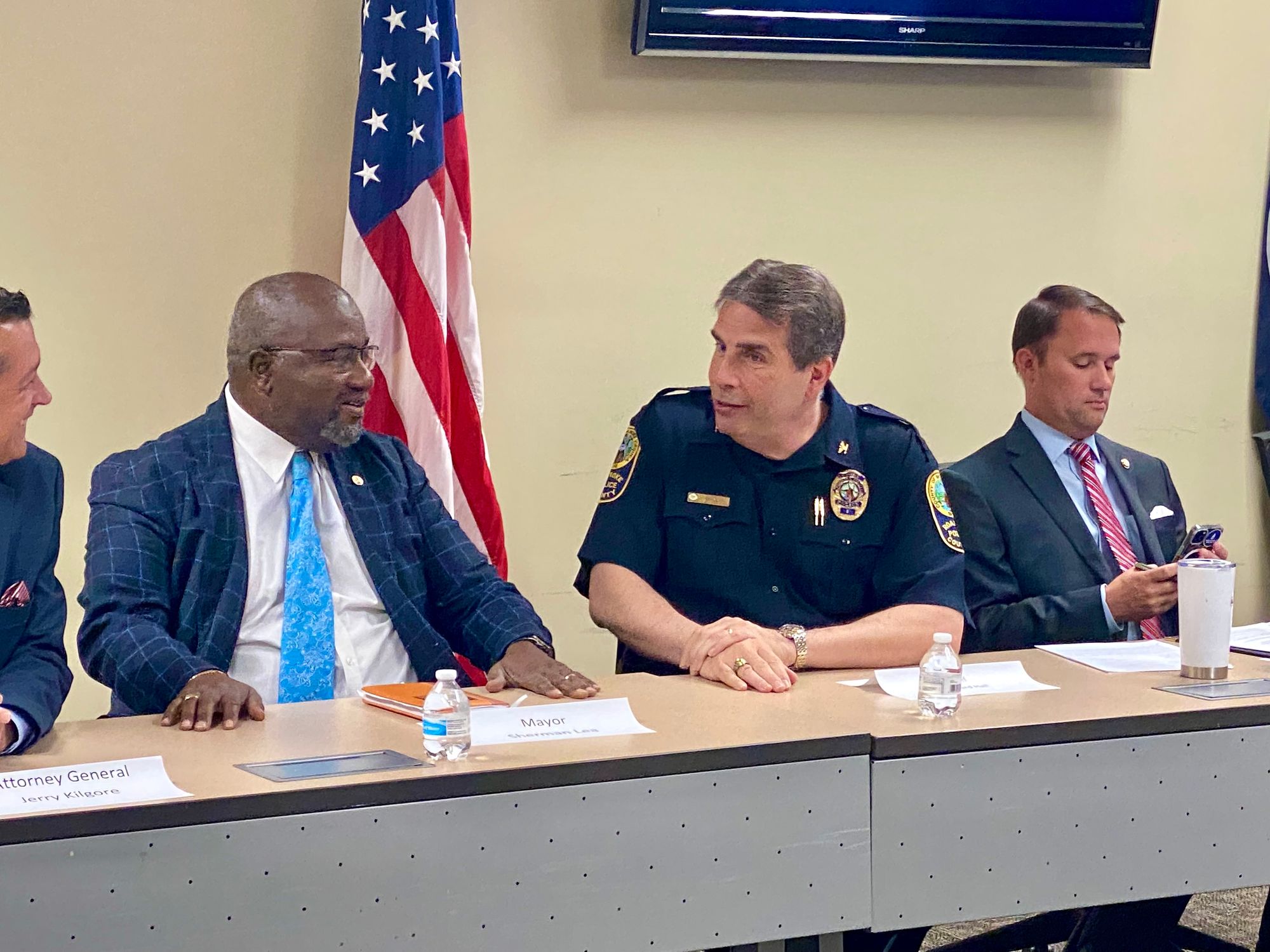 Roanoke Mayor Sherman Lea voted in April 2020 as a member of the Virginia Parole Board to grant parole to Vincent Martin, who was convicted of killing a Richmond police officer in 1979, according to records obtained by The Rambler.
The decision was the focus of an inspector general's investigation into how the board operated and sparked outrage among the officer's family, law enforcement and conservative politicians.
That July 2020 report — which prompted subsequent investigations that alternately downplayed and buttressed its findings — determined the board violated the law and its own policies in releasing Martin without properly notifying prosecutors and the victim's family. Lea personally has not been found of any wrongdoing.
Locally, the issue emerged in the 2020 mayoral race between Lea, a Democrat, and former mayor David Bowers, an independent, who claimed Lea approved Martin's release from prison. Lea has remained silent about whether he was involved in the parole board's decision, saying he could not discuss the issue because of litigation.
At the time, there were five members of the board and a requisite four voted to grant Martin parole, with the fifth person's position unknown.
Lea was one of those four — a fact first reported here — according to transcripts of interviews between Lea and investigators. The Rambler obtained those documents recently from the Attorney General's Office through a public records request.
The news about Martin's release prompted "a lot of adverse sentiment" from "local police officers, including "my chief police officer," Lea told an investigator from Attorney General Jason Miyares's office in September. (Chief Sam Roman did not respond to emails from The Rambler seeking comment, while a police spokeswoman said she was not privy to any such conversation.)
Some officers expressed in a 2021 police association survey that they do not feel Roanoke City Council supports them. In recent months, Lea has sought to burnish his tough-on-crime credentials by advocating for stop-and-frisk policies, floating the idea for a stricter youth curfew, and joining Council colleagues in calling on Virginia to roll back recent criminal justice reforms. In October, Lea appeared alongside Republican Gov. Glenn Youngkin in Norfolk, where the governor announced a plan to boost police recruitment and retention.
Before first being elected mayor in 2016, Lea worked for 36 years at the Virginia Department of Corrections helping people reenter society after incarceration. In 2014, Gov. Terry McAuliffe appointed Lea to the parole board, where he served until resigning at the end of his term in 2021, when Youngkin replaced his Democratic predecessor's picks with his own.
Lea told investigators Martin had received good marks for behavior during his nearly 40 years in prison.
"The warden's [sic] had given him a good review," Lea said, according to the transcript. "[A]t that point that's when I decided after that period of time that we're going to go ahead and I've decided that I'm going to go ahead and grant him parole."
Brandon Wrobleski, a special assistant to the Attorney General for investigations, asked Lea if he stood by his decision.
"He's done all the things we've asked him to," when it comes to parole criteria, Lea said.
Virginia abolished parole in 1995, but inmates can be eligible for parole if the crime happened before then. The parole board considers the crime committed, length of time served, record of behavior in prison and risk to the community if released, among other factors.
"We have spent years researching this case and reviewing the facts and stand firmly behind our decision to grant his release," then-board chair Adrianne Bennett wrote in an April 2020 statement responding to criticism about the Martin decision. The press release said Martin had "demonstrated himself over the decades to be a trusted leader, peacemaker, mediator and mentor in the correctional community."
Several Democratic lawmakers dismissed investigations into the parole board as politically motivated and said Republicans were opposed to parole in general.
Republicans said the alleged actions by Bennett — which included falsifying records — raised alarms about systemic problems about how the board operated.
The General Assembly has pushed to bring more transparency to the board. Last year, a bill championed by state Sen. David Suetterlein, R-Roanoke County, made parole board votes a matter of public record. A bill that passed this year would require the board to hold public hearings and publish more frequent and detailed reports on its decisions.
Miyares's investigation into the parole board followed a probe by Nixon Peabody — a law firm picked by General Assembly leaders, Northam and then-Attorney General Mark Herring — which concluded the inspector general's report was biased. In a May 2021 interview with Lea, Nixon Peabody lawyers asked Lea if he thought the inspector general's report was fair.
"I think it was a real shot rush to judgment," Lea said, according to records that give bullet points rather than a complete transcript. "I think it should have been more thorough in evaluating the role of the VPB [Virginia Parole Board] and the chairman and putting those things together."
Lea did acknowledge that parole board staff should have done a better job of notifying prosecutors and victims' families, omissions he said he was unaware of at the time.
"Maybe our support staff didn't notify the Commonwealth's Attorney," a bullet point with Lea's interview with Nixon Peabody read. "They don't want anything to do with us anyway."
Support local, independent journalism and don't miss a single story!
Become a member