Why Danville Police Chief Scott Booth Wants To Become Roanoke's Next Top Cop
Booth is a finalist for the position vacant since former chief Sam Roman became an assistant city manager in July.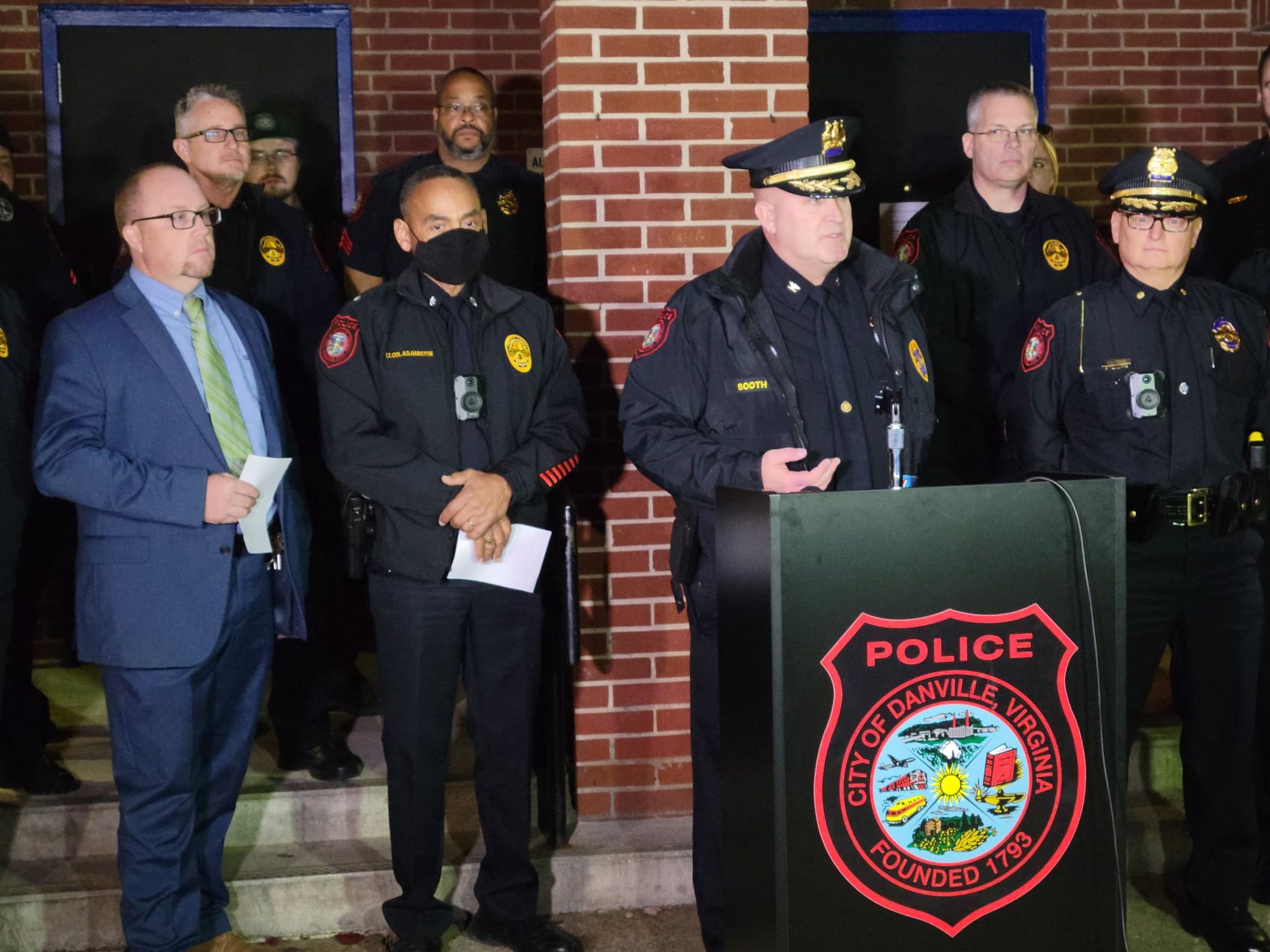 Roanoke seeks to poach Danville's police chief, widely credited with reducing crime there, to lead the city's department.
Scott Booth is the top finalist for the position of chief, left vacant after former chief Sam Roman became an assistant city manager in July, the city announced Monday.
There will be a public meet-and-greet today (Wednesday) from 6 to 7:30 p.m. with Booth at Berglund Hall (710 Williamson Rd., Roanoke). It's the final stage before the city manager is expected to extend a formal offer by next month.
City officials touted Booth's leadership in Danville — which went from having "the highest per capita violent crime rate in 2017 to a 35-year low in all crime in 2020" — with helping reduce gun and gang violence in the city of about 42,000 residents.
"I think we have turned the corner on the narrative in Danville," Booth, 52, said Tuesday in an interview with The Rambler. "And Roanoke has really become kind of the epicenter in Western Virginia, as far as the perception is, and statistics show, that they are suffering from an increase in violent crime, increase in homicides, a community that has been adversely impacted by gun violence. And overwhelmingly, I have a passion to work with the community to reduce that gun violence."
Booth became Danville's police chief in 2018 after serving for nearly two decades at Richmond's police department, where he left with the position of major, equivalent to an assistant chief, according to a copy of his resume released by the city.
After Booth left Richmond in 2015, he served for two years as chief of police of the Metropolitan Washington Airports Authority and then a year in Charlotte, North Carolina as deputy federal security director with the U.S. Department of Homeland Security.
Booth was actually born in Roanoke but left when he was about a year old, he said; his mother worked at a downtown bank while his father was finishing a degree at Virginia Tech.
Booth's name has popped up in nationwide police chief searches. He was a finalist last September to be chief in Aurora, Colorado before withdrawing his name, according to media reports. Early this year, he was a finalist to lead the police department in Winston-Salem, North Carolina.
"With Roanoke, the fact that it's a Southern city rich in history … most of all, the fact that it has experienced an increase in gun violence over the last several years," Booth said when asked what attracted him to Roanoke's job posting. "And much like when I came to Danville in 2018, me as the chief, I feel that my primary obligation to a community is reducing crime. And we reduced crime through focused policing and community engagement."
City Manager Bob Cowell, who hires the police chief, said he is looking for someone to build upon the department's emphasis on crime prevention, intervention and enforcement.
"Residents and business owners in Roanoke have clearly stated that the City's next Chief of Police must have a proven record of community engagement, strong leadership, and reducing crime," Cowell said in a city press release. "Chief Booth possesses all this and more."
Ken Larking, the city manager of Danville, credited Booth with reducing crime there.
"It's not surprising to me that other cities are interested in recruiting Chief Booth to lead their Police Departments," Larking said in an email. "In the past five years, under his leadership, Danville has had great success implementing his community policing model, which has made our community much safer."
Rates of violent crime — which Virginia State Police data count as homicides, aggravated assaults and robberies — fell in Danville from 160 to 93 per 100,000 people between 2018 and 2022, according to VSP data analyzed by The Rambler. Over that same timeframe, the violent crime rate in Roanoke increased from 129 to 162, per 100,000 people, the data show.
Aggravated assaults, which can include shootings, decreased from 122 to 86 in Danville over that time period. In Roanoke, the number went from 271 to 371, the data show.
Booth credited the crime reduction in Danville with the implementation of a community-centered policing model, which built trust with residents and targeted violent offenders.
He also mentioned the contribution of federal prosecutors, whose actions under Project Safe Neighborhoods led to the 2018 arrests of 18 suspected gang members on racketeering charges.
Mayor Sherman Lea said he did not know Booth, but credited Danville with its crime reduction. Still, the mayor said he hoped Roanoke's next police chief would have come from a larger urban area.
"Danville is basically a small town, for the most part," said Lea, who grew up outside Danville. "I would hope that we would find an applicant from an urban area similar to Roanoke or bigger."
Vice Mayor Joe Cobb, who chairs the city's Gun Violence Prevention Commission, said Booth has prioritized community engagement and outreach, which Booth could build upon in Roanoke.
"If he is ultimately selected, I think he brings a good skill set here," Cobb said. "In order for any of this work to be effective, it's got to be collaborative."
Cobb said he has been pleased with recent community forums that the police department has held around the city to hear residents' concerns. He added that interim police chief Jerry Stokes's presence at commission meetings has been helpful in information sharing.
Booth said something he thinks is "somewhat missing" currently in Roanoke is the regular practice of translating data about where crimes are occurring — that officers, detectives and supervisors have at their fingertips — into actionable solutions.
Part of that comes from breaking down silos both within the police department and between the police and residents, he said.
"If I were to come to Roanoke as chief, we will continue to build on those models, and really double down on community engagement," Booth said. "As the chief, you have to do more than just talk the talk. You have to walk the walk. And I believe that is something that we've been able to do here."
Support local, independent journalism and don't miss a single story!
Become a member