These 3 Maps Show Where Roanoke's City Council Candidates Were Most Popular
Thanks to a new law, voters, politicians and others can pinpoint how well candidates fared across Roanoke's diverse neighborhoods.
While Republican Nick Hagen failed to win a seat on Roanoke City Council this month, he was voters' top choice across six of the city's 20 precincts.
And though Democrat Peter Volosin edged out Hagen, Volosin fell short of clinching first or second in any precinct.
That's among the findings in data released last week showing where candidates were most popular across Roanoke. Nine candidates ran for three regular Council seats in the Nov. 8 election.
A state law this year championed by Sen. David Suetterlein, R-Roanoke County, requires the Department of Elections to track early votes back to those residents' precincts.
Previously, the public couldn't get a full picture of thousands of ballots cast early in the 2020 and 2021 elections. The General Assembly had greatly expanded early voting during the pandemic, but ballots cast early in person or by mail wound up in generalized absentee precinct buckets.
Now, voters, politicians and other researchers can pinpoint how well candidates actually fared across Roanoke's diverse neighborhoods.
The maps below show which candidates made voters' top three among Roanoke's 20 precinct. Among the data's findings:
Councilman Joe Cobb, a Democrat, performed well in some Republican-friendly neighborhoods in Southwest Roanoke, which tend to have a higher percentage of white and high-income residents. In the Deyerle precinct, Cobb was sandwiched between Hagen and Republican Dalton Baugess. In tony South Roanoke, he came first, followed by Baugess and Hagen.
Hagen, who espoused more Libertarian views, outperformed his Republican ticket mates across the board. He also emerged in the top three among precincts popular with Cobb and Councilwoman Vivian Sanchez-Jones. Hagen came third in Williamson Road after the incumbents and second in far Northwest's Summit Hills precinct.
While Volosin was elected to Council with the third-highest number of votes citywide, he actually failed to take first or second place in any precinct. Instead, he received a large number of votes in populous Southwest Roanoke precincts.
Independent Jamaal Jackson placed third in three Northwest precincts, while independent Preston Tyler took third in the Lincoln Terrace precinct. Only former mayor David Bowers, running as an independent, failed to make the top three in any precinct.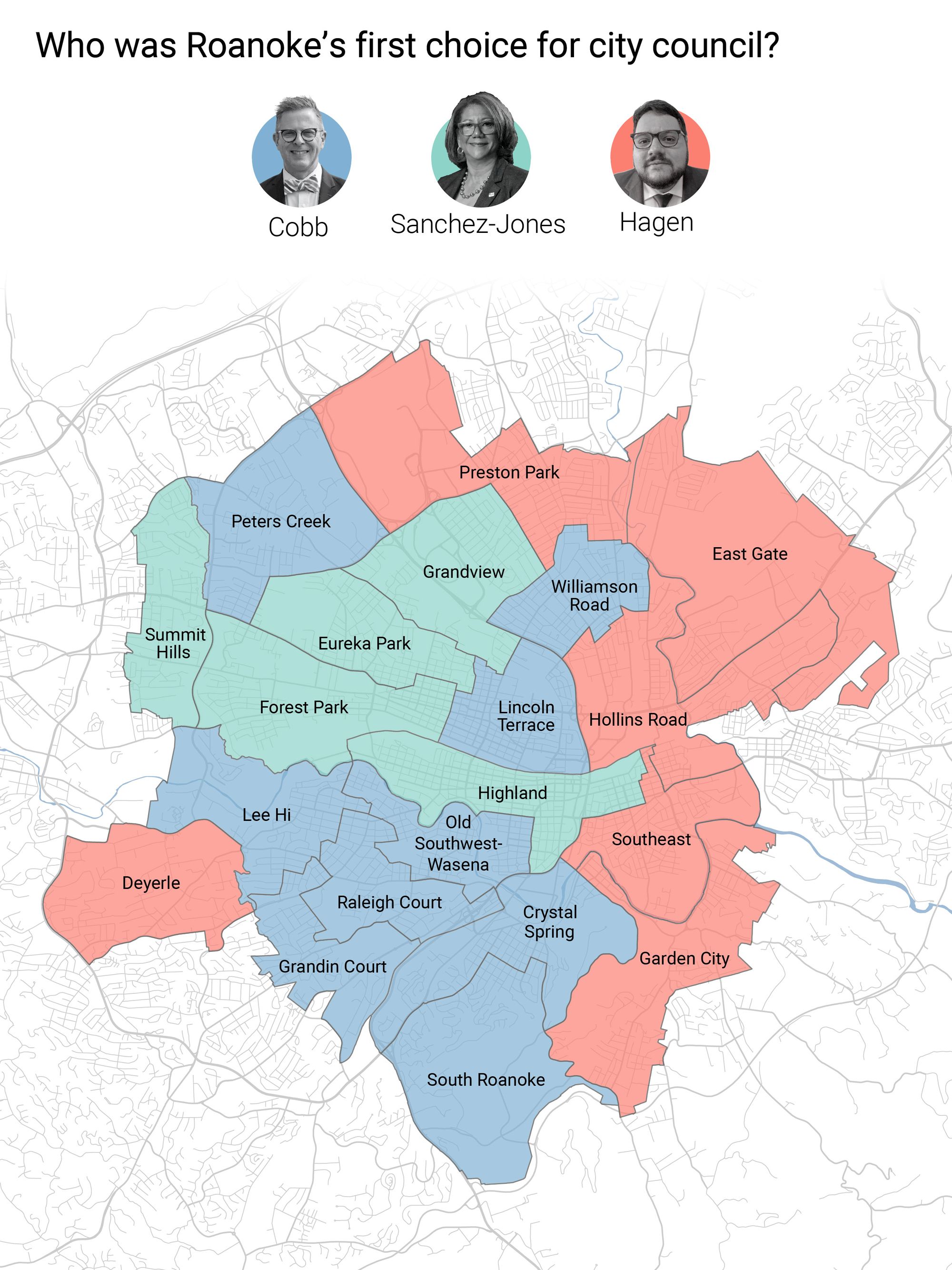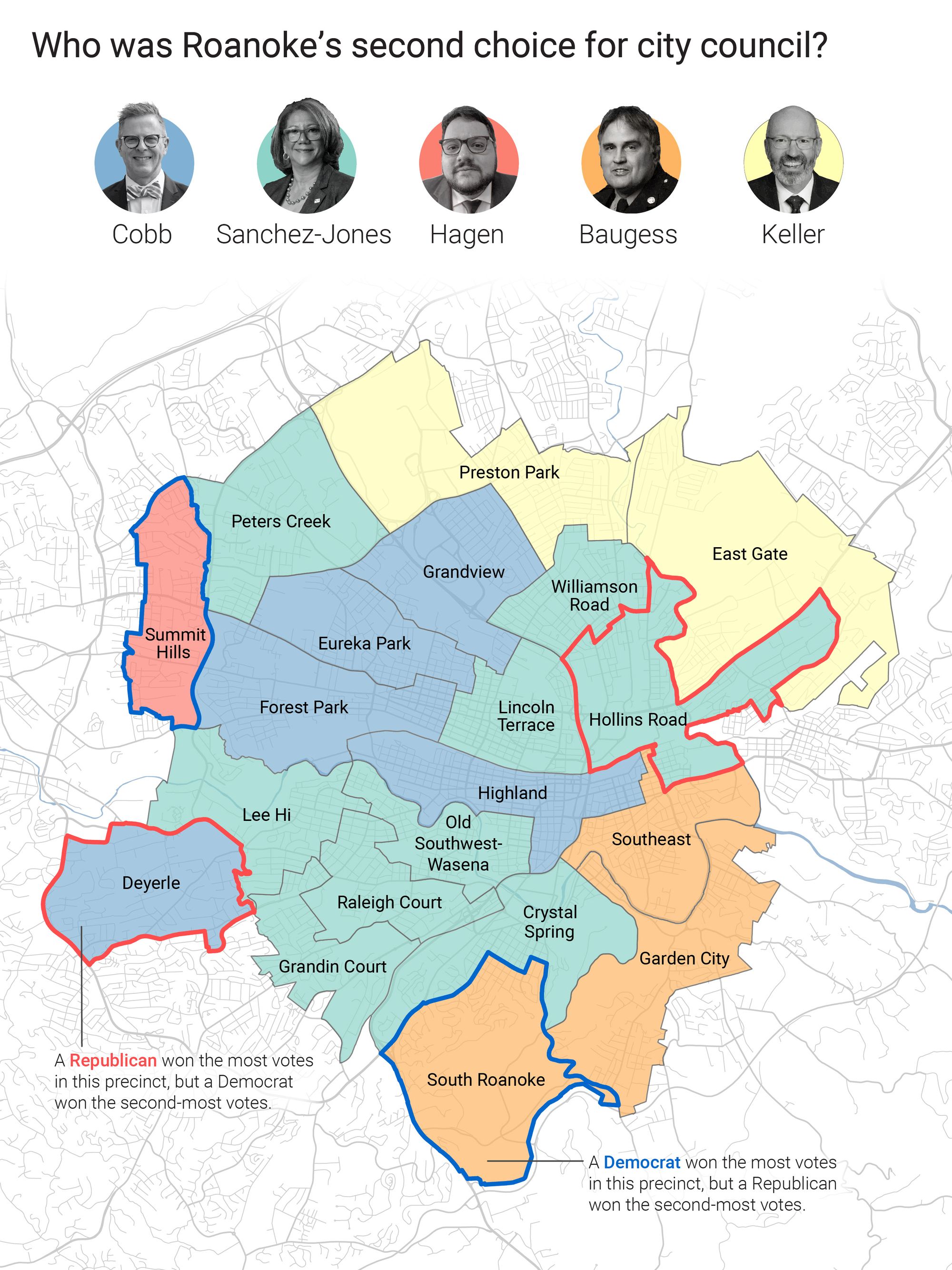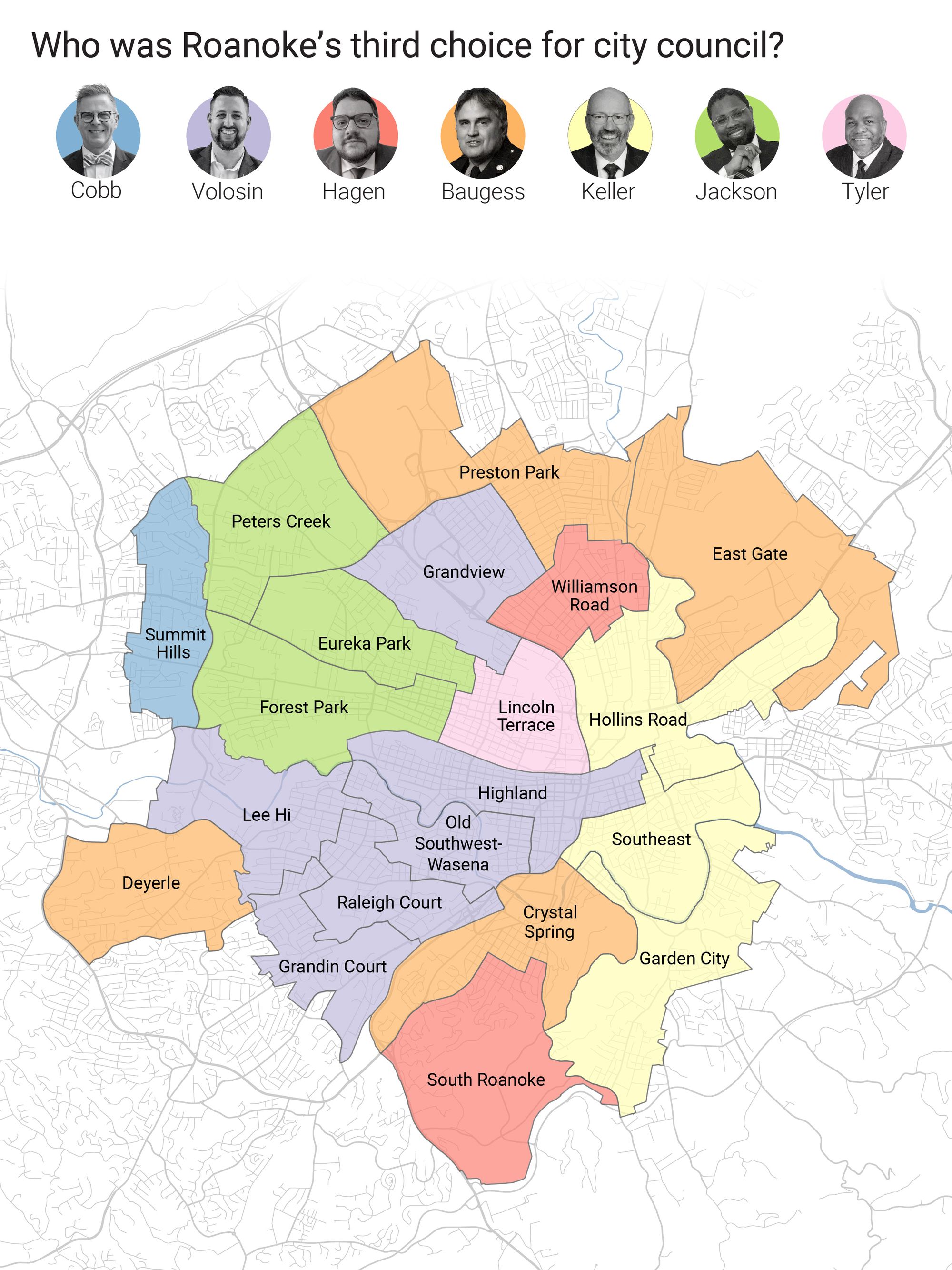 Support local, independent journalism and don't miss a single story!
Become a member