War on Retail? Radical Bookseller Opens Brick-and-Mortar in Roanoke
The pop-up bookstore trading in radical literature has opened a permanent shop in Roanoke's trendy west downtown area.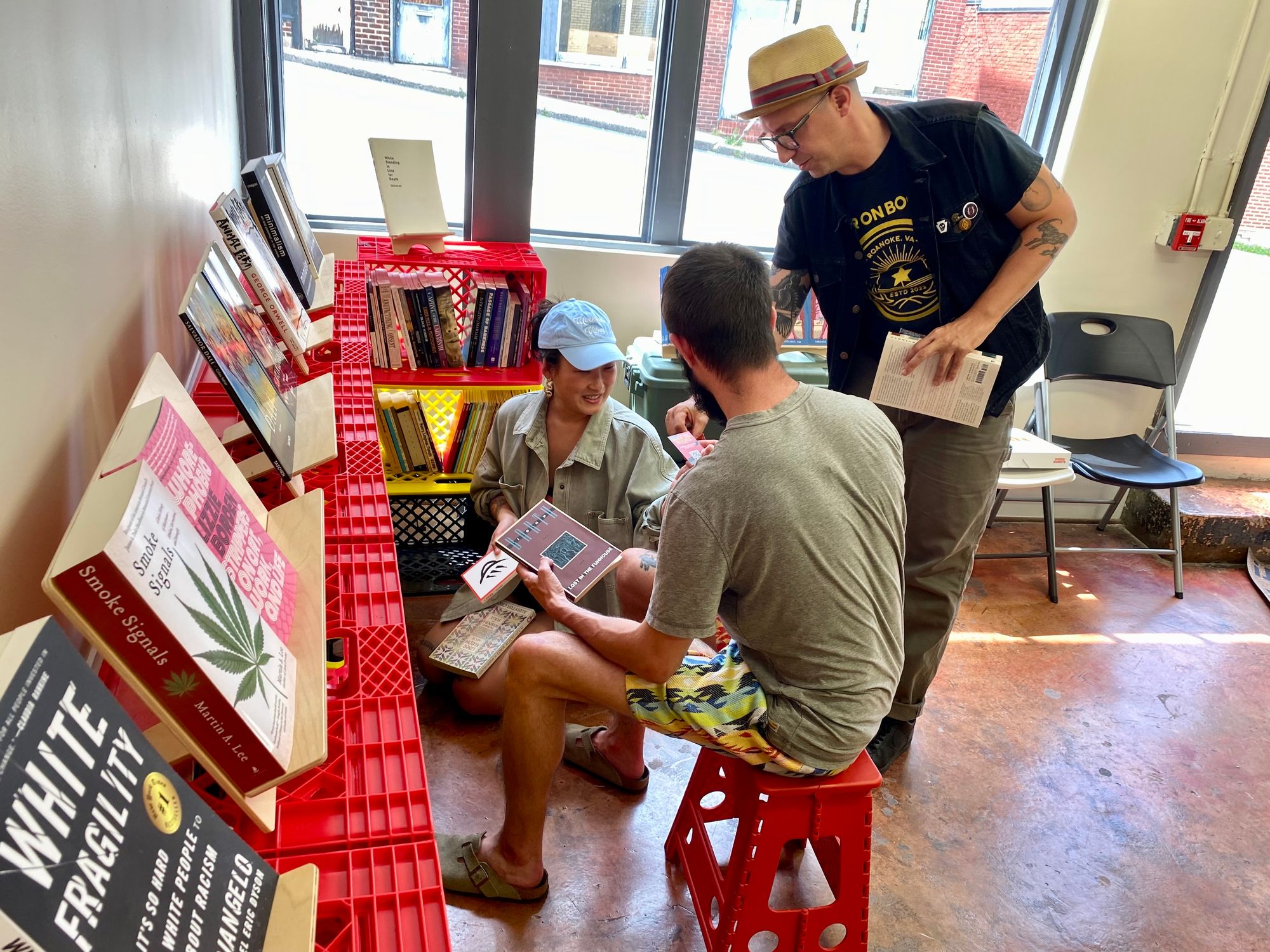 Roanoke's War on Books has come for the retail store.
The pop-up bookstore trading in radical literature opened a brick-and-mortar on Friday in the city's trendy west downtown area.
Proprietor Angelo Colavita and Isobel O'Hare founded the mobile venture a little over a year ago. (The couple has since separated.) Specializing in subversive nonfiction, poetry and counterculture fiction, War on Books has appeared frequently at makers markets across the city.
While Colavita says he'll still do pop-ups, War on Books now has a permanent home with regular hours. The roughly 300-square-foot storefront is situated on the steep incline of Fifth Street below the Roanoke Diversity Center, at 425 Campbell Ave. SW, B4.
"I think this is the perfect location, the half-underground bookstore, being super cool. It gets cool points," Colavita said. "That's a lot of what's carried War on Books, too. It's like, we're not a boring, stuffy bookstore."
On the soft opening day, patrons browsed "Lost in the Funhouse,"  a short story collection by John Barth, and perused "The Anarchist Cookbook,"  the 1971 classic on how to manufacture explosives. Titles about critical race theory, the history of cannabis and sex work lined the shelves, which are made up of red, yellow and black plastic crates.
Matthew Patterson, who was walking his dog Daisy, peered into the shop and inquired about the stock.
"It's mostly political stuff, but there's stuff in all categories," Colavita said, "like sports and music, stuff on pot, strippers, poetry."
Patterson expressed enthusiasm, pointing to a book on "anti-capitalism" and remarking how all political systems and theories — capitalism, communism, Marxism — have failed up to now. Colavita seemed unconvinced.
"We can talk about that," he murmured. "I don't know that Communism ever got a chance."
Brick-and-mortar was always part of the plan for War on Books. Colavita and O'Hare had also started fundraising for a van so the shop could more easily bring its wares to a wider audience. With fewer pop-ups, van money has instead been put toward the permanent shop, Colavita said.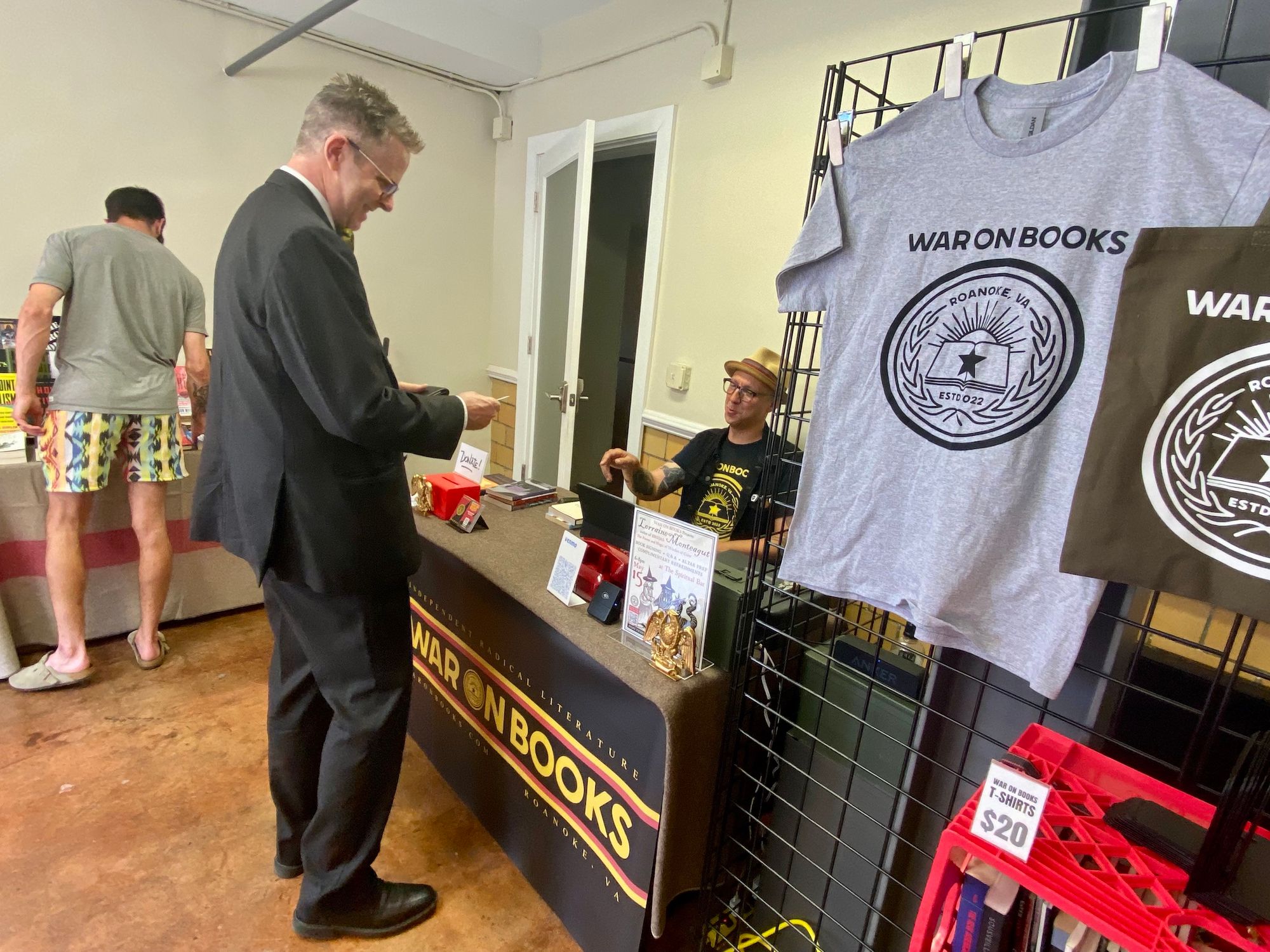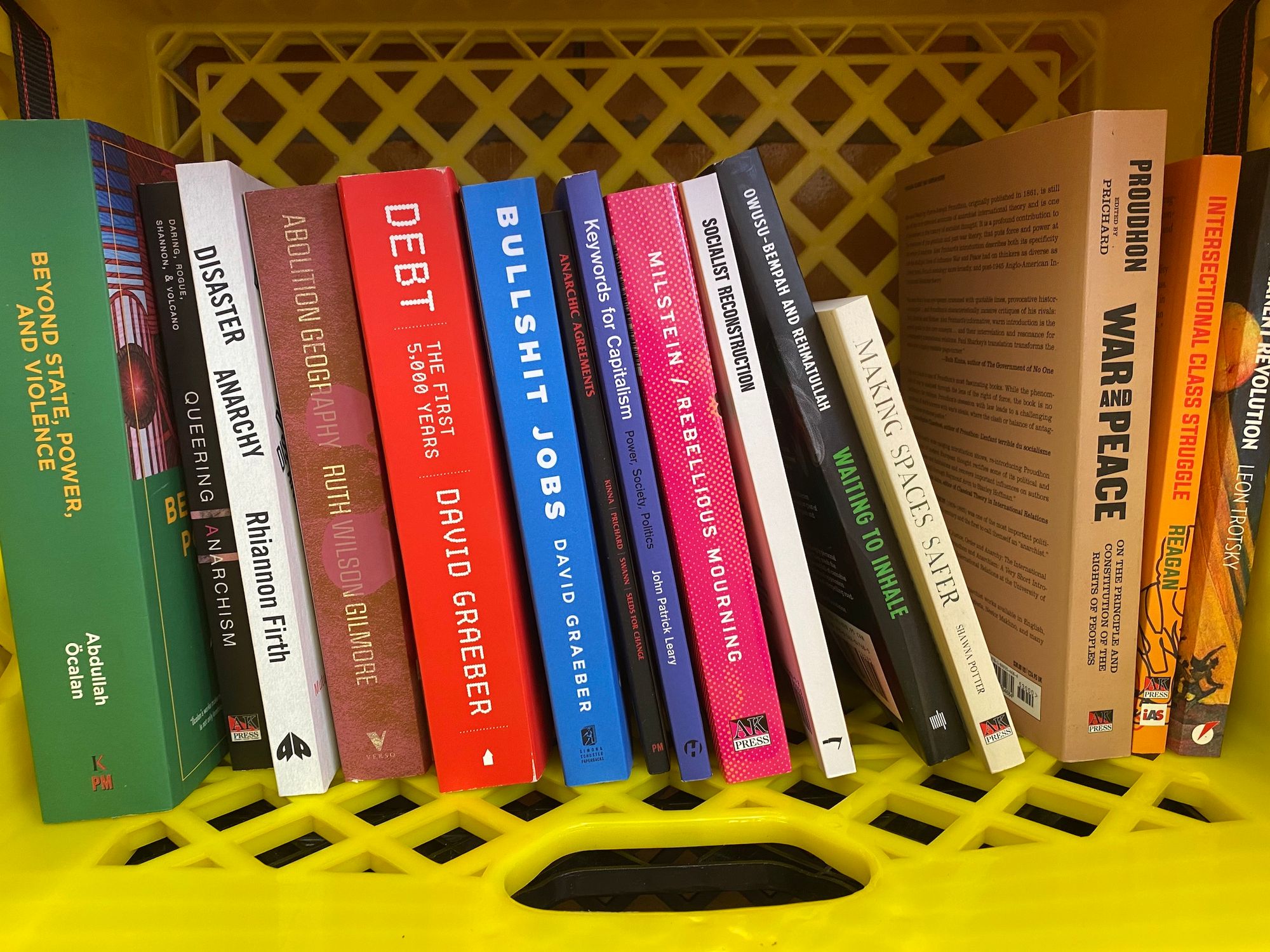 Around December, Colavita looked at the space on Fifth, which previously housed part of Star City Styles, a barbershop and spa that moved down the alley. He said the storefront was affordable and that War on Books would fit in well with the smattering of breweries and other hipster haunts nearby.
"This is the cool neighborhood," Colavita said. "I've seen the way things are changing in this neighborhood were similar to the way things I watched change in West Philly when I lived in West Philly. Same kind of neighborhood, same kind of people, you know, kind of left [politically], super queer-friendly, all this stuff. You know, same kinds of buildings are abandoned and filling in."
War on Books shares a space next to the storefront with the adjacent Diversity Center, Roanoke's LGBTQ community center. That area will host the bookstore's book clubs as well as writing workshops.
The hours for War on Books are noon to 8 p.m. Tuesday, Wednesday, Friday and Saturday.
---
Correction (5/17/23) — The shop lies in the west part of downtown Roanoke. A previous version gave an incorrect neighborhood. We regret the error.
Support local, independent journalism and don't miss a single story!
Become a member