After Audit, Roanoke City Council Scrutinizes Gun Violence Panel Membership
The mayor says he wants to see more citizens with a law enforcement background serve on the commission.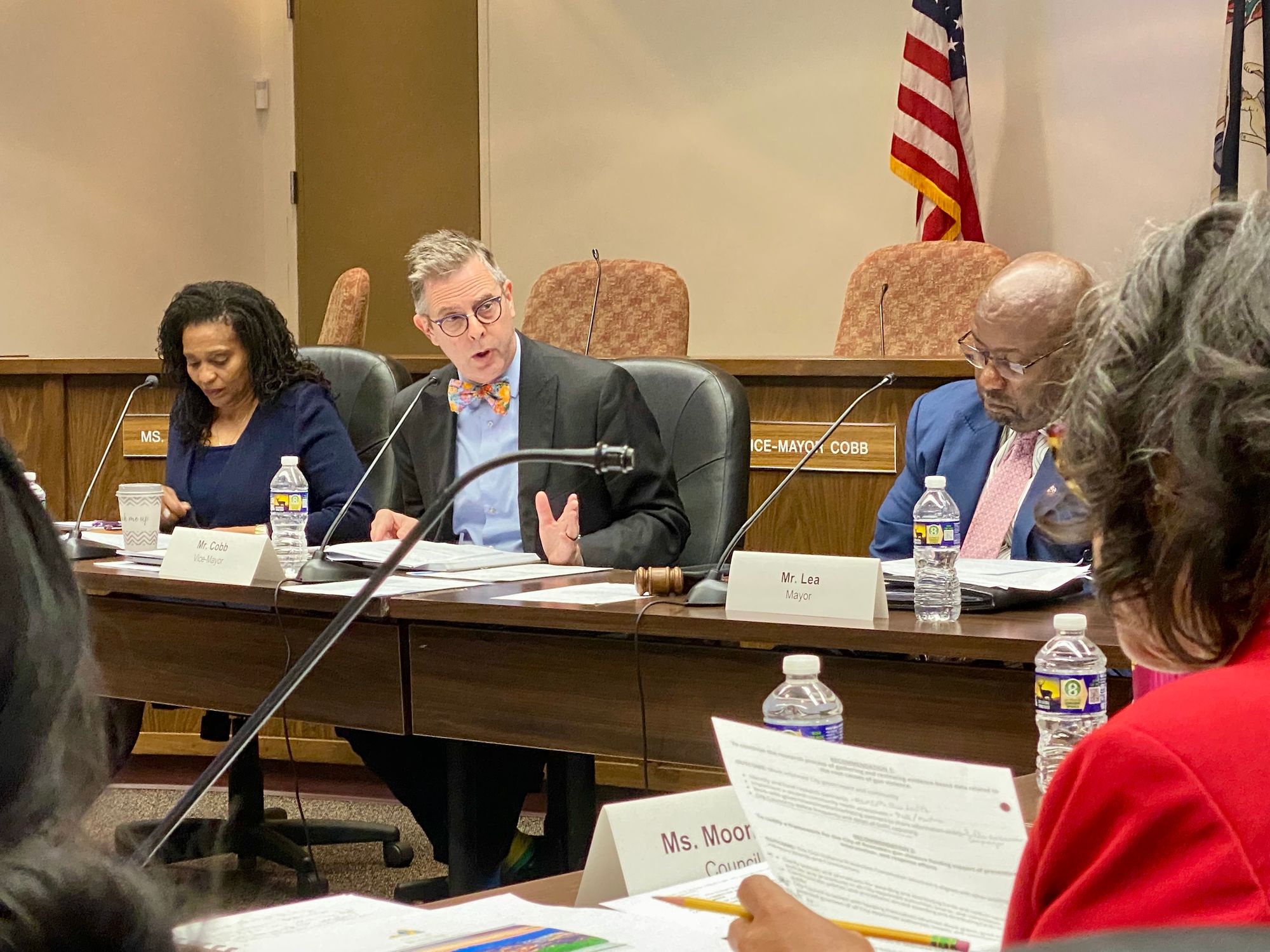 Bad blood between Roanoke City Council and its Gun Violence Prevention Commission has bubbled up again as Council deepens its scrutiny of the citizen board's makeup.
Following an audit that found flaws in how the city tracked spending on violence-reduction programs, Council last week requested to meet with commissioners soon to talk about who should serve on the volunteer advisory board.
Mayor Sherman Lea and Councilwoman Stephanie Moon Reynolds, in particular, have questioned whether the commission should retain its Council representative. Waiting until the audit was complete, Council had delayed formally reappointing Vice Mayor Joe Cobb, who chairs the commission and whose term technically expired at the end of December.
The mayor has also said he wants to see more citizens with a law enforcement background serve on the commission — even gauging the interest of a probation and parole official in July, despite a lack of current vacancies on the commission, according to city records.
And Moon Reynolds last week pushed for only city residents to serve on the nine-person commission, which is currently made up of four members who live outside of city limits.
"The process, in terms of choosing members of the gun violence commission itself, you know, that's been a couple of years there," Lea said. "Maybe we need new eyes or whatever."
Three-year terms for three of the commission's members — Tim Harvey, Nicole Ross and Rabbi Kathy Cohen — expire in March.
The mayor has not been shy about advocating for new members on the board.
On July 7 — the same day the audit was published online — Lea met with Cynthia Hughes, chief probation and parole officer for a district including Roanoke, Roanoke County and Salem, according to city records.
A meal expense report for Lea states, "Longhorn Steakhouse lunch with Cynthia Hughes to discuss her becoming a member of the Gun Violence Committee."
Elsewhere, city records described the July meeting differently: "Mayor Lea had lunch in Roanoke with Cynthia Hughes to discuss the Lea Youth Outdoor Basketball League."
Hughes, who lives in Franklin County, said she told Lea she would be interested in serving on the commission.
"I think we're all, you know, caught in this fight together," Hughes said. "And I just think it would be a benefit for probation to be a part of that."
In an interview, Lea said he believes Hughes could be an asset. He also suggested he is open to both expanding the commission from its current nine members and with replacing current members when their terms are due.
"I think a little bit of both maybe," the mayor said.
In addition to Hughes, Lea said he had talked with a gang specialist in the parole office about serving, and mentioned a former Roanoke police officer could make a good addition to the board.
"You've got a lot of ministers," Lea said. "I know they mean good will, but maybe we need to think about that going forward, in terms of bringing on more people with a background in criminal justice."
Lea also said a full Council discussion would guide Cobb's role on the commission. He described his desire for more of a "liaison" to the board, "but not in a chairman or vice chairman" capacity. The mayor noted other Council-appointed boards don't have Council members in such a role.
Cohen said she believes a Council representative is important to the group's work and that she strongly supports Cobb.
"All current members of the Commission are dedicated and passionate about the work," Cohen said in an email. "When there are members who choose to rotate off the Commission, that would be an appropriate time to discuss who would be appropriate replacements."
In an interview, Cobb described commissioners' commitment level as "extraordinary." Attendance at meetings is high, he said, and there have been no turnovers since commissioners were appointed in 2021. One member is a former law enforcement officer, and interim Police Chief Jerry Stokes has attended each monthly meeting, he noted.
"I keep hearing that Council wants more involvement, but what is that involvement in terms of ideas or priorities?" Cobb said.
Council's discussion about the board's membership marked the first time since the audit was released in July. Most of its scrutiny revolved around how city staff monitored how outside nonprofits and churches spent about $500,000 in grants recommended by the commission. City leaders rejected some of the auditor's findings that proper procedures weren't followed.
Commissioners wrote in a Sept. 6 letter to Council that the city's audit found "no evidence of any illegal activity, fraud, waste, or abuse" and that it contained "good feedback and recommendations on how to improve our work."
But the commission took issue with the audit's omission that it had begun to improve its processes and with the lack of transparency in how Council ordered the audit in the first place.
"We were also disappointed in what we perceived as City Council's questioning of our integrity as a Commission, presuming we had done something wrong or improper," commissioners wrote.
Councilwoman Trish White-Boyd, who chairs the city's audit committee, pushed back on the commission's characterization.
"I personally did not question the gun violence [prevention commission's] integrity," White-Boyd said during a Council meeting last week. "I thought that there were a lot of questions that needed to be answered and therefore we needed an audit, and that's just a personal opinion. I'm glad we had the audit. We learned a lot from that process and have tremendously improved it."
Last week — five months after the commission approved the plan — Council adopted city code changes that provide more oversight on the commission's spending recommendations.
In line with advisory boards for human services and the arts, city funding recommendations by the Gun Violence Prevention Commission will now go before Council for final approval.
Despite unanimous approval for those changes, Council members want more clarity.
"I still have concerns … because Council has not had the opportunity to discuss the purpose of the commission," Moon Reynolds said. "I still think that discussion still needs to occur."
"I would agree with that," White-Boyd said.
"We need to stop kicking this can down the road," Cobb said. "Let's have the questions and conversation now."
Support local, independent journalism and don't miss a single story!
Become a member