Carilion Clinic Moves Planned Cancer Care Center Closer To Biomedical Research Labs
Carilion did not make a public announcement about the move, but made it clear in planning documents filed this month with the city.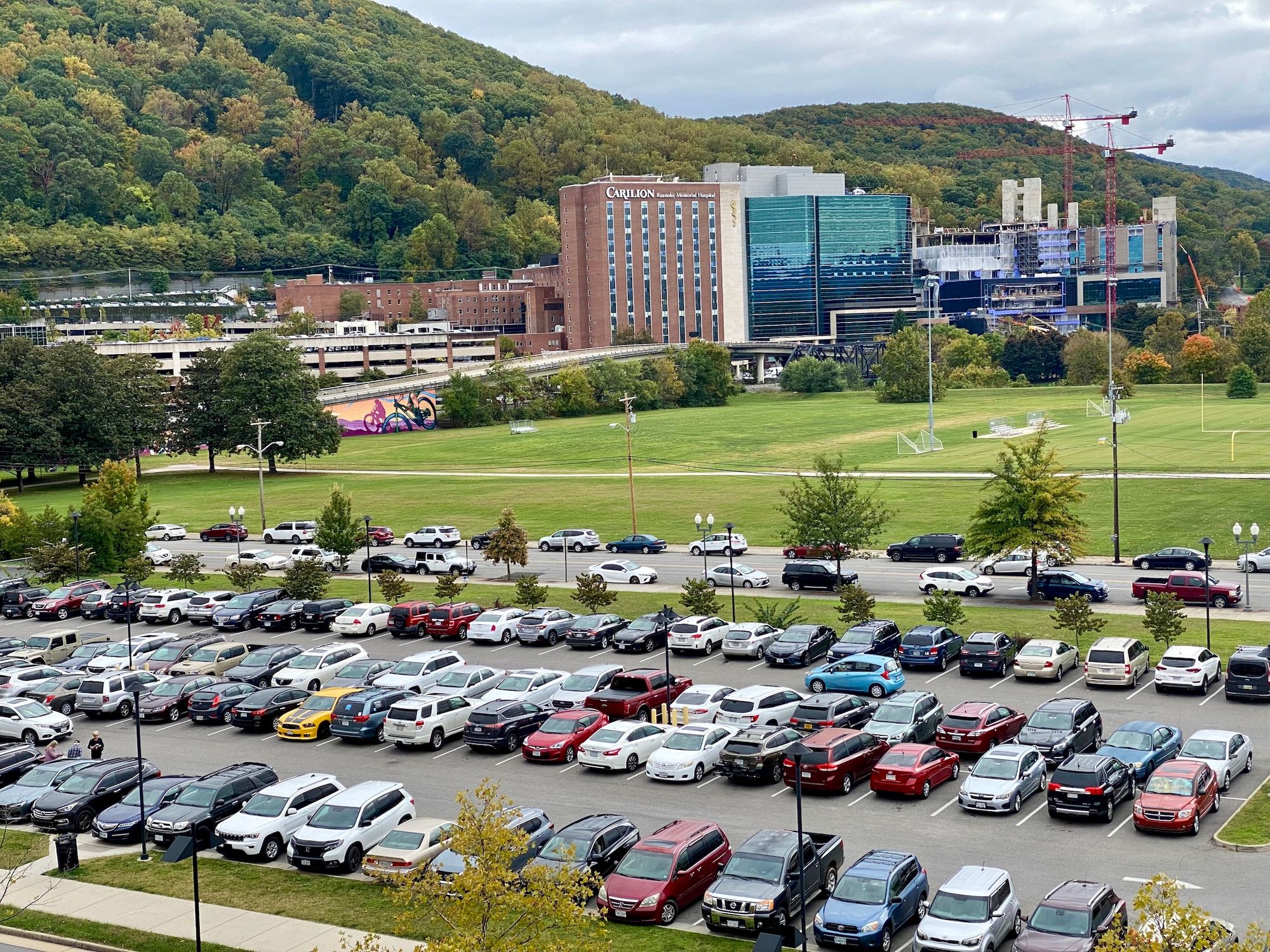 Carilion Clinic has decided to move a planned cancer center away from the Roanoke River and closer to biomedical research labs at Virginia Tech Carilion.
The hospital system is still fundraising for the new facility that it announced in 2019 and has said will cost "well over" $150 million.
Carilion did not announce the move, but made it clear in planning documents filed this month with the city, as first reported by The Roanoke Times.
The plan relocates what is to be a four-story, state-of-the-art building off a property at the western edge of River's Edge Park. Carilion now intends to raze a surface parking lot at 5 Riverside Circle near the Virginia Tech Carilion School of Medicine.
"After originally looking at the site at the corner of Reserve and Franklin, we ultimately chose the Riverside location for its convenience for patients because it sits adjacent to existing Carilion facilities and parking lots along with the Fralin Biomedical Research Institute at VTC," Hannah Curtis, a Carilion spokeswoman, said in an email. "As with any of our construction projects, we're beginning the permitting process to assess the site and be ready to move forward as fund-raising goals are met."
Curtis would not say how much money has been raised so far for the center. She said more details about the project will be shared next year.
In November 2019, Carilion announced intentions to build a world-class cancer center, with CEO Nancy Agee and her husband, Steven, contributing $1 million to the cause.
The hope, Agee said then, was to open an innovative treatment and research facility within four years.
But four months later, pandemic lock-downs hit. Carilion says it's still financially recovering from Covid. The hospital system posted a $57 million loss last year and projected it would remain in the red for the latest fiscal year that ended in September.
Carilion officials had emphasized in 2019 that its construction priorities remained a $400-million expansion to Roanoke Memorial Hospital with a new emergency room and cardiovascular care tower.
At the time, renderings for the cancer center from Roanoke-based architect Spectrum Design show red bricks and a curved wall of glass, a similar aesthetic to other Carilion buildings.
The 2.6-acre property at the corner of Reserve Avenue and Franklin Road was once home to a Naval Reserve building that the city had been using for storage.
In 2015, the city sold the property to Carilion for $610,000. In exchange, the city gave Carilion $860,000 for the former Gill Memorial Hospital building on Jefferson Street, which the city turned into a business incubator called the Regional Accelerator and Mentoring Program (RAMP).
The following year, the former Naval Reserve building burned down in a fire whose cause officials could not determine. The lot has been vacant since.
Curtis said no one moment prompted the change in the cancer center's location.
"This has been an ongoing discussion with a multitude of stakeholders since the project's conception," she wrote. "The decision to move the site was made organically over time, and we filed the first permits with the city this month to officially assess it with city planners."
The news emerged similarly to how Carilion delayed plans for a new in-patient mental health hospital, making that public last year in plans filed with the city.
Carilion has since built a new outpatient mental health center at Tanglewood Mall, which officials unveiled with a ribbon-cutting last week. The 37,000 square-foot space, which spans two floors of the mall, includes therapy rooms, offices and telemedicine capacity for 300 employees.
Plans for a new in-patient mental health hospital have yet to be announced; those services are being provided out of the existing facility on Jefferson Street, which will be renovated.
Carilion also filed plans with the city last month for a new third-floor connecting corridor and outdoor garden area at Carilion Roanoke Community Hospital. The hospital at 101 Elm Ave. has housed Radford University Carilion facilities.
Support local, independent journalism and don't miss a single story!
Become a member