Evans Spring Could Be Suited for Mixed-Use 'Human-Scaled Neighborhood,' Consultants Tell Roanoke City Council
Consultants gave Roanoke City Council its first update since the city tasked them with devising a master plan for the land.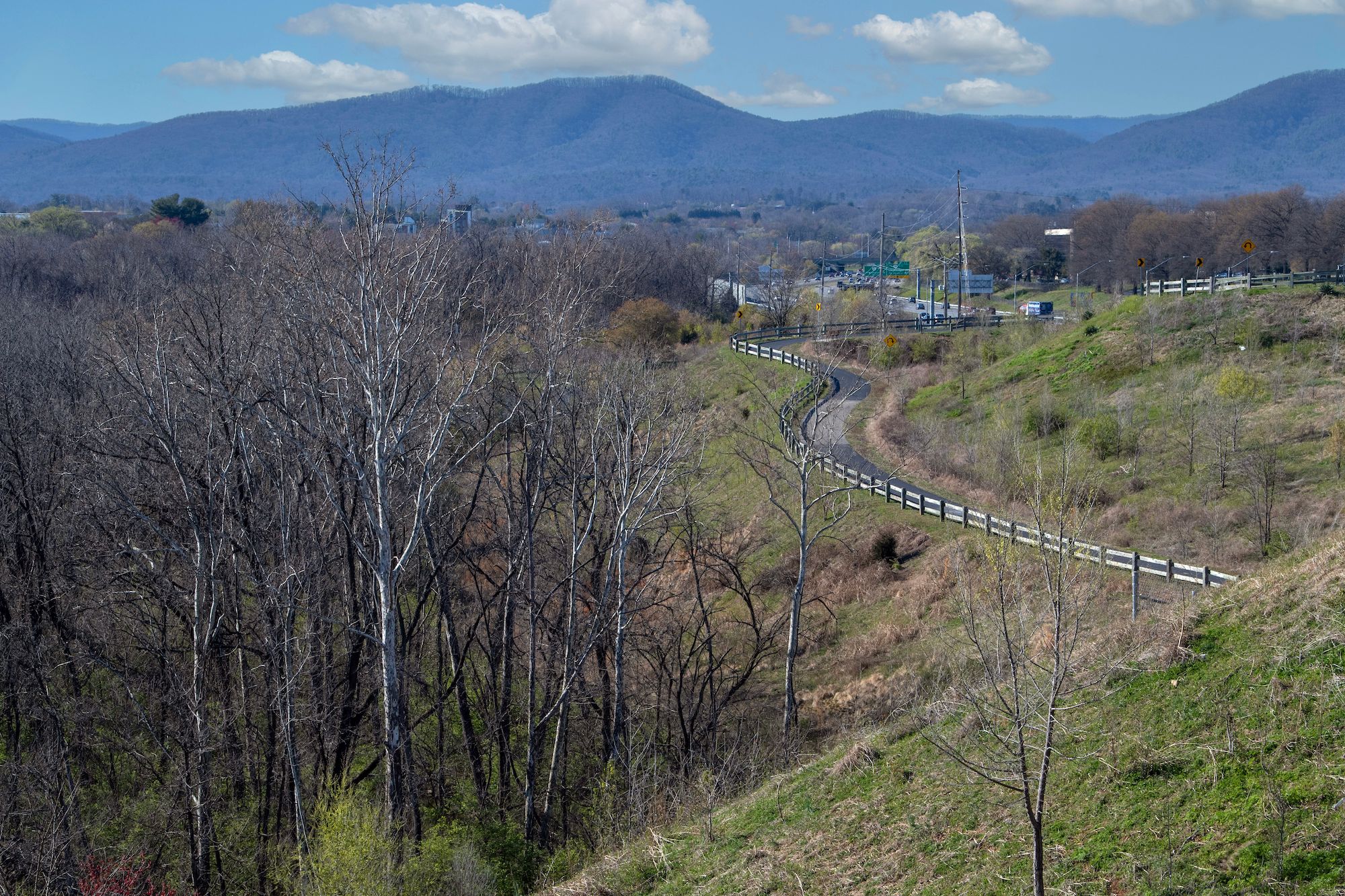 Evans Spring, a 150-acre swath of woodlands south of Valley View Mall, could be well suited for a "more intimate, human-scaled neighborhood" with single-family homes, shops and green space, a consultant told members of City Council Tuesday.
Bill Mechnick, president of Land Planning and Design Associates, Inc., was among a group of consultants that gave City Council its first update since the city tasked his firm in December with devising a master plan for the land.
Consultants will hold a community meeting at 7 p.m. Thursday at William Fleming High School (3649 Ferncliff Ave. NW) to share the same presentation.
For years, potential development of Evans Spring has met with fierce resistance from neighboring residents. But the private property owners, the city, and Roanoke's Economic Development Authority came together last June to spend up to $225,000 toward a master plan that could guide any future development.
The plan won't be finished until the fall, officials said. Tuesday's recap outlined potential land-use opportunities, as well as challenges — including the fact it could take an estimated $50 million to connect the Interstate 581 interchange to the site.
"We want to honor the fact that there was significant opposition to development. … Just no development at all was the predominant feel," Veronica Fleming, a member of a Richmond-based consultant, Community Engagement and Charrettes Associates, told Council. "However, if you dig deep, and when folks acknowledge that, in fact, some development is likely there, people were very intentional about saying what they did and did not want to see."
Evans Spring borders the predominantly Black neighborhoods of Melrose-Rugby, Fairland and Villa Heights. Several residents have spoken about how their families relocated in the area after the city seized and razed homes in Northeast Roanoke during urban renewal. Fears around gentrification and displacement, as well as distrust of the city's intentions, run deep.
If commercial development were to occur, residents preferred small, locally owned businesses, a neighborhood grocery store, restaurants and a theater, Fleming said.
Specific recommendations include trying to attract a neighborhood store akin to Crystal Spring Grocery Company, a high-end shop in the predominantly white South Roanoke neighborhood, according to her report. Another recommendation was to create natural pools similar to those at Berkeley Springs, West Virginia.
If residential development were to occur, neighbors preferred small affordable homes over high-rise apartments, Fleming told Council.
Consultants reported 350 online survey responses, with two-thirds of those residing in the Roanoke area. About 15 percent came from elsewhere in Southwest Virginia, and 10 percent from Maryland. Consultants conducted 16 door-to-door, one-on-one discussions and focus groups with locals that encompassed hundreds more.
Preserving the land's natural habitat was a key point among respondents.
"We heard a great desire to preserve the tree canopy," Fleming said, noting concerns from residents about the heat island effect.
Mechnick described the group's presentation less as a "plan we're proposing" than "just a concept" that could go in many different directions. He said the consultants cannot address "the no development, do nothing scenario" — "I'm not saying that couldn't happen," he added — but, "the bottom line is this property is owned by others, it's other people's money that will be used to develop it."
"The owners, if they want to develop, can we stop them from doing that?" Mayor Sherman Lea asked.
Any major development would require a rezoning, which is approved by City Council. But the current agricultural zoning, Mechnick said, would allow for 281 residential units.
"This is about, does that serve the community at large or not?" he said.
Fleming described several "non-negotiables" from residents, which included not creating a link from the highway to the neighborhood and not taking homes from current residents for development.
Vice Mayor Joe Cobb said he was encouraged by one land use map presented that showed highway access limited to a commercial area apart from the residential neighborhood.
"I like the small family housing options," he said. "I think those are all positive."
After the consultants' presentation, Theresa Gill-Walker, a resident and member of a citizens advocacy group, told Council that they would prefer to see the land become a city park.
"We, the Friends of Evans Spring, propose protecting this area in its natural site, as a city-owned natural park and urban green space with walking and biking trails," she said. "We believe the decisions made here related to Evans Spring will be the key factor in establishing trust or forever losing the confidence of the African-American community."
Support local, independent journalism and don't miss a single story!
Become a member