Roanoke City Lags Region, Virginia in Early Voting As Residents Look To Election
The city's relative lag in early voting could be a troublesome sign for Democrats, though other theories could explain the low rate.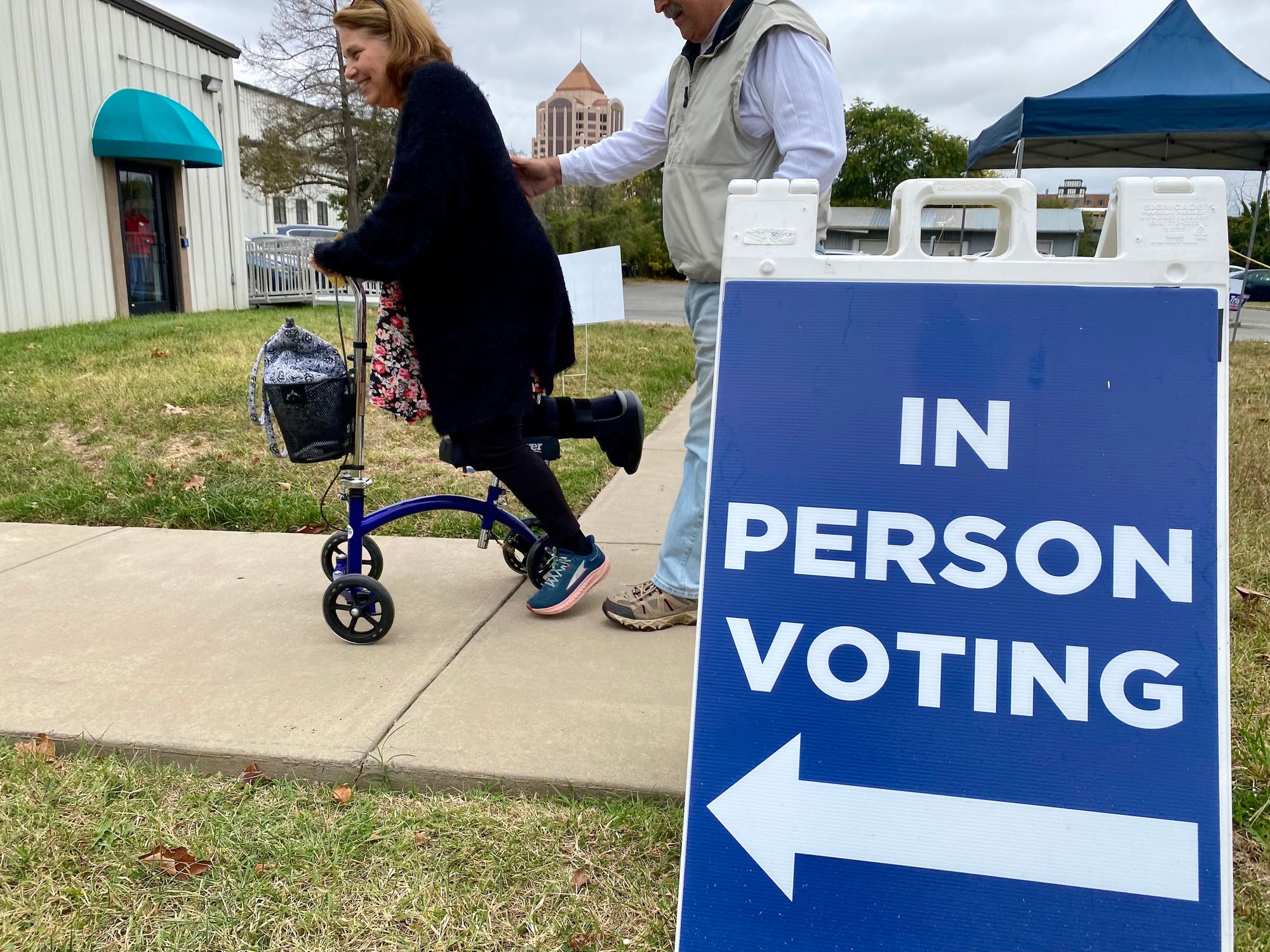 A week before elections decide the fate of the General Assembly, Roanoke City lags behind the region and Virginia in early voting.
In Roanoke, 77.3 out of 1,000 registered voters have cast ballots as of Monday, according to data compiled by the Virginia Public Access Project.
That rate compares to 91 per 1,000 voters statewide, and is behind the rates of 93.5 in Roanoke County, 103.7 in Montgomery County, and 117.9 in Salem City, the data show.
Sen. David Suetterlein, R-Roanoke County, and Trish White-Boyd, a Democratic member of Roanoke City Council, are vying to represent a newly redistricted Senate District 4, which encompasses the city, Salem, and parts of Roanoke and Montgomery counties.
Longtime state Sen. John Edwards, who has represented the region since he was elected in 1995, declined to seek reelection.
As of Monday, 15,229 voters have already cast ballots in the Senate District 4 race, according to VPAP. There are 155,151 registered voters in the district, meaning about 98.2 out of 1,000 have cast ballots so far.
Theories abound for what the region's early voting trends might mean for candidates.
Since Roanoke City trends Democratic, the city's relative lag in early voting could be a troublesome sign for Democrats heading into the Nov. 7 election, according to J. Miles Coleman, associate editor of Sabato's Crystal Ball, a political newsletter from the University of Virginia Center for Politics.
"If Democrats have any shot of flipping Senate District 4, they're really going to want a good turnout out of Roanoke proper, so that doesn't seem to be the case" based on early vote numbers, Coleman said.
"Democrats have been doing well with kind of the college-educated voters in the suburbs, but they've been really struggling to turn out the minority vote, specifically in the urban centers in Virginia," Coleman said, "and I know Roanoke City is about a third Black, so to me that would suggest maybe some less than optimal enthusiasm with minority voters."
Coleman cautioned, however, that overall turnout remains to be seen: "It's hard to read too much into the early vote until Election Day," he said.
Bryan Parsons, who directs Roanoke College's Center for Policy, Ethics, and Law, offered another theory that could be of comfort to Democrats.
"One thing we know is that early voting is often used by what we call 'high propensity' voters; that is, people who are likely to vote, anyway," Parsons said in an email. "What early voting numbers do not tell us is whether interested voters, who may not vote that often, will turnout on Election Day, or whether early voting turnout will generate an advantage for one party or the other on Election Day."
In fact, Parsons said, more Republicans than Democrats fit into that "high propensity" voter profile.
"Given that Roanoke City trends Democratic, that fact alone might explain the lower early voting numbers relative to surrounding regions," he wrote.
While many Republicans under Donald Trump expressed wariness at early voting, Republican Gov. Glenn Youngkin has made a push for residents to "secure your vote" by casting an early ballot.
"Improving access to the ballot in rural areas is the main reason Virginia Democrats voted to allow no-excuse absentee ballots in the first place, so it is no surprise that rural voters are voting absentee in higher numbers than they are in Roanoke," Patrick Giallorenzo, White-Boyd's campaign manager, said in an email.
Suetterlein did not immediately respond to a request for comment.
At Roanoke's voter registrar office Tuesday, Cindy and Rick Scaggs braved a light drizzle to vote early.
"It beats the lines next week," Rick Scaggs said.
The Grandin Court couple declined to say which candidate in the state Senate race earned their votes. Cindy Scaggs said she would have thought there would be higher early vote turnout in Roanoke City so far.
"It surprises me that the city hasn't come out," she said, noting White-Boyd's status as a City Council member.
Coleman said other races may be boosting early voting relative to Roanoke City, which has an uncontested House of Delegates race, with Del. Sam Rasoul the only one on that ballot.
A more competitive House race in an open seat between Republican Chris Obenshain and Democrat Lily Franklin might contribute to more early votes in Montgomery and Roanoke counties, according to Coleman.
Historically, even after all the ballots have been counted, Roanoke City has lagged in turnout among Virginia localities. In the off-election years of 2017 and 2021, the city's turnout rate ranked in the bottom 10 among Virginia's 133 cities and counties, according to a VPAP data analysis.
As voters head to the polls, local election officials have also been dealing with restoring the voting rights of residents that the Virginia Department of Elections improperly removed from voting rolls.
The department announced late Friday that it had rectified records for 3,400 voters who were canceled after their probation violations were classified as new felonies. In Virginia, a person convicted of a felony loses the right to vote. The department had previously estimated only 275 voters were removed in error.
The problem stems from December, when the department said it had "identified 10,558 felons currently on the voter rolls in need of removal."
In the Roanoke and New River Valley localities that make up Senate District 4, about 100 voters were affected, including about 60 in Roanoke City and about 25 in Roanoke County, according to local voter registrars.
"What's a bit concerning about that is these appeared to have occurred in December of 2022, and we've had an intervening election since then, our primary election, and those people were denied the right to vote in that election because they were canceled," said Andrew Cochran, Roanoke City's director of elections and general registrar.
Local registrars recommended anyone who thinks they should be registered or eligible to vote to use Virginia's same-day registration process, by casting a provisional ballot. Residents can also check their voter registration status at this link.
The last day of early voting is Saturday. Election Day is Tuesday, Nov. 7.
Support local, independent journalism and don't miss a single story!
Become a member