Roanoke Valley Police Have New Helpers Responding to 911 Calls: Mental Health Therapists
The Marcus Alert system, created by the Virginia General Assembly in 2020, went live last month in the Roanoke Valley.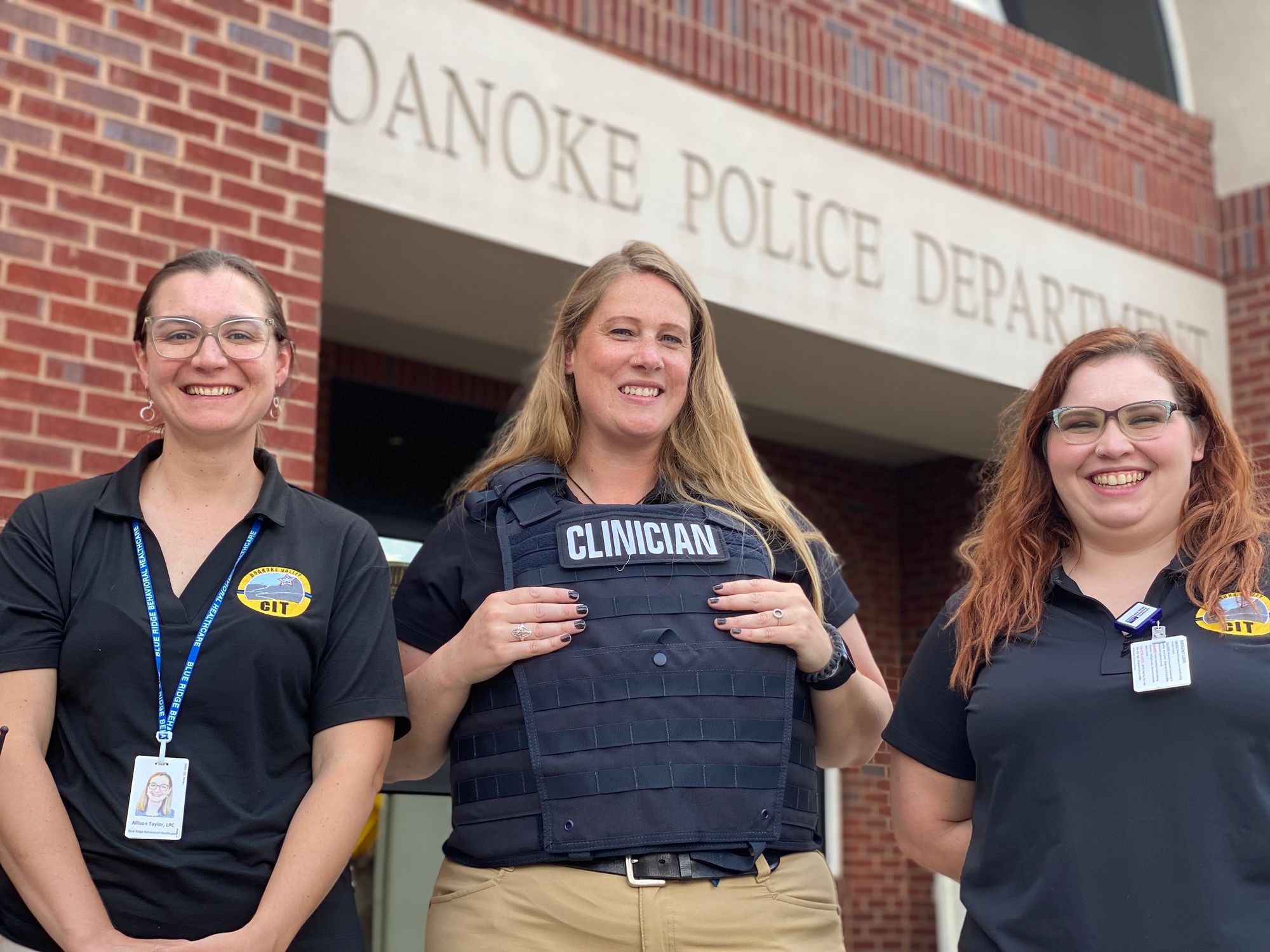 The day after Thanksgiving 2021, Roanoke County police received a call about a man who was threatening to kill himself.
Lisa Smith said her husband, Shawn, had become despondent and that she needed officers' help to get an emergency custody order. Around the time a magistrate ordered Shawn Smith to be taken to the hospital for a psychiatric evaluation, officers surrounded his home, according to court records.
Smith stepped out on his porch and spoke with officers, telling them he did not have a gun. At one point, authorities have said, Smith shined a flashlight into the eyes of an officer 50 feet away and stepped toward him, prompting the officer to shoot and kill Smith.
Police have said they believed Smith had access to a gun. But under circumstances described in a wrongful death lawsuit brought by Lisa Smith, a federal judge has written, "no officer could reasonably believe that deadly force was necessary."
That is the kind of scenario that a new statewide program — formally launched last month across the Roanoke Valley — seeks to avoid.
Trained therapists, now embedded in police departments in Roanoke City, Roanoke County and Salem, are being dispatched on 911 calls related to mental health. Sheriff's offices in Botetourt and Craig counties can also call upon the team's services.
"The whole purpose of the crisis intervention team is to bring together mental health and law enforcement, and other community partners, so that we can better address individuals who are in crisis," said Mandy Lee, who oversees the team from Blue Ridge Behavioral Healthcare.
The Marcus Alert system, created by the Virginia General Assembly in 2020, is named after Marcus-David Peters, a 24-year-old high school biology teacher killed by Richmond police during a mental health crisis. After crashing his car near a highway, Peters rushed naked toward an officer shouting and threatening to kill him before police fatally shot him.
Peters' family advocated for the behavioral health response system, which all Virginia cities and counties must implement by July 2028.
Roanoke Valley agencies are in the second cohort of regions that have started the program, which exist in areas including Richmond, Virginia Beach and far Southwest Virginia.
"What we're doing is putting an additional tool on the officer's tool belt," said Jimmy Chapman, assistant chief of police for Roanoke County.
In 2015, the county launched a three-year experiment studied by George Mason University professors that paired officers with mental health providers.
"It embeds the idea that you can align a mental health professional with a person who's in crisis," Chapman said.
How it works
The Marcus Alert program builds upon those efforts, Chapman said, and outlines several protocols first responders should follow.
First, emergency dispatchers are trained to recognize whether a call to 911 is related to mental health. They decide what the most appropriate response is.
Often, that involves a transfer to 988, which last year became the rebrand for the National Suicide Prevention Lifeline.
Clinicians at two 988 centers handle calls in Virginia. They can provide over-the-phone counseling or dispatch mobile crisis units if needed.
Finally, dispatchers can decide on a specialized law enforcement response, which in the Roanoke Valley is taking the form of police and therapists going out on calls together.
"As a last resort," says the Virginia Department of Behavioral Health and Developmental Services, "traditionally trained" law enforcement will respond to calls.
Every regional community service board gets the same annual funding — $600,000 — for the team of therapists, according to Lee. Blue Ridge has hired three licensed therapists and is looking for two more, she said.
For the first couple months, the team works from noon to 1 a.m., Monday through Friday. Lee said that's when data shows the highest volume of mental health calls. In September, they plan to add weekend coverage.
Blue Ridge declined The Rambler's request for a ride along this month to observe the program, citing the Health Insurance Portability and Accountability Act, which protects patient privacy.
'A behavioral health crisis'
In the first two weeks of operating, Lee said, clinicians helped 75 people in crisis — which has ranged from people experiencing psychosis, expressing the desire to kill themselves or others, as well as people facing eviction or homelessness.
"There is obviously a behavioral health crisis in our country," said Ashley Spanfelner, a therapist for the co-response team, who on a recent workday wore a bulletproof vest reading "CLINICIAN".
In the spring, Spanfelner was working as a counselor at a Roanoke County middle school. She had previously overseen a crisis intervention team for the Martinsville-based community services board and missed that emergency work. So in July she began full-time helping carry out Roanoke Valley's Marcus Alert program.
Spanfelner counted 16 situations last month in which law enforcement would have taken a person into emergency custody.
"Eleven out of 16 times we were able to make sure that that person was not placed in handcuffs and not forced into treatment against their will," Spanfelner said. "That's huge. Like, that's massive within our terms of emergency services and manpower time for officers."
So far, some hiccups from the clinician standpoint include radio access; some jurisdictions give therapists access to police chatter while others don't.
"This is a learning curve for all of us," Spanfelner said.
But those involved in setting up the Marcus Alert locally say the process has been mostly smooth.
"There's an us versus them concept of law enforcement, and I think we're bridging that gap, too," Spanfelner said. "Because a lot of what I've done I've been able to do, I wouldn't have been able to do in those situations, to help somebody, without the help of law enforcement."
Capt. Andrew Pulley of Roanoke City's police department acknowledged sending officers to certain mental health calls can exacerbate the situation.
"Sometimes just the mere presence of our uniform is enough to further upset somebody," Pulley said.
The George Mason University study of Roanoke County said the average police time spent on a mental health call was about 2 hours and 28 minutes, compared to 39 minutes for all other calls.
Pulley said he hopes the Blue Ridge team will also allow the city's police department, which has numerous vacancies, to better use its officers.
"It does free up resources for us to do law enforcement type work that we should be doing, not that we shouldn't be helping with mental health, but they have a lot more training," he said. "It's more appropriate for us to chase bad guys and bad girls and solve serious violent crimes."
---
Correction (8/2/23) — An earlier version of this story gave the incorrect grade level that Ashley Spanfelner worked at previously; it was a middle school. The story has been updated, and we regret the error.
Support local, independent journalism and don't miss a single story!
Become a member