Ramblings: Goodwill's Melrose Plaza 'Breaks Ground'; Master Planner Picked for Riverdale; Vote Data Offers Senate Insights
What are Ramblings? Ramblings are a collection of short items that have caught our attention for one reason or another.
What are Ramblings? Ramblings are a collection of short items that have caught our attention for one reason or another. We're on the lookout for tidbits related to money in politics, data, business, civic engagement or interesting events. Think you know of something that could be a Rambling? Drop us a line at editor@roanokerambler.com and we may well write about it. Happy reading!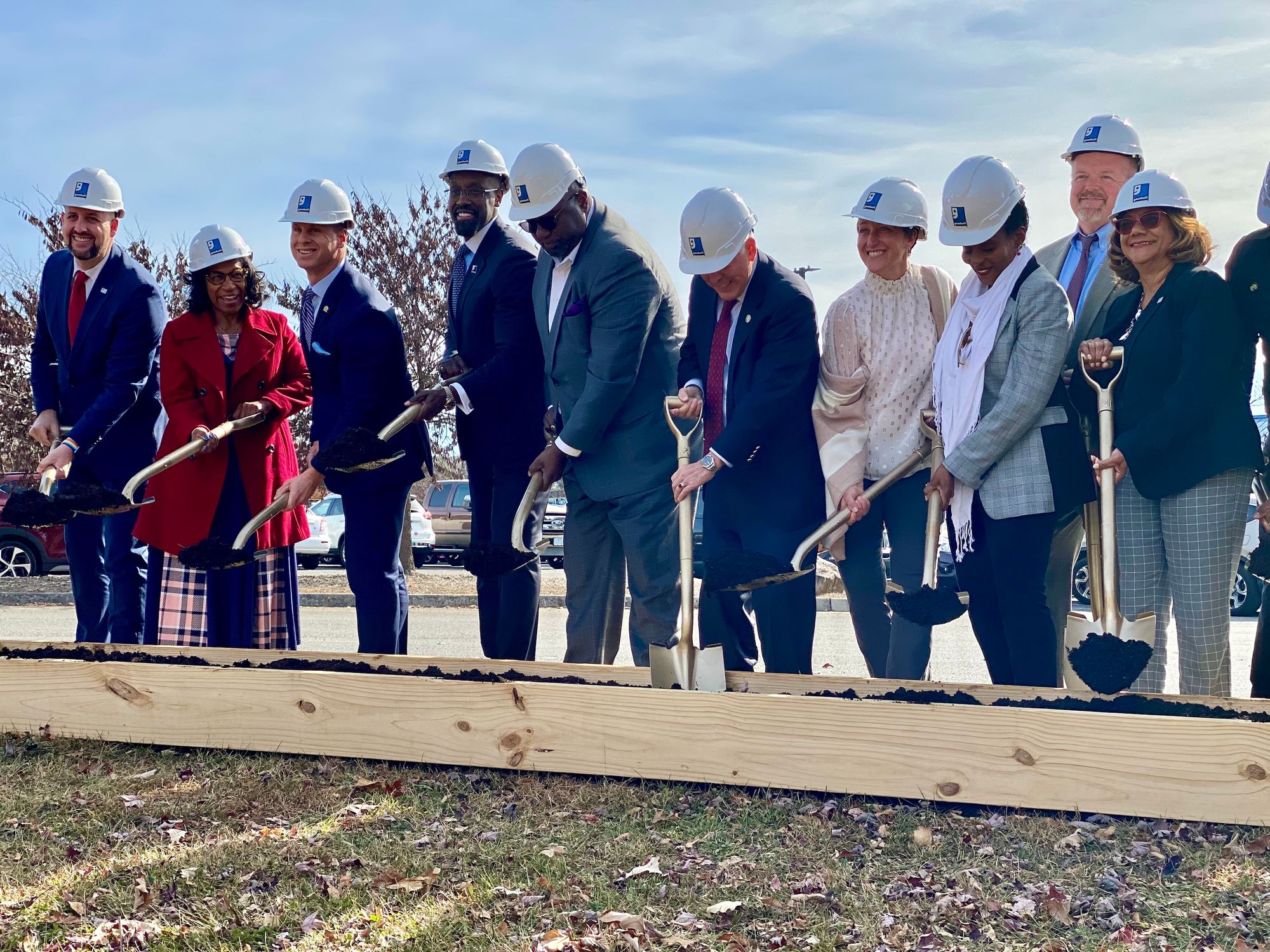 Goodwill to start Melrose Plaza construction
Goodwill's campus in Northwest Roanoke will be a hive of construction activity in the coming weeks after leaders held a ceremonial groundbreaking Tuesday for Melrose Plaza.
The community hub, announced a year ago and estimated to cost more than $21 million, will transform the 100,000-square-foot facility on Melrose Avenue and 24th Street into a grocery store, bank, health clinic and free high school for adults.
Goodwill Industries of the Valleys itself will operate the full-service grocery, Market on Melrose, with MDI, a wholesale grocery distributor. Goodwill says the grocery store, located in a longtime food desert, will be the first part to open, slated for December 2024.
There is no open date yet for the bank center, from Bank of Botetourt, school, or health clinic, which Goodwill is calling a wellness center, according to a Goodwill spokeswoman.
Richmond Vincent, president and CEO of the regional Goodwill, said multiple partners will take part in the health center, which will offer medical, dental and behavioral health services.
"This will be a center that will take a collective approach, meaning that there will be multiple providers there," Vincent said. "The Carilions, LewisGale, Bradley Free Clinic, New Horizons Healthcare. There'll be a variety of folks who have an opportunity to serve this community."
Roanoke Mayor Sherman Lea said the city's $10 million investment in the project — from federal pandemic relief dollars — is a testament to its commitment to the historically neglected Northwest part of the city.
"Time and time I get, I'm sure my colleagues get, questions about what are we doing in Northwest? Are you putting enough emphasis in Northwest?" Lea said. "Well, Melrose Plaza is here to answer a lot of those questions."
Goodwill has also purchased other properties around the plaza, and Vincent nodded to adjacent services as contributing to a Northwest Roanoke hub, including the housing authority's EnVision Center and the Community Solutions Center from Feeding America Southwest Virginia.
Goodwill on Tuesday also unveiled a new website and branding for Melrose Plaza at https://melroseplazaroanoke.com/.
Master planner selected for former Viscose plant
Roanoke developer Ed Walker has picked a master planning firm to help guide the transformation of the former American Viscose Plant into a residential and commercial hub called Riverdale.
Baskervill, which has offices in Richmond and provides architectural, interior design and engineering services, emerged as the clear choice, Walker said.
"Baskervill has a national reputation and experience in many very successful large scale projects, and they are conveniently based in Virginia," Walker said in an email. "The firm has extensive experience with engaging communities of every kind to inform the plan, and this will be important as we strive to engage Southeast in particular and the region in general."
The master planning process will take about six months, Walker said, resulting in a plan to guide development of the former industrial site, which is 1.2 million square feet.
Baskervill's clients include The Quarters coworking space in Roanoke, the Black History Museum and Cultural Center of Virginia in Richmond and a 17-story hotel in downtown Austin, Texas.
Walker said one of the master planning team members hails from Roanoke.
Walker envisions turning the former rayon plant into a complex of hundreds of apartments, businesses, artist lofts and manufacturing space.
Roanoke City in January agreed to provide $10 million to developers in exchange for an investment of at least $50 million by 2040. The first phase of the development is not expected to open until 2029.
An economic impact study estimates the project will support 2,053 jobs and generate $326 million in economic impact by 2040.
Roanoke turnout boosts candidates in different ways
New data offer insights into how candidates Sen. David Suetterlein and Trish White-Boyd fared in their race for state Senate.
Suetterlein, R-Roanoke County, last week defeated White-Boyd, a Democratic member of Roanoke City Council, 32,118 votes to 28,050 votes, according to a final vote tally.
On Monday, election officials reported early votes in Virginia's General Assembly races back to the precincts where those voters live.
Across Roanoke City, White-Boyd garnered about 15 percent more votes than Democratic state Sen. John Edwards did in 2019. She got 12,914 votes to Edwards's 11,320.
But in the city Suetterlein turned out more than twice the number of voters as Edwards's challenger that year, independent Steven Nelson. Suetterlein got 8,263 votes in Roanoke to Nelson's 4,075.
The last time Edwards faced a Republican challenger was in 2015, when Nancy Dye and independent Donald Caldwell challenged the incumbent. That year, Edwards got 10,178 votes in the city, Dye got 6,588 and Caldwell 1,179, per Virginia Department of Elections data.
Precinct boundaries were different then, making smaller-level comparisons difficult.
In Roanoke precincts, White-Boyd earned a greater percentage of votes over Edwards's 2019 run in Southeast (301 to 210), Williamson Road (500 to 354) and East Gate (405 to 293). Those precincts trended more Republican compared to the city as a whole.
White-Boyd earned slightly fewer votes in two precincts, Summit Hills (down 31) and Preston Park (down only one vote).
Suetterlein ran most ahead of Nelson in the South Roanoke (703 to 264), Peters Creek (193 to 80) and East Gate (625 to 266) precincts.
Overall, the Roanoke precincts with the highest turnout were Deyerle (58 percent), Grandin Court and South Roanoke (both 49 percent). The lowest-turnout precincts were Hollins Road, Lincoln Terrace (both 19 percent) and Forest Park (20 percent).
Support local, independent journalism and don't miss a single story!
Become a member