Roanoke Police Department Has Suffered From Many Vacancies, Leadership Discord, Report Says
Report says police department must address why "some employees may be leaving the agency to escape a toxic work environment."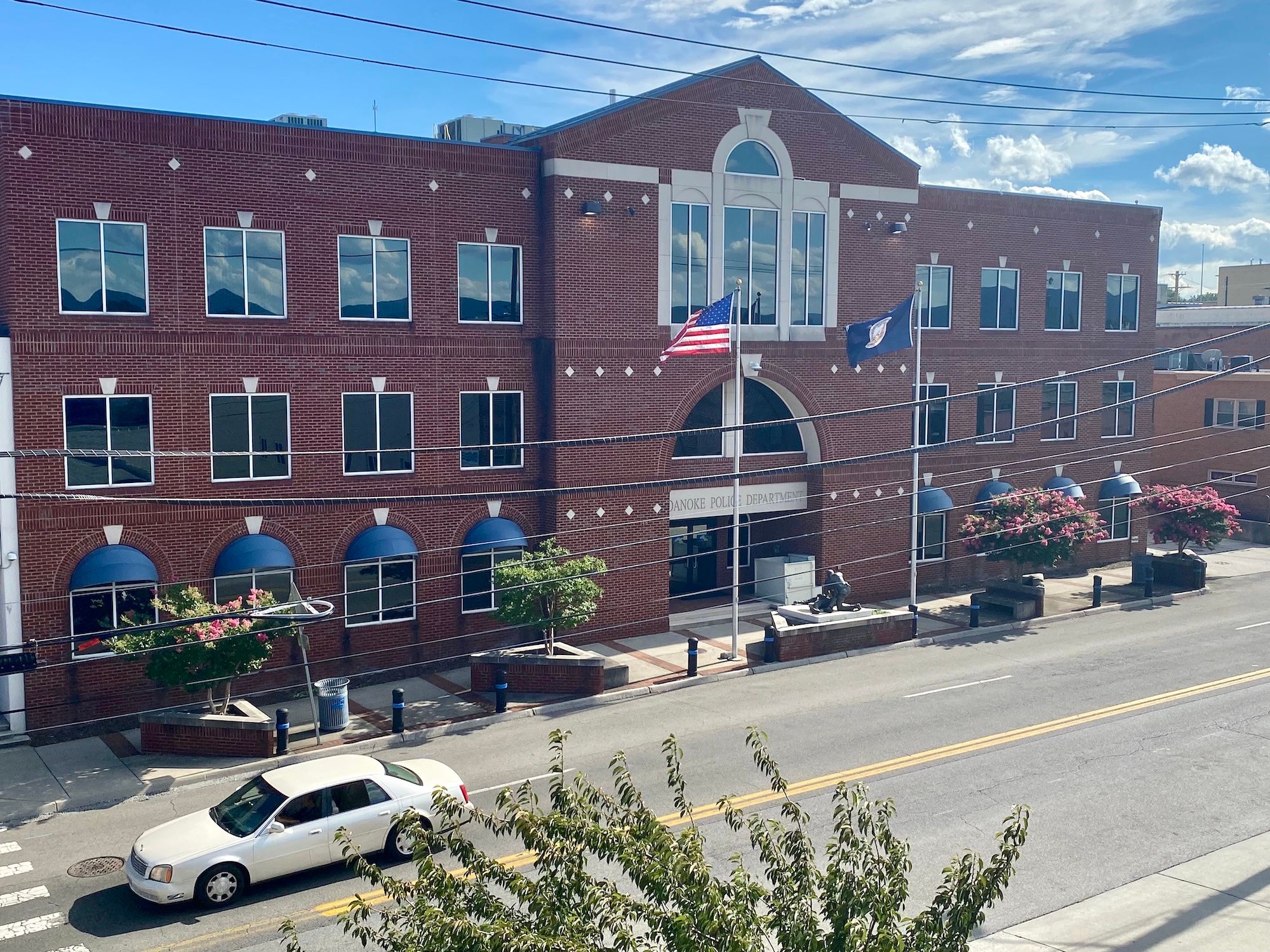 Roanoke's police department has not recovered from staff shortages that began in 2020 as most other law enforcement agencies have, according to a new report.
High vacancy rates and disputes among police leadership are among key issues that need to be addressed in Roanoke, says a 210-page analysis from Center for Public Safety Management, a consultant based in Washington, D.C.
The city commissioned the "organizational assessment" from CPSM last year to help guide the future of what City Manager Bob Cowell said could be a "more responsive and nimble" police department in an era of officer shortages. The city agreed to pay no more than $95,000 for the analysis, according to a contract, and released the report to The Rambler in response to a public records request.
Morale issues, "very poor" internal communication and "open dissension" among police brass may be contributing to officers leaving the department, according to the report, which describes the department overall as "a fine law enforcement agency" with "professional and dedicated" staff.
Police vacancies have increased nationwide since the Covid pandemic and George Floyd racial justice protests in the spring of 2020. While Roanoke has improved its vacancy rate since then, the consultant said the department still lags behind its peers.
"Although many agencies across the country have expressed frustration with the challenges in recruiting officers post-2020, we are now seeing that many agencies are starting to make progress on this issue and in many cases closing the vacancy gap," the report said. "Roanoke appears to be an exception."
During its staffing analysis, which took place in May, CPSM estimated there were 28 vacancies among 61 detective positions, along with two sergeant and one lieutenant vacancies. (At Roanoke's police department, "detective" is not a formal rank but describes police officers who investigate crimes, according to the report.)
"This is a position vacancy rate of more than 30 percent and one of the highest levels that CPSM has identified since the pandemic," the report said, noting that a 2021 study found an average of 8 percent vacancy rates nationwide.
Overall, the consultant counted 38 vacancies for sworn officers this year, down from 45 in 2020, before which there were routinely no vacancies.
"The reasons given for leaving are varied and range from compensation issues to the support officers felt they received from the city and the department leadership," the report said. "Staff was quick to point out that this turnover did not occur very often in the past but is now a problem."
The report also sheds light, without going into specifics, on discord among senior leaders.
"​​We learned that a contentious relationship had developed among senior leadership. There are stories of verbal hostility, grievances, and even lawsuits filed by management members against the police chief and the city," the report said, an apparent reference to 2021 civil lawsuits from lieutenants about sexual harassment and retaliation. A judge has thrown out many of those claims against the city, though the lawsuits are still winding through the court system.
"We are not here to cast an opinion of who is at fault or to blame for the internal strife," the report continued. "However, even rank and file officers shared with us that it was common knowledge that certain members of management would work to undermine the police chief or other members of management. Based on our observations we concluded that normal interaction, including meetings, were avoided because of the organizational tension."
The consultant said it observed dissension not so much between officers and management, but within management, from the sergeant level and above. CPSM recommended police leaders put on team-building exercises.
"Only then can the agency truly address the fact that some employees may be leaving the agency to escape a toxic work environment," the report said.
Interim Police Chief Jerry Stokes said in an interview Monday that he has implemented changes to improve communication — including regular meetings with senior leadership and new working groups examining recruitment, promotions and other operations.
"We are starting to have a much more cohesive leadership team," said Stokes, who became interim chief in July after then-Chief Sam Roman was promoted to assistant city manager.
The city's next police chief, Scott Booth, the current chief in Danville, will take the helm at the end of October.
"It's kind of evolved from its initial purpose," Stokes said of the consultants' report, "in that it was initially for Chief Roman to kind of use to make some organizational changes, and it is intended now for Chief Booth as a means of directing how he's going to move the organization forward."
Roman became chief in March of 2020, just as the pandemic hit.
Several officers expressed frustration with leaders in a 2021 survey by the Roanoke Police Association, a nonprofit membership group. Out of 101 responses, 72 officers said Roman failed to meet expectations.
In the spring of 2022, Roman's top two deputies, longtime employees Eric Charles and Chester Smith, left in close succession, leaving a leadership vacuum.
Nine months later, the city picked Stokes and David Morris as deputy chiefs.
Last month, Morris was banned from being at the police station unless escorted by Stokes or a member of the department's internal investigations unit, according to an Aug. 11 email Stokes sent to employees that the city released to The Rambler in response to a public records request.
Stokes on Monday still described Morris' position with the city as "kind of in limbo at the moment."
Roman said Tuesday that he looks forward to seeing how the department will capitalize on its strengths. He said during his tenure the department improved its vacancy rates and achieved some of the highest pay increases in recent years.
"Good leadership ... it depends on good followership," Roman said in response to the report's comments about discord and allegations of officials undermining the chief. "How good would it be if everyone was on the same page in moving the organization forward?"
The report outlines dozens of very specific recommendations across the department. Those include suggestions that the agency should randomly audit body camera footage; secure the station's rear parking lot; encourage more online reporting of crimes; and focus some recruitment efforts on schools with high Black student populations.
Stokes said one of the biggest issues to tackle is how the department recruits. He said it is too early to describe certain initiatives, and that police leaders will present ideas to Booth when he starts.
Support local, independent journalism and don't miss a single story!
Become a member